1. LeBron Brings Good News For Heat

By Michael Wallace
ESPN.com
Archive
ATLANTA -- It was a familiar role for LeBron James.
With the suspense building late in Monday's game, the Miami Heat star forward was at the center of the action as his teammates rallied around him to come through in a big moment.
James had control of the game in his hands, with the Heat's playoff destiny riding on his next move.
And suddenly, he delivered.
"Washington 95, Boston 94," James shouted to onlooking Heat players from his corner stall in the visitors' locker room at Philips Arena on Monday night. "OK, guys? I'm done."
And with that, James set his cell phone aside and declared himself done with the moment-to-moment updates he was providing a crowded locker room from a game-tracker that seemed to work faster than the mobile devices anyone else in the area had.
The two big-screen televisions hanging from the wall didn't have access to the Celtics-Wizards game. So Miami's players sat in front of their stalls, many delaying their postgame showers in order to keep up with LeBron's updates from his cell phone.
It was a classic case of a win-win scenario for the Heat.
With their 98-90 victory over the Atlanta Hawks on Monday, coupled with the Boston Celtics' overtime loss to the Washington Wizards, the Heat secured the No. 2 seed in the Eastern Conference standings and home-court advantage through at least the second round of the playoffs. They will face the Philadelphia 76ers, who locked in the No. 7 seed with Wednesday's loss to Orlando, in the first round. Miami is 3-0 this season against Philadelphia, having swept the series by an average of 10.3 points per game.
The Heat put themselves in position to control their own playoff seeding a night earlier when they blew out the Boston 100-77 on Sunday in Miami. With the Celtics (55-26) having won three of the four games in the season series, Miami (57-24) had to finish at least a game ahead in the standings, which it will accomplish regardless of the outcome of Wednesday's regular-season finale at Toronto.
Miami has won 14 of its past 17 games since last month's season-long, five-game losing streak and will enter the playoffs as confident as the team has been at any point during a turbulent season.
"After getting some opportunities earlier in the year and not capitalizing on them, to get the opportunity [again] to capitalize -- we deserve it," Heat guard Dwyane Wade said. "Since coming out of that break and having that five-game losing streak, we've been playing basketball. And we've been playing well for a while. That's what you want to do going into the playoffs. Some teams can defy odds and not play well and still have a successful playoffs. But we're a team that wanted to be playing well going in."
Heat players didn't exactly celebrate in the locker room after learning of Boston's loss. But there was an overwhelming sense of relief, especially after they squandered a 20-point lead against Atlanta and had to sweat out the final minutes for the victory. And then there was the suspense of sitting through overtime of the Celtics-Wizards game hoping that LeBron's phone would deliver score updates every 15 seconds, as advertised.
The news James provided was as welcomed as any of the shots he made on a night he led the Heat with 34 points, 10 rebounds and seven assists to offset his seven turnovers. James, Wade and Chris Bosh combined for 70 points, 24 rebounds and 15 assists. But it was a late contribution from James Jones that rescued the Heat after Atlanta tied the game 88-88.
Jones, who won the 3-point shootout championship at All-Star Weekend, was fouled as he nailed a 3-pointer from the corner with 3:16 left to play. He made the ensuing free throw to put Miami up 92-88, and the group of five reserves who led the Hawks all the way back couldn't find another answer.
The Heat's bench has been maligned all season for its lack of production. But in the past two games, Miami's reserves have shown they can be counted on in the opportunities they do get amid coach Erik Spoelstra's constant reshuffling of the rotation around Bosh, Wade and James.
On Sunday against Boston, it was reserve center Joel Anthony who provided energy on defense and a rare boost with his offense. Against the Hawks, it was Jones, who added another 3-pointer late to score all seven of his points in the fourth quarter.
"That's my job," said Jones, who is shooting 42.3 percent from 3-point range this season. "My teammates rely on me to make shots. That's my primary responsibility. So if I'm not making shots, I'm failing my team. For us coming off the bench, we have to consistently be consistent with inconsistent playing time and an inconsistent rotation. I don't know when I'm going in. I don't know how many shots I'll get. But when I get one, I know they're relying on me to make them. That's just my mindset."
Before Monday's game, LeBron talked about how far the Heat have come as a collective unit since that morning in late September when training camp opened on a military base in the Florida Panhandle.
In some ways, it's taken six months and 81 regular-season games for the Heat to reach the level of confidence, chemistry and connection they shared in that visitors' locker room Monday night.
"You think about everything we've gone through this year," James said. "It took us 81 games to get to this point. It was just about staying the course, staying the course. That's all Coach Spo talked about. We have a little time to enjoy this, just because of how far we've come since November, when we were 9-8. It was less than a month ago when we lost five in a row. We just continued to grind. I give a lot of credit to Spo and a lot of credit to our coaching staff for keeping us in tune."
But it was LeBron who defined the night by keeping his team on time with those real-time updates.
Those results changed things for the Heat. Wednesday's game is a little less meaningful for Miami.
Suddenly, rest is an option for James, Wade and Bosh.
"Hey, Chris, can I borrow one of your suits," Wade jokingly said to Bosh in anticipating of sitting out Wednesday to rest up for the playoffs. "We've gotta go talk to Spo now."
Jones was already trying to figure out the Heat's amended starting lineup against the Raptors.
"It's probably going to be me, Juwan [Howard], Jamaal [Magloire], Mario [Chalmers] ...," Jones said as he searched the room for a fifth seldom-used reserve to round out the group.
The Heat aren't searching anymore. They're seeded now.
Spoelstra has told the team to treat the past three games as though they were a playoff series.
Miami responded by going 3-0 and claiming the No. 2 spot behind Chicago and a chance to finish with the third-best record in the league.
"I think the guys in the locker room are feeling a lot more confident about our game, certainly more than where it was six weeks ago," Spoelstra said. "The hardest thing we have to do is finish."
Spoelstra was referring to finishing strong on Wednesday.
But that was before LeBron's cell phone update.
For now, the Heat can think about resting up a bit before the postseason comes calling.


NBA Writer Michael Wallace
• On Twitter @WallaceNBA_ESPN | On ESPN.com
• Follow ESPN's NBA coverage on Twitter | On Facebook | On Google+
Dimes past: March 21 | 22 | 23 | 24 | 25-27 | 28 | 29 | 30 | 31| April 1 | 2 | 6 | 7 | 8-10 | 11
2. Kobe: Problems That Can, Will Be Corrected
By Dave McMenamin
ESPN Los Angeles.com

Bryant
EL SEGUNDO, Calif. -- The Los Angeles Lakers went back to work Monday looking to hit the reset button on a season that suddenly started to run off the rails.
"We had a bad week," Lakers head coach Phil Jackson said. "We had a really bad week. Sunday to Sunday was kind of bad."
The Lakers' five-game losing streak is the longest skid for the franchise since March 2007, when they lost seven in a row.
But this isn't Jackson's first rodeo dealing with a late-season swoon and getting his team to bounce back for a championship run.
Last season, the Lakers lost seven of their final 11 games headed into the playoffs and went on to beat Boston Celtics in Game 7 of the NBA Finals. In 1992-93, Jackson's Chicago Bulls, who were also going for a three-peat, lost three of their final five games in the regular season yet still went on to win the title.
"It's the product of having played a ton of games and being at a championship level for two years and knowing really what the goal is that second season and there's some subliminal part of them that's just still giving in to, 'We have to save it for the best, which is later on, and go from there,'" Jackson said. "At their age, it's understandable."
Kobe Bryant said this season's late slide pales in comparison to what the team went through at the end of the 2009-10 season.
"Last year we didn't know what the hell was going on," Bryant said. "We had a lot of injuries. My knee needed to be operated on. There were a lot of question marks. Here, we don't really have any question marks. ... You don't really see anybody here feeling like there's doom and gloom because these are problems that can be corrected and will be corrected.
"Everybody wants to put the nail in the coffin. We've been there before. So, it doesn't bother us."
3. Daily Dime Live
Zach Harper, TrueHoop Network bloggers and fans give their in-game opinions on all topics throughout Monday's slate of NBA roundball talk in Daily Dime Live.

James
MONDAY'S BEST
LeBron James, Heat
Goes 34 points, 10 rebounds and seven assists in the win over Atlanta that helped secure the No. 2 seed in the East. And for those who had a Heat-Lakers NBA Final in the preseason, the Heat now have upper hand on hosting Game 7, should the two meet.
---
MONDAY'S WORST

Ilgauskas
Clash of the Z's: Oh, Z snapped. Miami's Zydrunas Ilgauskas hauled off and whipped the ball, dodgeball-style, right in the back of Atlanta's Zaza Pachulia. Was it any one thing? Perhaps it was the last straw. Reminscent of Robert Parish whacking Bill Laimbeer "for an accumulation of things."
---
TWEET OF THE NIGHT
In Game 81, Jermaine O'Neal finally did something Rasheed Wallace couldn't do last year: Register a double-double. #midlevelwatch10 p.m. ET via Echofon
Favorite
Retweet
Reply
Chris Forsberg
ESPNForsberg
---
QUOTE OF THE NIGHT
"You've got to be careful with the quiet ones, right?"
-- Charlie Villanueva, the Pistons forward who decided to take his on-court dustup with the Cavs' Ryan Hollins further, sprinting toward Cleveland's locker room. He was stopped by police on a loading dock.
---

Rose
Nick (NH): Derrick Rose moved up to fourth place on Hollinger's MVP list. Did someone at ESPN finally pull him aside and tell him he was starting to look bad for ranking Rose sixth? I don't mind if someone makes a different MVP argument, but c'mon.
Michael Wilbon: I respect John very much ... but to giving yourself over to numbers is always the wrong way to go. Numbers can't tell you how hard a guy practices and whether his infectious work habits affect the work habits of teammates. Numbers can't tell you whether a guy grabbed somebody by the collar in the locker room and said, "You're playing tonight or I'm going to put my fist through your chest" which, trust me, happens.
Numbers can't tell you whether a guy played through a sprained ankle when he shouldn't have and either inspired or scared the hell out of his teammates. Numbers can't tell you whether teammates and opponents hold a player in awe because of something he does during the game. Numbers tell you a portion of the story, and then you have to use your eyes and sense of the game, hopefully acquired over years and years of watching and listening, and make an assessment.
If numbers prevent you from making those kinds of judgment, based on your own watching and listening to coaches/players/trainers, etc., then to me you're not doing your job. Now, again, I KNOW Hollinger does his job and works at it passionately. ... I just completely disagree with any of these stat metrics that have contributed to a tyranny of statistics, many of which obscure the truth of the matter.
The truth of the matter this season is that NO player in the NBA has meant as much to his team, has played as well, has led as effectively, has been as accountable and as responsible as D. Rose of the Chicago Bulls. Fortunately, I think the vast majority of the voters know this. I know Doc Rivers pulled me aside in January and said, "Rose is going to the MVP of the league THIS year." Doc said that. I'll take his informed judgment over all the numbers Hollinger and anybody else can produce.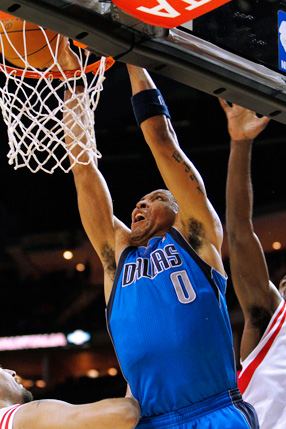 Brett Davis-US PRESSWIRE
Mavs forward Shawn Marion lifted the Mavs late, dropping in 21 points in Dallas' 98-91 OT win over Houston. Dallas is now in second in the West.
By Jeff Caplan
ESPN Dallas

Terry
HOUSTON -- With the Dallas Mavericks trailing the Houston Rockets by one point and 1.5 seconds left in the game, Jason Terry stepped up to the free throw line needing to hit two to win it.
"With Jet on the line with one second to go," Dirk Nowitzki said, "I'll take that any day."
As long as Terry knows the right score. It certainly appears that Terry, an 85.4 percent free throw shooter, thought he needed to make only one free for the lead. His second attempt bounced high off the rim. The Rockets tried to corral the rebound, but it bounced out of bounds as the buzzer sounded, ending regulation in an 86-86 tie.
But Terry was in the midst of a full sprint the other way. He raised his arms, pumped his fist, smiled big and sure seemed to be celebrating victory No. 56 of the season.
He says that wasn't the case.
"No, no, I knew the game was tied up," Terry said. "It was a happy reaction that they knocked the ball out of bounds and didn't have an opportunity to get a shot at the basket. I was definitely trying to make that free throw."
•
More from ESPN Dallas