1. With Playoffs Rolling, Heat's Approach Refined

By Brian Windhorst
ESPN.com
Archive
MIAMI -- The execution wasn't perfect -- how often is it in the playoffs? -- but the Miami Heat whipped up the recipe Saturday they intend to use in attempting to win an NBA title.
It included relying outrageously on their three All-Stars from start to finish, depending on the versatility of LeBron James and giving Dwyane Wade the keys to drive the offense in the closing possessions of a tight game. It worked against a Philadelphia 76ers team that clearly intends to play the gutty underdog, as the Heat went up 1-0 with a 97-89 victory.
Whether or not that game plan becomes standard will, of course, depend on just how well it works. After 82 games of trial-and-error, this has emerged as the working strategy. After all, the Heat are now 16-3 in their last 19 games applying these principles, especially the Wade facet.
Following the series of close losses in March, when the Heat allowed winnable high-profile games to slip away because of offensive failings at the end, they appointed Wade their closer. It didn't come with a press release. In fact, the Heat downplayed it because they'd much prefer it doesn't become one of those heavily debated issues. But it's still obvious.
The reason so many zero in on that role, though, is because it is so important this time of year. Saturday was a choppy game. Neither team was thrilled with its overall product. The Sixers led by 14 points in the first half and the Heat led by 16 points in the second.
But with four minutes remaining, the difference was only three points, yet another NBA playoff game headed for a climax. So the Heat flipped into that practiced plan, as Erik Spoelstra inserted Wade into the game with five fouls to take control of the offense. Meanwhile, James shifted to power forward and was asked to do the dirty work, which meant not having the ball with the game on the line.
This is new for James and not typical of a two-time Most Valuable Player, which shines a huge spotlight on it. But it is also not typical to have a player like Wade, a Finals MVP for his closing ability, on the floor as the other option.
The result? Wade scored five points that put the Heat over the top as he executed two of his trademark attacks. He scored just 17 points for the game but those at the end proved twice as valuable.
Wade zipped off picks from Chris Bosh and barreled toward the rim doing what he's done best in his career -- something he wasn't doing as much when the Heat struggled in those spots earlier in the season.
"That's probably so overstated," Spoelstra said when asked if Wade was his designated closer, trying to cut the topic off at the knees. "The game will dictate. The way we've been playing the last few weeks, it depends."
There's no shame in admitting it: Wade's shiftiness and tools are perhaps better suited to take over in those situations than James' brute force. Their résumés speak to that. The Sixers certainly knew it. After covering James and doing a quality job for much of the game -- James had 21 points on just 4-of-14 shooting -- top Sixers defender Andre Iguodala was switched to guard Wade for the finish.
"Wade is going to have the ball and Andre is our best individual defender, so we had planned on that coming in," Philadelphia coach Doug Collins said. "When Miami really took off this year, they put the ball in Wade's hands. We knew what their lineup was."
Collins was so sure of the Heat's intentions that he left 6-foot-4, 180-pound Jrue Holiday to guard James because he wanted his biggest players near the rim to be able to help when Wade attacked. Despite having four inches and perhaps 80 pounds on Holiday, James played his role of perimeter decoy and stood back while Wade went to work. James remained a dangerous option if needed, but he was the second option.
Wade made it work again. His difference-maker came amidst a high-speed collision with help defender Thaddeus Young. Wade heaved a high-arcing lob that banked in with 1:34 left that virtually won the game. The Sixers were upset, convinced Wade had created space by using his leg and it should've been his sixth and disqualifying foul. Instead it was part of a frustrating afternoon as the Heat got to the foul line 39 times and the Sixers just 15.
Collins complained about the disparity to officials all game and pointed to it as a deciding factor after it, but stopped short of going into territory that would get him fined.
"I could [talk about it] but my grandkids would lose their college funds," Collins said with a frustrated laugh, perhaps happy it was the first question he was asked after the game. "I can't respond to that."
But having the James-Wade combo often leads to free throws. The Heat took 300 more foul shots than their opponents this season, and in Game 1 James and Wade combined for 22 attempts. At the end, it just seems to be Wade who is most effective at getting it done.
It worked against the Lakers a month ago when the Heat started their strong run, and in several games since. And it will likely continue to be the plot when these situations arise in the postseason.
"I think we understand our game coming down the stretch," Wade said. "We can feature either guy at that moment and Coach decided to feature me and I was able to get to the basket and get fouled a couple times."
James was heavily involved. He had five rebounds and a block in the fourth quarter as he played the consummate big man. He finished with 14 rebounds, five assists and three blocks for the type of well-rounded effort he's become famous for. It was exactly what the Heat needed.
"It's the postseason, I'm just trying to do whatever it takes to win," James said. "[Wade] was able to do some great things offensively and I was able to clean the glass and it helped us win the game."
With Bosh delivering a strong first playoff game with a game-high 25 points and 12 rebounds, the Heat's All-Stars put together a combined effort of 63 points, 33 rebounds, 11 assists and four blocks. It was still a game in the final two minutes, which the Sixers considered a moral victory, even with that effort.
Collins said the Sixers are trying to keep the Miami trio under 75 points so they can have a chance. The last time the teams met (last month) they had 91 points and it was still a game in the fourth quarter, too. The Heat don't feature reliable support behind those three, so these types of games are likely to continue for Miami no matter the opponent.
Which is why it's vital to have a dependable closing scheme in place, and not letting egos get in the way may decide how far they go.
"Whoever is out there, nobody wants to lose and you do what you are supposed to do," Bosh said. "We expect to make a long run."


NBA Writer Brian Windhorst
• On Twitter @WindhorstESPN | On ESPN.com
• Follow ESPN's NBA coverage on Twitter | On Facebook | On Google+
2. Rose Sets The Tone In Opening Win
By Jon Greenberg
ESPN Chicago

CHICAGO -- You know that old NBA axiom: A playoff series doesn't truly begin until Kurt Thomas dishes out an inadvertent elbow and Derrick Rose scores 39 points.
While Thomas, a veteran of many playoff wars, including possibly the Trojan and Peloponnesian varieties, nearly knocked out Pacers forward Tyler Hansborough late in the third quarter, it was Rose who dealt the killing blows at the end of Saturday's game.
Rose certainly earned his MVP chants in a wild playoff opener against the Indiana Pacers. Along the way, he proved, as if anyone had a doubt, that he can handle some punishment, and that he can dish out twice as much as well.
Despite a faulty jumper, Rose scored a playoff career high thanks to his 19-of-21 free throw performance, including the final two to ice a 104-99 comeback win in front of a raucous United Center crowd. Nineteen of 21? It's that time of the year: D-Rose Tax Day.
"Twenty-one free throws, that's a lot of free throws," Pacers forward Danny Granger said. "We have to figure out a way to keep him in the lane."
Rose held true to his promise on Friday that this series would come down to him attacking and drawing fouls. Thankfully, it didn't come down to him making long-range shots, because he missed all nine of his 3-point attempts. He hit only two shots from 10 feet or longer, but he was nearly perfect inside.
While his jumper became a legitimate asset this season, Rose has a fat W2 form because of those acrobatic trips through the lane. I don't know who his accountant is, but there's no chance he's get any amortization on that crossover.
In the end, Rose sent a message to the rest of the league. He will continue to get the calls an MVP favorite deserves, and he won't waste them. And he's not afraid to get in an opponent's face, like he did with Jeff Foster in the first half.
"If anything, you're not going to get punked," Rose said. "I know I'm quiet, but that doesn't mean anything. When you're out there, if you think it's a dirty play you gotta say something. If you don't, they're going to continue to do it."
While it would be disingenuous to say the Pacers are the bullies of this series, Rose made a point that should resonate. He and the Bulls feel they deserve their No. 1 seed, and the expectations that come with it.
Is this the kind of hard-fought game Rose and the Bulls needed to kick-start what could be two months of playoff games?
"No," Rose said, laughing. "If anything, I would love a blowout game. We definitely didn't want a game like this in the first game."
3. Daily Dime Live
Zach Harper, TrueHoop Network bloggers and fans give their in-game opinions on all topics throughout Saturday's slate of NBA playoff talk in Daily Dime Live.

Rose
SATURDAY'S BEST
Derrick Rose, Bulls:
While his unstoppable drives en route to 39 points defined a tough win over the Pacers, it was a kick-out to Kyle Korver for a deciding 3-pointer that helped the Bulls avoid an unthinkable loss to the gritty Pacers.
---
SATURDAY'S WORST

Losing strong upset bid: The Pacers were impressive. Tyler Hansbrough was owning Carlos Boozer, even causing Indy president Larry Bird to crack a smile. Indy had a 98-88 lead with 3:28 to go. But then D-Rose just happened. Will Pacers now be swept away, or build on this?
---
TWEET OF THE NIGHT
This can't be life almost got hit !! Speeding driver didn't slow down for the pedestrian6:30 p.m. ET via Twitter for BlackBerry®
Favorite
Retweet
Reply
Tony Allen
aa000G9
---
QUOTE OF THE NIGHT
"With Derrick Rose on the other team, no. It's like a crazy stalker ex-girlfriend. Every time you tell her you don't want to talk to her, she'll show up at your door again."
-- Danny Granger, Pacers forward, describing how safe a lead felt against the Bulls.
---
By Jeff Caplan
ESPN Dallas

Kidd
DALLAS -- On a night when points were at a premium and the Dallas Mavericks stared down a six-point deficit with 6:07 to play, who figured it would be 38-year-old Jason Kidd looking to his teammates and pleading: Fellas, a little help?
He'd get a fourth-quarter boost from his buddy Dirk Nowitzki, who had 18 of his 28 in the final period, but it was Kidd who otherwise thrilled the crowd and carried the Mavs to an important 89-81 Game 1 victory over the Portland Trail Blazers on Saturday.
The 17th-year point guard pounded Portland with the type of spirited, high-scoring performance that the Blazers' scouting department would have had to search the vaults for such a game film. Kidd put together a career playoff high with six 3-pointers and a season-high 24 points.
Sporting a freshly shaven face and scalp to go with his refreshed legs, Kidd tripled his season scoring average and felt so good doing it that he even took his game inside the arc. He buried perhaps the biggest basket of the game with 5:28 to play, a 19-foot swish that ended Dallas' excruciating 11-minute field goal drought that put the game in doubt. The basket cut Portland's lead to four and settled down a skittish sellout crowd.
From there, Dallas outscored the Blazers 19-9. Kidd iced it with 25 seconds to play with a phenomenal play above the arc against mere 35-year-old Portland point guard Andre Miller. With the shot clock ticking down, Kidd faced-up Miller then took one dribble forward that got Miller off balance and opened a little daylight. Kidd stepped back and fired.
Bang.
The Mavs went up seven and it was all over.
"This is what the playoffs are all about, pressure," Kidd said. "There's always going to be somebody that steps up, the X factor or somebody unknown. As Dirk would say in the locker room, they didn't have me on the board for scoring 24 points tonight so I guess I was the X factor of the game."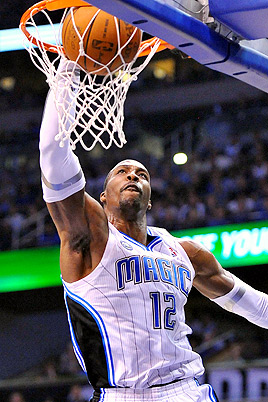 Brad Barr-US PRESSWIRE
Magic center Dwight Howard scored 31 points in the first half alone against the Hawks. He finished with 46 points and 19 points in a 103-93 loss in Game 1 of the East first round.
By Michael Wallace
ESPN.com

Howard
ORLANDO, Fla. -- First, a disclaimer: This, by no means, is meant to shortchange or disrespect the Atlanta Hawks.
Credit them for taking the best punch Dwight Howard has ever delivered in the playoffs and still having enough to deck the Orlando Magic 103-93 on Saturday in Game 1 of their best-of-7 playoff series to steal homecourt advantage.
Let me repeat: Good for the Hawks.
So when this first-round series shifts to Atlanta in a few days, I don't want any of the thousands of fans disguised as empty seats at Philips Arena to be offended or upset with what I'm about to convey.
But if you're the Magic, a team with a bonafide MVP candidate and ambitions to shake up the Eastern Conference playoff picture, you have to be asking yourself one question after Saturday's painful and pitiful loss: How could this happen?
How could you get a postseason career-high 46 points and 19 rebounds from Howard, yet never really pose a real threat to the Hawks for the better part of three quarters?
How does your other catalyst, point guard Jameer Nelson, set a franchise-record with a 20-point third quarter quarter to spark a rally, yet find it's still impossible to chip away at Atlanta's comfortable lead?
And how do you claim to be playoff ready, puffed up with pride and quietly offended by the fact that Chicago, Boston and Miami are receiving all the national hype in your bracket, yet refuse to get defensive enough to stop the recently slumping Hawks from shooting a combined 72.3 percent in the decisive second and third quarters?