1. Paul Punishes Lakers With Memorable Outing

By J.A. Adande
ESPN.com
Archive
LOS ANGELES -- To the rest of us it might have sounded like Chris Paul was stating the obvious. Apparently it's something the Los Angeles Lakers need to hear, because they might be the only people in the NBA universe who don't realize what's transpiring.
"It's the playoffs," Paul said. "It's the playoffs, man. It's a whole 'nother energy, it's a whole 'nother thing."
You could hear the excitement in his voice, as if he were announcing the birth of a child. Yes, the playoffs have started, with all that entails, such as the requisite demand for greater intensity and sharper execution. None of that was there for the Lakers. On Saturday night, Lamar Odom's Twitter account sent a tweet counting down the hours until the next episode of his and wife Khloe Kardashian's reality show; no mention of his upcoming playoff game.
The Lakers kept claiming that their late-season slump of five consecutive losses was strictly a matter of boredom, a state that would be cured with the adrenaline rush of the playoffs. Now they have no reason at all to manufacture a state of urgency: They're down 0-1 and have dropped home-court advantage in the series after losing to the New Orleans Hornets 109-100 on Sunday.
Chris Paul was ready. He and a group of teammates were so eager to get this going that they came to Staples Center on Saturday night to get some shooting practice. If only all our air traffic controllers were as alert and in command as Paul was Sunday. He scored 33 points, dished out 14 assists and even collected seven rebounds -- a higher rebound total than Pau Gasol, Odom or Kobe Bryant could muster in this game.
He took on any and all defenders and found a variety of ways to punish them. Derek Fisher crowded him and tried to dictate which direction Paul would dribble; Paul still got past him and into the lane. Ron Artest tried to defend him at the end of the third quarter and wound up gifting Paul free throws with a foul 35 feet from the basket. Poor Pau Gasol switched onto Paul off screens and watched jumpers sail over his head and into the net.
Even though Paul handled the ball almost every time downcourt in his 40 minutes on the court, he had only two turnovers. The first allowed Shannon Brown to race downcourt and score just before the end of the first quarter. Paul smacked himself in the head on the way back to the bench, but Hornets coach Monty Williams wasn't having any of what he called "my-badding."
"I said, 'Listen, I don't want to hear that,'" Williams said. "'We need to attack them and not worry about mistakes.'"
The Hornets didn't worry about the predictions that didn't count on them winning a game, let alone the series. They didn't worry about the stats that showed them getting outscored by an average of 102-91 in losing all four regular-season games against the Lakers. They didn't worry about the lineups that gave the Lakers a height advantage in four of the five starting spots. And as Williams said pregame, it wasn't just a matter of measuring tape. "We've played against tall teams, but [the Lakers] have Kobe," Williams said.
Even Bryant squeezing through double-teams to score 34 points off 13-for-26 shooting wasn't enough to counteract Paul. That's because Paul won the battle in the fourth quarter, when he made four of five shots and nine of 10 free throws to score 17 points, while Bryant had seven points on 3-for-9 shooting and the Hornets shot 64 percent and outscored the Lakers 36-28.
The surprise wasn't that Paul played so well, or even that he outperformed Bryant in crunch time. It was power forward Carl Landry and backup center Aaron Gray holding their own against the Lakers' big-man rotation of Gasol, Andrew Bynum and Odom, with Landry and Gray scoring 29 points to the Laker trio's 31, helping the Hornets to a 52-34 advantage in points in the paint.
The Lakers were extremely disappointed in Gasol's performance, not even pausing for sympathy for the cut Gasol suffered below his eye. Phil Jackson said, "I only remember Pau in the post a couple times." Bryant repeatedly talked about Gasol, even when asked about Odom's lackluster day (10 points, one rebound).
"Pau's our guy," Bryant said. "He's the next in line, and the responsibility and pressure comes along with that. He'll be ready to go next game."
Gasol said, "I didn't get myself going at all. So it's up to me to get some energy and be a little more aggressive and find ways to find that rhythm."
The Lakers all need to be more aggressive, to dictate, to strike first.
"I think it's the personality of our team to be overconfident, maybe cocky," Odom said.
"In practice, we need to be a little more intense," Bynum said. "During game time we're used to a pace where we're walking and talking. During game time, Chris Paul is coming off and he's fast. So you need to be able to react to scenarios and situations."
The big-picture scenario is that the L.A. Lakers are down 0-1. They've never started a championship run by losing the first game of the playoffs. It never began this way for any of Phil Jackson's six championships in Chicago, either.
If they want to set a new precedent they can start by following the example of Paul, who turned in as fine an effort as we've seen in a postseason that's quickly racking up memorable performances. And it begins by acknowledging the truth that only Paul said Sunday.
It's the playoffs.


ESPN senior writer J.A. Adande
• On Twitter @jadande | On ESPN.com | On TrueHoop | On e-mail
• Follow ESPN's NBA coverage on Twitter | On Facebook | On Google+
2. Battier Shakes Off Grisly History, Sinks Spurs
By Marc Stein
ESPN.com

SAN ANTONIO -- The difference between these Memphis Grizzlies and those Memphis Grizzlies, who got broomed out of the playoffs in the first round every time we saw them there, is obvious to the only guy who played for them then and now.
Shane Battier calmly splashed the 3-ball in the final minute that prevented another vintage collapse for the franchise record book, wound up staking the Griz to a 1-0 series edge over the 61-win San Antonio Spurs and then patiently sat at his locker explaining what was missing on those Memphis teams of yore.
"One big guy short," Battier said over and over Sunday afternoon, sounding more interested in defending the honor of those three squads that got swept -- teams Battier insists were unfairly "dismissed" -- than in reconstructing the glory of his left-wing dagger with 23.9 seconds to go that stunned the Spurs on their floor.
"I really believe that," Battier said. "We were one big guy away from contending."
These Grizzlies are a No. 8 seed that can't quite start tossing around that word yet -- let's see them beat San Antonio three more times, with Manu Ginobili in a uniform as opposed to street clothes, before we start assessing Memphis' contention prospects -- but say this much for the new crew from Beale Street: Dependable size is absolutely not any sort of shortcoming.
Battier's storybook 3, O.J. Mayo's three huge triples and Tony Allen's tide-turning, all-over-the-floor presence in the fourth quarter wouldn't have amounted to much if the Grizzlies hadn't punished San Antonio inside with their frontcourt tag team of Zach Randolph and Marc Gasol. Even with a perfectly passable 16 points and 13 rebounds, Tim Duncan had to settle for ranking as the third-most impactful big man in Game 1 of Spurs-Griz, because Randolph (25 points and 14 boards) and Gasol (24 and nine) were relentless.
3. Daily Dime Live
Zach Harper, TrueHoop Network bloggers and fans give their in-game opinions on all topics throughout Sunday's slate of NBA playoff talk in Daily Dime Live.

Paul
SUNDAY'S BEST
Chris Paul, Hornets:
Welcome back to the spotlight, CP3. Your 33 points, 14 assists, seven rebounds and four steals in the 108-100 Game 1 win over the Lakers punctuated Day 2 of a great NBA tournament for this plucky No. 7 seed coming out of the West region.
---
SUNDAY'S WORST

Gasol
Pau Gasol, Lakers: Did not play with half the fire of his younger bro, who torched the Spurs. Pau went 2-for-9 from the field, hauled in six boards and got a gash under his eye for good measure. Game 2 can't come fast enough for him.
---
TWEET OF THE NIGHT
Doc Rivers had the Kobe jaw going. What a great NBA weekend. Whatcha got, OKC and Denver?9 p.m. ET via Twitter for BlackBerry®
Favorite
Retweet
Reply
J.A. Adande
jadande
---
QUOTE OF THE NIGHT
"When you're on the road, down two, may as well go for the 3."
-- Shane Battier, Grizzlies forward, showing the wisdom of his years.
---
By Ian O'Connor
ESPN New York

Stoudemire
BOSTON -- As Chauncey Billups peg-legged it down the hallway, hobbling like a man who wouldn't be able to play a round of mini-golf in the next two weeks, never mind a round of the NBA playoffs, the quarterback embodied the state of his devastated team.
For seven-eighths of this Game 1 on the Boston Celtics' floor, the New York Knicks basked in unimagined glory. They were playing honest-to-God defense, drowning the Celtics in their own medicine and fixing to secure their first playoff victory in 10 endless years.
From his high-priced seat, a Celtics fan named Bill Belichick appeared to be re-living that January date with the Jets. The Knicks had carried a 12-point lead into the early minutes of the third quarter, and Amare Stoudemire had mocked Glen Davis' claim that he wasn't all that difficult to guard.
And then without warning, as if the Celtic ghosts conspired to rage against this attempted exorcism, Billups lost his balance, Mike D'Antoni and Carmelo Anthony lost their minds, and the Knicks lost the game, and perhaps their season.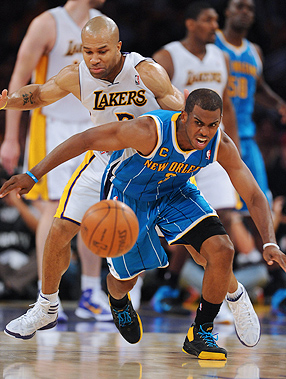 Brad Barr-US PRESSWIRE
Lakers point guard Derek Fisher had a tough assignment in trying to stop Chris Paul.
8.

Thunderous Finish For Weekend
By John Hollinger
ESPN.com

OKLAHOMA CITY -- Call this one a microcosm of the first weekend of the NBA playoffs. Oklahoma City's 107-103 win over Denver in Game 1 of their Western Conference first-round series reflected all the major themes from the other seven games.
A home team struggling? Check. Oklahoma City fell behind by 13 points in the first quarter -- as a scorching Nuggets squad made its first seven shots -- and trailed in the final 70 seconds before hanging on for the win. While five home teams won this weekend, none did so by more than eight points and all five were seriously threatened late in the fourth quarter.
A superstar performance? Oh, yes. Kevin Durant set a playoff career-high with 41 points. In particular he blew up at the end of the third quarter, with three 3-pointers, a basket-and-one, and an assist on an Eric Maynor triple to account for the final 15 Thunder points of the quarter; that stretch turned a three-point deficit into a four-point lead. On a weekend where Derrick Rose, Dwight Howard and Chris Paul all posted video-game numbers, Durant made his own strong case for player of the weekend.

Durant
Kevin Durant scored 41 points and Russell Westbrook added 31 in the Thunder's four-point win over the Nuggets. Oklahoma City became the third team in NBA history to have one player score more than 40 more points and another player chip in more than 30 in its playoff opener. The other teams to begin the playoffs in that fashion were the Philadelphia Warriors in 1962 (43 points for Paul Arizin and 32 for Wilt Chamberlain versus Syracuse) and the Celtics in 1973 (54 points for John Havlicek and 34 for Jo Jo White versus Atlanta).
•
More from Elias