1. More Good Signs For Heat In Rout Of Sixers

By Brian Windhorst
ESPN.com
Archive
MIAMI -- You wouldn't think the Miami Heat could do anything quietly. That's just not in the nature of their hometown, and especially their stars' personae. But somehow they managed to fall under the radar, at least as far under the radar as one of the most high-profile teams in the world can go.
There was plenty of attention paid to their playoff seed, their offensive finisher and who their fourth center might be. Meanwhile, the Heat were marinating over the past six weeks by carving out roles, refining rotations and building confidence.
The Heat don't just talk like serious contenders anymore -- they actually look like it.
On Monday, they slammed the Philadelphia 76ers 94-73 to take a 2-0 series lead, the first championship challenger to exert its will in the early going of the postseason. Since those tears flowed in the locker room during a five-game losing streak in early March, the Heat are 17-3 and looking more impressive nearly every day.
It must be acknowledged that they have their flaws. Those shortcomings may indeed turn out to be too much to overcome during the next two months. Beating a .500 team like the 76ers twice at home in a span of three days isn't a world-class feat.
But there's value in what the Heat are doing, and their recent success smacks of "peaking at the right time." There are plenty of banners hanging in arenas around the country that were won with less talent than the Heat have. Not too many were won without chemistry and togetherness. Now, just more than 200 days into the season, that's what the Heat are showing.
"You can see the guys getting much more comfortable playing with one another; they are playing incredibly unselfish," Sixers coach Doug Collins volunteered. "If they are playing on top of their game, they are a better team."
That was a veteran and media-savvy coach just being realistic. The truth is that the Heat are indeed a very good team. It took a while for that to evolve from hype to truth, but it truly happened sometime during this string of games during the past several weeks.
After not being happy with their effort in Game 1 that the 76ers nearly stole -- LeBron James called it a "feeling-out game" -- the Heat surged back in Game 2. They acted like a team that knew it was stronger and pushed a weaker opponent around. This might seem rather basic, but it's not something the Heat have always done efficiently this season.
The game's first play, in an odd way, told you everything you needed to know about where the Heat are at the moment. Chris Bosh called for the ball in the post and smoothly hit a spinning hook shot. That's the way Bosh has been playing for weeks, like he doesn't have a care, and looking as though excelling in the playoffs is something he's actually done before -- which he hasn't.
Bosh had 21 points and 11 rebounds, another double-double after weeks of double-doubles to close out the season. Then James and Dwyane Wade -- who was so sick with a migraine Sunday that he didn't eat for 24 hours and barely left his bed -- pounded the Sixers into white-flag time.
"Our confidence isn't too high or too low right now," said James, who had 29 points. "We did what we were supposed to do in these first two games."
The Heat's defense has been reasonably strong from training camp on, mostly because there isn't a ball involved. The offense took a lot more time but the Heat have gotten there. They still don't get much from the bench -- Mike Miller's most recent thumb injury has made him a non-factor in the series, further weakening that unit -- but the Heat have molded what they do well into a dependable style. James and Bosh have their plays and stints during the game when they will do the heavy lifting. Wade is always starting runs and filling in the gaps.
They have learned where each other are going to be and how to piece together a system that roughly looks the same from night to night. With their overall talent level, that has steadily helped make the Heat a handful.
"One thing I see in them is that their spacing and their ball movement is much, much better as the season as gone along," Collins said. "They have done a much better job."
That could be said about everything the Heat have been doing.


NBA Writer Brian Windhorst
• On Twitter @WindhorstESPN | On ESPN.com
• Follow ESPN's NBA coverage on Twitter | On Facebook | On Google+
Dimes past: April 1 | 2 | 6 | 7 | 8-10 | 11 | 12 | 13 | 14 | 17 | 18
2. Rose, Bulls Survive Another Tough Indy Test
By Melissa Isaacson
ESPN Chicago

CHICAGO -- With all the enthusiasm of a motorist emerging from rush-hour gridlock, the Chicago Bulls tried to act happy to arrive at their 2-0 lead over the Indiana Pacers in their best-of-seven first-round playoff series.
But honestly, they looked thoroughly worn out by the trip. And really. Now what?
There was a point Monday night, with five minutes left in the third quarter, when the Bulls seemed not merely on the brink of taking control of Game 2, but of potentially influencing Game 3. About to finally put a dent in the Pacers' confidence and lessen the likelihood that going back to Indianapolis would only further embolden their opponent.
If only it was that easy. Once again, trying to overtake the Pacers had to feel like swimming with their clothes on. And despite another escape, this time with a 96-90 victory, the Bulls appear to have a series on their hands.
And don't they know it.
For the second straight game, the Bulls more often than not looked out of sync and sloppy offensively and ineffective and unimposing defensively. They were slow to loose balls, shot poorly and did not resemble a playoff team, much less a team predicted to march to the NBA Finals.
"A win is a win, but to be a good team, to get to where we want to get to, we have to be honest with ourselves and look at the mistakes and try to get better," said Luol Deng, who finished with 14 points and three of the Bulls' 21 turnovers. "But at the same time, we did the job. Not the way we wanted to, but still we were able to put it together and get the win."
They got the win in a manner reminiscent of Game 1, somehow hanging around despite shooting 35 percent through three quarters until Derrick Rose bailed them out with 14 fourth-quarter points, Kyle Korver hit a timely 3 with just over a minute remaining and Deng and Ronnie Brewer drained four free throws in the final 17 seconds.
Swarmed by a variety of bigger defenders, Rose surfaced from the muck with 36 points, eight rebounds and six assists, but also had six turnovers and a foolish, potentially fatal foul on A.J. Price, who was attempting a 3-pointer with 23.4 seconds remaining in regulation and the Pacers trailing by five.
3. Daily Dime Live
Zach Harper, TrueHoop Network bloggers and fans give their in-game opinions on all topics throughout Monday's slate of NBA playoff talk in Daily Dime Live.

Rose
MONDAY'S BEST
Derrick Rose, Bulls:
Another day, another battle. D-Rose goes for 36 points, eight rebounds and six assists in a hard-fought Game 2 win over the Pacers. Aren't East No. 8 seeds supposed to be of a Washington Generals caliber?
---
MONDAY'S WORST

Brand
Elton Brand, Sixers: After a strong effort in Game 1, Brand was shut down this time by the Heat, going 1-for-5 from the field while pulling down just six boards in 30 minutes of action.
---
TWEET OF THE NIGHT
All respect Coach Knight but I went to my spring classes at UK and finished out strong good gpa even after declaring for draft.12:15 a.m. ET via Twitterrific
Favorite
Retweet
Reply
demarcus cousins

---
QUOTE OF THE NIGHT
"I certainly don't see it that way. I guess beauty's in the eye of the beholder. He looks pretty good to me."
-- Tom Thibodeau, Bulls coach, commenting on Danny Granger's quip that Derrick Rose is relentless like a "crazy stalker ex-girlfriend."
---
6.

The Unlikely Aaron Gray Watch

Gray
LOS ANGELES -- Aaron Gray couldn't reveal how far from 100 percent his sprained right ankle feels because "I'm never good with numbers," so the best he could do was describe it as "Sore. Much better than yesterday."
Among the unexpected developments in the playoffs is the sudden interest in Gray's ankle. These are the kinds of shifts that occur when the New Orleans Hornets take the opening game from the Los Angeles Lakers and Gray outscores Pau Gasol 12-8 before Gray's right ankle bent at a 45-degree angle in a visual that even Gray found "kind of nasty" when he saw a replay on "SportsCenter."
Gray spent Monday's practice reclining on a trainer's table, his ankle elevated and iced. Then he strapped on a walking boot. The Hornets are calling his availability "day to day" and are grateful that the series doesn't resume until Wednesday.
"We've got a couple days, so we'll see," Hornets coach Monty Williams said.
Williams said the Hornets need more big men, not fewer, since the Lakers "start out with 14 feet" in the form of Gasol and Andrew Bynum. The Hornets are already without power forward David West (torn anterior cruciate ligament), and starting center Emeka Okafor played only 22 minutes in Game 1 because of foul trouble. But Gray and Carl Landry (West's replacement in the starting lineup) held things down in the frontcourt, while Chris Paul dominated the game from the point guard spot.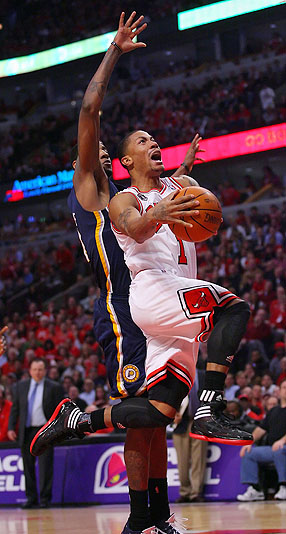 Dennis Wierzbicki-US PRESSWIRE
Bulls point guard Derrick Rose moved past Paul George and the Pacers for a second straight game with a 96-90 home win.

Bosh
Chris Bosh scored 21 points and grabbed 11 rebounds in support of LeBron James' 29 points as the Miami Heat took a two-games-to-none lead in its series with the Philadelphia 76ers. Bosh, who had 25 points and 12 rebounds in the series opener, registered at least 20 points and 10 rebounds in consecutive games only four times during the 2010-11 regular season, including one three-game streak.
•
More from Elias