1. Knicks Come Up A Minute Short ... Again

By Peter May
ESPNBoston.com
Archive
BOSTON -- What else can possibly go wrong for these poor souls from New York?
Once again, for the second time in as many games, the Knicks held a lead in the final minute. Once again, for the second time in as many games, they gave it away, losing 96-93 to the grateful Celtics on Tuesday night.
The Knicks now are down 2-0 in a playoff series they have controlled or led for roughly 75 percent of the time. Two of their stars are injured. They have played hard. They have competed. They have found a way to lose. Twice.
In Game 1, they got snookered on an out-of-bounds play and jobbed by the officials (in the soon-to-be-released Spike Lee version, anyway) in the final minute. In the final minute of Game 2, with two of their big three out, they went to Jared Jeffries down the stretch -- with predictable results -- after the Celtics double-teamed the ultra-hot Carmelo Anthony. "I made the right play," Anthony said when asked about giving up the ball. At least he didn't give it to Bill Walker (0-for-11).
The stone-fingered Jeffries, who scored seconds earlier on a go-ahead layup, coughed it up. Anthony then stopped chasing Delonte West when the Knicks needed to foul, citing fatigue, while also crediting Celtics coach Doc Rivers for diagramming a brilliant in-bounds play -- a pass into the backcourt! When the actual transgression did occur, there were six-tenths of a second left. Too late.
"I don't want to fall flat now," Anthony said. Of course not.
The Knicks are grasping at the positives -- and there are more than a few -- to ease or even blot out the pain of the obvious: They are halfway to elimination and have blown two golden opportunities. The operative line from Anthony is that Celtics have done nothing but win at home, which is what they're supposed to do. (He does know the Celtics have four home games in this series, doesn't he?)
Said Knicks coach Mike D'Antoni: "I probably have never been more proud of a team and how they battled the circumstances and how tough they played."
All of which is true. It might even be wonderful. None of it matters. What matters is the Celtics lead 2-0 with a huge assist from the Knicks.
New York annihilated the Celtics on the glass Tuesday night (53-37), which translated to a whopping 24-6 advantage in second-chance points. The Knicks got a surreal game from Anthony (42 points, 17 rebounds, six assists). It was a performance all the more impressive given that Anthony played the entire second half with four guys who, to be charitable, would not have been out there in ordinary circumstances. (It was like watching Larry Bird and his old Indiana State team, one Burberry original and four knockoffs.)
Amare Stoudemire never came out for the second half as a result of back spasms, which might explain his rather odious first half (four points, five rebounds, two turnovers). Chauncey Billups (left knee) never suited up. Landry Fields might as well have stayed back at the hotel. That left D'Antoni with precious few players, er, options, which also meant Anthony had the green light every time down the floor.
"It was fun for the most part,'' Anthony said. "We were out there, fighting. My teammates stuck with me. I had confidence in them. It was just a battle. It came down to a couple of plays down the stretch but, for the most part, throughout the whole game, I think we played fantastic, man."
There you have the New York Knicks, playoff version 2011: the best 47-minute team there is. They seem utterly elated with their play, not the least bit deflated at their situation, and seem to have a collective, "What, me worry?" mindset as the series shifts to New York for Games 3 and 4. The way they seem to see it, The World's Most Famous Arena and the slew of celebrities and fashionistas at courtside will change the whole complexion of the series.
It was fascinating to watch the two coaches after the game. Rivers looked and sounded like he just had undergone a skin graft. But he cut straight to the chase: "We won the game. That's all we get out of this."
D'Antoni sounded like he had just led a troop of Boy Scouts on a successful scavenger hunt. "I'm proud of them. We're still confident,'' he said. "Our heads are high, the locker room is good and they're confident. I can't wait until Friday."
This is how teams that come close, but can't finish, rationalize things. The Knicks gave the Celtics everything they could handle -- and left Boston on the Good Ship Lollipop with nothing to show for it. They should be spitting nails.
Longtime Celtics reporter Peter May is a frequent contributor to ESPN Boston and ESPN.com.
Dimes past: April 2 | 6 | 7 | 8-10 | 11 | 12 | 13 | 14 | 17 | 18 | 19
2. Dwight, Magic Fight Back
By Michael Wallace
ESPN.com

ORLANDO -- The team executive entered the postgame news conference room at the Amway Center late Tuesday night with what essentially was a public service announcement.
"Hey guys," Orlando Magic media relations chief Joel Glass said, "Dwight's going to be a while."
Most reporters in the room shrugged. There was nothing new about that statement. It's the way it is after most Orlando games. Everyone knows that Magic center Dwight Howard is incredibly quick to rebound a basketball or block a shot, but he's notoriously one of the slowest players in the league when it comes to showering, dressing and addressing the media after games.
Sensing the indifference in the room, Glass clarified his initial update.
"A while, meaning a little longer than usual," Glass said.
By the time Howard walked in nearly 90 minutes after Orlando completed its 88-82 victory over the Atlanta Hawks in Game 2 to even the best-of-seven playoff series, it was obvious the weight of the franchise -- both its present and future -- were squarely resting on his massive shoulders.
After logging the entire 48 minutes, those shoulders atop that 6-foot-10, 270-pound frame required extensive treatment Tuesday night. So did Howard's legs, knees, back and arms -- all of which were submerged in ice after his work was done.
Ali emerged from some of those slugfests with Frazier having absorbed less of a pounding than what Howard has taken the past two games. The difference is Dwight can't fight back -- not literally, at least.
3. Daily Dime Live
Zach Harper, TrueHoop Network bloggers and fans gave their in-game opinions on all topics throughout Tuesday's slate of NBA playoff talk in Daily Dime Live.
4. Easygoing Hornets Have Confidence
By Arash Markazi
ESPNLosAngeles.com

LOS ANGELES -- Every time New Orleans Hornets forward Carl Landry looks out of his downtown hotel room window across from Staples Center, he is reminded of the mission at hand.
"When you wake up in the morning, you open up the shades and there's Staples Center," Landry said. "Before you close the shades at night you see Staples Center again. It definitely gets you going. It's pretty much all you think about all day."
While many teams choose to stay close to the airport or the ocean when they come to Los Angeles, the Hornets are staying so close to Staples Center that many players, including Chris Paul, simply walked across the street before Game 1. Even their practices at USC's Galen Center are close enough that Hornets coach Monty Williams and his assistant made the two-mile walk down Figueroa Street back to the hotel afterward.
"It felt like an AAU game," Paul said. "But it's serious."
By Justin Verrier
ESPN.com
TUESDAY'S BEST

Anthony
Carmelo Anthony, Knicks:
With Chauncey Billups on the sideline and Amare Stoudemire joining him before halftime, Melo took control of the NBA's fifth-best offense and poured in 42 points (on 46.7 percent shooting) and corralled 17 rebounds, albeit in a losing effort.
---
TUESDAY'S WORST

Fields
Landry Fields, Knicks: Even with players on the Knicks' already-thin roster dropping like flies, Fields couldn't make it on the court, although Roger Mason (18 minutes) made a house call. The once-cherished rookie finished with just four points in 14 minutes for a rousing minus-13 plus/minus.
---
TWEET OF THE NIGHT
Bill Walker: 33 mins, 0-for-11 FG ... still waiting for someone to explain why the Knicks didn't need Corey Brewer.10:30 p.m. ET via web
Favorite
Retweet
Reply
Bill Simmons
sportsguy33
---
QUOTE OF THE NIGHT
"Maybe I'll get them a bottle of me and Khloe's fragrance. Or maybe I'll give them a DVD of the first season of the show."
-- New Sixth Man of the Year Lamar Odom, when asked whether his teammates should expect any thank-you gifts in the near future.
---
7.

Knicks Fight Without Amare
By Chris Sheridan
ESPNNewYork.com

Stoudemire
BOSTON -- Amare Stoudemire was slowly trying to get himself off the trainer's table when someone, it wasn't clear exactly who, cracked a joke or cracked something else that made Stoudemire start to giggle.
"Oh, don't make me laugh, man. Don't make me laugh," Stoudemire said, grimacing, as a trainer's assistant proceeded to tape an electrical stimulation device to his lower back while giving details on how to use the device to Stoudemire's bodyguard.
When it came time for Stoudemire to get dressed, he did fine with the shirt and pants but had to go back to the trainer's table to deal with his socks and shoes. The same trainer's assistant who taped the electronic stimulation machine to Stoudemire's lower back took care of the left sock before Stoudemire himself bent his right knee and lifted his right foot, succeeding in putting the second sock on all by himself.
But when it came time for the shoes, Stoudemire needed someone to put those on for him, too.
Back spasms had done this to Stoudemire after he pulled a muscle while dunking during warm-ups and then played 18 mostly ineffective minutes in the first and second quarters. The Knicks said at halftime that he was expected to return, but near the end of the third quarter came word that Stoudemire was done for the night.
The Knicks, however, were not.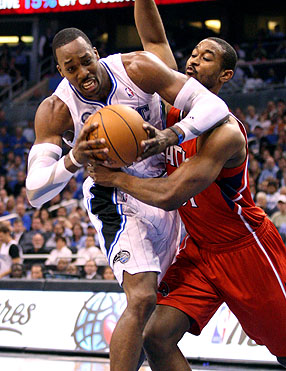 Douglas Jones/US Presswire
The reigning defensive player of the year put on another offensive clinic, scoring 33 points and pulling down 19 boards in the Magic's 88-82 win.
9.

Mavs Show Their Experience
By Tim MacMahon
ESPNDallas.com

DALLAS -- Perhaps I ought to begin with a prediction revision. Portland in six ain't gonna happen.
Not after the Mavs' statement-making 101-89 win in Game 2.
Maybe we've underestimated these Dallas Mavericks, who might be the only 57-win No. 3 seed to have an underdog mentality entering a matchup against a franchise that hasn't won a playoff series in more than a decade.
There is a 94 percent chance that the Portland Trail Blazers' playoff series win drought, which dates to 2000, will last at least another year. That's how often teams that take a 2-0 lead have won the series in NBA history.
Of course, the Mavs have been the exception before. In fact, the last time they opened a series with a pair of home wins was the 2006 Finals, and there's really no need to remind folks of what followed.
But horrendous recent postseason history has nothing to do with these Mavs. They proved that by beating Danny Crawford, by golly!