1. Are The Lakers Ready For A Rebirth?

By J.A. Adande
ESPN.com
Archive
At the Lakers' morning shootaround, Phil Jackson answered a series of questions about playing postseason games on Good Friday and Easter Sunday, spinning off into the meaning of the holidays. He got profound with it, actually.
"It's the culmination of the spring," Jackson said. "And it's so deep inside of us, it's primal. And the story of rebirth is -- you watch the tulips and you watch all these things come back to life again. So it's a symbolic thing for us. It's a wonderful thing to recognize."
Then came the natural follow: Are the Lakers ready for a rebirth of their own?
"We are," Jackson said. "We definitely are. We talk about getting better as we go through the playoffs. And this is our start, hopefully, for us to do that."
Remember, that was said before the Lakers beat the Hornets 100-86 on Friday night to take a 2-1 lead in the series. And the words came from the same man who wondered, "Who knows how we're going to react to the next game?" after the Lakers squeezed out a victory in Game 2 on Wednesday night.
Somehow over the course of a practice, a flight, a meal in the French Quarter and a film session, he regained confidence in his team.
Jackson never presents a false front. If he has doubts about players or his squad he'll sell them out to the media in a second. This represented a genuine belief that his team had returned to playoff form.
"It's a mindset that I think we can all kind of feel," Jackson said afterward. "It was generated by a number of things that came together. We focused on our defense. Although we had a winning game [in Game 2], we didn't really finish the game off right. We talked about doing that the right way and establishing Kobe as an offensive threat tonight."
Kobe Bryant returned to his usual ways, scoring 30 points for the 80th time in a playoff game, hitting 10 of 20 shots from the field after a 3-for-10 Game 2 in which he concentrated on forcing the ball into the post and defending Chris Paul. Bryant's Game 3 performance came as no surprise.
More notable was the sight of two digits on Pau Gasol's line in the scoring column. His arrival in that February 2008 trade restored the Lakers to championship-contender status, but lately he was the first response to any "What's wrong with the Lakers?" query.
Gasol still had his share of frustrating moments in Game 3. He caught flak from Jackson for letting Carl Landry get past him on defense. He missed some shots inside and was called for a charge when trying to back in Landry. What appeared to be his breakout moment -- an authoritative dunk -- was waved off by a foul called before he took off.
If Gasol couldn't take control inside -- only three of his seven field goals came in the paint -- he showed a shooting touch uncommon in most big men. He even stepped out beyond the 3-point line and hit a shot.
A minute and a half after his 3-pointer, he scored a putback layup, then came back on the next possession and hit a jumper that bounced around the rim and dropped, prompting no fewer than five fist-pumps on his way downcourt.
It wasn't an awe-inspiring sequence (Jackson described it as, "kinda, you know, having two, three minutes of offensive display there"), but if it restores Gasol or simply turns down the volume on the criticism, it's one less thing the Lakers have to worry about.
Here's something for opponents to fret: the emergence of Andrew Bynum as a dominant force. He had 14 points and nine rebounds in the first half, making Gasol's struggles irrelevant and stoking the Lakers to a 51-42 halftime lead. Then in the third quarter, he gave the Lakers what's becoming a weekly scare by grabbing his surgically repaired right knee and grimacing. He shook it off and remained in the game, although he didn't score again.
The Lakers had plenty of other contributors, including 10 points from Derek Fisher and 13 from Lamar Odom. The Lakers looked a lot like they did during their 17-1 sprint after the All-Star break. They got everyone involved and played defense.
The Hornets have scored in the 80s the past two games. They aren't able to get their transition game going because the Lakers keep getting high-percentage shots inside.
"They got easy basket after easy basket," Hornets coach Monty Williams lamented. "And I thought that affected us. We haven't been a team that allowed our offense to affect us all year."
Sounds like the Hornets are getting away from what they are. The playoffs aren't the time to do that. But in most playoff series, there comes a time when it's obvious to both sides who's going to win it, and that hour might have arrived in this one. Williams didn't go as far as Doug Collins and say the Lakers are a better team, but he did concede, "They have a lot of things in their favor."
Including that whole reborn thing.
New Orleans has the Rebirth Brass Band, who performed at halftime. The Lakers have a revitalized All-Star, a superstar who resurrected his old scoring ways and a rejuvenated defense. On the basketball court, that's the equivalent of a spiritual awakening.


ESPN senior writer J.A. Adande
• On Twitter @jadande | On ESPN.com | On TrueHoop | On e-mail
• Follow ESPN's NBA coverage on Twitter | On Facebook | On Google+
Dimes past: April 2 | 6 | 7 | 8-10 | 11 | 12 | 13 | 14 | 17 | 18 | 19 | 20 | 21 | 22
2. Howard Can't Do Everything By Himself
By Michael Wallace
ESPN.com

ATLANTA -- Indeed, these are sensitive times for the Orlando Magic.
That much was obvious prior to Friday night's game, when Dwight Howard took on a handful of reporter hacks about an hour before he matched up with the Atlanta Hawks for Game 3 of this best-of-seven, first-round playoff series.
Howard was refreshingly candid when questioned by a few reporters about matters ranging from their opinions of his place in the league's MVP race to trade speculation in some circles that he could be headed out of Orlando as soon as this summer should the Magic's playoff run suddenly turn tragic.
3. Daily Dime Live
Zach Harper, TrueHoop Network bloggers and fans gave their in-game opinions on all topics throughout Friday's slate of NBA playoff talk in Daily Dime Live.
4. Rondo's Reappearance Act
By Jackie MacMullan
ESPN Boston

NEW YORK -- Raise your hand if you've seen enough.
Me, too. Bring on the Heat.
There were moments when you might have been able to make a case for a compelling Celtics-Knicks series, but that was before Chauncey Billups crumpled in a heap on the Boston Garden parquet, before Amare Stoudemire's balky back left him so ineffective he felt compelled to roll up his warm-up jersey to reveal his back brace for public consumption, before Rajon Rondo unleashed a vintage Game 3 performance that harkened back to those early days in November and December when the Celtics appeared unbeatable and their point guard was lauded as otherworldly.
By Maurice Brooks
ESPN.com
FRIDAY'S BEST

Rondo
Rajon Rondo, Celtics:
The Knicks played without their point guard, Chauncey Billups, while Boston's quarterback was the best player on the floor in Game 3. Rondo gave out a franchise playoff-high 20 assists to highlight his triple-double in a Celtics win.
---
FRIDAY'S WORST

Stoudemire
Amare Stoudemire, Knicks: Yes, he was limited by back spasms, but the Knicks needed more from Amare, who was an MVP candidate during the first half of the season. He went 2-for-8 from the floor, finishing with just seven points.
---
QUOTE OF THE NIGHT
"I didn't call bank. I think the bank's closed right now."
-- Hawks guard Jamal Crawford on his victory-sealing 3-pointer that kissed off the glass against the Magic in Game 3
---
7.

Where Is Shawn Marion?
By Tim MacMahon
ESPN Dallas

Marion
PORTLAND, Ore. -- In the last month and change of the regular season, Shawn Marion reminded Dirk Nowitzki of the guy who was so hard to guard back when "The Matrix" was a four-time All-Star for the Phoenix Suns.
Marion emerged as an efficient offensive force in that stretch, which started soon after he was plugged into the Mavericks' starting lineup. Marion averaged 15.9 points on .547 shooting in his final 17 games of the regular season, scoring 20-plus points five times.
So Marion's stat line so far in the first-round series against the Portland Trail Blazers is pretty surprising: 21 points on 9-of-19 shooting. That's for all three games, not just one night.
• To read the rest of the column, click here »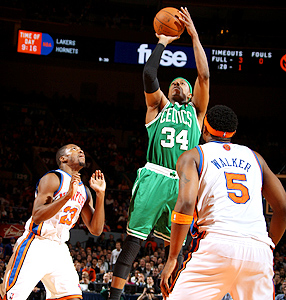 NBAE/Getty Images
Paul Pierce, who fired in a game-high 38 points, combined with Ray Allen to knock down 14 3-pointers against the Knicks in Game 3.
9.

Loss Part Of Rebuilding Process
By Chris Sheridan
ESPN.com

NEW YORK -- A year from now, New York Knicks fans will look back on this night and do one of two things.
They will grimace. Or they will shrug.
And to get a reading on which of those two choices it might be, a brief history lesson is in order.
It was April 23 of last year when the Boston Celtics did something similar to what they did to the Knicks on Friday night. They went into Miami holding a 2-0 lead over the Heat, and they all but won the series in Game 3 on a Paul Pierce dagger at the buzzer.
The Heat came back and won Game 4 on the strength of an out-of-body performance from Dwyane Wade, but the end came two nights later back in Boston as Wade's supporting cast, featuring Michael Beasley and Quentin Richardson, proved no match for a veteran, playoff-tested Celtics team that knows how to put a foot on someone's throat, then step down hard and start grinding its heel.