1. CP3's Evening Touch Stings Lakers

By J.A. Adande
ESPN.com
Archive
NEW ORLEANS -- The Lakers and Hornets are tied at two games apiece because the Hornets once again turned the whole premise of the series upside down.
The Lakers were supposed to dominate inside and have the best player on the court. Two times the Hornets have controlled the paint and Chris Paul has outshined Kobe Bryant, and both times the Hornets have won.
Paul keeps saying that all he wants is to be in the playoffs, and he'll take his chances from there.
Well, who wouldn't like their chances with a playoff game on the line and the ball in Paul's hands? The Hornets stumbled across found money Sunday. They had a two-point lead with half a minute left in the game, the home crowd roaring and a chance to draw even in their series with the heavily favored, defending champion Lakers.
Best of all, Chris Paul was dribbling.
He was already sitting on a triple-double and had dropped 23 second-half points on the Lakers. Surely he had something else good in store.
As Bryant said, "You're dealing with one of the best point guards in this game. And when it's all said and done he's going to be one of the best to ever lace 'em up."
Paul surveyed the defense, assessed his options and called over Trevor Ariza to set a screen on Bryant.
"We saw Kob was hobbling a little bit, so we decided to go ball screen," Paul said. "Figured they'd probably switch."
Paul had witnessed the drama and the strange scene that unfolded one minute of game time earlier, when Bryant stumbled and his left foot wobbled as he pursued Willie Green on a drive. While Bryant limped around, official Bob Delaney asked Phil Jackson if he wanted to substitute for him. Jackson sent Shannon Brown to check into the game. But Bryant limped toward half court instead of the sideline, telling Brown he was OK and stayed in the game. Delaney told Bryant he had to leave. All the while, Green waited to shoot his free throws.
Finally, Bryant relented and left.
Bryant returned to the game, but afterward he didn't make his customary trip to the interview room dais and couldn't even make it to his locker to speak to the media. Instead, he addressed a group of reporters while sitting on a table in the athletic trainer's section of the locker room, his left foot wrapped up. Bryant said he would be in the lineup for Game 5 on Tuesday -- "It's going to take a lot to stop me from playing" -- but he did use crutches to get to the team bus.
"It's more my foot," Bryant said. "It's not really my ankle; it's my foot. I don't really get hurt there too often, so it's a little different for me."
Paul had no idea of the diagnosis when he came off the screen. He thought Bryant would be a logical choice for his next victim, the way he had burned him and virtually every other Lakers defender over the course of the game.
So there they were: the two All-Stars, Olympians, winner and runner-up of the 2008 Most Valuable Player award, going head-to-head.
Paul went to the left side of the lane and elevated to shoot, but Bryant stayed with him and timed his jump perfectly -- with Pau Gasol helping out for good measure. Paul stayed in the air as long as he could, realized he couldn't get a good shot, then found Jarrett Jack near the free throw line. Jack drained the jumper.
"I felt like I played pretty good defense on Chris," Bryant said. "Used my length, used my size and Jack made a great cut in the lane and got the shot off."
"I made a move, attacked, and Jarrett Jack saved me," Paul said. "Because I was about to take one of the worst shots I had taken all game."
If you're surprised that a showdown between Chris Paul and Kobe Bryant resulted in a basket by Jarrett Jack, that he could score the decisive points in the Hornets' 93-88 victory, well … so is Jack.
"I honestly don't really know what I was going in there to do," Jack said. "Didn't know if I was going to offensive rebound or [get a] loose ball, but I was just trying to get in the mix. I knew hanging out on the perimeter wasn't going to do me any good."
It was the culmination of a series of things you didn't expect to happen. Start with Ariza quadrupling the point production of Paul and Bryant combined in the first half, when he scored 16 points. (That was thanks in part to Bryant having his first scoreless playoff half since May 25, 2004). And who counted on Paul matching the rebound total of the Lakers' big-man duo of Andrew Bynum and Pau Gasol, with 13? It was part of Paul's masterful stat line that included 27 points and 15 assists, his second career playoff triple-double.
All that from a guy whom Ariza said is "maybe 6 feet."
That drew a sharp glance from Paul.
"What?" Paul said. "Whoa. Whoa, Trev."
Perhaps Paul would take less offense at this description from Bryant, who said "He's just a bad little dude, man."
The undersized Hornets are a bad little team.
While the Lakers technically won the points in the paint 40-38 -- marking the first time the winner of that category has lost the game -- the Hornets outrebounded Los Angeles 39-32, and scored 20 second-chance points.
Pau Gasol had 16 points, but that was matched by Carl Landry, and Gasol had only four rebounds. One time he lost out on a rebound to Paul, but Gasol wasn't the only Lakers big man tormented.
Paul did Bynum dirty twice when Bynum had the misfortune of switching onto him off a screen. And on defense Paul somehow distracted Bynum into missing a point-blank layup.
Paul fears no one in the playoffs.
"I don't care if my mama was out there on the court," he told TNT's Cheryl Miller in an on-court interview. "I'd hit her too."
"Your Moms?" I asked him later.
"She knows," Paul said. "She knows."
If the Lakers don't by now, they'd better ask her.


ESPN senior writer J.A. Adande
• On Twitter @jadande | On ESPN.com | On TrueHoop | On e-mail
• Follow ESPN's NBA coverage on Twitter | On Facebook | On Google+
Dimes past: April 2 | 6 | 7 | 8-10 | 11 | 12 | 13 | 14 | 17 | 18 | 19 | 20 | 21 | 22| 23 | 24
2. Consider The Switch Flipped
By Jackie MacMullan
ESPN Boston

Rondo
NEW YORK -- Here we go again.
The Boston Celtics, mired in the muck for much of March and all of April, who seemingly had lost any tangible evidence of the chemistry that so often set them apart from other teams -- who, quite simply, could not score the ball -- want you to know that everything's fine now.
The evidence is right in front of you: a 101-89 win over the New York Knicks at Madison Square Garden that completed the first 4-0 sweep of the 2011 NBA postseason.
C'mon, admit it. You wondered if Ray Allen's legs were shot. You cursed the absence of Kendrick Perkins and wrung your hands over whether Jeff Green could acclimate himself in time to be useful in the "second season." You laughed at the notion that Jermaine O'Neal could contribute anything at all. You bemoaned Rajon Rondo's prolonged funk.
Even after Boston posted two W's in the first two games, there was a healthy helping of doubt.
3. Daily Dime Live
Zach Harper, TrueHoop Network bloggers and fans gave their in-game opinions on all topics throughout Sunday's slate of NBA playoff talk in Daily Dime Live.
SUNDAY'S BEST

Paul
Chris Paul, Hornets:
27 points, 13 rebounds and 15 assists evened the score with the Lakers. As the smallest guy on the court, it was only right that he equaled the rebounding output that the combined 14 feet of Pau Gasol and Andrew Bynum managed.
---
SUNDAY'S WORST

Orlando Magic 3-point shooting: The Magic's arc story was tragic, missing 21 of 23 attempts from beyond the bent line. Hedo Turkoglu led the masonry, missing all six from deep.
Can't repeat what Kobe said after Pau dropped that pass, but let's just say it's related to today's holiday12:20 a.m. ET via TweetDeck
Favorite
Retweet
Reply
J.A. Adande
jadande
---
QUOTE OF THE NIGHT
"We're not going to hang our heads all the way to the ground about it."
-- Heat forward LeBron James, on failing to sweep the Sixers
---
6.

Hawks Flying Under Radar
By Michael Wallace
ESPN.com

ATLANTA -- So just who are these Atlanta Hawks?
After netting his fourth consecutive 20-point game off the bench Sunday, Jamal Crawford would tell you these Hawks are the hottest team in the playoffs that no one's really talking about.
After pushing to a commanding 3-1 series lead over the Orlando Magic, Joe Johnson would tell you these Hawks aren't those old Hawks who were blown out and swept out of the playoffs last season by this very same opponent.
And after seeing his team stumble into the playoffs having lost the final six games of the regular season, coach Larry Drew would tell you these Hawks are proudly bipolar and capable of flipping on the proverbial switch when necessary to get the job done.
Speaking of necessary, the scoreboard at Philips Arena late Sunday night told us all something about these Hawks that I assume many never expected to hear -- or see -- at any point this postseason, because we thought we knew the Hawks.
But there it was -- in high definition -- on the jumbo screen after Atlanta closed out an 88-85 victory against Orlando in Game 4 of their best-of-seven, first-round series. Two words stood out among all the others: "if necessary."
"Get your playoff tickets tonight for Game 6 -- if necessary. Be a part of the White-Out/Dwight-Out."
Those were going to be some tough tickets to sell.
Not because Atlanta has the reputation for being one of the least fanatical sports towns among the nation's larger cities. These Hawks fans who packed the arena to watch their team hold serve at home aren't those ones who used to disguise themselves as empty seats.
• To read the rest of the column, click here »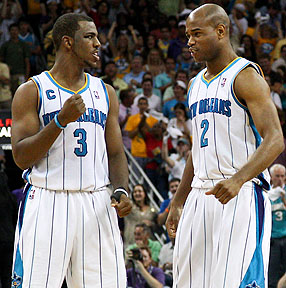 Derick E. Hingle-US PRESSWIRE
Chris Paul did the heavy lifting for the first 47 minutes, then Jarrett Jack finished the job by scoring the last five points in the win over LA.
8.

D'Antoni's Work Not Done
By Chris Sheridan
ESPN New York

NEW YORK -- In the end, Knicks coach Mike D'Antoni went with the only five players he still trusted for the entire fourth quarter. And if you predicted three of those players would be Anthony Carter, Roger Mason and Shawne Williams, you're either lying or you should be checking the Help Wanted ads under the "soothsayer" category.
Those three players -- two of whom were pretty much considered roster flotsam at the end of the regular season -- teamed with Carmelo Anthony and Amare Stoudemire to comprise what D'Antoni considered the best team the Knicks could put on the floor for the final 12 minutes when their survival -- even if it was only for a couple more days -- was on the line.
No Chauncey Billups, who was not an option.
No Landry Fields, who went from untouchable in February to unwatchable in April.
No Ronny Turiaf or Jared Jeffries or Shelden Williams, who were the only folks on the roster who bore a passing resemblance to an actual center.

Turner
Evan Turner scored 17 points, tying Lou Williams for team-high honors, in the 76ers' 86-82 victory against the Heat. Since the franchise moved to Philadelphia after the 1962-63 season, there were only two other playoff wins for the 76ers in which a rookie was their leading scorer. Andrew Toney scored a team-best 26 points in a playoff win against the Celtics in 1981, and Terry Catledge led Philadelphia with 27 points in a postseason victory vs. Washington in 1986.