1. Who's Your Haddadi? Grizzlies In Charge Now

By Marc Stein
ESPN.com
Archive
MEMPHIS, Tenn. -- They wiped out the visitors' early lead with a lineup of O.J. Mayo, Shane Battier, Darrell Arthur, Greivis Vasquez and Hamed Haddadi, which led to one of the biggest playoff upsets you could ever wish to see: Haddadi walking slowly back to the bench, gesturing to the crowd with his palms turned upward, calling for more noise at the FedExForum.
We repeat: Hamed Haddadi.
They scored the first 14 points of the second half and hardly had Zach Randolph or Marc Gasol touch the ball in the fourth quarter, pulling away from the San Antonio Spurs with unfathomable ease largely because Arthur suddenly morphed into a havoc-wreaking franchise player at both ends for 17 fantasy minutes.
Darrell Arthur.
They even made coach Gregg Popovich surrender with nearly six minutes left on the clock, when the three most recognizable faces from the San Antonio Spurs' ring-filled run -- Tim Duncan, Manu Ginobili and Tony Parker -- were all told by their coach to put on their sweats and start resting up for an elimination game at home that got here faster than anyone could have reasonably expected for a 61-win team.
The eighth-seeded Memphis Grizzlies, folks.
"We thought we could compete," Grizzlies coach Lionel Hollins said when it was all over, as if anyone doubts that now.
The scenes from Duncan's 35th birthday were surreal and borderline funereal for his Spurs, who nosedived from a halftime lead to a 104-86 trouncing in this Game 4 and now sit just one loss away from the shame of joining their longtime rivals from Dallas on the short list of No. 1 seeds to lose a best-of-seven series in the first round to a No. 8.
The 67-win Mavs of 2006-07 are the only team on the list at the moment. The 63-win Seattle SuperSonics of 1993-94, eliminated in a five-game series by Denver, are the second-winningest team in league history to go out in Round 1. And then there's shellshocked San Antonio, which is 0-5 in the Duncan era when it trails 3-1 in a series, and has to win a Game 5 at home Wednesday night just to get another shot in this building.
"Surprising," Ginobili said of the Grizzlies' second-half rampage. "But, in my case, I feel disappointed.
"I thought we were going to bounce back emotionally [and] physically after the loss of Game 3. And it was all theirs. That emotion, that edge.
"We were kind of sad at a point. We went down 10, 12 and we, in our eyes, I couldn't see the fire that said, 'Yeah, we can make it.' We looked bad. ... They had all the juice and we didn't."
The view from the other side, courtesy of the Grizzlies' Mike Conley: "I think everybody started to smell blood. I think we started to realize that, with a couple more punches, we would have them."
Yup.
On this night -- with neither Randolph nor Gasol, amazingly, getting a single touch offensively on Memphis' final 28 possessions after Gasol's layup with 2:04 to go in the third quarter -- even the quotes were surreal.
There would be no retribution for Tony Allen accusing Ginobili, still covering up most of his right arm with that bulky brace, of faking his sprained elbow. There would be no easy-to-grasp rationalizations for the Spurs, like they had after Game 1 and Game 3 when they could point to what-ifs after those late, late 3-pointers drained by Shane Battier and Randolph. The Grizzlies simply roughhoused the old masters ... and they did it with Arthur, O.J. Mayo and Battier as the unlikely catalysts.
As it has all series, Memphis took away the 3-point line and invited the Spurs (5-for-18 from deep) to drive right at their length. But Memphis also needed less than three minutes of the second half to get into the penalty and forced 17 turnovers this time, speeding the game up to a pace through Arthur in the fourth that the Spurs -- after all their newfangled offensive fireworks in the regular season -- couldn't handle. Parker traded in his silver space boots for a standard-issue pair of black Nikes and had a huge bounce-back night after three subpar performances by making his first seven shots and scoring 19 of his 23 points by halftime. But Popovich spent most of Duncan's birthday hunting for combinations that could keep up. Hunting in vain.
Brazilian power forward Tiago Splitter was granted an unexpected 21 minutes off the bench and totaled a respectable 10 points and nine boards after logging nary a second in the first three games. Duncan, though, could muster only six points and seven boards in 29 minutes, hitting the big THREE-FIVE with his fifth-lowest scoring total in a playoff career that spans 174 games.
"They've really dialed it in," Duncan said, confessing that these Grizzlies have hit a level in their first postseason together that they never grazed in the teams' four regular-season encounters.
"They've got a game plan that's working, they're sticking to it, they're being ultra-aggressive and we're not making shots. All those things are working together and it equals what you see you tonight."
With its five quick fouls and seven turnovers, San Antonio's "third quarter was just weird," in Parker's words.
Weird and, like Manu said, sad. TNT's Charles Barkley has swiftly proceeded from picking Memphis to win the series to dismissing these Spurs completely, likening this team he has always loved to a hanging-on Muhammad Ali.
The playoffs began with Parker publicly acknowledging that "our window is closing" and that this could very well be "our last chance to really do something." Yet what they've done is fall to 1-7 in their last eight playoff games once you add in last season's second-round sweep inflicted by Phoenix. A series that began with San Antonio trying to downplay the impact of losing Game 1 at home -- since the Spurs had lost their playoff opener in three of their four Duncan-led championship seasons -- suddenly finds the Spurs confronting the harrowing fact that teams with a 3-1 lead in the NBA win the series 95.9 percent of the time.
The Grizzlies, meanwhile, continue to impress you with how even-keeled and poised they are despite their serial lack of experience coming in. These aren't the wild 2007 Warriors, who not only bullied Dallas with their renegade style but also showed up for that series armed with coach Don Nelson's intimate knowledge of the Mavs. The Griz are somehow physical, brash, confident and respectful all at once.
"Never underestimate the heart of a champion," Mayo said.
Added Hollins: "We've made a little noise and got everyone excited, but we still have to win one more game. That's our outlook."
Mine? I'm drawn more and more to the question posed on "Pardon The Interruption" last week by TNT's Steve Kerr, who was asking before anyone else was how much longer some of the most decorated vet-laden teams at the top could hold on to their elite status.
"I think it's really interesting," Kerr told PTI hosts Michael Wilbon and Tony Kornheiser. "The best teams in the NBA over the last few years and even the last decade -- Lakers, Spurs, Celtics -- they're all getting older. And this is kind of that potential changing-of-the-guard season where maybe all those teams have just had their day and maybe it's time for the younger teams that are up-and-coming."
After what happened on Duncan's 35th, frankly, it's not looking like much of a maybe for the Spurs.


ESPN.com senior writer Marc Stein
• On Twitter @ESPNSteinLine | On TrueHoop | On ESPN.com | On email
• Follow ESPN's NBA coverage on Twitter | On Facebook | On Google+
Dimes past: 7 | 8-10 | 11 | 12 | 13 | 14 | 17 | 18 | 19 | 20 | 21 | 22| 23 | 24 | 25
2. No Crushing Comeback This Time
By Tim MacMahon
ESPN Dallas

DALLAS -- Perhaps you thought the Portland Trail Blazers had the Mavericks right where they wanted 'em when Dallas led by a dozen points after 36 minutes Monday night. Particularly after Brandon Roy knocked down an 18-footer on the opening possession of the fourth quarter.
"Oh, no, not again!" a face-painted fan behind press row moaned. No, not again. Not even close. The Mavs made sure Portland didn't repeat its miraculous Game 4 comeback, when Roy scored 21 points while the Blazers rallied from a 23-point deficit in the final 13 minutes and change. The Mavs closed the Game 5 door in convincing fashion, claiming a 3-2 series lead with a 93-82 win. Roy's jumper was the Blazers' last bucket until a little more than four minutes remained in the game. By the time the field goal drought of 7:32 ended, there was no doubt about the outcome. It's pretty much impossible for the Blazers to erase a 20-point deficit in four minutes, especially on the road. They couldn't draw inspiration and energy from the deafening roar inside the Rose Garden. The folks in the American Airlines Center were fleeing for the exits in an attempt to avoid traffic in the final few minutes. Roy fell far short of his 18-point performance from Game 4's fourth quarter. In fact, the Blazers managed to score only 19 points in the last 12 minutes. "From start to finish tonight, we played aggressive," said Mavs big man
Tyson Chandler
, who had a monstrous performance with 14 points and 20 rebounds in addition to anchoring the defense. "We did the same thing in Portland but only for three quarters. Tonight we did it for four quarters and that's why we got the win." •
Read the rest of Tim MacMahon's story »
3. Daily Dime Live
Zach Harper, TrueHoop Network bloggers and fans gave their in-game opinions on all topics throughout Monday's slate of NBA playoff talk in Daily Dime Live.
MONDAY'S BEST

Lawson
Ty Lawson, Nuggets:
The Nuggets' point man went for a career-playoff-high 27 points, sinking all nine of his free throws, and kept his team from being swept away by the Thunder. The Nugs will need more Ty in OKC.
---
MONDAY'S WORST

Jefferson
Richard Jefferson, Spurs: The improved shooting stroke he showed during the season did not show in a big game. Jefferson missed all four of his shots in 27 minutes of action, going scoreless in the 104-86 loss to the Grizzlies.
What a great night at the Forum. Crowd/city thank you!!!!!! Toughest game of the year Wednesday. Spurs will give us everything they have.11:45 p.m. ET via Twitter for iPhone
Favorite
Retweet
Reply
Shane Battier
ShaneBattier
---
QUOTE OF THE NIGHT
"All year he's been preaching that the desperate team usually wins, and we didn't look very desperate that first half."
-- Grizzlies guard O.J. Mayo, talking about coach Lionel Hollins' halftime speech
---
6.

Rose Determined To Play
By Melissa Isaacson
ESPN Chicago

Rose
DEERFIELD, Ill. -- Nobody, including Joakim Noah's grandfather from Cameroon, questions Derrick Rose's will to win. We've seen it enough times, and if we haven't, we've seen enough replays to remind us that as a closer, he's right there with Mariano Rivera.
But as Rose hobbled out of the gym in his shower shoes Monday -- albeit with little visible swelling in his sprained left ankle after sitting out of practice -- you had to wonder what kind of a team the Bulls will be Tuesday night in Game 5 against the Indiana Pacers, or in any game that Rose is not 100 percent.
We saw what happened in Saturday's Game 4 loss in Indianapolis. Not just the loss, but the fact that Rose clearly was struggling on his jump shot without two sturdy legs under him, and was also obviously hesitant to drive the lane with the game on the line.
It was unselfish, to be sure, for the Bulls' young floor leader to look for an open teammate. Trouble was, the ball eventually landed in the hands of Carlos Boozer, and we all know how that worked out.
This was the fear at the start of the postseason by those of us given to pessimism and paranoid thought. Not necessarily that Boozer would be hoisting up 3-point attempts with the Bulls trailing and seconds ticking away, but that Rose would get roughed up, and heaven forbid, knocked out of a game or even worn down under the stress of taking too much upon himself. And here we are, still in the first round as that scenario plays out.
So determined is Rose to perform at his best that the renowned needle-hater revealed Monday with barely a blink that he will receive a pain-killing injection before the game.
"It's not broke, so I'm definitely going to be playing," he said in that way that makes every Bulls fan want to give him a big hug, then pack him up in cotton.
• To read the rest of the column, click here »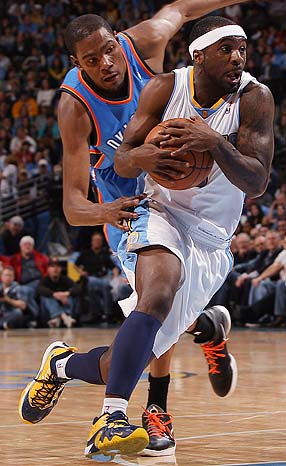 Justin Edmonds/Getty Images
Nuggets point guard Ty Lawson drove his way past Kevin Durant and the Thunder to 27 points and a Game 4 win.

The No. 8 seed Memphis Grizzles hold a 3-1 series lead on the No. 1 seed San Antonio Spurs. This is only the third time since the 2003 playoffs -- the year the first round of the NBA playoffs became a best-of-seven series -- that the No. 8 seed has won at least three of the first four games in the opening round. Orlando went up 3-1 on Detroit in 2003 before losing the series in seven games, and Golden State won three of the first four games against Dallas in 2007 and won the series in six games.