1. Lakers Move Ahead, Seeking Consistency

By J.A. Adande
ESPN.com
Archive
NEW ORLEANS -- The lesson we learned from this first-round series: The Los Angeles Lakers still have it, they just don't have as much of it, or display it, as often as their fans would like.
It's the difference between having your DVR record every new episode of a show or watching selected episodes on demand. When the Lakers decide it's time -- on their schedule, not, say, the first game of the playoffs or their first chance to grab a series by the neck -- they can do whatever they want.
The eager-but-overmatched New Orleans Hornets learned that in the final two games, which weren't even close. The Lakers finished them off with a 98-80 victory in Game 6, after throttling them by 16 points in Game 5. Rebounds, points in the paint, second-chance points (and, to the Hornets' chagrin, free throws) all went in favor of the Lakers as you would expect.
And even though the end result was the exact same -- the Lakers prevailed in six games -- the process sure felt different than last year's first-round series against the Oklahoma City Thunder. The Lakers never fell behind in the series against Oklahoma City. They also weren't physically superior to the younger, more athletic Thunder as they were to the Hornets. Their main advantage last year was that the Thunder spent the first two games adjusting to the playoffs like astronauts on their first trip into space.
The other key: "This year we're a lot healthier than when last year," said Kobe Bryant, who for all the attention paid to his left ankle this week was much worse off with an injured right knee last year.
Most noticeably Andrew Bynum is good to go, finally ready to make an impact on the playoffs. We won't waste any of your gigabytes chronicling his injury-filled postseason history, but suffice it to say he's never had a start like this. He averaged 15 points and 10 rebounds a game for the series and was the star of Game 6 by dropping 18 and 12 and blocking two shots. He also made his biggest defensive impact so far; in my made-up SOBOA stat (Shots Against Bynum's Outstretched Arms) the Hornets were 1-for-6.
"He's our anchor defensively," Bryant said. "On top of that, he's shown the ability to knock down jumpers. It's going to give teams a headache now that you have two 7-footers."
"Man, he's three times bigger than anybody else on the court," the Hornets' Chris Paul said. "It's tough. That's why they won two championships in a row."
Actually, Bynum isn't the reason they won the past two championships. But if they win a third championship in a row, it will be because of him. The interior play came down to him and whatever assistance Ron Artest could provide as the Hornets shoved Pau Gasol around. Gasol recovered from the illness that afflicted him in the beginning of the series, the constant question of his manhood that followed and an 0-for-3 first half in Game 6 to provide the Lakers with 16 points and eight rebounds in the finale. But it was Bynum who became the focal point of the Lakers' offense in the first half, when he made six of nine shots.
There's a point in every game when Bryant asserts himself, and in this case it was the third quarter, when he scored 13 of his game-high 24 points (eight of them at the free-throw line). But the Lakers are noticeably less reliant on Bryant than at any point in the past 10 years.
The series bore Paul's imprint more than it did Bryant's. The Lakers were able to win a game when Bryant shot 3-for-10. The Hornets couldn't do the same when Paul was 4-for-9 in Game 6.
It was the Lakers' bench that started the comeback in the second quarter of Game 5 and then put the game out of reach in the fourth quarter of Game 6. Every game the Lakers' reserves outscored their Hornets' counterparts, the Lakers won.
It's just as easy to break it down by saying that every time the Lakers played with the poise, effort and intelligence expected of higher-seeded playoff teams, they won. It just took a while to get there. Phil Jackson's tradition of counting down the number of victories left to get the ring got off to an unusual delayed start and then seemed to progress slowly until it reached 12 Thursday night.
"We learned how to play with each other," Artest said when asked what took so long. "We started off, I don't think collectively hard. And then our backs were against the wall. Did we lose the first game?"
Yes, Ron, you did.
"So our backs were against the wall."
That's what the Lakers seem to need before they respond. But it also could be that the Lakers aren't capable of playing at a championship level every night, even in these playoffs. They're healthier than last year, but also older. Jackson is conscious of managing minutes. He played Bryant 42 minutes in the opener and hasn't kept him on the court for more than 36 minutes since. He even held him out for half of the fourth quarter in Game 4, when the Lakers trailed on the road in a situation that screamed for Bryant. Jackson said that he doesn't want to burn him out, that there are still games left to be played.
The Lakers have already played two more than the minimum, and you wonder if extra games in the early rounds could take a toll later. Bryant laughed at the thought that the Lakers' defense caused Paul's 10-point night in Game 6 and attributed it to Paul being tired. What if the Lakers get tired? Having to fly halfway across the country and across two time zones in every round of the Western Conference playoffs won't help.
While Bryant quickly put Paul's off game on fatigue, he won't blame the Lakers' slow start to this series on a collective energy drain from playing more playoff series than anyone the past three seasons.
"The more the series goes on the more you pick apart your opponent," Bryant said. "It's simple as that. The more we go on, the more we figure you out."
We saw it two years ago against Denver, and saw it against Phoenix last season, when something snapped into place in the final home game of the conference finals and the Lakers used it to finish off the series on the road.
The Lakers could afford to spot the Hornets two of the first four games while they were busy figuring it out. They can't get away with it as they get deeper into the playoffs. They'll need to solve it quicker. Jackson listed size and depth as the Lakers' two advantages in this series. They won't have a decisive edge in the next round.
"This series is over, so it's all about the next matchup," Jackson said. "That matchup portends to our way to dominate a team or take control of the series. It took us some time to figure out this team."
Time was another luxury the Lakers enjoyed this round. And it remains their biggest mystery. Which times will they look like champions, and which times will they look vulnerable to any team in the playoffs?


ESPN senior writer J.A. Adande
• On Twitter @jadande | On ESPN.com | On TrueHoop | On e-mail
• Follow ESPN's NBA coverage on Twitter | On Facebook | On Google+
Dimes past: April 12 | 13 | 14 | 17 | 18 | 19 | 20 | 21 | 22 | 23 | 24 | 25 | 26 | 27 | 28
2. Steady And Single: Hawks' Bigs Hound D12
By John Hollinger
ESPN.com

Collins

Pachulia
ATLANTA -- The celebration was on, and the other Hawks were getting the camera time. Jamal Crawford, for his big shots, clutch free throws that earned him "M-V-P" chants -- for the first time in his career, he said. Joe Johnson, for his typically steady 25 points. Al Horford, for another double-double. And Josh Smith, for the game-clinching block of Jason Richardson's potential game-tying shot at the buzzer.

Meanwhile, all was quiet in the far corner of Atlanta's locker room, home to Jason Collins and Zaza Pachulia. They teased each other about their fashion sense, or lack thereof, while accounting for six games' worth of bumps and dings, and quietly took in the satisfaction of knowing they'd contained the game's most indomitable force.

"I'm all bruised up," Pachulia said.

The two combined for three points in 40 minutes of action in the Hawks' 84-81, series-clinching win over Orlando on Thursday. In six games, they made six baskets. Combined.

But don't let that fool you. What those two did defensively, Thursday night and all series, was the biggest reason the Hawks stunned the Magic in six games to advance to the second round for a third straight season -- becoming one of only three teams, along with the Lakers and Celtics, to make that claim.

• To read the rest of the story, click here »
3. Daily Dime Live
Zach Harper, TrueHoop Network bloggers and fans gave their in-game opinions on all topics throughout Thursday's slate of NBA playoff talk in Daily Dime Live.
THURSDAY'S BEST

Johnson
Joe Johnson, Hawks:
Shaking off a rough Game 5, JJ delivered. He dropped 23 points and hauled in 10 rebounds on the Magic, showing some killer instinct in Game 6 clincher. Some DDLers may begin to trust the Hawks when it counts.
---
THURSDAY'S WORST

Hornets' board scores: The Hornets were dominated 43-30 on the glass, and when the shortest guy on the court has the most rebounds for your team (Chris Paul, eight), then maybe your bigs need to play bigger against a long, strong Lakers team. That, or try bringing back Truck Robinson from the N.O. Jazz of a generation or two ago.
TWEET WATCH
Finally close them out. CP3 & Trev were tough, but we figured them out.. Couple days off to rest, then back to business..11:50 p.m. ET via ‹berSocial
Favorite
Retweet
Reply
Matt Barnes
Matt_Barnes22
---
QUOTE OF THE NIGHT
"They never give us a chance. They never talk about the Hawks. They talk about Orlando, Chicago, Boston and Miami. We're always sneaking under the radar."
-- Hawks forward Josh Smith, whose team is back in the Eastern Conference semifinals
---
6.

Redemption Time, Or Not?
By Brian Windhorst
ESPN.com

James
MIAMI -- LeBron James is about to play the most important playoff series of his career.
Six surefire Hall of Famers will be playing in this upcoming Heat-Celtics series, but none of them has as much at stake as James does. His status is on the line, and right now there's no basis for excuse.
James' personal reputation never took a more severe hit than the fallout from "The Decision" broadcast. Yet, in an odd but tangible way, that miscue diverted attention from his basketball crime, when he tarnished his name as the league's most valuable player by playing the worst game of his career at the worst possible time. And it came against the Boston Celtics at the same pressure point where the Miami Heat now find themselves.
After eliminating the Philadelphia 76ers this week, Heat players and coaches said it wouldn't have felt right had they not met Boston in the playoffs. For James, it isn't just right; it's potentially poetic and redemptive -- or ruinous.
James fled what he felt was an unsalvageable situation in Cleveland because he couldn't beat the Celtics even with a nearly $100 million payroll around him. He came to Miami for an upgrade -- more talented teammates and the promise to smash that bear trap that's swallowed him twice.
Now, with the Celtics at hand again, all of James' chips are in the middle. Win and he was right. Lose and he's in the same mud, a year older and looking no wiser. Fair or not, that's his situation. Either lead his team to being more clutch than Ray Allen, more rugged than Kevin Garnett, more crafty than Paul Pierce and more fearless than Rajon Rondo, or endure another burning summer of discontent. Only this time, the mockery will be more about basketball and not public relations.
• To read the rest of the story, click here »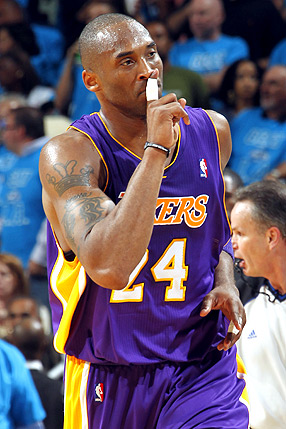 Photo by Layne Murdoch/NBAE via Getty Images
Kobe Bryant's 24 points helped keep the New Orleans partisans quiet during the Lakers' series-clinching 98-80 win.

Howard
The Atlanta Hawks advanced to the Eastern Conference semifinals by downing the Orlando Magic, 84-81, to take the first-round series in six games and negate one of the great individual series in NBA playoff history. Dwight Howard averaged 27 points and 15.5 rebounds per game, while making 63 percent of his field-goal attempts. Over the past 30 years, only one other NBA player had a playoff series in which he averaged 27 points and 15 rebounds, while making at least 60 percent of his field-goal attempts. That was Shaquille O'Neal (38.0 points, 16.7 rebounds, 61.1 percent) for the Los Angeles Lakers against the Indiana Pacers in the 2000 NBA Finals, en route to his first NBA title. In earlier playoffs, Kareem Abdul-Jabbar reached those levels in four series, and Wilt Chamberlain and Bob Lanier each did it once.