1. Randolph's Deft Touch Finishes Spurs

By Marc Stein
ESPN.com
Archive
MEMPHIS, Tenn. -- Greivis Vasquez had to play as much as Mike Conley in the biggest game in franchise history. Manu Ginobili threw in a running one-hander from behind the half-court line at the third-quarter buzzer. And Rudy Gay? You can guess how painful it was, parked on the bench in his dreaded suit-and-sling ensemble, to take in Manu's latest miracle.
And you know what?
None of the above stopped the Memphis Grizzlies, either.
Nothing was going to prevent the eighth-seeded Grizzlies from completing the most significant first-round upset in NBA history, because the San Antonio Spurs, when they had to, simply could not stop Zach Randolph. Tim Duncan, Gregg Popovich and the ring-laden Spurs had no counter to a fourth-quarter eruption that Grizzlies coach Lionel Hollins described as the home team riding Randolph "like he was an English warhorse" ... which is why Memphis might have been the one place on this unforgettable Friday where you scarcely heard a word about that royal wedding.
After the Grizzlies stole Game 1 in San Antonio, Randolph got a contract extension worth more than $70 million. After rumbling for 17 of his 31 points in the fourth quarter of Game 6, sealing a 99-91 victory that ushered the 61-win Spurs to a level of uncertainty they haven't seen since their pre-Duncan days in the spring of 1997, Randolph walked away with his left arm aloft in triumph and something he swears he treasures as much as all that cash.
Acceptance.
Unadulterated, open-armed love from the locals who watched this bumbling franchise suffer three straight first-round sweeps, become a national laughingstock when it dealt Pau Gasol to the Lakers and then hush all those bashers -- Popovich among the loudest at the time -- by ousting the team widely seen as the league's best-run franchise just four years later.
"You're right," Randolph said as he soaked in the impact of those 10 clutch points he reeled off in crunch time, just when the Spurs looked as if they were going to avoid all those uncomfortable end-of-an-era questions for one more night and force a Game 7 back in San Antonio on Sunday.
"It's never been like this nowhere else for me. I feel like I'm from Memphis."
Z-Bo's flurry came right after the Spurs had finally seized an 80-79 lead with 4:39 to go. He dropped a turnaround from in deep, followed by a couple fadeaways sandwiched around two free throws, then capped the crushing sequence with a running J in the lane that pushed the hosts' lead to a safe 91-82. It was a sequence that took the 29-year-old into the proverbial zone, making you wonder if this was really the same guy who laced his double-doubles with frequent trouble in Portland, got dumped by New York so the Knicks could create cap space and then got shipped out by the Clippers to make room for Blake Griffin -- into the proverbial zone.
"I wanted to touch the ball," Randolph said, "every time it came down court."
Memories of the Spurs' Ginobili-inspired Game 5 escape were still fresh, but Randolph would not disappoint. Not with his college coach, Tom Izzo, having flown in to watch the official coronation of Randolph as a bankable franchise player. So after hauling Memphis over the line, Randolph was stopped by Popovich during postgame congratulations and commiserations and promptly got showered with the highest of whispered praises.
"I think he's a hell of a talent and has really turned into a heck of a team player," Popovich said. "I just wanted to let him know in my own light."
Gushing about the Grizzlies' big men, who capitalized on Duncan's limitations at 35 and roundly punished Duncan's lack of a consistent sidekick, predictably proved far easier for Popovich than talking about where his proud team goes from here. Marc Gasol added 12 points and 13 boards to Randolph's damage, and the rookie, Vazquez, added a solid 11 points in 23 turnover-free minutes to offset Conley's foul trouble. Add all that to the latest dose of defensive ferocity that took away the Spurs' usual production from behind the 3-point line -- they were 3-for-21 from deep if you exclude Manu's 50-foot heave and one banked 3 from Matt Bonner -- and it's no wonder that the Grizzlies overcame their lack of experience and standard nightly lapses of discipline.
As for Duncan? In his previous 15 games in which San Antonio had faced playoff elimination, TD averaged 23.1 points and 12.1 rebounds, averages matched in win-or-go-home games by only five greats: Kareem Abdul-Jabbar, Elgin Baylor, Wilt Chamberlain, Patrick Ewing and Bob Pettit. Yet Duncan was forced to settle for a largely muted 12-point, 10-rebound, three-block exit -- essentially his series averages -- along with five of San Antonio's 11 turnovers.
"I'm not even worried about any of that stuff," Duncan said when asked his and the Spurs' future. "I'm worried about the end of the season here and that stuff will take care of itself."
Popovich wasn't much more expansive, adding, "We just lost in the first round. I'm not going to talk about overhauls.
"I'm going to get a bite to eat and have a ... Gatorade. Anybody else [with a question] before the happy coach comes in?"
Rest assured that Pop was drinking something stronger once he left FedExForum and that there will be plenty more questions in coming months. Will Antonio McDyess retire? Can the Spurs possibly resurrect Richard Jefferson after 10 scoreless minutes and a second-half benching? Will Duncan opt out of his contract and perhaps sign a long-term deal at a lower price, as Jefferson did last summer, to create some cap space? Is there any way they can possibly acquire a new, dependable, younger sidekick for Duncan without trading Tony Parker and breaking up the Duncan/Ginobili/Parker triumvirate?
The only certainties, on this night, were all on the Grizzlies' side for once.
It's just the fourth time in history that a No. 8 seed has toppled a No. 1 seed. And it's just the second time it's happened in a best-of-seven series. But Memphis' achievement is unquestionably bigger than what the Golden State Warriors did to 67-win Dallas in 2007. The Mavs -- like Seattle in 1994, when the 63-win Sonics famously lost a five-game series to Denver -- haven't won a championship. The Grizzlies not only took out the dynastic Spurs but ushered them to a crossroads, all without the injured Gay. The Grizz also have the size, length and strength to seriously trouble Oklahoma City in the next round, whereas the Warriors couldn't follow up what they did to Dallas like Memphis can.
The Grizzlies, remember, wanted the Spurs. They got the Spurs.You could even say that they earned their spurs, purportedly tanking to setup this matchup and then learning how to win against some of the league's most decorated competitors.
You could also say that Randolph isn't the only guy in town who feels like he's been blessed with a whole new identity. The only holdover from the Grizzlies' 0-12 playoff teams, Shane Battier, insists that's the way lots of Memphians feel.
"The perception of the city hasn't always been the greatest nationally," Battier said. "And I think that's why people love this team.
"A series like this makes people say, 'You know what? We are a major league city. We are a varsity city.'"
Thanks mostly to Randolph, it's unquestionably a second-round city. For the very first time. And it happened Friday night with more 100,000 people cramming into downtown, drawn by the lure of a music festival as part of the city's annual "Memphis In May" festivities if they weren't fortunate enough to have a Grizz ticket.
The second round starts Sunday in OKC, with Game 3 scheduled at FedExForum next Saturday. Memphis In May, indeed, for the NBA. Finally.


ESPN.com senior writer Marc Stein
• On Twitter @ESPNSteinLine | On TrueHoop | On ESPN.com | On email
• Follow ESPN's NBA coverage on Twitter | On Facebook | On Google+
Dimes past: April 12 | 13 | 14 | 17 | 18 | 19 | 20 | 21 | 22 | 23 | 24 | 25 | 26 | 27 | 28 | 29
2. Wade's Troubled Times Against Green
By Tom Haberstroh
ESPN.com

Wade
MIAMI -- The numbers are astounding. Dwyane Wade's averages in four games against Boston this season: 12.8 points on 28 percent shooting along with 3.8 rebounds. Also, Wade has tallied more turnovers than assists.

We'll be hearing those statistics ad nauseum until Sunday's Game 1. But it's one thing to note Wade's poor play and another to explain it.

So the question is: Why has Wade played terribly against the Celtics this season?

You have to rewind to the first game of the season to witness the origin of a changed basketball player.

• To read the rest of the story, click here »
3. Daily Dime Live
Zach Harper, TrueHoop Network bloggers and fans gave their in-game opinions on all topics throughout Friday's slate of NBA playoff talk in Daily Dime Live.
FRIDAY'S BEST

Randolph
Zach Randolph, Grizzlies:
The lefty's shot hangs around the rim as if it were a medicine ball, refusing to bounce high or far, and drawn by extra gravity to the center of the net -- just one reason he went for 31 points (17 in the fourth quarter) in the 99-91 win.
---
FRIDAY'S WORST

Fall of the Spurs' empire: Considering the rise of other powers in the West, most believe this season will mark the final title bid of this version of the Spurs dynasty. If so, the three rings for their big three (and four for Tim) make them one of the all-time greats. Kudos, sirs.
---
TWEET WATCH
No NBA playoff games Saturday, first dark day since playoffs began. I figure withdrawal symptoms will become paralyzing about 5 pm. PT.12:30 a.m. ET via web
Favorite
Retweet
Reply
Ric Bucher
RicBucher
QUOTE OF THE NIGHT
"We were hoping at some point that they would fold under the pressure, make some mistakes through that pressure and they didn't. They did the exact opposite."
-- Spurs big man Tim Duncan on the resilient Grizzlies
---
By Ric Bucher
ESPN The Magazine

Howard
Azzy (Montreal, Quebec, Canada): Hey Ric, I heard that Dwight Howard confronted you about those rumors that he's maybe heading to LA, is it true?
Ric Bucher: "Confront" is a little strong, but yes, he asked me as soon as I walked into the locker room where he was going. Half playful, half-why-are-you-stirring-this-up-and-making-me-deal-with-it. And I completely understand his frustration. Hard to have a completely frank, honest conversation in the middle of a locker room with teammates and other reporters looking on with keen interest.
All I can tell you is this: I wouldn't have broached the subject if I hadn't been told under no uncertain terms, by someone who should know, that Dwight will opt out of his last year in Orlando and by GMs that they already know, based on their conversations, that Magic president Otis Smith knows he's going to have to do something.
• To read the rest of Bucher's chat, click here »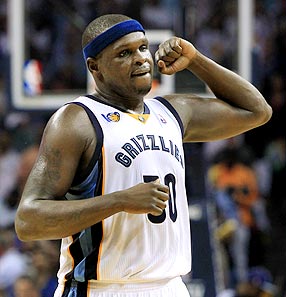 AP Photo/Mark Humphrey
Grizzlies forward Zach Randolph celebrates during the closing seconds of Game 6 against the Spurs. Randolph led the Grizzlies with 31 points as they won 99-91 to win the series 4-2.

The Grizzlies committed 14 turnovers (while registering only 12 assists), hit only one 3-point field goal (in nine attempts) and shot only 73.3 percent from the line (22-for-30). The last team to win an NBA playoff game despite committing more turnovers than assists, hitting one or fewer 3-pointers and shooting less than 75 percent from the free throw line was the 76ers, who beat the Washington Bullets on April 26, 1985, despite no 3-pointers (they didn't even attempt any), 23 turnovers, 16 assists and the same free throw numbers Memphis had (22-for-30). To show just how long ago that game was, not only did Charles Barkley play (he had 16 points off the bench), but Julius Erving was the high scorer for Philadelphia with 25 points.