1. While LeBron Attracts Glare, Wade Soars

By J.A. Adande
ESPN.com
Archive
MIAMI -- To the extent it's possible for anything about this Miami Heat team to be underplayed, LeBron James' serving as the magnet to draw pressure and attention away from Dwyane Wade doesn't get enough run.
I don't recall any columns calling this the most important series of Wade's career or describing the expectations placed on him, as they did in the case of LeBron. James' late-game shortcomings overshadow the fact that Wade didn't make any last-second winning shots himself this season. Wade isn't the one who's had to spend the season trying to justify breaking up with his city on national TV.
From Miami's standpoint, Wade had more atoning to do in this series than LeBron. What did LeBron's struggles against the Boston Celtics have to do with the Heat? Wade's 28 percent shooting and 13-point average against Boston in the 2010-11 regular season were of greater impact on the Heat's dropping three of the four games than anything James did in a Cavaliers uniform. While that got some play, it didn't serve as the narrative of the series. In a matchup loaded with big names, LeBron's is the one that goes above the title.
LeBron looked like the one trying to prove something in the early going of the first game of this Heat-Celtics series that felt more like a Game 5. He let Paul Pierce bump him out of his desired spot on his first shot. James made a fancier-than necessary between-the-legs pass to Zydrunas Ilgauskas. James missed his first two field goals and first two free throws.
Meanwhile, it all came easy to Wade, who scored 38 points in the Heat's 99-90 win over the Celtics in Game 1 of their Eastern Conference semifinal series.
"I came out and hit two jump shots early," Wade said. "After that I was able to see things differently when I had my shot."
By the end of the first quarter he had 13 points, already matching his average against the Celtics this season. Wade was the steadying influence, the lead dog on this day, setting the tone for all the good things that happened for the Heat the rest of the way.
Comfort was everything in this game. Beforehand Doc Rivers expected good play because "both teams are exactly where they want to be," finally ready to settle this on the court after so much conjecture. But it was the Celtics who came out anxious to score, from Rivers' perspective, and in the second Paul Pierce was too intent on retaliating and being what Quentin Richardson once called a "studio gangster", drawing two technical fouls and an ejection for his actions.
All along, Wade had a nice demeanor to his game.
"I don't think he hit a lot of tough shots tonight," the Celtics' Ray Allen said. " I thought he scored within the confines of what they were doing. ...He was getting stuff in the flow."
"Dwyane set the tone with his energy," Heat coach Erik Spoelstra said.
LeBron got untracked and had his typical all-around game. James Jones went nuts, hitting five of seven 3-pointers and drawing double-teams beyond the arc by the time the third quarter rolled around.
By the second half, Wade was consistently attracting the attention of three Celtic defenders. On one play he froze a trio of green jerseys with a move. Joel Anthony was so wide open, you could see Wade pausing to ask himself, "Do I really want to do this?" before he gave the ball to Anthony. Anthony who went up to dunk and had the ball slip out of his hands and float harmlessly over the rim.
Wade got much better results on another Celtic triple-team, when James slipped behind the defense and Wade found him for an alley-oop dunk.
It was the ideal game for the Heat, who needed this victory more than the Celtics did. There's uncertainty about the Celtics, brought on by the ebbs of the season such as Sunday. But there are doubts surrounding the Heat, and dropping Game 1 would have unleashed those doubts from all corners of the NBA universe.
Mentally, Heat victories carry added weight thanks to the additional benefit of sparing them from criticism. And we know who'd get the brunt of it. That's the burden LeBron's presence removes from Wade. Wade paid him back Sunday by giving LeBron some space, sliding in a fresh, positive memory to replace the image of LeBron's walking off the court and removing his Cavs jersey for the last time in his previous playoff game against the Celtics. As a result, both of their lives will be easier than the Celtics' players over the next two days.
The only things that matter in Game 1 are the things that are likely to be repeated. So throw out Jones' 3-point shooting. Boston actually had a better game from beyond the arc than the Heat, making 12 of 24 to keep the game within sight. They won't shoot 50 percent from deep for the rest of the series, so those wash out. Bosh will score at some point. So will Kevin Garnett.
That leaves Rondo as the wild card.
It was telling that among the bullet points listed on the Heat's locker-room white board (mostly the usual stuff about being active and aggressive) Rondo was the only Celtic mentioned by name.
The Rondo who beat the Knicks in the third and fourth games of the first round can also beat the Heat. But the Rondo of the second half of the regular season is the primary reason the Celtics don't have home court in this series, and the primary thing that went wrong today. If Rondo is going nowhere the Celtics will end up right there with him.
"Rondo tried to attack too much," Celtics coach Doc Rivers said. "He'll be fine."
Mike Bibby did a good job covering him, but he isn't known as a lockdown defender. Miami's team defense is that good, so it's not as if Rondo will be granted free trips through the lane.
Wade no longer needs to worry about adjustments. He's done his homework and solved the scoring struggles against the Celtics. Fewer attempts to get all the way to the basket against the heart of the defense (with fewer turnovers as a byproduct.
"He figures it out," Spoelstra said. "He is a student of the game. He's very diligent and introspective."
He was allowed to work in relative quiet.
"There were times I got the ball and I have the luxury," Wade said. "That's the reason we're playing together. You have other guys who are attack guys and carry the load for a while."
In that respect, LeBron took the pressure off him. Wade took it from there.


ESPN senior writer J.A. Adande
• On Twitter @jadande | On ESPN.com | On TrueHoop | On e-mail
• Follow ESPN's NBA coverage on Twitter | On Facebook | On Google+
Dimes past: April 14 | 17 | 18 | 19 | 20 | 21 | 22| 23 | 24 | 25 | 26 | 27 | 28 | 29 | 30
2. Grizzlies Keep On Impressing
By John Hollinger
ESPN.com

Randolph
OKLAHOMA CITY -- Maybe the San Antonio Spurs aren't too old, too slow or too unathletic.
Maybe the Memphis Grizzlies are just really, really good.
It look less than 48 hours for that revisionist view of history to come to the fore, after Memphis followed Friday's upset of the top-seeded Spurs with a 114-101 pounding of the Oklahoma City Thunder on Sunday afternoon in Game 1 of their Western Conference semifinal series. Game 2 is Tuesday in Oklahoma City.
What stood out was not just what they did, but how they did it. The Grizzlies simply overwhelmed the home side with their rare combination of brute force, precision passing and scrambling defense, racing out to a double-digit lead in the first half and never suffering a serious threat thereafter. Much like the San Antonio series, there was nothing whatsoever about this game that felt like an upset.
If you're not familiar with these Grizzlies, take another look at the second half of their season: Memphis went 27-11 in its final 38 games before tanking the last two. Throw in the seven playoff games and their record is 32-13 in more than half a season; that's a 58-win pace. Even after losing star forward Rudy Gay for the season, they barely lost a step.
The big surprise on this evening, however, was how badly the Grizzlies dominated Oklahoma City on the offensive end of the floor. Memphis got here as a defensive team, leading the league in forced turnovers and bullying the top-ranked Spurs' offense into submission in the first round of the playoffs.
But their ironclad defense was just OK on Sunday. Instead, it was Zach Randolph's low-post dominance (34 points and 10 rebounds), Marc Gasol's precision finishing (9-of-11 for 20 points) and Mike Conley's ball protection (no turnovers, only eight for the team) that ruled the day. Memphis scored at least 27 points in every quarter and rolled up 114 points on just 94 trips, a stellar 120.2 offensive efficiency mark.
"Our offense was actually carrying us early on," Memphis coach Lionel Hollins said, "with Zach as our offensive force. Along the game our defense caught up."
3. Daily Dime Live
Zach Harper, TrueHoop Network bloggers and fans gave their in-game opinions on all topics throughout Sunday's slate of NBA playoff talk in Daily Dime Live.
SUNDAY'S BEST

Wade
Dwyane Wade, Heat:
Shoots 14-for-21 from the field, good for 38 points in the Game 1 win over the Celtics. Wade averaged 12.8 points on 28 percent shooting against the C's in four regular-season games. But that's ancient history now.
---
SUNDAY'S WORST

Rondo
Rajon Rondo, Celtics: His worst shooting game in this year's playoffs came along with five turnovers. Going forward, the C's will likely need the electrifying Rondo who helped sweep away the Knicks in the first round.
---
TWEET OF THE NIGHT
Rondo needs to set a faster pace. Hate seeing superstars get kicked out of the game.7:30 p.m. ET via Who Say
Favorite
Retweet
Reply
Earvin Magic
magicjohnson
---
QUOTE OF THE NIGHT
"It's no surprise for us that we can compete and play good against good teams."
-- Grizzlies center Marc Gasol, after his team beat the Thunder in Game 1
---
By Kevin Arnovitz
ESPN.com

Jones
MIAMI -- Sideline interviews with media outlets are typically reserved for guys named James, Wade and Bosh in Miami. But after scoring 25 points and draining five of seven 3-pointers, reserve swingman James Jones got the call on Sunday, delaying his return to the Miami Heat's locker room after the game.
After Jones was through with his postgame commitments, he walked into the locker room still in his game clothes to a crowd of waiting reporters. Although most players opt to shower and dress prior to taking questions, Jones saw the scrum and immediately -- and empathetically -- began the Q&A session.
"You all have jobs to do. You have lives," Jones said. "I'm ready."
Jones' readiness on Sunday was a key contribution to the Heat's 99-90 win over the Boston Celtics in Game 1 of the Eastern Conference semifinals. On an afternoon when Chris Bosh underperformed and LeBron James was unexceptional by his standards, Jones' production was vital.
"JJ had the best game of anybody," LeBron James said of Jones. "Anytime it seemed like [the Celtics] were making a run, we penetrated and kicked to JJ and he was able to make a play."
• To read the rest of the story, click here »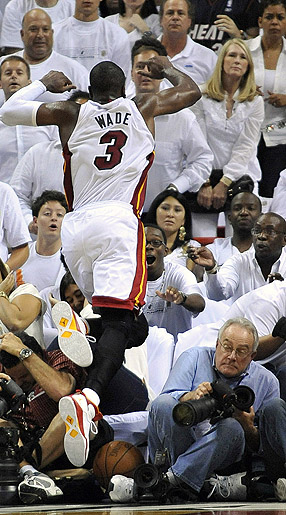 Steve Mitchell-US PRESSWIRE
Going all out, Heat guard Dwyane Wade went flying into the stands in the fourth quarter, but emerged unscathed.
By Brian Windhorst
ESPN.com

MIAMI -- In November, they might've had a players-only meeting in the showers. In March, they might've been caught tearing up in the locker room. But on the first day of May, the Miami Heat acted more grown up and emotionally stable than their older and supposedly wiser playoff opponents.
Dwyane Wade's aggression was needed, James Jones' great shooting day was crucial and an official's sudden decision to consider swearing a technical offense didn't hurt Miami either. But a central reason the Heat are ahead 1-0 in their series with the Boston Celtics after a 99-90 win is they emerged on Sunday as the more composed team. And that was more than a mild surprise.
The Celtics have long owned a hothead gene and they still rack up more than their share of technical fouls even with Rasheed Wallace retired and Kendrick Perkins traded. As a rule, though, they usually appear mentally stronger and more resilient than their opponents. It's part of the formula that makes them such a challenging team to beat.
Yet in Game 1, that mantle went to the team playing its second playoff series together not the one in its 12th. The Heat handled the spurts the Celtics threw at them with unexpected grace, and managed to stay cool when the Celtics repeatedly challenged them in after-the-whistle episodes designed to unhinge and intimidate. The Heat also rebuffed the borderline dirty plays and general gamesmanship the Celtics frequently try to irritate the other team with.
"They were prepared, they were ready, they played with unbelievable intensity," Celtics coach Doc Rivers said. "I didn't think we handled that very well."
James Jones made five of seven field-goal attempts, all from 3-point range, and he made all 10 of his free throws to accumulate 25 points. The only other player ever to score as many as 25 points in an NBA playoff game without making a 2-point field goal was Chicago's Scottie Pippen, who did it against Utah in Game 3 of the 1997 NBA Finals (27 points: 0-for-2 on two-point attempts, 7-for-11 from three-point range and 6-for-9 from the free-throw line). Before Jones scored 25 on Sunday, the most points in an NBA playoff game for a player who didn't attempt a 2-pointer was 21 by the Lakers Robert Horry, against Utah in Game 2 of the 1997 Western Conference semifinals (7-for-7 from the floor, all from beyond the arc, with no free throws).