1. Mavericks Rise Where They Usually Sink

By J.A. Adande
ESPN.com
Archive
LOS ANGELES -- This was so … so un-Mavericklike.
Dallas overcoming a 16-point deficit to win a road playoff game? In Staples Center, where they had lost 18 of their 22 games to the Lakers? Coming up with big defensive plays? Dirk Nowitzki outdoing Kobe Bryant? Mark Cuban declining to go on a tirade about the officiating after the Lakers shot almost twice as many free throws as his squad, and instead walking away from a group of reporters with a gigantic grin on his face?
Let me check the jerseys and the equipment bags. Yep, Dallas. And this box score I'm holding is a final. That's 96 points for the Mavericks and 94 points for the Lakers. That's a 1-0 series lead for Dallas. This is happening.
"This is not the same old Mavs," said Tyson Chandler, whose presence can help explain that. "In the past, you beat 'em up and then they give up and you get aggressive and you back down. This is a different team, different squad, different look. Hopefully we get a different outcome."
They've already advanced to the second round, a rare feat for them recently. And they've already done something that not even the good ol' Mavs, back in the Mark Aguirre, Rolando Blackman, Derek Harper days managed -- winning a playoff game in Los Angeles.
The Lakers didn't give; the Mavericks took. They took home-court advantage in this series. They took away the near-lock that comes from a Phil Jackson-coached team winning the first game of a playoff. They took away any notion that the Lakers had an easy path to the Western Conference finals.
"This team can beat us," Bryant said. "It's clear."
They just did. In stunning fashion.
The Mavericks were reeling in the third quarter, the Lakers jumping out to a 60-44 lead that was aided and abetted by a meltdown that seemed very much same-old-Mavs, when they turned a Lakers possession in the backcourt with less than a second remaining in the half into four Lakers points. Jason Terry fouled Lamar Odom as Odom tried a desperation heave, and as Odom made the third of his three free throws Nowitzki tangled with Ron Artest and threw an elbow, drawing a technical foul and a free throw for Bryant.
Two 3-pointers and some good defense by Corey Brewer in a little over two minutes helped bring them back, and it was a single-digit deficit for the final quarter and a half.
"That shows a lot of heart on their part to be able to do that," Jackson said.
I'm not sure which qualifies as the more stunning development: Jackson praising another team's heart or the fact the team being referenced was the Mavericks.
They're the team whose playoff history includes a blown 2-0 series lead in the 2006 Finals against the Heat, a precedent-setting first-round loss to the Warriors as a No. 1 seed in 2007 and a blown 23-point lead in the second half in Portland as recently as April 23.
Perhaps none of that past mattered as much as their most recent game. On April 28, the Mavs had a here-they-go-again moment, after the Trail Blazers cut their 11-point lead to one in the fourth quarter, before averting a total collapse and closing out the series in Portland. Maybe we'll look back at that one as the turning point. You can't call the Mavericks losers right now. Their three-game winning streak is the longest one going in these playoffs.
"You can always learn from your experience," Jason Kidd said. "This is a different team. Maybe a little bit older … and maybe wiser. The big thing is we all get along and we all push for each other to have success."
In the first-ever playoff game between Nowitzki and Bryant, the advantage went to Nowitzki, who had 28 points and 14 rebounds. Dirk made a physics-defying jumper in the lane heading right to left, jumping off his right leg to halt his forward momentum while Odom continued off toward the sideline, squaring his body to the basket and launching the shot. He made both free throws to give the Mavericks the lead after Pau Gasol (a questionable defensive assignment by Jackson, after Odom had guarded Nowitzki as well as possible in the fourth quarter) reached across and fouled him on an inbounds pass with 19.5 seconds left in the game.
Bryant scored 36 points, but it took him 29 shots to get there. And he didn't have an assist. He also never got a chance to answer Nowitzki with a shot. First he slid through a double-team, only to have his path to the basket deterred by Chandler. Just another sign of change in Big D.
"Years prior, Kobe probably would have had a dunk or a layup," Terry said.
Instead, Bryant tried to pass out to Derek Fisher, but Terry intercepted it. That led to Nowitzki's free throws.
And Gasol was unable to pass to Bryant on the Lakers' next possession, as Bryant ran toward him, tangled with Kidd and stumbled, while Gasol lost control of the ball.
Bryant did get one chance for glory after Kidd scored Dallas' final point on a free throw with 3.1 seconds left. Bryant came off a screen, caught an inbounds pass and fired a 3-pointer looking for the win, conjuring up all kinds of memories for the Mavericks.
"I grew up in L.A., and I've seen this too many times," said Chandler who went to Dominguez High School in Compton.
"I've seen a lot of his game-winners up close in person when I was with Phoenix," Kidd said.
You mean like this? That was so long ago that Kidd still had hair. And it was dyed blond for that series ("It didn't distract him," Kidd lamented.)
That was also back when Kobe still made those shots, the ones that built his clutch reputation. The recent trend is for him to miss, and when his 3-pointer Monday night hit the far side of the rim it made five consecutive missed shots to win or tie a playoff game in the final 24 seconds for Bryant, dating back to 2009.
The Mavericks won Game 1. And a few things we thought we knew about the NBA were lost.


ESPN senior writer J.A. Adande
• On Twitter @jadande | On ESPN.com | On TrueHoop | On e-mail
• Follow ESPN's NBA coverage on Twitter | On Facebook | On Google+
Dimes past: April 20 | 21 | 22| 23 | 24 | 25 | 26 | 27 | 28 | 29 | 30 | May 1 | 2
2. Oft-Dismissed Hawks Plot Winning Flight Plan
By Michael Wallace
ESPN.com

Teague
CHICAGO -- Before we get to why it happened -- breaking down details of just how the Atlanta Hawks dumped the league's No. 1 overall playoff seed into a 1-0 series deficit with Monday's victory over the Chicago Bulls -- you must understand how it was even possible.
You must comprehend the depths of the defiance that's fueling the Hawks in these playoffs.
You must appreciate what motivated Atlanta to turn a Chicago coronation -- with Tom Thibodeau presented with his NBA Coach of the Year award before Game 1 -- into a Windy City near-catastrophe.
You must get to the bottom of why Derrick Rose will proudly receive his well-deserved MVP trophy Tuesday as he smiles through that bitter taste still lingering from Monday night.
To do all those things, you must get to know Jeff Teague, who set the tone for the Hawks' 103-95 victory an hour before the game even started at the United Center. And you must take Joe Johnson at his word that he's found new life in these playoffs as a closer.
Standing shirtless in front of his locker before taking on the biggest assignment of his two-year NBA career, Teague recalled the last time he faced the daunting task of matching up with Rose.
It was the summer between his high school junior and senior seasons, in a final-four game of a high-profile AAU tournament in Las Vegas. Rose shared the backcourt with Eric Gordon.
Teague was playing alongside, uh, well …
"No one nearly as good as them," Teague remembered Monday as he took over the starting job in place of injured veteran Kirk Hinrich.
Before that tournament, Teague had solid scholarship offers from Indiana, Dayton, Southern Illinois and a few other lower-level to mid-major Division I basketball programs. After that tournament, he was ACC material and would end up attending Wake Forest.
"That game, that tournament, really is what put me on the map," Teague said, admitting that Rose probably wouldn't even remember facing him that day in Vegas. "I guess I made a name for myself."
3. Daily Dime Live
Zach Harper, TrueHoop Network bloggers and fans gave their in-game opinions on all topics throughout Monday's slate of NBA playoff talk in Daily Dime Live.
MONDAY'S BEST

Johnson
Joe Johnson, Hawks:
The Hawks' big money man was worth every penny, bagging 12 for 18 from the field -- including all five from beyond the arc -- good for 34 points in the Game 1 win over the award-covered Bulls.
---
MONDAY'S WORST

Bynum
Andrew Bynum, Lakers: When Bynum's on, seems the Lakers usually dominate. He wasn't, and they didn't. Bynum netted eight points and five boards in 29 minutes with the worst plus-minus (minus-16) on the Staples floor.
---
TWEET OF THE NIGHT
Dirk's wrong-legged runner with 40 sec left…BANANERS. @swish411:10 a.m. ET via web
Favorite
Retweet
Reply
Steve Nash
SteveNash
---
QUOTE OF THE NIGHT
"We felt like we gave the game away. I'm not so sure Dallas didn't outplay us, but the players felt like we gave it away. "
-- Lakers coach Phil Jackson, after his team lost a Game 1 again
---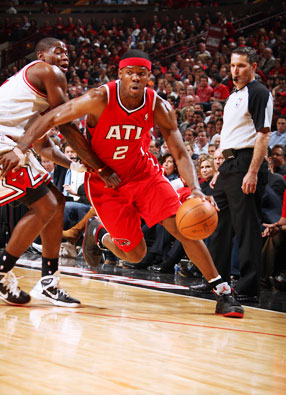 Nathaniel S. Butler/NBAE via Getty Images
Hawks guard Joe Johnson drove past Ronnie Brewer during the Hawks' Game 1 win in Chicago.
7.

Kobe's Recent Closing History
By ESPN Stats & Info

Bryant
With his miss on a potential go-ahead 3-pointer in the waning moments of the Lakers' Game 1 loss versus the Mavericks, Kobe Bryant has now missed his past five postseason game-tying or go-ahead field goal attempts in the final 24 seconds of the fourth quarter or overtime. That's right … often called the "best closer in the game," Bryant has actually missed his past five shots in the postseason in situations similar to the one he was in Monday night.
Bryant's past five postseason go-ahead or game-tying FGA, final 24 seconds of fourth quarter or OT

2009 first-round game 3 vs. Jazz, April 23 (misses go-ahead 3-pointer)
With the Lakers trailing 88-86 in the fourth quarter, Kobe misses a long 3-pointer that would have put the Lakers ahead with about a second left in the game. The Lakers lose by that score: 88-86.
2009 NBA Finals Game 2 vs. Magic, June 7 (misses go-ahead 2-pointer)
With the score tied at 88 in the fourth quarter, Kobe has his short jumper blocked by Hedo Turkoglu with under a second left. The Lakers go on to win in overtime 101-96.
2010 first-round Game 6 at Thunder, April 30 (misses go-ahead 2-pointer)
Down 94-93 in the fourth quarter, Kobe misses a 13-foot jumper with about a second left, but Pau Gasol tips in the miss with about half a second left to give the Lakers the lead. They hold on to win by the score of 95-94.
2010 conference finals Game 5 vs. Suns, May 27 (misses go-ahead 3-pointer)
With the score tied at 101 in the fourth quarter, Kobe airballs a contested 3-pointer with a couple of seconds left, but Ron Artest collects the rebound and banks in a shot at the buzzer to give the Lakers a 103-101 victory.
2011 conference semifinals Game 1 vs. Mavericks, May 2 (misses go-ahead 3-pointer)
Trailing 96-94 in the fourth quarter, Kobe misses a 3-pointer with about 2 seconds left that would have given the Lakers the lead. The Lakers go on to lose by that score.
Below are Kobe's career playoff numbers in this situation. Overall, Bryant is 7-25 on potential go-ahead or game-tying FGA in the final 24 seconds of the fourth quarter or overtime of postseason games, good for a 28.0 FG percentage. The league average on these shots over Kobe's career (the past 15 postseasons) is about 28.1 percent, so Kobe is basically right at the NBA average over the course of his career.
Kobe Bryant on potential go-ahead or game-tying FGA in postseason Final 24 Seconds
| Situation | FG | FG Pct. |
| --- | --- | --- |
| Go-ahead FGA with score tied | 2-8 | 25.0 |
| Go-ahead FGA when trailing | 3-9 | 33.3 |
| Game-tying FGA when trailing | 2-8 | 25.0 |
| Overall | 7-25 | 28.0 |
Kobe Bryant scored 36 points in the Lakers' 96-94 loss against the Mavericks on Monday night. Bryant has now scored at least 30 points in Game 1 of five consecutive playoff series. That's the longest such streak in franchise history. George Mikan (1949-50), Elgin Baylor (1961-62) and Shaquille O'Neal (2000) scored 30 or more points in Game 1 in each of four consecutive playoff series for the Lakers. Bryant is the first NBA player to score at least 30 points in five consecutive Game 1s since Michael Jordan did it in seven straight playoff series, spanning 1997 to 1998.