1. C's Staggered By Heat's 1-2 Punch

By Brian Windhorst
ESPN.com
MIAMI -- The Miami Heat were exhausted when they reached the locker room. The Boston Celtics were exhausted while they were on the floor.
Strip away the hype and the angst, and that's what separates the two Eastern Conference heavyweights in their yet-to-be-compelling series. It's now 2-0 Heat, after their younger legs outlasted the Celtics 102-91 on Tuesday night, putting the group of former champions in a hole they've never experienced during their four-year run together.
The Heat are thriving because they have two stars in their primes and are coming into their own as a collective unit, taking turns landing finesse jabs and roundhouse hooks. It's making the Celtics look and feel old.
What's it like to absorb Dwyane Wade's 38 points in Game 1 with his midrange jumper falling and his relentless pressure in transition only to have him follow it up with some ankle-breaking drives on the way to 28 points in Game 2? And what's it like to watch LeBron James follow up his effective 22 points in Game 1 with 35 more in Game 2, as his jumper was falling and he was doing chin-ups on the rim?
"It's 2-0, that's what it is like," Celtics coach Doc Rivers said. "They're both playing very well."
The Celtics have overcome great scorers before, and James and Wade both have been on the business end of the Celtics' teamwork and grit in the past. But at the moment, in their current state, it seems like they might be too much for the old vets to handle.
Paul Pierce went to the locker room to get a sprained Achilles treated. Ray Allen took an elbow in the chest from James that caused him to have breathing problems and also required a visit to the doctor midgame. Rajon Rondo, the young, spry one, had to ask out in the fourth quarter because of stiffness in his back.
If the Celtics were in rhythm and generally healthy, and one or more of the Heat's stars were off their games, the story might be different. There's technically still plenty of time in the series for a Celtics rally. But the way things unfolded in the first two games, especially seeing James and Wade wear Boston down, it's not something that seems likely.
It's not really a surprise, as the Heat have lost just four times in the past six weeks, winning 21 of their last 25 games. The Celtics are staring at the daunting task of trying to beat them four times in the next five games. A streak like Miami's isn't a fluke, and neither is the outcome of the first two games.
James and Wade have been gradually establishing staying power, even if it might appear clumsy at times. They trade off stretches during games when they get to dominate the ball while the other rests. They spend time yielding to the other when out there together. They spend time working off each other to create opportunities. And recently, they've been spending a lot of time celebrating each other's successes.
"I believe in my ability, but it's very hard to win [alone]," Wade said. "Having another guy, with Chris [Bosh] as well, that takes over games is a burden off of you. We can come at them as a team."
And the Heat are coalescing as a team. Even Bosh, who clearly was identified by the Celtics as a target in their game planning. Rivers called Kevin Garnett's number repeatedly in Game 2, a strategy to get his team's offense working out of the low post, as it has so often over the years.
Yet Bosh is creating problems for the Celtics, too, effectively outplaying Garnett in the first two games. In Game 2, it was 17 points and 11 rebounds and generally effective defense. Garnett needed 20 shots to get his 16 points.
Put the Heat's trio together, and they scored 80 points with 26 rebounds on 27-of-55 shooting. James' jumper, the shot the Celtics want him to take, was falling, and all three were getting to the line, which the Celtics dearly don't want. That formula was just impossible to overcome, and it's not a situation Boston is used to being in.
The combination seemed to have a cumulative effect Tuesday, as the Celtics scrapped to make it a tie game in the fourth quarter. But when the Heat took it up another gear for the finishing kick, the Celtics couldn't match them.
"In the past, I knew that if I didn't bring my A-game, there is a pretty good chance we weren't going to win," James said, referring to his previous two series losses to the Celtics when he was with the Cleveland Cavaliers. "Having guys on the court that can take over the game, that takes a load off of you. That is the vision I had during the free-agent period when I decided to come."
Long way to go yet for anything to be declared a success, but the Heat's big plans have looked rather sound in what clearly is a statement series.
Even the Heat's defense has been better, their athleticism and movement repeatedly forcing the Celtics to settle for less than what they wanted. Several times in the second half, Rivers huddled with his players with his greaseboard as they worked together to identify weaknesses. They haven't been able to crack the Heat yet.
Rivers lamented his own play calling down the stretch, not going to veterans Pierce and Allen to attempt to stem the tide. But in two games, the Celtics are shooting just 43 percent and averaging 90 points. The Heat have blocked their shots 17 times and have repeatedly made them pay for turnovers, racking up 35 points off them already.
The Celtics have proved before that it can be a mistake to shovel dirt on their grave, and the Heat have proved their stars' chemistry is still fragile. But it's hard to ignore the trajectory of the two franchises two games into what is expected to be a defining series. Right now, it's defining the Heat as the juggernaut they promised they'd be.
"Their stars are being stars," Glen Davis said. "Wade and James are willing their way to the win."


NBA Writer Brian Windhorst
• On Twitter @WindhorstESPN | On ESPN.com
• Follow ESPN's NBA coverage on Twitter | On Facebook | On Google+
Dimes past: April 20 | 21 | 22| 23 | 24 | 25 | 26 | 27 | 28 | 29 | 30 | May 1 | 2 | 3
2. Rose's MVP Speech Had The Right Touch
By Melissa Isaacson
ESPN Chicago

Rose
LINCOLNSHIRE, Ill. -- It's hard not to be jaded.
Professional athletes disappoint us all the time. We hold them up to unrealistic expectations, and when they fail as role models, we shrug that we're not surprised.
It's hard not to be spoiled.
For a city that often wears its sports frailties as a badge of honor, we have a Stanley Cup, a World Series championship, a Super Bowl trophy and six NBA titles over the past 25 years.
Likewise, it was probably hard for some Chicago Bulls fans to give more than a passing glance to Tuesday's announcement that Derrick Rose had been named the NBA's Most Valuable Player. Not only was it the worst-kept secret in town, but the Bulls are coming off an ugly Game 1 loss to the Atlanta Hawks in the Eastern Conference semifinals and Rose's sore left ankle would seem to be of more pressing concern.
And maybe it is.
But on Tuesday, it took "a little kid from Englewood" to remind us how lucky we are.
Not just because Rose made history in becoming the youngest MVP ever at age 22, a stunning feat accomplished with an undermanned team for most of the season. But because he did it as a bona-fide hometown hero, taking on that responsibility without flinching, and with a humility and grace we simply do not see in our sports superstars without questioning either their sincerity or how long it will last.
"And last, I want to thank my mom," Rose said quietly in the conference room of a suburban hotel.
And that's when half the place lost it.
We've heard "Hi Mom," plenty. In the annals of sport, they might just be the two most common words coming from the mouths of victorious athletes smiling into the nearest television camera.
"Thanks mom"? Not as often, but at the end of a speech, it's always a nice touch.
3. Daily Dime Live
Zach Harper, TrueHoop Network bloggers and fans gave their in-game opinions on all topics throughout Tuesday's slate of NBA playoff talk in Daily Dime Live.
TUESDAY'S BEST

James
LeBron James, Heat:
Great performance from LeBron, who scored 24 of his 35 points in the second half, helping the Heat take charge down the stretch in the Game 2 win over Boston. Now the Heat find themselves two wins away from the East finals.
---
TUESDAY'S WORST

Celtics fans grumbling: Those late March losses to Indy and Charlotte are looking more painful now. Would Boston be down 2-0 to Miami if it hadn't coughed up home court? Perhaps. Now Boston will try to buck its own history, which shows the franchise has lost eight of nine best-of-seven series in which it has fallen behind 2-0.
---
TWEET OF THE NIGHT
The look in LeBron/Wade's eyes was same one Buster Douglas had in about Rd. 4 when he convinced himself he could beat Tyson.10 p.m. ET via Twitter for BlackBerry®
Favorite
Retweet
Reply
Michael Wallace
WallaceHeatNBA
---
QUOTE OF THE NIGHT
"Series is far -- far, far, far -- away from over. It's really just beginning for us."
-- LeBron James, after his team went up 2-0 on the Celtics
---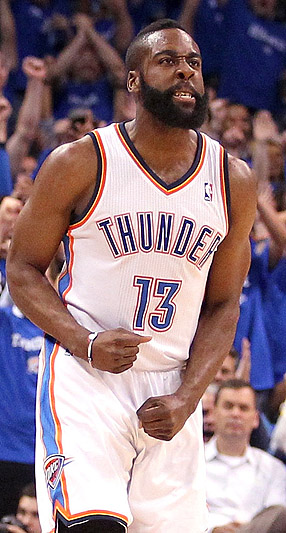 Ronald Martinez//NBAE via Getty Images
Thunder guard James Harden came off the bench to score 21 points in OKC's 111-102 win that evened the series with Memphis at 1 each.
By Tim MacMahon
ESPN Dallas

LOS ANGELES -- The Dallas Mavericks are who they thought they were. That gives them a chance to be what they want to be.
The Mavericks, long considered an NBA synonym for soft, have proved without a shadow of a doubt that they are indeed a bunch of thick-skinned, strong-minded veterans.
We skeptics have been forced to become believers after seeing this team respond to moments when previous Mavs teams would have shown their weakness.
"Oh, no, here we go again" was the vibe after the Mavs managed to let a sure victory slip away in Game 4 of the first round, blowing a 23-point lead in the Rose Garden to allow the Portland Trail Blazers to even the series. Dallas emerged from the avalanche of well-earned criticism to convincingly beat the Blazers in Game 5 and close out the series on the road a few nights later.
"Uh, oh" could have easily been the Mavs' mindset after a miserable, four-minute stretch of brain cramps contributed to the Los Angeles Lakers' 21-2 run that bridged the two halves in Game 1 and built a 16-point lead for Kobe Bryant & Co. The Mavs managed to get off the mat, clear their minds, punch the Lakers in the mouth with a run to make it a one-possession game in a matter of minutes and outplay L.A. in the clutch to pull off an upset that stunned Staples Center.
"We're mentally tougher than we have been," said Dirk Nowitzki, the face of the franchise during the Mavs' run of 11 consecutive ringless 50-win seasons. "It showed after the meltdown in Game 4 in Portland, the way we came back and basically won two big games back to back. Everybody already said we're dead."
LeBron James had 35 points and no turnovers for the Heat on Tuesday night. James is only the second Miami player to have that many points with no turnovers in a playoff game. Dwyane Wade had 41 points and no turnovers in Game 6 against Atlanta in 2009.