1. Kobe Still Defiant, But Lakers Look Finished

By J.A. Adande
ESPN.com
Archive
LOS ANGELES -- The Lakers are done. I say this despite their championship pedigree, their coach's ability to guide teams through apparent calamity and a direct warning from a certain 6-foot-6 guard.
"Be careful what you write," Kobe Bryant said, knowing full well that I and the rest of the media pack walking through the Staples Center corridor were about to type the Lakers' death notice as soon as we returned to the Chick Hearn Press Room.
"Be careful what you write," Bryant repeated. He added an admonition for my ESPN.com colleague. "You too, Stein."
I told Bryant that the Lakers don't have the energy.
"True," he said.
And if you don't have energy, then the schemes or the intent or the pride don't matter.
"True," he said.
There's no way he was leaving it at that. I tried to draw more out of him.
"But?"
"But," he replied with a smile. "But. Dot-dot-dot. "
So the entire fate of the Lakers' three-peat quest resides in a set of ellipses: …
Bryant didn't expound any further. The final words had been said, long after the disappointed home crowd filed out in the waning stages of a 93-81 loss to the Mavericks that left the Lakers down 2-0 in the Western Conference semifinals. Only three of the previous 18 teams to drop the first two games of a best-of-seven series at home have rallied to win it. Even if the Lakers do that, the toll of playing these extra games, on the heels of a longer-than-necessary first round against the Hornets, will catch up with them deeper in the playoffs. That's why it's time to forget the three-peat.
Kobe was defiant. That's his standard mode. I'd say the rest of the Lakers players were in denial, refusing to acknowledge the fatigue factor.
The past has caught up to the Lakers, marring their present and making their future look bleaker than at any point in the past three years. It's too much to overcome, the fatigue brought on by playing through to the last game of the season the previous three years. The weight of the championship rings on their fingers is altering their shots, their backs are strained from hoisting banners to the upper reaches of the building. Jump shots hit the front of the rim, cross-court passes bounce once before reaching their target, opponents' shots go uncontested.
They're also cracking mentally, with Andrew Bynum calling out the team for having "trust issues."
Oh, and did we mention that the Mavericks have been the team with the superior execution so far?
This is no longer about the Mavericks, though. While they deserve credit for overcoming a 16-point deficit in Game 1 and being the steadier of the two teams in Game 2, they're not putting together a series for the ages.
They were outrebounded and lost the points in the paint and second-chance points categories in Game 1. The Lakers had the same number of field goals as them in Game 2, and had more rebounds and fewer turnovers.
Even after the Lakers put up a 13-point third quarter, they still trailed by only six points entering the fourth.
The game was there for the taking, a series split to be had, all kinds of negative numbers to be avoided. And the Lakers … just … couldn't.
The urgency of the situation couldn't sharpen their resolve, the few roars from the mostly stunned crowd couldn't inspire them, momentum was as elusive as the horizon.
"It looked like Dallas had more energy out there on the floor than we did," Phil Jackson said. "That's a concern."
Fatigue can be seen in an inability to handle the basics, such as missing nine of 20 free throws. It can be seen in an inability to make long-distance shots, as the Lakers were 0-for-18 on 3-pointers before a couple of meaningless ones that didn't alter the game's result.
It was certainly revealed on defense, when the Lakers were often caught standing, or late to rotate, or simply unconcerned with stopping the ball. The team that figured out how to slow down Chris Paul in the final two games of the first round after his presentation on the point guard position in the first four had no way to stop J.J. Barea from screen-rolling his way into the lane for 12 points and four assists.
That's where the trust issues kicked in.
"Everything broke down," Bynum said, who gave himself a grade of "D" for his defensive problems despite scoring 18 points with 13 rebounds. "For me, I stopped helping my teammates, because my guys kept getting lobs and easy plays. So I succumbed to not helping my teammates. That's something I can definitely fix."
Can Pau Gasol be fixed? He looks worn down. He missed layups and couldn't get the ball above the rim before he was blocked from behind by DeShawn Stevenson on a dunk attempt.
In their first three playoffs after trading for Gasol, the Lakers won 11 of 12 series and never failed to reach the NBA Finals. It was like a temporary boost in a video game, Super Mario grabbing a mushroom. And now it feels as if the power's running out. Lakers fans' patience with him has certainly run out, as they went from imploring him to shoot to outright booing him after yet another missed inside scoring opportunity.
Everything about the Lakers feels as though they are about to expire. Bryant's even at risk of losing his unofficial title of Player You'd Pick First To Win A Playoff Game. It would be hard to justify his selection after another low-percentage fourth quarter (1-for-4) and yet another loss, four in eight games.
"It's hard," he said during his postgame news conference. "But you couldn't possibly expect this to be easy. If you want to make history, you have to do historic things."
Reaching the NBA Finals in four consecutive years -- a feat that hasn't been done since the Lakers and Celtics did it in the 1980s -- would be historic enough. So would winning a third straight championship. Now, in order to reach a Western Conference finals spot that seemed as reserved for them as a painted parking space, the Lakers must win at least two out of a possible three games to be played in Dallas. Heck, they can't even feel confident about winning the maximum two games to be played at home, where they have dropped three of five games in the playoffs.
And they must do it with a battery indicator that's down to its last bar.
The Lakers have closed out series in recent years by solving their opponents in the fifth and sixth games. But now all those series in which they missed early opportunities -- the seven-game conference semifinals with a depleted Houston roster in 2009 comes to mind -- could be coming back to haunt them. They have less energy. They gave themselves a smaller margin of error. They might not have enough time to get this right.
"We've been playing with fire the last three years," Bryant said. "Now we finally got what we deserved."
They got themselves into this mess, by playing well enough to win championships but not always playing championship ball. Now there are only two options: the unknown of Bryant's dot-dot-dot or the finality of a period.


ESPN senior writer J.A. Adande
• On Twitter @jadande | On ESPN.com | On TrueHoop | On e-mail
• Follow ESPN's NBA coverage on Twitter | On Facebook | On Google+
Dimes past: April 20 | 21 | 22| 23 | 24 | 25 | 26 | 27 | 28 | 29 | 30 | May 1 | 2 | 3 | 4
2. In Turnabout, Dallas Looks More Like Champ
By Tim MacMahon
ESPN Dallas
LOS ANGELES -- One franchise seeks to three-peat for the second time in the past 11 years. The other has a horrible recent history of playoff failure and has yet to hang a title banner.
You certainly can't tell which is which based on the first two games of these Western Conference semifinals.
The Dallas Mavericks are playing and behaving like champions, keeping an even keel after seizing control of the series. The Los Angeles Lakers look like a dysfunctional team on the brink of destruction, whining about "trust issues" after getting whipped on their home floor.
Dallas coach Rick Carlisle scoffed at a question about whether he was surprised to walk out of the Staples Center with a 2-0 series lead after Wednesday night's convincing 93-81 win. His superstar, however, admitted this road trip went better than he could have imagined.
"If you would have told me before that we were going to win both games," Dirk Nowitzki said, "it would have been hard to believe."
It sure isn't hard to believe in these Mavericks all of a sudden.
Forget about all that postseason misery since the Mavericks took a 2-0 lead in the 2006 Finals. The Mavs have made those painful memories absolutely irrelevant. This is a completely different team than the previous Dallas editions.
These Mavs are a dominant defensive team, as evidenced by their West-best 88 points allowed per game in the playoffs.
Just look at the stats from the second half. The mighty Lakers managed to score a grand total of 32 points in 24 minutes. The Mavs made the Lakers a passive, jump-shooting, brick-laying bunch that shot only 33 percent from the floor after halftime.
"We really got dispirited," Lakers coach Phil Jackson said.
3. Daily Dime Live
Zach Harper, TrueHoop Network bloggers and fans gave their in-game opinions on all topics throughout Wednesday's slate of NBA playoff talk in Daily Dime Live.
WEDNESDAY'S BEST

Nowitzki
Dirk Nowitzki, Mavs:
He made 9 of 16 shots, good for 24 points, including some patented clutch shots off the wrong foot as Dallas took a 93-81 Game 2 win in the West semifinals over the two-time defending champion Lakers.
---
WEDNESDAY'S WORST

Artest
Ron Artest, Lakers: With the game all but over, the winner of the league's citizenship award proceeded to whack the smallest guy on the court for no good reason. Oh wait, there was a good reason -- J.J. Barea just ran roughshod over the Lakers.
---
TWEET OF THE NIGHT
I have never seen a team take it to the Lakers at home in back-to-back playoff games.1:30 a.m. ET via WhoSay
Favorite
Retweet
Reply
Earvin Magic Johnson
MagicJohnson
---
QUOTE OF THE NIGHT
"I plan on flogging them tomorrow."
-- Lakers coach Phil Jackson, with a deadpan answer on how he gets his team to respond to a Game 2 loss.
---
By Michael Wallace
ESPN.com

Rose
CHICAGO -- The most uncomfortable part of Derrick Rose's night came early.

Very early.

With the United Center crowd chanting his name, fans waving signs with adoring messages and NBA commissioner David Stern holding a microphone in one hand and motioning toward the MVP trophy with the other, Rose felt uneasy and out of place Wednesday night.

To Rose, attention is like a basketball. He does his best work when he's redirecting it, deflecting it and sharing it with his teammates. But this time -- on this stage -- he was on his own.

"I'm just happy it's over now and we can just ball out," Rose said of the ceremonial award presentations that placed him in front of cameras and crowds the past two days, when the only place he wanted to be after Monday's series-opening loss was back in front of the Atlanta Hawks.

But on the night that Rose was publicly presented his MVP award, the Bulls showed why he's boosted by the MVD -- the most valuable defense. And it was a marriage that worked harmoniously together in Wednesday's 86-73 victory over the Hawks to send the series to Atlanta this weekend tied 1-1.

After losing Game 1 on Monday, the Bulls responded with desperation and defensive dominance. Actually, both Rose and his supporting cast reverted to familiar roles Wednesday. One of the league's stingiest defenses avenged Monday's mulligan, when the Bulls gave up 103 points and allowed the Hawks to shoot 51 percent from the field, by drastically realigning those totals two nights later.

The Hawks' offensive numbers dropped as drastically as the temperatures sometimes do this time of year in the Windy City. Atlanta shot just 33.8 percent from the field Wednesday and was held to 73 points, 30 below Monday's output.

What are the priorities in Chicago? Here's a hint: It's D-Rose. That's right, a tone-setting defense hyphenated by Rose's ability to make plays in key stretches to close the show. And those priorities are hammered into place by league coach of the year Tom Thibodeau, whose no-nonsense, never-satisfied approach allowed his team to avoid falling into a nearly insurmountable 2-0 series deficit.

• See Wallace's full story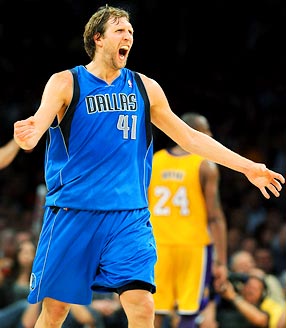 Jayne Kamin-Oncea-US PRESSWIRE
Mavs forward Dirk Nowitzki roars his approval of a fourth-quarter hoop in a win that might end up upending the West chase.
By Brian Windhorst
ESPN.com

MIAMI -- The Boston Celtics are down big in their series with the Miami Heat because they're having a major malfunction with their greatest asset: team defense.
Ask Celtics coach Doc Rivers the best way to defend LeBron James and Dwyane Wade and he'll tell you the same thing that's been the bedrock defensive philosophy of his team for the past several years: Make them take jump shots.
James and Wade are two of the best scorers of this generation, but neither is a great or even consistent shooter outside 15 feet. This is especially true in the postseason, when many possessions end in isolation situations and percentages tend to dip further. It's Scouting, Coaching and Game-planning 101 at this level.
The execution of that strategy, however, is proving to be a problem for the Celtics and is a major contributing factor to their being down 2-0. Wade and James are abusing the Celtics with interior shots and free throws created by getting those interior shots. Unless something changes quickly and Boston can get its defensive mojo back, clawing back into the series doesn't seem likely.
"They're going to get their points, I believed that going into this series," Rivers said. "They can't be so efficient getting them, and that's on us."
Rivers is right on target.
When the Celtics have done their job -- and that means working together to crowd the lane and lure Wade and James into jumpers -- they've done as well as the scouting reports predicted they would.
•
See Windhorst's full story

The Mavericks defeated the Lakers to take a 2-0 lead in their best-of-seven series Wednesday night. The Mavericks are the first team to beat the Lakers on their home court in the first two games of a playoff series since Portland did it in the conference finals in 1977. Before this series, the Lakers had hosted the first two games of a playoff series 60 times since the last time they dropped the first two games at home.