1. Mavericks Inherit The West Favorite Role

By Marc Stein
ESPN.com
Archive
DALLAS -- Imagine a world where Dirk Nowitzki is the darling of the TNT studio, Mark Cuban is running away from reporters and Matt Barnes is forced to admit that the Dallas Mavericks just punked the team that was chasing a three-peat.
Imagine a world where Phil Jackson gets fined before tipoff for complaining about Nowitzki's roughhouse tactics in the post, Jason Terry and Peja Stojakovic drain 15 3-pointers combined with only one miss and Kobe Bryant has to go home for the summer wondering if he'll ever know how it feels to beat Nowitzki in a playoff game ... when he's not pondering the identity of his next coach.
Actually?
You don't have to imagine it.
This is the NBA today.
This is where we are in the shellshocked Western Conference, where the only two member clubs that have won the championship since Nowitzki and Cuban hooked up in January 2000 are already gone ... and where the superstitious Cuban is trying so hard not to interject a word because the Mavs are hotter than they ever were during their 2006 run to the NBA Finals.
Barnes had assured us that the mighty Los Angeles Lakers would not follow San Antonio out the early exit door in these playoffs, since he and his old Golden State "homies" had long ago "laid out the blueprint" on how to push Dallas around back in 2007. Yet that tone had softened considerably by the time L.A. absorbed the last of Sunday's crazy 122-86 pasting, which sends the Mavs to the conference finals against the Memphis-Oklahoma City survivor.
"They beat the s---- out ...," Barnes said before stopping himself. "They beat us bad."
It appears that even Barnes has been convinced that these Mavs and those Mavs should not be lumped together in the same sentence. Not after the oldest team in the league made the Lakers look so much older and slower. Not after Dallas brought an end to L.A.'s three-peat bid with a Game 4 hailstorm of 20 triples and 60.3-percent shooting overall, ushering Jackson into retirement by inflicting the first 4-0 brooming of his peerless coaching career and leaving Bryant stuck on five rings -- one shy of Michael Jordan -- by marrying its suddenly scorching offense with the most stifling playoff D in franchise history.
So ...
Aren't we now obliged to say that these Mavs, no matter how skeptical you might still be, are the new favorites to win the West?
Isn't that the least Dallas deserves after routing the perennial powerhouse that lower seeds in the West, as Mavs coach Rick Carlisle noted, were scrambling "to avoid" in the first round?
"I don't think I've seen a team play to that level in a series -- in a game -- like they played this afternoon," Jackson said of the Mavericks.
"You've got to put credit in the right place," Bryant said of the Lakers' demise. "And that's the Mavs' locker room."
They're starting to get it now after finishing off this sweep-age with a beatdown that suggests there's more in that room than anybody knew. There's no denying that no contending team suffers from a greater dropoff from its best player to the rest than the Nowitzki-led Mavs, but Kobe's Lakers couldn't cope with the unique set-up they do have. That would be two tough sidekicks to flank Nowitzki for starters -- Tyson Chandler and a still-effective Jason Kidd -- along with a defensive bent that the 2006 team that unraveled against Miami couldn't touch. Nor does it hurt, obviously, when the bench can chip in a handy 86 points, as it did in this Mother's Day spanking, led by Terry (32), J.J. Barea (22) and Stojakovic (21).
The first real sign this postseason in Dallas would be different, even with the injured Caron Butler still stuck on the bench in a suit, actually occurred on the final day of the regular season. That's when Chandler flattened a virtual member of his family -- Chris Paul -- with the hardest playoff-style foul anyone around here could remember. The Mavs then recovered from their epic Game 4 collapse in Portland, blowing a 23-point lead but winning the series anyway to banish their fans' here-we-go-again fears. And since the collapse? The Mavs have held the opposition to less than 90 points three times in this 6-0 surge and are sharing the ball like they've completely forgotten how this offense so often devolved into Dirk-on-five.
The next challenge, though, figures to be far trickier than it sounds for the Mavs, who've clearly reveled in the fact that the Lakers shouldered roughly 99 percent of pressure in this round. Especially when L.A. started splintering.
Whether it's ready for this switch or not, Dallas just inherited the considerable burden of expectation.
Doing what they did to the Lakers won't be remembered nearly as fondly if the Mavs, with all their experience, can't at least make it back to the NBA Finals, which means getting past the scary Grizzlies or their equally dangerous regional rivals in OKC.
Against an underdog this time.
"That's fine," Mavs forward Shawn Marion insisted. "We're hungry. We're starving. Our stomach is only half full."
Said Terry: "We still feel like we are [the underdogs]. I don't think that anybody in our locker room feels like we're a favorite to do anything."
If that's more than just interview-room bravado -- if the Mavs can keep thinking that way -- good for them. That mentality is clearly helping, as should all the rest they're about to get. Any fears about messing up their rhythm by shutting things down for a few days, even when so many shots are going down, are forgotten when the Mavs recall how fresh Kidd looked after getting an unexpected week off late in the regular season.
"We'll take it," Nowitzki said.
Yet you suspect that, during the forthcoming break waiting for the Thunder or Grizzlies, Dallas is going to have lots of time to think about the amazing opportunity that has arisen so unexpectedly. The Lakers, like San Antonio in Round 1, have been ousted earlier than anyone not named Charles Barkley had envisioned. As Memphis' Tony Allen tweeted after the Mavs completed a sweep no one saw coming: "I just told my cousin that the most dangerous team is going fishing! The chip is wide open."
Which is only cause for celebration for the Mavs if they can embrace the opportunity and keep going. Nowitzki and Terry might be the only holdovers from the team that nosedived from the brink of a 3-0 lead over the Heat in 2006 to total implosion -- followed by first-round exits in three of the next four seasons -- but Terry doesn't deny that folks out there still associate '06 with the Mavs more than anything.
Not even what the outgoing Zen Master described as a "buzzsaw" slicing through the two-time reigning champs is going to change that perception completely.
"I know people still doubt us," Terry acknowledged.
The Mavs' main defensive difference-maker, for one, is convinced that the added pressure won't matter, whether Dallas has to deal with the punishing Zach Randolph/Marc Gasol tag team or the young, springy legs of Kevin Durant and Co.
Chandler's argument? The confidence and swagger gained from routing and utterly frustrating the Lakers into those classless fourth-quarter fouls by Andrew Bynum and Lamar Odom will neutralize any now-or-never weight Dallas just took on.
"You can see it in guys' eyes," Chandler insisted. "Look around the locker room. Guys are not that excited."
Give the Mavs this much: They've made a believer out of Bryant. On the eve of Game 4, Kobe spoke at length about how hard Dallas is to guard with its ball movement and skip passes that make every Mav "a threat." After dealing with Chris Paul in the first round, with the ball constantly in CP3's hands, L.A. never looked like it had a clue defensively against a team that Bryant says played "completely the opposite."
Yet there's something else Bryant volunteered between Game 3 and Game 4 that suddenly applies to the Lakers' conquerors as much as it did to the defending champs.
"We're the only team that has something to lose here," Kobe claimed.
Not anymore.


ESPN.com senior writer Marc Stein
• On Twitter @ESPNSteinLine | On TrueHoop | On ESPN.com | On email
• Follow ESPN's NBA coverage on Twitter | On Facebook | On Google+
Dimes past: April 21 | 22| 23 | 24 | 25 | 26 | 27 | 28 | 29 | 30 | May 1 | 2 | 3 | 4| 5 | 7 | 8
2. What's Next For Lakers?
By J.A. Adande
ESPN.com

DALLAS -- For a franchise that's coming to grips with a season ending on Mother's Day, not closer to Father's Day, with getting swept into the dustpan instead of holding a broom, to losing with classless cheap shots instead of winning with grace, you can add another foreign concept that the denizens of Lakersland will have to swallow: patience.

The last time a Los Angeles Lakers championship reign ended, in 2003, the Lakers responded by adding two Hall of Fame-bound players within two months: Karl Malone and Gary Payton. It wasn't quite the Heat bringing in the reigning MVP and another All-Star in their primes, but it was kind of a big deal -- and the Lakers did return to the NBA Finals the next season.

It won't happen so quickly this time. There are no landscape-changing free agents available this summer; all eyes are on Dwight Howard, Chris Paul and Deron Williams, who can hit free agency in 2012. And before anyone signs anywhere there's the matter of the expiring collective bargaining agreement and the lockout that's presumably coming afterward.

Whenever the NBA does resume operations it's expected to do so with a lower, more restrictive salary cap, which would make it more difficult to acquiring star free agents or consummate trades. Wherever the new salary cap level is set, the Lakers will be far beyond it. They're committed to an $88.5 million payroll next season even if Shannon Brown and Matt Barnes don't exercise their player options worth a combined $4.3 million. Even if you wanted to connect the dots and match the Lakers' earliest salary cap space with the first opportunity Blake Griffin has to become a free agent, that wouldn't happen until 2014. That's a millennium to fans of a franchise that has reached the NBA Finals, on average, every other season in the three decades that Jerry Buss has owned the team.
3. Daily Dime Live
Zach Harper, TrueHoop Network bloggers and fans gave their in-game opinions on all topics throughout Sunday's slate of NBA playoff talk in Daily Dime Live.
SUNDAY'S BEST

Mavs' bench marksmen: Jason Terry's 11-for-14 FG game (9-10 from 3-point range) was impressive enough, but when considering Peja Stojakovic's 6-for-6 from beyond the arc and J.J. Barea's 9-for-14 aim, then we're talking a case of major bench nirvana in Big D.
---
SUNDAY'S WORST

Bynum
Andrew Bynum, Lakers: For the second time in the series, the Lakers turned the littlest guy on the floor into their cheap-shot target. Bynum's shove of an in-flight J.J. Barea couldn't mask his worst game of the playoffs (six points, six boards, three turnovers).
---
TWEET WATCH
Lost in that cheap attack by Bynum...Barea actually made the shot. That's a helluva and-one6 p.m. ET via Twitter for BlackBerry®
Favorite
Retweet
Reply
J.A. Adande
jadande
---
QUOTE OF THE NIGHT
"I grew up under him .The way I approach things, the way I think about things -- not only basketball, life in general -- comes from him. It's a little weird for me to think of what next year is going to be like."
-- Lakers guard Kobe Bryant, looking ahead to life without Phil Jackson
---
6.

Lakers Exit Ungracefully
By Ramona Shelburne
ESPN Los Angeles

Jackson
DALLAS -- He walked away smiling, because you knew he would. Before the sun set here in Dallas. A month before he'd hoped it would set on his "Last Stand."
The end, for Phil Jackson, was simply the end. Ugly and unsatisfying and way too early for a team this good.
He deserved a graceful exit, but he got a humiliation instead.
And so Jackson sat pensively at the end, leaning back in his chair with no choice but to take it as the still-stunned crowd inside American Airlines Arena let out decades worth of pent up humiliation in the final delirious minutes of the Dallas Mavericks' series-clinching 122-86 win in Game 4 over the Los Angeles Lakers on Sunday.
His players could barely look at him. His assistant coaches could barely talk to him. They were as embarrassed as they were shocked.
This sight, this final awful plight for a coach they all hold in such high esteem, should've been enough motivation to bring them all together.
This end, so short of the history they set out to make, should've inspired enough fear in them to find a way to make this work.
But this Lakers team never made it that deep.
Its heart, its soul, was never really in it.
"That certain drive and bond that we've had in the past," Lakers forward Lamar Odom said softly from a quiet corner of the locker room. "That cohesive drive in order to overcome adversity.
"I don't know where we lost it."
In the past, the Lakers seemed to find it about this time of year. The struggle and adversity they faced in the first few rounds of the playoffs brought them together.
This season, it tore them apart at the seams.
In the next few days and weeks, they will all search for answers. Sunday night it was all still too raw and stunning to begin.
•
See Shelburne's full story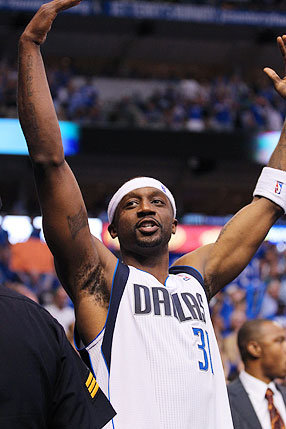 Matthew Emmons-US PRESSWIRE
Mavericks guard Jason Terry enjoys the sweep of the Lakers. Now Dallas awaits the winner of Oklahoma City-Memphis in the West finals.
8.

Mavs' 3-D Plan Pays Off
By Tim MacMahon
ESPN Dallas

Nowitzki
DALLAS -- So much for Matt Barnes' blueprint for beating the Dallas Mavericks, huh?
These Mavs can't be punked, which the Los Angeles Lakers reserve forward proclaimed via Twitter last month as all that needed to happen to defeat Dallas.
The Mavs proved Barnes and plenty of other people wrong by ending the Lakers' dynasty in dominant fashion.
Much time will be dedicated to all the things the Lakers did wrong to send Phil Jackson into retirement on the broom end of a sweep for the first time in his phenomenal career. But, as Kobe Bryant said, the Mavs deserve much credit.
Not that the Mavs are in celebration mode after eliminating the two-time defending champs with a 122-86 win Sunday at the American Airlines Center. Dirk Nowitzki considered cheating on his diet by eating a little pizza, but the Mavs don't plan to party until they achieve their championship goal. They're halfway there.
"If we were having this conversation and somehow faced the Lakers in the Finals and right now we were celebrating with champagne, I'd be pretty excited," Mavs center Tyson Chandler said. "But until then, I'm not going to get too excited."
The corks will probably be popping around these parts in a month if the Mavs continue to execute their blueprint for playoff success so efficiently. It's a 3-D plan: Dirk, defense and depth.
•
See the full MacMahon story

The Dallas Mavericks completed a four-game sweep of the Los Angeles Lakers with a convincing 122-86 win in the Western Conference finals. The Lakers were the seventh defending NBA champion to be swept in a playoff series and their 36-point margin of defeat on Sunday was the largest to cap any of those sweeps. The previous high was the Detroit Pistons' 21-point loss to the Chicago Bulls in Game 4 of the 1991 Eastern Conference finals (115-94).