1. Redeeming Outcome For LeBron, Heat

By Brian Windhorst
ESPN.com
Archive
BOSTON -- LeBron James' eyes found the arcing ball in the white haze of camera flashes set against a mosaic of green fabric. His focus quickly darted from the ball to the rim and back to the ball, trying to judge the destination. And his fate.
It was going to be either a new beginning or an old regret -- bad memories had him fearing the latter. Sometimes this is a clarity that comes later. But now James felt the gravity of the result in his chest and in his stomach.
"The only way to redeem myself was to get a stop one-on-one against Paul [Pierce]," James said.
Redeem himself for making a careless turnover a few moments before? Yes. From his numerous shortcomings in last-second moments this season? Yes. From what happened in the playoffs last May against the Celtics? From failing to deliver in the clutch and letting down his team and his city? Yes, maybe that, too.
"The only way to redeem myself was to get a stop," James said again.
He did. The Heat did. And in that moment, the Eastern Conference might have seen the end of an era and the beginning of a new one.
It's the Heat who suddenly have a 3-1 stranglehold after a 98-90 Game 4 overtime win Monday, and maybe a whole new outlook on the league's hierarchy.
Pierce's shot, one of his trademark, off-balance elbow jumpers, was left and no good. His line of sight was bothered by James' arm, and his position on the floor was a little farther than he wanted because James' quickness cut him off.
It was a fleeting moment -- all it meant was the start of overtime. But the Celtics and their fans expected it to go in, because they always seem to go in. The Celtics always beat James and Dwyane Wade because of their experience and their toughness and their grace. They make nightmares in the Eastern Conference; they don't live them.
That's why many expected the Celtics to win this series with the Heat. Boston is older and slower and less athletic. But nobody breaks hearts like the Celtics, and the stage was primed for it to happen again. Close game in Boston -- order up some Kleenex for the Heat locker room.
But Pierce missed. And Kevin Garnett couldn't make a basket. He went 1-of-10, not even able to get off a decent shot when a switch left the smaller Wade on him during a crucial late-game possession. And Rajon Rondo couldn't use his left arm, limiting him so severely that he had to be pulled from the game in overtime. And Delonte West, Rondo's replacement, turned the ball over when he was inserted in the game.
Some of that old Celtics magic might have saved it; that's what James couldn't help but fear. Everything else, though, suggested it was going to be a melancholy end of the road for Boston.
"Sometimes this league is about make or miss," Heat coach Erik Spoelstra said, for a second ditching the volumes of strategy from both sides in four emotional games. "I think our activity generated a lot of good karma for us."
Three makes is what did it, three baskets the Heat have been building toward since last summer. One from each of their three free agents they bet on to take down the Celtics as the East's kings and everyone else beyond.
The first came from James, a shot that instantly qualified as one of the greatest shots of his career. It might not look like it when people look at the replay in the future. It came with two minutes left in a game that went to overtime, which threatens to cheapen it, but in the present, it was breathtaking.
The Celtics had just hit back-to-back 3-pointers to take the lead, the last coming from Ray Allen in front of the Heat bench and making everyone in the building assume they were in for another Celtics playoff merry-go-round.
James got stuck in the corner with the ball and Pierce in his face. The Heat bench players were yelling that the shot clock was almost up, but there was no chance James heard them. He wasn't hearing anything but his own thoughts.
"It was just a big shot, it's a big shot," James said. "I just went up with confidence."
He was inches from the Celtics' bench. Glen Davis was sitting behind him like the Celtics' sixth defender, on his feet like everyone else in the arena, so close to James that he could have pulled the hair on James' legs or screamed in his ear to miss the shot.
Instead, in it went.
These are shots he missed all season, but all that was gone. James danced up the court celebrating in the fresh silence, with his cheeks bulging as he gulped some huge breaths. They were the biggest of James' 35 points.
"That play right there was a backbreaker," Allen said. "We didn't expect it."
Wade's turn happened in overtime. Again at the end of the shot clock, the Celtics did what they are supposed to do and choked off the opponent with their defense. Wade had no options but his talent, spinning for a fall-away jumper from 22 feet that gave the Heat a six-point lead in overtime. It was one of those karma moments, the biggest of Wade's 28 points.
"It looked like we had nothing," Wade said. "I do my part as one of the leaders of this team and made something happen."
Then the dagger came from Chris Bosh. Before the game, the Celtics put his quotes about the crowd and the moment getting to him under the pressure of Game 3 on the scoreboard. At halftime he wasn't acquitting himself well, with just five points. All of that was just a memory later in the night, as Bosh surged for a second half that was as memorable as his previous game was miserable.
With 24 seconds left and the Celtics clinging to some hope down three, Bosh tipped in an offensive rebound for the biggest of his 20 points, finally ending it -- the game, likely the series and perhaps the Celtics' reign.
"We're the guys, we're the ones who get all the attention, get all the praise and we've got to take all the downfall as well," Wade said. "When we decided to get together, I think we understood that. This team will go as far as us three take us."
For now, on a rare sad night in Boston, it looks like they're carrying it to the next round.


NBA Writer Brian Windhorst
• On Twitter @WindhorstESPN | On ESPN.com
• Follow ESPN's NBA coverage on Twitter | On Facebook | On Google+
Dimes past: April 21 | 22| 23 | 24 | 25 | 26 | 27 | 28 | 29 | 30 | May 1 | 2 | 3 | 4| 5 | 7 | 8 | 9
2. Celtics Squander Opportunity
By Jackie MacMullan
ESPN Boston

BOSTON -- Years from now, when they gather to reminisce about the old days, the 2010-2011 Boston Celtics will trade pleasant memories of spirited comebacks and victories generated by the guile of seasoned veterans -- until someone brings up Game 4 of the Eastern Conference semifinals.
And that's when they'll start choking on their corn dogs.
It is one thing to fall victim, as coach Doc Rivers has termed it, to the "greatness'' of LeBron James, Miami's polarizing star who imprinted his indelible stamp on the outcome of this heated contest.
Yet it is quite another when you literally throw away your chance to offset his brilliance with one poor decision after another at the most critical junctures of the game on your own beloved parquet.
The Celtics have fallen behind 3-1 in their best-of-seven series with the Heat in the wake of an excruciating 98-90 overtime loss, and if their season does end Wednesday in South Beach, they will harken back to the final seconds of regulation in this game as their death knell.
In what can only be described as a mind-numbing lack of execution, the veteran Celtics team emerged from a timeout with 19.5 seconds to go, during which they presumably discussed their strategy, and then completely botched the final shot.
The play was designed for Paul Pierce to hold the ball at the top of the circle while Ray Allen came up to the foul line and fanned out to create a misdirection. At that point Kevin Garnett would step up so he and Pierce could run a pick-and-roll.
But KG never came, even as Pierce began waving desperately for him to move toward him with the clock ticking down. Allen -- confused as to why Garnett was not setting the screen for Pierce -- hesitated, then retreated. As the seconds dwindled to nothing, Pierce was forced to take an off balance fallaway at the buzzer.
"The timing got messed up,'' Garnett explained.
"We're kicking ourselves over that,'' offered Allen.
3. Daily Dime Live
Zach Harper, TrueHoop Network bloggers and fans gave their in-game opinions on all topics throughout Monday's slate of NBA playoff talk in Daily Dime Live.
MONDAY'S BEST

James
LeBron James, Heat:
Strong defense, clutch shooting and big plays were just some of his redeeming qualities. His going for 35 points and 14 boards in the Game 4 win over Boston puts the Heat one win from the East finals.
---
MONDAY'S WORST

Garnett
Kevin Garnett, Celtics: His 1-for-10 night from the floor hurt, punctuated by a failure to set a pick on the final play of regulation. KG also was part of a total team effort of getting paltry production on the offensive boards. KG had zero second-chance caroms; his team managed only three.
---
TWEET WATCH
Ref: "Stop" Perk: "YOU stop" Tech.11 p.m. ET via Mobile Web
Favorite
Retweet
Reply
John Hollinger
johnhollinger
---
QUOTE OF THE NIGHT
"I haven't had much success in this building. We put a lot of pressure on ourselves to just come out and do whatever it took."
-- LeBron James, who before Monday's win had lost 13 of 15 games at the TD Garden, including the one that ended his Cleveland career.
---
By Tom Haberstroh
Heat Index

Bosh
After tipping in LeBron James' missed jumper to push the game out of reach, Chris Bosh unleashed a celebratory yell toward the Heat bench as he ran down the floor with 24.2 seconds left.
It was the loudest exhale of his career.
For the entire season, Bosh has absorbed criticism from every direction and the outside noise was getting to him -- he admitted as much at the Heat's practice. The barbs fired at Bosh questioned everything from his game to his toughness.
He's too soft to hang with the big boys, they say. He can't play a lick of defense. Kevin Garnett is in his head. He has never won anything of note. He floats on the coattails of LeBron and Dwyane Wade.
But when LeBron's shot bounced off the rim with under 30 seconds left and the Heat up only three points, they desperately needed Bosh to come through. And Bosh rose to the occasion, boxing out Ray Allen underneath and getting his left hand on the ball just before Jeff Green could swoop in for the rebound.
"There has been so much discussion about Chris," Heat coach Erik Spoelstra said after the Game 4 win. "I continue to remind him [that] he doesn't have to answer to anyone's critics [and] expectations."
By pushing it to a two-possession game with 24 seconds remaining, Bosh closed the door on the Celtics -- and perhaps the Celtics' rule over the East.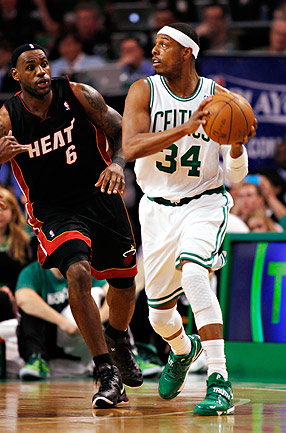 Greg M. Cooper-US PRESSWIRE
Miami's LeBron James had the coverage on Boston's Paul Pierce that made the difference. Pierce has had a major hand in ending James' season in two of the past three years.
8.

Big Numbers In Three Overtimes

Russell Westbrook scored 40 points and Kevin Durant 35 in Oklahoma City's triple-overtime win. It was the first NBA playoff game in 11 years in which one player scored at least 40 points while a teammate had at least 35. The last such game came in 2000, when Reggie Miller and Jalen Rose each scored 40 points in the Pacers' 108-91 win over the 76ers. The last pair to do it on the road? Sleepy Floyd (42) and Hakeem Olajuwon (41) for the Rockets at Dallas in the 1988 playoffs.