1. One Year Later, Sweet Turnaround For James

By Brian Windhorst
ESPN.com
Archive
MIAMI -- The phones started ringing at 3:30 a.m.
"You up?" LeBron James asked several friends.
They were now.
"I can't sleep. Can you meet me at the gym?"
This was how the end of James' year in a tempest began on Wednesday, shooting baskets as the sun rose over South Beach, lighting up the Miami Heat's practice court that looks out on Biscayne Bay.
Sleepless nights like this one had brought James here. First in the agony of coping with the greatest failure of his career. Then in the throes of making the biggest decision of his life. And finally in facing down the demon that had consumed him for years.
For many, May 11, 2010 defined James' character, a loss in Game 5 of the Eastern Conference semifinals to the Boston Celtics that proved to be a whimpering final game in Cleveland. It was so damaging that a columnist at the Cleveland Plain Dealer proclaimed Wednesday, the one-year anniversary of that game, "Quitness Day" in Cleveland.
On May 11, 2011, James came to peace with himself. The loss to the Celtics last year when he was a shell of himself, the endless backlash for signing with the Heat and the response to the claims that he was not a clutch player collided. The way it worked out will not satisfy everyone with an emotional chip in the situation -- but it will for James.
He'll be able to sleep. For a while, anyway.
James scored 33 points and the final 10 for the Heat in their 97-87 Game 5 victory over the Celtics, beating his nemesis for the first time in three playoff tries over the past four years. At the end, he fell to one knee to consider the moment.
"Everything went through my mind," James said. "Finally getting over this hump against this team. Everything I went through this summer with the decision and deciding to come down here and be a part of this team. ... All the backlash I got from it. The talks me and D-Wade had. I was very emotional at that point."
Fully knowing he was playing a series that would define this era of his career and be a referendum on his one-man revolution, James delivered several signature performances. Taking down the Celtics and doing so largely with the two-man attack of him and Dwyane Wade was one thing. Carrying the Heat at the end for victories in Games 4 and 5 with crucial pressure baskets sent James into a state he often talks about but rarely visits: being humbled by the moment.
So first he praised the Celtics, a team he respects but also extremely dislikes. Then he did something he's been waiting to do for months and months, something he hasn't been able to bring himself to speak out loud until now, when the sentiment of the situation lowered his guard.
He apologized for leaving Cleveland and explained why he felt he had to do it.
"I knew deep down in my heart, as much as I loved my teammates back in Cleveland and as much as I loved home, I knew it couldn't do it by myself against that team," James said.
"The way it panned out with all the friends and family and the fans back home, I apologize for the way it happened. I knew this opportunity was once in a lifetime. To be able to come down here and pair with two guys and this organization -- in order for me to move on with my career, that team that we just defeated, we had to go through them."
It is fair to point out doing this now -- saying he was sorry for how his departure from Cleveland went publicly for the first time -- might diminish its impact. It's fair to say that James and his two All-Star teammates beat a very different Celtics team than the one he faced with the Cavs a year ago. That Boston team was peaking, this team was breaking down by the game.
Kevin Garnett was a ghost of the player he was in this round a year ago. He barely contributed after the first quarter Wednesday night. Rajon Rondo was a non-factor after his horrible elbow injury, and that doesn't account for his back problems. He didn't even play in the fourth quarter. Jermaine O'Neal had to go to the locker room to get his back worked on. Shaquille O'Neal could barely walk and was in a suit. There were bench players fumbling balls out of bounds during vital possessions. So no, it wasn't slaying the king at the height of his powers.
It's indeed easier for James to lay it all out on the table now. But it doesn't mean his feelings aren't true. Or raw.
That was the right side of his brain being satisfied. On this night, so was the left, the competitor who had to sit for a year while peers mocked him to his face and behind his back.
James' greatest moment in the postseason had been in 2007 when he was the young underdog, blasting the favorite Detroit Pistons away with his unexpected dominance. Getting to the NBA Finals that year was a free roll, his legacy would not be determined by getting swept by the San Antonio Spurs.
The past three years, though, have ended in disappointment for James. Playing with weighted expectations, he repeatedly came up short. First the blame went to his teammates. Then it came on him. Going to the Heat was, in James' own words, running toward the help he felt he needed from Wade and Chris Bosh.
With his new team, he was different to be sure. Open to criticism, too. But in Games 4 and 5, when the Celtics pressed, expecting him and his team to buckle as they did in the past, James didn't and the Heat didn't. His huge plays led Miami to an overtime win in Game 4. And then on Wednesday, his clutch shooting broke the Celtics' will at last.
In a span of three days he hit three late 3-pointers in Paul Pierce's face, his archrival he's been at odds with since James' second season in the league when they nearly got into a fist fight in the locker room area after a preseason game.
Pierce always had the playoffs on James. The Celtics small forward beat him in a showdown Game 7 in 2008 when they both scored more than 40 points. He beat James last season when Pierce's defense mocked James' most valuable player status. Pierce even beat him a few times this season, lampooning James on Twitter by saying "it's been a pleasure to bring my talents to South Beach" after the Celtics won in Miami in November.
On Wednesday, James at last got him back, the coup de grace being a steal and dunk that finished the game in the final minute. As he hung on the rim he looked back at Pierce, an in-game beating of the chest.
The Celtics had to hate taking it, but some of them understood.
"I've never seen a team more criticized in my life and a guy in LeBron criticized for doing what was legal," Celtics coach Doc Rivers said. "He didn't break the law, he didn't do anything wrong. The preseason parade may have been a little much, but other than that, I just told him good luck and keep going. He was very emotional, and good for him. I don't think you can play this sport and be a winner without emotion."
This time the celebration has merit. Maybe a little overzealous after the final buzzer, which the Heat will, of course, be asked to explain when the euphoria wears off before the Eastern Conference finals. But there was a concrete accomplishment.
When James at last left the arena at 6:30 a.m. early Wednesday, it was all he could've hoped for.
"A lot of people doubted," James said. "We knew we were going to make it work."


NBA Writer Brian Windhorst
• On Twitter @WindhorstESPN | On ESPN.com
• Follow ESPN's NBA coverage on Twitter | On Facebook | On Google+
2. Celtics Stumble, Heat Finish The Job
By Jackie MacMullan
ESPN Boston

MIAMI -- They hung on the ropes like a valiant heavyweight fighter, staggering to their corner after absorbing blow after blow, only to regroup and come out again with some counterpunches of their own.
The Boston Celtics once again proved their resiliency and their guile, but as time ticked away in Game 5 of the Eastern Conference semifinals and the score remained tight, you knew what the outcome would be against a younger, more athletic opponent playing at home that features the player with the best knockout punch in all of basketball.
And, in the end, it was LeBron James who TKO'd their hopes, their dreams, their season.
And, in the end, it was the Miami Heat who advanced to the Eastern Conference finals because they proved to be the better team.
For 45 minutes, the Celtics clung to the slightest of advantages, playing with a lineup of Ray Allen, Kevin Garnett, Jeff Green, Delonte West and, ahem, Nenad Krstic, who had been inactive for Game 3 of the series.
Rajon Rondo, the point guard who set the Celtics apart for most of the season, was on the bench with a bad shoulder, an aching elbow and a cranky back. Jermaine O'Neal, the defacto starting center, with sidelined with his own back problems. Paul Pierce was in and out of the game with foul trouble.
And still the Celtics held an 81-74 lead with 9:21 to go in the game.
"I thought we were playing great," Green said.
Stop me when you've heard this before. Down the stretch, while Boston turned the ball over and missed wide open shots, the Heat turned it up and completely dominated play. In past games, Miami beat Boston driving into the teeth of its defense.
In this game, the Heat obliterated the Celtics with 3-point shooting.
Three in particular were killers: a James Jones trey with 3:45 to go (which proved to be his only bucket of the night) just after a Kevin Garnett turnaround rolled off; a LeBron fallaway 3-pointer over Pierce in the corner with 2:11 left to push Miami in front 90-87, and another contested LeBron 3-pointer over Pierce's outstretched arms with 40 seconds left to clinch it.
3. Daily Dime Live
Zach Harper, TrueHoop Network bloggers and fans gave their in-game opinions on all topics throughout Wednesday's slate of NBA playoff talk in Daily Dime Live.
WEDNESDAY'S BEST

James
LeBron James, Heat:
For his clutch plays in winning time, James gets the nod over an equally impressive Dwyane Wade. James had 33 points, but his 5-for-7 night from beyond the arc was his best 3-point effort since making 5-of-6 against the Lakers on Christmas. Consider this a late present.
---
WEDNESDAY'S WORST

Randolph
Zach Randolph, Grizzlies: The hero of the Memphis miracle run came into this one averaging 26 points and 14 rebounds in the series. Feeling the effects of playing 56 minutes in Game 4, Z-Bo had his worst game of the playoffs, posting nine points and seven rebounds in the 99-72 loss.
---
TWEET WATCH
Tell me y'all see Perkins in this altar boy hook up....He officially became the mean-muggin-est altar of all time.11 p. m. ET via TweetDeck
Favorite
Retweet
Reply
Jemele Hill
jemelehill
-- Thunder center Kendrick Perkins was shown on TNT in custom robes from his days as an altar boy in Beaumont, Texas
---
QUOTE OF THE NIGHT
"What I think about is shutting up those [expletives] talking about I'm done."
-- Lakers guard Kobe Bryant, on what he's looking forward to next season.
---
6.

Grizz One Step From Hibernation
By John Hollinger
ESPN.com

Durant
OKLAHOMA CITY -- You can't help but wonder how much of this game was decided 48 hours earlier.
The young Oklahoma City legs felt no pain from Monday's triple-overtime thriller in Memphis, but I'm not sure the same can be said for the Grizzlies. The Thunder got a dominant effort from top to bottom, needing little help from All-Stars Kevin Durant and Russell Westbrook to thwack the Grizzlies 99-72 in Game 5 on Wednesday. The win moves the Thunder one win away from an I-35 Western Conference finals against Dallas, with a potential Game 6 clincher set for Friday in Memphis.
From top to bottom, the stat sheet screamed of superior energy from the Thunder. Most notably, this was the first time all series that Oklahoma City won more of the 50-50 balls. The gritty Grizzlies had been forcing turnovers and getting second shots all series, leading to a +31 advantage in possessions in the first four games, but Wednesday it was Oklahoma City that finished ahead +4.
Dig deeper and the tale is the same. The Thunder had 20-7 edge in fast-break points, and the run-outs got easier as the game dragged on longer. Oklahoma City had the edge in second-chance points, 18-9. Even more shockingly, points in the paint favored the Thunder 46-42 -- Memphis led the league in that category in the regular season, while the Thunder were 25th defensively.
"We got embarrassed, rightfully," said guard Mike Conley, who had been having a fine series until Wednesday's 4-of-16 stinker. "We didn't play our style of basketball. We started turning it over and giving up offensive rebounds and doing very uncharacteristic things."
As for fatigue, the coaches' comments told the tale.
"I don't know if fatigue was a factor" Thunder coach Scott Brooks said. "It was not on our end."
Brooks added that his team had a lively morning shootaround earlier in the day, and why not? His crew of barely-20-somethings looked like they could have played several more overtimes at the end of Monday night's game, and clearly were more than ready to play again Wednesday. Brooks could have had them run five-on-five an hour before tip-off and I doubt it would have affected them much.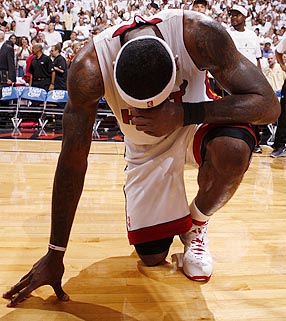 Photo by Victor Baldizon/NBAE via Getty Images
LeBron James kneels on the court after finishing the Celtics. He later said he was thinking about all the things that led him to Miami.

Dwyane Wade scored 34 points and LeBron James added 33 in the Miami Heat's 97-87 win against the Boston Celtics on Wednesday night. They are the first two teammates to each score at least 30 points in a playoff win that eliminated the Celtics from the postseason.
Wade averaged 30.2 points in the Eastern Conference semifinals, and James averaged 28.0 points. The last pair of teammates to both average at least 28 points per game in a playoff series were the Suns' Steve Nash (30.3) and Amare Stoudemire (28.8) in 2005 against the Mavericks. No other teammates have both averaged at least 28 points per game in a playoff series win against the Celtics.
9.

Chatting With Hollinger

Howard
Rick (Boston): What's your take on the Dwight Howard situation? Otis Smith has to know that Howard isn't going to be signing there and that Lamar Odom and Andrew Bynum for Howard and Gilbert Arenas deal is the best he's ever going to get.
John Hollinger: The thing to remember is Howard doesn't have much leverage to get to L.A., so the Lakers need to make him a good offer to get him. A deal like the one above does seem pretty tempting, but only if Howard has a legitimate avenue toward departure. Obviously, the new CBA is going to be a huge factor in what eventually happens with Howard, and I see no reason for Orlando to do anything until they know what the new landscape entails.