1. Underdogs Or Not, Bulls Can Withstand Heat

By Michael Wallace
ESPN.com
Archive
ATLANTA -- The logic of it all was a bit lost on Derrick Rose, but not to the extent that he refused to embrace the position the Chicago Bulls find themselves in right now.
After dismantling the Atlanta Hawks with a suffocating defense in a 93-73, series-clinching victory in Game 6 on Thursday night at Philips Arena, the Bulls moved deeper into uncharted territory. Chicago is back in the Eastern Conference finals for the first time since the tail end of the Michael Jordan era.
But that's not what left Rose shaking his head and shrugging his shoulders. It's the notion that, despite owning the NBA's best regular-season record and top-rated defense in addition to having both the league's MVP and coach of the year, Rose's Bulls will essentially open the conference finals Sunday as the underdogs and relatively overlooked in their matchup with the Miami Heat.
"We're fine with that," Rose said of the blue-collar Bulls. "To us, we're not here by surprise. Our confidence is very high. We know we have something special in front of us. We just have to still put the work into it."
Rose and his teammates emerged from their tougher-than-expected 4-2 series victory over the Hawks secure in Chicago's role in the mega series that comes next. It will be the ultimate head-on collision for the right to advance to the NBA Finals.
There's the Heat's style versus the Bulls' substance.
There's Miami's star-studded trio of LeBron James, Dwyane Wade and Chris Bosh versus Chicago's tenacious defense that perfectly complements Rose's take-charge ability on offense.
And there's even a contrast in how these teams went about assembling their rosters to get to this point. Earlier this week, Miami's Pat Riley and Chicago's Gar Forman were named co-recipients of the NBA's executive of the year award.
But whereas Riley hauled in the three biggest catches of last summer's free-agency circuit, Forman regrouped admirably after missing out on James, Wade and Bosh by putting together a solid supporting cast around Rose and hiring defensive mastermind Tom Thibodeau to coach them into a cohesive unit.
The Heat might roll into Chicago for the first two games of the series garnering the majority of the national headlines, hype and hoopla. But the Bulls insist they will remain rooted in the three elements that have fueled them all through their breakthrough season: defense, depth and D-Rose's guidance.
"We haven't peaked yet," said forward Carlos Boozer, who recovered well enough from a nagging toe injury to finish Game 6 with 23 points and 10 rebounds in his best playoff effort as a member of the Bulls. "We do it by committee. We don't have one, two, three [key players]. We have everybody."
The Bulls are far from cocky, yet firmly confident in their chances as they take the next step toward their goal of winning a championship for the first time since Jordan, Scottie Pippen and coach Phil Jackson finished off their second run of three consecutive titles in 1998.
After struggling and splitting the first four games of the series against the Hawks, the Bulls transformed into the version of themselves that had been a headache for the league's other elite teams this season.
Chicago relied on its deep bench in Game 5, and turned to Omer Asik, Taj Gibson and Ronnie Brewer to spearhead a unit that outscored the Hawks 26-15 to pull away in the fourth quarter and take a 3-2 series lead. Thibodeau's promise after Tuesday's 95-83 victory to stick with his reserves down the stretch moving forward if they outperformed the starters provided motivation for Boozer and Joakim Noah.
When it was time to close out the Hawks on Thursday, it was Noah and Boozer who stepped to the forefront to support a 19-point, 12-assist outing from Rose. Boozer and Noah were a combined 15-of-23 from the field for 34 points, 16 rebounds and six assists.
Five Bulls scored in double figures as Chicago shot 53.2 percent from the floor and compiled 34 assists (20 more than Atlanta). The offense was a bonus on a night when the defense held the Hawks to 35.6 percent shooting overall, including a 1-of-11 clip from 3-point range. Atlanta was held to 18 or fewer points in each of the first three quarters and didn't crack 20 until the fourth quarter when it was garbage time.
The Bulls didn't just beat the Hawks. No, they smothered them into submission. And it's a level of tenacity they will have to carry over into the next series to improve their chances of beating the Heat.
There are things Chicago can learn from the Hawks series and apply against Miami.
Joe Johnson is no D-Wade. But Johnson's versatility and ability to run the offense from the shooting guard spot isn't all that different a dynamic than what Miami offers with Wade.
Josh Smith certainly is no LeBron. But Luol Deng got a taste of what it will take to defend an explosive athlete who can run the floor and attack the basket the way James does for the Heat.
And Al Horford, a third-team All-NBA selection, presented Boozer with the same length and face-up game Bosh brings at the power forward spot in Miami.
Boozer credited the Heat for getting past "a championship team" in the Boston Celtics with a 4-1 series victory to advance to the conference finals. It was a Boston team that had the league's second-toughest defense behind the Bulls.
But those Celtics were missing a key contributor in Thibodeau, their former defensive guru who took his talents to Chi-Town last summer as James was heading to South Beach. Thibodeau often is credited with devising the schemes that frustrated James while he was in Cleveland during those playoff losses to the Celtics. Thibodeau also was the architect of the Boston defense that did little to slow Wade in the first round last season but suffocated his teammates in a 4-1 series victory.
The Bulls have also had success, particularly late in close games, against the Heat this season in sweeping the season series 3-0. But Thibodeau sees a different Heat team than the one his Bulls faced in the regular season.
"They've been an extremely talented team all year long," Thibodeau said of the Heat on Thursday. "But they've been together longer, they've played with each other, they've been through some situations and they're more comfortable."
However, Thibodeau's specialty is finding ways to disrupt those type of comfort zones.
"It's going to be hard," Rose said. "But I think Thibs is going to have a great game plan for us. It's going to be fun. Very fun. It's going to be a battle."
Rose said his team can't take much from its regular-season success against the Heat, because the playoffs are much different -- and so are the teams this time of the year.
But don't expect Chicago's formula to change.
The first time the teams met this season, on Jan. 15, LeBron sat out with a sprained ankle and Bosh missed the fourth quarter with an ankle injury in a 99-96 Bulls victory.
The second time they met, Feb. 24, LeBron showed up but Bosh essentially didn't -- he was 1-for-18 from the field as the Bulls held on again for a 93-89 win.
And the third time they met, March 6, it was a crying shame. It was the "Crygate" game.
That was the night when LeBron missed a potential game winner at the buzzer in an 87-86 loss and later apologized to his teammates in an emotional locker room for repeatedly failing to deliver in the final seconds of close games.
But that was an eternity ago. Even the Bulls say so.
"No, we can't take anything away from the three wins," Noah said Thursday. "All I remember is that we won. But none of that stuff matters now. Right now is what matters. And we realize how important of an opportunity this is."


NBA Writer Michael Wallace
• On Twitter @WallaceNBA_ESPN | On ESPN.com
• Follow ESPN's NBA coverage on Twitter | On Facebook | On Google+
Dimes past: May 1 | 2 | 3 | 4 | 5 | 7 | 8 | 9 | 10 | 11 | 12
2. On The Bright Side, Atlanta ...
By John Hollinger
ESPN.com

ATLANTA -- So, it's a wrap for the 2010-11 Hawks. But here's what we can say about Atlanta after two rounds of the playoffs: There's a future here.
That's more than we could have said for the Hawks a month ago and abundantly more than we can say for the local hockey team that's owned, for the moment, by the same group of investors.
None of this was apparent when the postseason began. Atlanta won 44 games in the regular season, down nine from 2009-10, and even that overstated its quality -- the Hawks finished the regular season with more points allowed than points scored. Rookie head coach Larry Drew looked overmatched, second-year guard Jeff Teague looked like a marginal player, and the mix of other players looked uninspiring at its best and toxic at its worst.
Those conclusions are radically different after a solid run into Game 6 of the second round of the postseason -- which, believe it or not, represents Atlanta's deepest playoff incursion since lasting six games into the second round in 1994. Thus, the Hawks enter the offseason on something of a high note ... even after closing out with a moribund 93-73 defeat by a plainly superior Bulls team.
• Read more from Hollinger on the Hawks' future at TrueHoop »
3. Daily Dime Live
Zach Harper, TrueHoop Network bloggers and fans gave their in-game opinions on all topics throughout Thursday's slate of NBA playoff talk in Daily Dime Live.
By Justin Verrier
ESPN.com
THURSDAY'S BEST

Boozer
Carlos Boozer, Bulls:
Welcome to the postseason, Booz. Struggling with a toe injury throughout the second round, Boozer looked like his old self again in Game 6, breaking the 20-point plateau for the first time since April 8 with 23 on 10-for-16 shooting to go along with 10 boards.
---
THURSDAY'S WORST

Not-so-Hawkeyes: The Hawks' hit-or-miss offense was way off in Game 6, as Atlanta's erratic shooters connected on just 36.5 percent of their attempts and compiled only 73 points, tied for a team low in the playoffs.
---
TWEET WATCH
Well it's been a fun season for @WallaceHeatNBA writing for the Hawks Index on ESPN.com, but all good things must come to an end.10:30 p.m. ET via web
Favorite
Retweet
Reply
John Hollinger
johnhollinger
---
QUOTE OF THE NIGHT
"It's going to be fun. It's going to definitely be fun."
-- Derrick Rose to ESPN's Lisa Salters on playing the Heat in the Eastern Conference finals.
---
6.

Ainge 'Disappointed' In C's Finish
By Jackie MacMullan
ESPN.com

The front-office architect of the Boston Celtics woke up Thursday morning with an uncluttered calendar and a gnawing frustration over a season that ended abruptly in Miami, crushed under the weight of a ferocious 16-0 run that elevated the Heat to the Eastern Conference finals and downgraded Boston from championship contender to the "also ran" category of once-proud teams that can no longer close the deal.
Danny Ainge challenges that characterization of his basketball team. He believes his 30-something nucleus can still win it all and will spend most of his summer angling ways to tweak a roster that will again be centered around Kevin Garnett, Paul Pierce, Ray Allen and Rajon Rondo.
Yet his optimism for the future did not off set his dissatisfaction over what transpired.
"I'm disappointed," said Ainge, the Celtics president of basketball operations. "I'm disappointed in how we played the last 20 games of the regular season. I thought we should have had home-court advantage through the playoffs.
"I feel like we should be ahead 3-2 [in the Miami series] instead of going home.
7.

Bulls Are Back In Town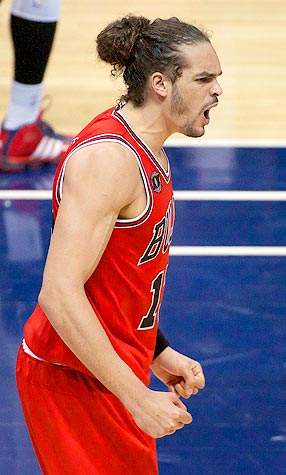 Dale Zanine/US Presswire
The Bulls finally put the Hawks behind them with a dominant Game 6 performance, setting up their first Eastern Conference finals since Jordan.
8.

Can Mavericks Tough It Out?
By Jeff Caplan
ESPN Dallas

DALLAS -- Who are these swashbuckling Dallas Mavericks? The ones who unraveled the weakened two-time world champs while reaffirming their own team-wide belief of upgraded mental toughness?
They've talked all season about being "different" from past Mavs teams. The four-game sweep of L.A. is entered as evidence, although the physical work and mental challenges only mount from here.
"It's tough because every game, every series is a new challenge and is going to be a new test," Mavs guard Jason Terry said. "And for us, mentally, it's always going to be there, that factor. Any time it looks like there's a crack or we're in a fragile mental state, they're going to point back to what happened in '06. So it's a thin line and we always know that if we keep pushing, pushing and pushing forward, eventually we're going to shake that."
Can they be trusted? Are these Mavs truly mentally tougher than their well-chronicled, gut-wrenched predecessors?
And what does it really mean?
The B.S. Report: 5/12
Bill Simmons talks with Celtics broadcaster Sean Grande about the end of Boston's season. Could the Miami Heat really win it all? Can Boston contend for the title next season?