1. If Griz Keep This Up, The Slipper Might Fit

By John Hollinger
ESPN.com
MEMPHIS, Tenn. -- It's all about spacing, folks.
Undoubtedly, you've heard all about the big picture by now -- that the Memphis Grizzlies stared elimination in the face, dug down, and as they've done all season, gritted and grinded their way to an improbable win. Trailing by 10 points at halftime, Memphis overwhelmed Oklahoma City with energy after the break to rally past the Thunder 95-83 in Game 6 and tie the series at three games apiece. Game 7 is Sunday in Oklahoma City.
That the Grizzlies came back was no surprise -- the team with a double-digit first-half lead lost all three games in Memphis this series.
Besides, you knew these Grizzlies weren't going down without a fight. Not after the way they scratched and clawed all season, not in front of a crowd that had truly adopted the team for the first time in 10 years in this city, and certainly not after busting out legendary Memphis native Al Green for a memorable national anthem.
And of course, Memphis' effort played a huge role once again. Memphis had a plus-6 advantage in offensive rebounds and turnovers, continuing a series-long trend, and provided two signature moments when both Shane Battier and Marc Gasol dove to the floor to outhustle Thunder players for loose balls.
"Nothing special," the lumbering Gasol said of his unlikely dive past Thabo Sefolosha to preserve a first-half possession. But it was emblematic of the divergent energy levels. In a feisty game that featured five technical fouls, the Grizzlies were the hungrier team.
But let's get back to spacing, because that's the real story from Friday, and it will bear watching again in the rubber match Sunday in Oklahoma City.
In a nutshell, the Grizzlies had it and the Thunder didn't.
Memphis coach Lionel Hollins turned to O.J. Mayo as his starting shooting guard, replacing Sam Young, and went with the better-shooting Mayo for 39 minutes. (Befitting a Memphis player, Young's life briefly turned into a Johnny Cash song Friday; minutes after learning at shootaround that he wouldn't start, his car was stolen.)
Mayo made two of his four 3-point attempts, but more importantly, his presence on the floor afforded more space for Zach Randolph in the paint. That was especially true when he shared the floor with Shane Battier, who played 28:30 himself and hit perhaps the most important shot of the game when his high-arcing 3-pointer at the halftime buzzer cut the Thunder lead to 10.
"We weren't spacing the court," Hollins said. "They were just clamping down on Zach with two of three guys. We felt like if we put a shooter out there, they would have to honor him and they did it."
The plan worked perfectly. Z-Bo blew up for 30 points, nearly all of them against single coverage in low-block post-ups, as the Thunder couldn't clog the paint the way they did when Young and Tony Allen were playing the wings in Games 2 through 5.
"I thought the lineup change with O.J. really opened it up. It got Zach off early. He got in a good rhythm, and it just carried on in the fourth quarter," Hollins said.
The same can't be said for Oklahoma City, which saw Kevin Durant struggle to one of his worst games as a pro -- 3-of-14, 11 points -- as the Grizzlies' physical defense and constant double-teaming left him both frustrated and unusually passive. It was his lowest output in more than two years, since he scored 10 points in Portland on April 10, 2009.
That was somewhat because Oklahoma City's defenders paid no attention whatsoever to Kendrick Perkins. Perkins played 33 minutes for the Thunder, partly to have his post defense on the floor against Randolph, but his offense was such a liability that he should have got the hook.
Gasol constantly abandoned Perkins to double-team Durant, with or without the ball, sometimes coming out above the 3-point line. While Durant gave up far too easily when he was denied the ball, the lack of an effective counter with Perkins made Memphis' strategy pay off big. Perkins slipped through for one easy layup but otherwise wasn't able to burn the Grizzlies for leaving him; when he did wriggle free, Memphis was more than happy to foul him and take its chances at the line, where he went 4-for-6.
"It's Kevin Durant, now," Gasol said. "We know what they're trying to do. They got a couple of slips on Kendrick, but if Kendrick gets a little hot, we can live with that. But if KD does, it's not good."
The Grizzlies' floor-shrinking defense affected the other Thunder players, too. Oklahoma City shot 4-of-25 from beyond the arc, many of them forced, and scored only 17 points from the free throw line, where it normally does much of its damage.
And as much as Memphis' defense and energy played a role, one couldn't help watching the second half of this game and wondering what exactly was going on with Durant. Or rather, wasn't going on. Battier and Tony Allen played exemplary defense, yes, and getting doubled all the time by Gasol wasn't helping, either.
"They were double-teaming him every time," Thunder coach Scott Brooks said.
Other factors contributed. Durant got two early fouls -- the second on a dubious offensive foul call -- and never seemed to regain his rhythm when he re-entered off his usual rotation to start the second quarter. And I will add, Durant had some clean looks he normally makes and just missed their mark. Certainly, an out-of-character stinker such as this doesn't happen without a combination of factors.
"He just couldn't get anything to fall," Brooks said, "and he shot too many 3s. When Kevin's good, he's attacking the basket."
But what stuck out far too often was that Durant just flat-out gave up after fairly tepid efforts to get himself open. One wonders whether the energy and physicality Memphis is throwing at him game after game is wearing him down, because his scoring numbers have been in steady descent as the series has worn on ... with the lone spike coming with the aid of three overtimes in Game 4. Otherwise, here's the progression: 33-26-22-19-11.
"Kevin has to fight more," Brooks said matter-of-factly. "He has to make sure he sets the screens up and comes off it harder than he did tonight."
If he does, one suspects the energy of the home crowd will be enough to advance the Thunder to the Western Conference finals and an I-35 showdown with Dallas.
But if Durant allows a lack of floor spacers and the Grizzlies' gritting and grinding to turn him into the meek bystander he was for much of Friday night, Memphis' improbable, Cinderella season might have at least one more surprise in store.


ESPN Insider John Hollinger
• Twitter @johnhollinger | ESPN.com | TrueHoop | Email | Stats
• Follow ESPN's NBA coverage on Twitter | On Facebook | On Google+
Dimes past: May 1 | 2 | 3 | 4| 5 | 7 | 8 | 9 | 10 | 11 | 12 | 13
2. Why The Heat Went 0-3 Against The Bulls
By Tom Haberstroh
Heat Index

The much-anticipated Heat versus Bulls matchup is finally here. As we all prepare for the series that will decide who goes to the Finals, we'll be constantly reminded of the Heat's 0-3 record against the Bulls this season.
On the surface, this sounds like a big deal. Of the Heat's 24 losses this season, three came against the Bulls, but none of Miami's 58 victories were over the Derrick Rose-led No. 1 seed. The Heat played some of their worst ball against the Bulls this season, and they can thank Rose and Tom Thibodeau, the NBA's coach of the year, for a lot of that.
But when we dig deeper into the regular-season series, we discover how how little we can glean from the Heat's winless record.
Let's start with this: There have been 144 minutes of Heat-Bulls action this season, and 61 of those minutes were without LeBron on the court.
The fact that nearly half the season series was played without the Heat's best player -- not to mention the NBA's best player -- on the floor makes it dicey to say that the regular-season record holds much water. LeBron watched the first head-to-head between these two teams from the sideline as he was recovering from an ankle injury. Chris Bosh's third-quarter ankle injury took him out of the game as well. That January game came down to the final minute, but it did not go in the Heat's favor.
Of course, LeBron did play in two losses, too. But both of those games could have gone either way despite one of the worst shooting performances in NBA history (Bosh's 1-for-18) in that February game in Chicago. Combine LeBron's absence in January and sharpened late-game execution as of late, and he is a big part of why the 0-3 record means very little. These aren't excuses for the Heat; they are the merely facts.
3. Daily Dime Live
Zach Harper, TrueHoop Network bloggers and fans gave their in-game opinions on all topics throughout Friday's slate of NBA playoff talk in Daily Dime Live.
FRIDAY'S BEST

Randolph
Zach Randolph, Grizzlies:
The only thing almost as good as Z-Bo dropping 30 points and 13 rebounds on the Thunder? The Grizzlies' fans who stood throughout the second half, cheering on their team in an elimination game.
---
FRIDAY'S WORST

Durant
Kevin Durant, Thunder: The Can't-Miss Kid did. After a hot start, he was cooled by foul trouble. Then, hounded by Tony Allen and the Grizz, he finished having made just three of 14 shots, netting a career-playoff-low 11 points.
---
TWEET WATCH
great game by the grizz understanding that zbo Is a beast and you play through him!!Midnight ET via TweetDeck
Favorite
Retweet
Reply
Kyle Lowry
Klow7
QUOTE OF THE NIGHT
"That guy is a player, and when he gets it going, you only can do what you can do and that is contest his shot and force him to take tough shots, and he made some tough shots tonight."
-- Thunder coach Scott Brooks, on the offensive juggernaut that is Zach Randolph
---
6.

No. 1 Seed, 2-1 Underdogs
By Melissa Isaacson
ESPN Chicago

Rose
DEERFIELD, Ill. -- Anyone looking for a grudge match in the NBA's Eastern Conference finals might want to consider ESPN Classic, because the Bulls just aren't biting.
What was Luol Deng thinking last summer when LeBron James made "The Decision," a choice that immediately turned his new team into a combination of the '89 Detroit Pistons, the '75 Philadelphia Flyers and the '07 New England Patriots before it had played a single game?
"I was in Kenya in a refugee camp in Kakuma and they didn't have any TV," Deng said Friday. "I heard about it a few days later. But I really thought they were going to be a great team. Right away I could tell they were going to be in [the running] for a title."
While the Heat were inciting the wrath and resentment of seemingly every NBA fan outside South Florida, the Bulls reacted much like they did after defeating the Atlanta Hawks to clinch their semifinal series Thursday night.
With the quiet resolve to simply move on.
"We just want to get ready for the next step," Bulls coach Tom Thibodeau said. "I think that's important. We can't change our approach. That's how we got here."
The Bulls have been installed by Vegas bookmakers as 2-to-1 underdogs to defeat Miami, which is just fine with them.
"We take it for what it is, us against the world," Derrick Rose said. "That's the way we're going to look at it."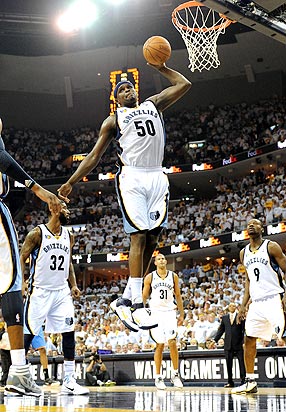 Photo by Layne Murdoch/NBAE via Getty Images
Grizzlies forward Zach Randolph stepped up in the second half of Game 6, finishing with 13 boards against the Thunder.
8.

Durant Can't Find Rhythm
By ESPN Stats & Information

NEXT LEVEL: Kevin Durant scored a career-playoff-low 11 points Friday, struggling to find his rhythm for much of the night. Durant made only one of five field goals on spot-up opportunities, including going 0-of-3 in the second half when the Grizzlies pulled away. Durant entered Game 6 having shot a team-high 44.8 percent from the floor on spot-up jumpers in the 2011 postseason (min. 20 FGA).
Durant Struggles Across the Board FG pct, Series vs. MEM
| | | |
| --- | --- | --- |
| Area | Games 1-5 | Game 6 |
| Spot-Up | 38.5 | 20.0 (1-5) |
| Transition | 57.1 | 0.0 (0-1) |
| Others | 45.7 | 25.0 (2-8) |
By Ric Bucher
ESPN The Magazine

Westbrook
Mike (Boston, MA): Does Sam Presti call Danny Ainge this offseason and beg to trade Russell Westbrook for Rajon Rondo? It just seems Rondo would fit so much better there being surrounded by up and coming shooters (Kevin Durant, Daequan Cook, James Harden, Serge Ibaka, etc) and can actually make a play call. Westbrook just seems to set up iso's for himself or Durant. And when Ainge says no, does Presti gloat saying I already screwed you once this year anyway?
Ric Bucher: Last I checked, Russ was about to lead the Thunder to the conference finals and Rondo was going to be at home watching. Not sure why people like to beat up Westbrook, but he's been consistently second-guessed from the minute OKC made him the 4th pick. He's a great kid and arguably the next best athlete at PG after Rose. He's figuring it out. But 1/3 of the problems that OKC has in getting the ball to KD rest with KD, who can't separate from strong agile defenders. Overall, I'd say Rondo has more holes to fill in his game than Westbrook -- and I like Rondo, too.