1. Behind Rose, Bulls Adjust And Wallop The Heat

By Michael Wallace
ESPN.com
Archive
CHICAGO -- After a sluggish first half, replete with turnovers, late defensive rotations and miscues that left the Chicago Bulls tied at the intermission with the Miami Heat in Game 1 of the Eastern Conference finals, Derrick Rose decided it was time to step up.
The league's MVP felt responsible for his team's sporadic play and needed to be held accountable.
"Just by nature, I'm quiet," Rose said. "But being in this position, being the point guard, being one of the leaders on this team, you have to talk a little more."
So Rose got the undivided attention of his teammates in the locker room and spoke up.
"I told them it was me," Rose said as he relayed the message he gave the team at what proved to be the most pivotal point of Sunday night's 103-82 victory over the Heat. "Careless turnovers. I'm the point guard. I have to do way better."
LeBron James, Dwyane Wade, Chris Bosh and the Heat didn't know it. But it was at that time -- halftime, tied at 48-48 -- when the game changed from one that was hotly contested, intense and competitive to what would eventually become a statement-making rout.
Rose's halftime accountability session was the step-back-and-breath moment that jump-started Chicago. The Bulls went into the locker room with nine turnovers. They committed only one the rest of the game. Rose's talk was the only time the Bulls might have been out of character the entire night.
Fueled by their top-rated defense, their seemingly endless depth, their relentless energy and their uncomfortably vocal catalyst, the Bulls walloped the Heat and established just why the path to the NBA Finals in the East must run through Chicago.
The Bulls thoroughly took over the game in the second half by outscoring the Heat 55-34, knocking down 7 of 14 shots from 3-point range and pounding their way to a 19-6 advantage in offensive rebounds that led to a 31-8 edge in second-chance points.
Team Toughness blew out Team Talent.
Chicago's hustle dominated Miami's hype.
In setting a definitive tone at the start of this series, the team that missed out on the biggest three players in free agency last summer overwhelmed the squad that landed them.
When Oprah takes over the United Center for Monday's farewell show, she's going to have a tough time following the week's opening act in that building.
"You have to give credit where credit is due," Heat coach Erik Spoelstra said in assessing the damage the Bulls inflicted on Sunday night. "They did what they normally do. We took it on the chin ... virtually in all the effort areas. We got away from things we normally do. We went a little sideways from a lot of those effort battles that we surrendered."
It's never a good sign when there are words such as "surrendered" are tossed around at any point this deep in the playoffs, let alone in Game 1 of a series with so much at stake.
But clearly, the Bulls' aggressive play put them in position as the team that advanced its agenda. Meanwhile, the Heat were the squad that retreated into what will be three days of internal adjustments, media scrutiny and lingering concerns about easily their worst loss in these playoffs.
At the same time, the Bulls will try to bottle the formula that led to victory without becoming intoxicated by their Game 1 success in a series in which all they've done so far is hold serve.
"It's an important win," Bulls coach Tom Thibodeau said. "For us, we want to go step by step. So we don't want to feel too good. We know there's things we have to clean up. For the most part, our team has done a very good job all year with their approach. Each day, they concentrate, they strive for improvement, they study the opponent, and they don't look behind. They're not looking ahead. They're just getting ready for the next step."
That next step comes Wednesday in Game 2.
By then, the Heat hope to regain some of their footing after an opening performance in which James and Wade combined to shoot just 12 of 32 from the field and committed half of their team's 18 turnovers that led to 22 Chicago points.
The fact that James and Wade struggled against a Thibodeau-designed defense shouldn't be considered an aberration. Actually, it should be more of an expectation of sorts, considering it was Thibodeau who, as an assistant in Boston the past several seasons, orchestrated the schemes that frustrated James while with Cleveland and wore out Wade in Miami before those free-agent reinforcements arrived.
Now, Thibodeau's ultimate postseason challenge after being named NBA Coach of the Year is to concoct a scheme capable of containing them both for the duration of the series. Chris Bosh scored 30 to lead the Heat, but that was offset by the 28 points from Chicago's bench, 28 from Rose, 21 from Luol Deng, 14 from Carlos Boozer and Joakim Noah's game-high 14 rebounds.
"That's the biggest thing we worry about," Rose said. "They've got great players. We did a good job of making them see bodies. We were hustling. Tonight, it just went our way."
See, Rose is still working on that communication thing. He's too bashful. It just didn't go the Bulls way on Sunday. Chicago snatched control of the game and never looked back. The Bulls made the Heat look slow, passive, timid and -- frankly -- disinterested at key moments of the game.
Rose's halftime talk with his team provided the emotional boost the Bulls needed in the locker room. But on the court, there were three dunks that defined Chicago's dominance.
You don't see Wade get slammed on the way Taj Gibson posterized him early in the second quarter. If you missed it, check YouTube. Gibson did to Wade what Wade did to Anderson Varejao last season.
And then there was Ronnie Brewer's emphatic baseline dunk on Bosh to put Chicago ahead 80-66. Topping it all off was Gibson's exclamation point dunk on -- what else? -- an offensive rebound in the final seconds of the game.
"We took a beating tonight," Bosh said.
Yep, especially on the boards.
But this wasn't a case of the Bulls doing something they don't normally do. That's who they are. They swarm the perimeter with relentless defense. They attack the paint and rebound with reckless abandon. They keep the scores low and games relatively tight until crunch time.
And then they turn the keys over to Rose the close out games.
That's the formula.
Only this time, Rose remixed it a bit and led with his words before his actions kicked into gear.
"It's only one game," Noah said. "There's a lot of basketball to be played. We will never underestimate the guys in the other locker room."
Don't underestimate the impact of what happened in the Bulls' locker room Sunday night, either.


NBA Writer Michael Wallace
• On Twitter @WallaceNBA_ESPN | On ESPN.com
• Follow ESPN's NBA coverage on Twitter | On Facebook | On Google+
Dimes past: May 1 | 2 | 3 | 4| 5 | 7 | 8 | 9 | 10 | 11 | 12 | 13 | 14
2. How Game 1 Went Bad For Heat
By Kevin Arnovitz
Heat Index

As bad as the situation was on the defensive glass, the Heat couldn't generate a thing on the offensive end in the second half against Chicago's stifling defense.
All that nice-looking stuff they executed against Boston -- the pretty weakside actions for LeBron James in Games 4 and 5, the reversals to James Jones in Game 1, Dwyane Wade in constant motion within confines of the Heat's elbow sets?
You'll be hard-pressed to find any of that on Miami's Game 1 film, particularly as the game swung in the Bulls' favor after halftime.
What you will uncover are poorly conceived possessions that played directly into Chicago's strengths. Here are three examples from a miserable third quarter, arguably the Heat's worst offensive period of the postseason:
The iso no-go

As they prepared for Game 1 in Miami, the Heat acknowledged that they couldn't combat the Bulls' defense with isolation attacks, yet there they were in the third quarter trying to penetrate the half court with ... isolation attacks. Take the possession at the 2:30 mark with the Heat down six. LeBron working at the top of the key, gets a screen from James Jones that yields a mismatch against Taj Gibson -- though Gibson's agility and instincts don't make him much of a downgrade.
Normally, a power driver like James would back out a big man, then take him off the dribble, and that appears to have been his initial plan. LeBron makes a little progress against Gibson, but it's a deliberate drive and, before long, Luol Deng has collapsed. We're accustomed to seeing James make a smart kickout when there's a shooter behind him. Deng has helped off Jones, who stands behind the arc at about four o'clock for James. Instead, LeBron forces a left-handed floater that grazes Gibson fingertips.
3. Daily Dime Live
Zach Harper, TrueHoop Network bloggers and fans gave their in-game opinions on all topics throughout Sunday's slate of NBA playoff talk in Daily Dime Live.
SUNDAY'S BEST

Durant
Kevin Durant, Thunder:
Inspired by his mother's dancing, Durant's shooting hand ignited and sent OKC into the West finals with a Game 7 win over the Grizzlies. Durant finished with 39 points, nine rebounds and three blocks.
---
SUNDAY'S WORST

Heat's board score: The Bulls were actually outshot by the Heat from the field, but when you rule the boards in this manner (45-33 edge to Chicago), you rule the game. Heat need to find an answer for Joakim Noah (14 boards).
---
TWEET WATCH
D.Wade on Taj Gibson dunk: "1st time I got dunked on all year...It was a very athletic play. I knew I didn't have a chance"11:30 p.m. ET via web
Favorite
Retweet
Reply
Brian Windhorst
WindhorstESPN
---
QUOTE OF THE NIGHT
"I knew she had those dance moves. She used to do it all the time when I was young. She was having fun. I was glad to see that."
-- Thunder forward Kevin Durant, whose scoring spree began shortly after he saw his mother busting a move or three
---
6.

Thunder's Turnaround Shot
By John Hollinger
ESPN.com

OKLAHOMA CITY -- 3-29.

If you're trying to understand how Oklahoma City is in the Western Conference finals with its four best players aged 22 or younger, or how Kevin Durant shook off perhaps the worst game of his career 48 hours earlier to dominate Game 7, or how the Thunder's kids held together and stuck with the plan in the face of a furious, physical onslaught from the Memphis Grizzlies, that's where you need to start.

3-29.

That was the Thunder's record in their first 32 games in this city in 2008-09, and their two All-Stars -- Durant and Russell Westbrook -- were there for all of it. Ask anyone with the Thunder organization, and they'll tell you the team has a maturity far beyond its years now precisely because the two key players began their careers getting their brains beat in every night.

Because of that growth, a Thunder team that seemed destined to be among the worst teams in history just two years ago is headed to the conference finals after beating Memphis 105-90 in Game 7 on Sunday.

"3-29 was tough to swallow at times," said Thunder coach Scott Brooks, "but what gave me hope and gave our team hope is that every day we came to practice and we worked. Kevin, it didn't matter if we were 3-29, he gave me 29-3 effort. You usually don't take steps that quick, but our guys have never skipped steps."

This game was owned by Durant, who was the only player on the floor who could hit a shot in an ugly first half and never stopped, finishing with 39 points, nine rebounds and three blocks.

It was the first truly big game for this Oklahoma City group, playing as favorites in a closeout situation, and another failure by Durant would have left a giant monkey in his backpack.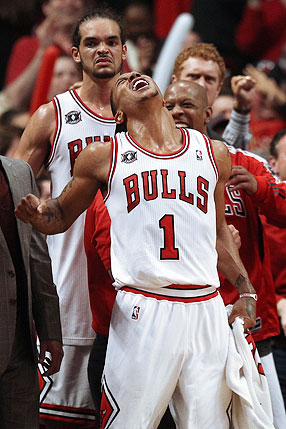 Jonathan Daniel/Getty Images
Derrick Rose and Keith Bogans of the Bulls celebrate late in the fourth quarter of their Game 1 Eastern Conference finals win over the Heat.
8.

Bear Market Still Strong

OKLAHOMA CITY -- The final day of the Memphis Grizzlies' fairy-tale postseason began for Michael Heisley back in St. Patrick's Catholic Church near his home in suburban Chicago.
The NBA's most bashed owner not named Donald Sterling said he felt the need, no matter what was going to happen on this elimination Sunday, to register the most formal expression of gratitude he could muster before jumping on a flight to OKC.
"To thank God," Heisley said, "for what he's done for me."
If you remember where his Grizzlies were just two short years ago, having won a whopping 24 games in their first full season post-Pau Gasol, Heisley's bow-to-the-heavens gratitude makes sense. It made sense even after a stomach-turning Game 7 for the playoff Cinderellas, who couldn't contain James Harden and Nick Collison -- let alone Kevin Durant and a suddenly pass-happy Russell Westbrook -- and shot the ball worse than they broke down defensively in the second half.
What did you expect? Game 7 on the road finally proved to be too much for the West's No. 8 seeds, but what did you think they'd do when the ride finally ended?

Westbrook
Kevin Durant scored 39 points and Russell Westbrook had 14 points, 14 assists and 10 rebounds in the Thunder's victory over the Grizzlies in Game Seven of the Western Conference Semifinals.
Five other pairs of teammates in NBA history had a playoff game in which one scored at least 39 points and the other had a triple double. In each case, the duo was comprised of two Hall of Famers: Wilt Chamberlain and Tom Gola, twice (Philadelphia Warriors, 1960), Jerry West and Elgin Baylor (Lakers, 1964), Hal Greer and Chamberlain (76ers, 1967), Kareem Abdul-Jabbar and Magic Johnson (Lakers, 1980), and Michael Jordan and Scottie Pippen, twice (Bulls, 1992-93).
Westbrook became the fifth player in NBA history to register a triple-double in Game 7 of a playoff series, joining a quartet of Hall-of-Famers: Jerry West (1969), Larry Bird (1984), James Worthy (1988) and Scottie Pippen (1992).