1. Nowitzki's Shooting In Line With Lofty Goals

By Marc Stein
ESPN.com
Archive
DALLAS -- On those eight straight nights without a playoff game to play, Dirk Nowitzki went back to the Dallas Mavericks' practice court for extra target practice seven times. One full off day was the most he could coax from the pesky shot doctor who, without a hint of restraint or sarcasm, has been telling Dirk for ages that he really should be shooting the ball better.
No joke. Holger Geschwindner discovered Nowitzki as a teenager, helped him conceive and perfect that untouchable high release and started telling him years ago that he won't be reaching his full potential until he shoots 60 percent from the field, 50 percent from deep and 95 percent from the free throw line.
For the season.
Every season.
On a Tuesday night in mid-May, in his increasingly serendipitous 13th season, Nowitzki's Mavericks finally came back to work and Geschwindner's vision, at last, played out as neatly as it ever has. Dirk didn't attempt a single 3 -- by choice, amazingly -- but connected all but three times out of the 39 overall that the ball left his hands. Even the exacting, professorial Geschwindner had to smile after Nowitzki played 41 near-flawless minutes in Game 1 of the Western Conference finals, ringing up the cleanest 48 points imaginable.
"Looking good so far," Geschwindner said, offering what passes for gushing praise in his vocabulary.
Dirk has dominated a Game 7 in San Antonio, uncorked a 50-point game in his last trip to the NBA's final four and was most recently seen doing much of the heavy stick work when the Mavs broomed Kobe Bryant and his three-peat-chasing Los Angeles Lakers right out of the second round. But Nowitzki has never been as audacious as he was in this 121-112 victory over the defensively helpless Oklahoma City Thunder, leaving witnesses on both sides awestruck with his seemingly effortless 12-for-15 shooting from the floor and 24-for-24 drillage at the line.
"Hopefully he misses a shot now and then," Thunder coach Scott Brooks said, "but tonight he had a rhythm. He had a rhythm that I don't know if the ball even hit the rim."
Said Mavs forward Peja Stojakovic, another shooter of some renown: "The best performance I've ever seen. The best I've ever seen any of my teammates play."
The same Nowitzki who claims that he can't beat Stojakovic in their practice-floor shooting games shot 7-for-9 over the 6-foot-10 Serge Ibaka like Ibaka wasn't there. He drew 16 fouls on an array of OKC defenders and somehow made Kevin Durant's 40 points seem quiet. Geschwindner claimed that he did nothing special during the time off to keep Nowitzki sharp -- "Just dragged him to the gym," he said -- but Dirk's shot-making was such that he quickly hushed all the pre-series fretting around town about the rust buildup and how it would affect the Mavs after their sweep of L.A.
Yet Nowitzki tried to downplay his gunslinging, too, which really isn't too surprising when you consider not only his basketball upbringing under Geschwindner but the fact that Dallas led by only six, 108-102, with 2:53 to go.
Despite Nowitzki's brilliance, 45 points combined off the bench from Jason Terry (24) and the pick-and-rolling J.J. Barea (21), and a Shawn Marion-led team defensive scheme that ushered Russell Westbrook to 3-for-15 misery from the field, Dallas couldn't prevent the Thunder from shooting 43 free throws of their own and hanging around to the finish. No matter what Dirk did to them.
"Well, it's a win," Nowitzki said, basically ignoring the question when someone asked him to compare this performance to the other big feelin'-it nights in his past. "I mean, really, that's all I care about. ... Numbers don't mean anything if you lose."
The numbers will show that Nowitzki set an NBA playoff record with his 24 free throws without a miss, threw down an early dunk after rumbling for just nine slams all season and managed to block four shots, which is normally Ibaka's specialty when he's roaming as a weakside helper as opposed to trying in vain to deal with Dirk one-on-one.
Yet you can safely presume that the 3s drained by Jason Kidd and Terry late off Nowitzki feeds when OKC did dare to swarm him -- along with Barea's run of 12 straight points in the fourth -- pleased Dirk as much as his scorching start. Or that one-legged fallaway he smooched in off the glass in the third quarter over Thabo Sefolosha that you'll be seeing over and over.
The same goes for the way the Mavs, chipping away at their old softies rep yet again, responded to Marion's bloodied nose -- and a corresponding 45-39 deficit when Kendrick Perkins' elbow caught him -- with a 16-3 spurt that changed the game. Ditto for the way Westbrook needed 18 free throw attempts to score 20 points, with Tyson Chandler or Brendan Haywood seemingly lurking around every corner as help defenders because OKC's bigs can often be left alone without retribution.
It's all true because Nowitzki, unguardable as he seems, knows better than anyone that he isn't going to win anything without sustained help, which he needs in this particular series to keep making OKC reluctant to double-team him. He has always been able to tune out the naysayers who've questioned his ability to carry a team to a championship because he knows the truth: NBA law may dictate that Nowitzki bears the brunt of the blame for the Mavs' postseason failures because he is the face of the franchise ... but the reality is that no contender has a bigger drop-off from its best player to the rest than this one.
Even now, in the midst of his best run since the Mavs' glory (and ultimate heartbreak) of 2006, Nowitzki still isn't flanked by a second certifiable star like Durant is with Westbrook. Dallas is doing this with depth and a committee approach that no one else out there employs ... and Nowitzki is the first to say that the formula is working out better than these Mavs ever dreamed.
Nowitzki actually carried a lesser team than this one to the brink of a 3-0 lead in the '06 Finals before Dallas' unforgettable implosion against Miami. The problem now, though, as Nowitzki quickly points out, is that "the top teams in the league are better than [they were] back then."
"I think we're a better team than [in 2006]," Nowitzki said. "We're deeper, our bench is better, our bigs are better. So I think overall we're a better team. ... [But] if you look at the top teams, every team has a bunch of All-Stars, some teams actually have multiple Hall of Famers, and it's tough. So we're happy we're one of four teams still playing and we'll see how far we can go."
Said Mavericks coach Rick Carlisle: "There's very few guys in the league who can do [what Dirk just did in Game 1]. Unfortunately for us, one of the few others is Durant. So we're going to have to keep our guard up."


ESPN.com senior writer Marc Stein
• On Twitter @ESPNSteinLine | On TrueHoop | On ESPN.com | On email
• Follow ESPN's NBA coverage on Twitter | On Facebook | On Google+
Dimes past: May 1 | 2 | 3 | 4| 5 | 7 | 8 | 9 | 10 | 11 | 12 | 13 | 14 | 15
2. OKC Survived Previous Game 1 Outburst
By Royce Young
ESPN TrueHoop/Daily Thunder

Dirk Nowitzki had a playoff performance for the ages. One that will be referenced on split-screens and by announcers for a long, long time. Forty-eight points on 15 shots. That's right, 3.2 points per attempt. I think John Hollinger's player efficiency rating just spontaneously combusted.

Nowitzki set an NBA record for most makes at the free throw line without a miss (24-24). He went 12-15 from the field. I don't even think the word "efficient" aptly describes the game he had.

Oh yeah, the Dallas Mavericks shot 53.4 percent, had an offensive rating of 130.1 and got 53 points from their bench.

The Oklahoma City Thunder lost by like 30, didn't they?

That's definitely how it felt. But somehow, Oklahoma City stayed in the game throughout, kind of without actually totally being in it.

They had a chance though.

The most the Mavs ever led was by 16 and the Thunder actually got to within five once with four minutes left in the fourth quarter. It's easy to say, but really, a single stop and a basket and the Thunder could've had a shot to steal what was nearly a perfect performance by the Nowitzki and the Mavs. Is that reason to be encouraged? Maybe, maybe not. The Thunder lost the game, Dallas looked great, but I don't think we saw anything that just screams, "The Thunder have absolutely no chance!"

Russell Westbrook did not play well at all, but not in the way you think. He attacked the rim relentlessly, took mostly good shots (11 of his 15 attempts were in the paint) but just didn't make anything.

"I could bet my whole house that Russell Westbrook won't go 3-15 again," Kevin Durant said after the game. "You can quote me on that."

Tyson Chandler had a lot to do with that the way he patrolled the rim, but Westbrook is normally better at finishing there. He struggled in Game 1 against Memphis much the same way, but I never thought Westbrook was doing anything to shoot the Thunder out of it or anything. So if you want a reason to be encouraged, I'd say the Thunder's second-best scorer went 3-15 from the floor, Nowitzki had a historic night and OKC was a stop or two away from having a shot to win.

Not completely bad, right?

A lot of the reason the Thunder hung tough was because Durant was outstanding. He scored 40 on 10-18 shooting and did his fair share of free-throw shootin' too (18-19). He started the game 6-6 and while it was obvious that while the Thunder has no answer for Nowitzki, Dallas doesn't know what to do with KD.

It was an odd feeling-out type of game. The Mavs weren't rusty whatsoever and looked well prepared. The Thunder, coming off the hyper-physical Memphis series, weren't ready for a game to turn a bit more touchy. The Thunder tried everyone on Nowitzki. Serge Ibaka, Nick Collison, Durant, Thabo, even Harden for a possession or two. I actually thought Scott Brooks might literally try everyone, down to Nate Robinson. Obviously nothing worked and that's the challenge -- how do you do better?

I'm not saying it's going to happen, but the Thunder allowed Zach Randolph to have an incredible Game 1, which inspired Durant to say Randolph was the best power forward in the game. The Thunder adjusted though and came back with a much better game plan on Z-Bo. Now, Nowitzki is a whole other animal and if he's going to get 24 free throw attempts, you absolutely can't do anything to stop him.

Something just says to be mildly encouraged by this result if you're a Thunder fan. All the Thunder have to do is win one game in Dallas. And they were actually a little closer to doing it Monday than it felt.

• For more on the Thunder, click here »
3. Daily Dime Live
Zach Harper, TrueHoop Network bloggers and fans gave their in-game opinions on all topics throughout Tuesday's slate of NBA playoff talk in Daily Dime Live.
TUESDAY'S BEST

Nowtizki
Dirk Nowitzki, Mavs:
A shooting clinic for the ages. Makes all 24 free throws (breaking Paul Pierce's playoff record for most makes without a miss) and 12-of-15 shots from the floor en route to 48 points in the 121-112 win over the Thunder in Game 1 of the Western Conference finals.
---
TUESDAY'S WORST

Westbrook
Russell Westbrook's aim: The Thunder's All-Star point man went 3-for-15 from the field, a counterpoint to Dirk's accuracy lesson. Plus, RW had a 3:4 assist-to-turnover ratio. On the plus side, though, Westbrook got to the line often, sinking 14-of-18 free throws en route to 20 points.
---
TWEET WATCH
GREAT performance from dirk! Then walked off the court like it was nothing ...#takingnotes11:30 p.m. ET via Twitterrific
Favorite
Retweet
Reply
demarcus cousins
boogiecousins
QUOTE OF THE NIGHT
"This league has a habit, and I am just going to say habit, of producing some pretty incredible story lines."
-- Wolves general manager David Kahn, whose team missed out on the No. 1 pick despite having the best odds of winning the NBA Draft Lottery.
---
By Tim MacMahon
ESPN Dallas

Marion
DALLAS -- An elbow by Oklahoma City center Kendrick Perkins bloodied Shawn Marion's nose and dazed the Dallas forward. It did not, however, keep the Dallas Mavericks forward off the floor for one second.
Marion returned to the court after the timeout -- when coach Rick Carlisle was called for a technical foul after arguing that Perkins should have been called for a foul -- and immediately helped spark a 16-3 run with a dunk and a fast-break assist to Dirk Nowitzki for an and-1 layup. That spurt to end the first half gave the Mavs the lead for good in their 121-112 win in Game 1 of the Western Conference finals.
"I was already sitting on the bench for about 10 or 15 minutes prior to that with two fouls, so I was like, I want to play," said Marion, who finished with 11 points and seven rebounds before fouling out. "This is the time. If it's broke, it's broke. If it's not, it's not. I just had to put some gauze in it, try to contain the bleeding and then go out and play."
Marion still had gauze in his right nostril after the game. Carlisle thought the nose was broken, but X-rays were negative.
It would have been the fourth time Marion has broken his nose during his 12-year NBA career. Marion did not consider the elbow, which happened when Perkins was rolling to the basket after setting a pick, to be a dirty play.
"It was accidental. It happens. It wasn't on purpose, not at all. We were just trying to scramble and get away from each other and he got a good one," Marion said.
"That's part of the game. It's going to be a physical game. It's that time of the year. Gotta get through it."
• To read the full story, click here »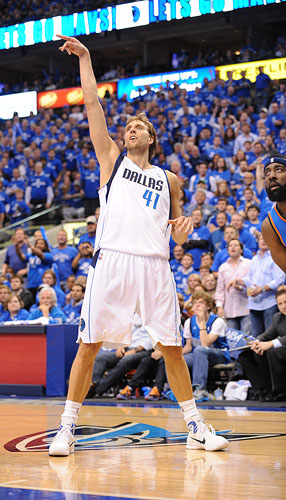 Photo by Noah Graham/NBAE via Getty Images)
Mavs forward Dirk Nowitzki had the touch in Game 1, putting the Mavs on the right track for their first NBA Finals berth since 2006.

Dirk Nowitzki had a game for the ages on Tuesday: 48 points on 12-for-15 shooting from the floor and 24-for-24 from the line, which, as was widely reported, set an NBA playoff record for free throws made without a miss. Here's more on Nowitzki's stellar game:
• He set an NBA playoff record for free throws made in a regulation-length game, breaking Michael Jordan's record of 23 free throws made (in 28 attempts) in a win over the New York Knicks on May 14, 1989.
• His 24-for-24 from the line not only established an NBA record for free-throw attempts without a miss in a playoff game. That performance also exceeded the corresponding record for any regular-season game in NBA history. (Dominique Wilkins holds the regular-season mark: he went 23-for-23 from the line for the Atlanta Hawks in a game against the Chicago Bulls in 1992.)
• In addition, he made 12 of 15 field-goal attempts. His total of 48 points was the highest in any playoff game in NBA history by a player who shot at least 80 percent from the floor. No other player had ever scored that many points in a postseason game while attempting fewer than 22 shots from the field. The previous fewest field-goal attempts was 22 by Bob Cousy on March 21, 1953 (50 points on 10/22 FG, 30/32 FT) -- and he needed four overtimes to reach those levels.