1. Harden, Maynor Key OKC's Bench In Game 2

By John Hollinger
ESPN.com
Archive
DALLAS -- Ten minutes into this game, it looked like a repeat of Game 1. The Dallas Mavericks were hitting 3-pointers, finding cutters and basically scoring at will while rampaging to an 11-point lead, including an uncontested dunk off a dead ball when the Oklahoma City Thunder failed to run back on defense.
At that point it seemed inconceivable Dallas would lose. The Mavs already had four dunks and two layups and were shooting 50 percent with no turnovers. Their vaunted bench hadn't even taken the floor yet.
And then the bench came in, and everything changed.
Eric Maynor made a shot in the lane to stop the bleeding. Kevin Durant posterized Brendan Haywood with a wicked slam, and then picked up a T for letting him know about it. James Harden and Nick Collision came in and each made shots, and then their teammates kept making more. Daequan Cook capped it off with a corner 3, and in the blink of an eye the series had turned.
Bang. Bang. Bang. Bang. Bang. Bang. Bang. Bang. Bang. Bang.
Ten straight trips, the Thunder scored, ringing up 23 points in less than five minutes. A 28-17 deficit turned into a 40-35 lead, and the Mavs never recovered. And just like that, the game -- and perhaps this series -- had changed.
"I would agree with that," Dallas coach Rick Carlisle said. "I thought it turned the game around in a big way."
The Thunder rode that run to a 106-100 win over Dallas in Game 2 of the Western Conference finals Thursday, tying the best-of-seven series heading into Saturday's Game 3 in Oklahoma City.
Unusually, it happened because Oklahoma City's bench destroyed the Mavs' previously indomitable second unit. The Thunder's subs not only outscored Dallas' by a whopping 50-29, but amazingly scored 23 of OKC's 29 fourth-quarter points. We're used to hearing about Durant and Russell Westbrook and not much else with this team, but Thursday night was all about the supporting cast.
"Our bench has played good all year for us," Thunder coach Scott Brooks said. "I thought the 50 points that they gave us was the game. It was the game."
For the Mavs to suffer such a fate was an unlikely reversal -- Thursday marked only the second time this postseason that Dallas' bench was outscored. The other, however, required a Vesuvius-like eruption from Portland's Brandon Roy in Game 4 of the first round; this one was just a well-balanced, top-to-bottom butt-kicking.
At the center of the storm was second-year guard Harden. The Thunder seemed to make a point of using Harden to attack Terry, and he destroyed him inside and out. Harden alternately took advantage of his size to shoot over the top of Terry and used his ballhandling skills to set up plays in the paint for himself and others.
Included were a couple of key shots that came despite strong efforts from Terry. At the end of the third quarter, Harden made a 3 while Terry appeared to foul his beard (no, seriously), and the resulting four-point play regained the lead for the Thunder entering the fourth. And with 3:15 left, Harden hit a difficult 22-foot dagger over Terry at the end of the shot clock to put the Thunder up by 10.
None other than Dirk Nowitzki pointed out afterward, without a hint of irony, that Harden scored his 23 points on just nine shots. While this couldn't quite match Nowitzki's prolific Game 1, it was the key to victory in this one. Harden also had four assists, as the Thunder once again leaned heavily on his pick-and-roll game with the second unit on the court.
Of equal importance, however, was Harden's defense on Terry. He held the Mavs' sixth man to just eight points, his lowest total of the postseason.
Western Conference Finals


The Mavericks and Thunder face off with the Western Conference title on the line. Follow the matchup from Day 1 on ESPN.com's series page.
• Mavs blog | ESPNDallas.com
• NBA playoffs | Schedule
"I thought the first game we gave him a lot of room," Brooks said. "And when you do that with Jason, he burns you every time. He's a terrific player. He's like their sixth starter for their team, but I thought James most of the time did a great job chasing him off the screens."
Oklahoma City also got a big effort from backup point guard Maynor, who performed so well he got to play the whole fourth quarter while All-Star Westbrook watched. Maynor repeatedly used his size advantage to score over the smaller J.J. Barea, making up for the fact that Barea continues to give Oklahoma City all it can handle defensively. (Barea scored 11, plus he had four assists and no turnovers; he now has 32 points in 32 minutes for the series).
And those who didn't score contributed in other ways. Collison only had six points, but his defense on Nowitzki and contributions to the pick-and-roll coverage against Barea and Terry were vital. No play was more important than his steal from Nowitzki with 3:40 left. He had five fouls at the time, but the steal set up Harden's bucket to go up by 10 and all but seal the win.
"I didn't hit the ball very hard," Collison said. "I just got a hand on it and he lost it. It wasn't a play where I was attacking the ball; I just got a finger on it and he dropped it."
And Cook again quietly had an impact. Traded as a salary dump by Miami this summer, he scored eight points on just three shots to move one step closer to a rematch against his former employers. He connected on a fourth-quarter 3-pointer, when Durant came off a screen and hit Cook, who trailed on the same screen.
Meanwhile, aside from Barea, Dallas' subs struggled to make their usual mark. Peja Stojakovic scored eight points and had an unlikely open-court pick of Westbrook's dribble, but made two bad turnovers and was exposed defensively. Terry couldn't make shots, Haywood had four fouls in eight minutes and may require counseling after what Durant did to him, and the only other Mavs sub to see action was Ian Mahinmi for 71 impact-free seconds.
All of which had Rick Carlisle pondering a trip back to the drawing board. All playoffs long, it's been opponents that have struggled with how to match up against Dallas' small, quick bench, with the Mavs always having the elixir of a confusing zone defense in reserve.
But with Oklahoma City's guards repeatedly attacking them on defense, it may be Dallas that has to adjust. A rotation that brings two short guards off the pine to play against Harden and Maynor may not be the best approach against this team, especially after the zone failed to stem the tide in Game 2.
"Our substitution patterns, rotation, we're going to have to look at a little bit," Carlisle said. "You know, our zone was OK in the first game, and tonight it really struggled."
That should be one of many chess moves the coaches ponder as this series moves across the Red River, as the oddball matchups and mutual unguardability of the two teams forces each into maneuvers they might not contemplate in more normal circumstances.
For that, you can thank Oklahoma City's bench. Ten minutes into the game this series seemed half-over. Now it appears it's just getting started.


ESPN Insider John Hollinger
• Twitter @johnhollinger | ESPN.com | TrueHoop | Email | Stats
• Follow ESPN's NBA coverage on Twitter | On Facebook | On Google+
Dimes past: May 1 | 2 | 3 | 4| 5 | 7 | 8 | 9 | 10 | 11 | 12 | 13 | 14 | 15 | 16 | 18 | 19
2. Westbrook Emerges With Winning Answer
By Marc Stein
ESPN.com

Westbrook
DALLAS -- One of the last guys you ever expected to see on the bench in the fourth quarter of a game in the Western Conference finals was the first guy out of the showers in the visiting locker room.
There was Russell Westbrook, all scrubbed and impeccably dressed for the usual postgame interrogation, using his speed in these unforeseen circumstances to anticipate questions faster than the media pests buzzing around his stall could pose them.
"I know you guys all want to ask the same question and I'm going to tell you all the same answer," Westbrook declared.
"We were winning."
They sure were. The Oklahoma City Thunder won a game Thursday night that they weren't supposed to, riding Kevin Durant and the bench bunch around him in crunch time to a 106-100 victory over the hottest team in the basketball universe. The victorious Thunder dealt the Dallas Mavericks their first dose of defeat in 26 days, evened this series at 1-1 and then headed home for Games 3 and 4 with the biggest W in the franchise's OKC history to cart onto the team plane.
In those circumstances, Westbrook insisted afterward, watching the whole fourth quarter from the bench while Eric Maynor ran the team was not a problem.
"Not when we're winning," Westbrook said. "I'm good. I'm just sitting there just waiting to get my name called."
The story, of course, has many more layers than that, because Westbrook isn't just anybody in the Thunder's universe. And because he didn't just willingly plop down on the bench to take it all in.
• For the full story, click here »
3. Daily Dime Live
Zach Harper, TrueHoop Network bloggers and fans gave their in-game opinions on all topics throughout Thursday's slate of NBA playoff talk in Daily Dime Live.
THURSDAY'S BEST

Harden
James Harden, Thunder:
Will his four-point play at the end of the third quarter become a series turning point? Harden was clutch off the bench, finishing with 23 points (4-of-7 from 3-point range). And his D on Jason Terry was big.
---
THURSDAY'S WORST

Terry
Jason Terry, Mavs: Averaging 26.3 points over his previous three games, Terry netted a playoff-low eight points and had three turnovers in the Game 2 loss. The Mavs will need Terry's cool with the series shifting to rowdy OKC.
---
TWEET WATCH
Outcome doesn't change the point that Westbrook has to be in the game for those late, late moments.11:45 p.m. ET via Twitter for BlackBerry®
Favorite
Retweet
Reply
Stephen A Smith
stephenasmith
QUOTE OF THE NIGHT
"I was surprised, but Eric [Maynor] was playing a great floor game and was getting everyone involved."
-- Thunder forward Kevin Durant, on Russell Westbrook not playing in the fourth quarter.
---
6.

Mavs Awaken To Playoff Reality
By Tim MacMahon
ESPN Dallas

Chandler
DALLAS -- The Dallas Mavericks' stunningly easy sweep of the Los Angeles Lakers -- and the ensuing eight-day layoff -- was light years ago, according to coach Rick Carlisle.
The Mavs took the Oklahoma City Thunder lightly, according to Dallas big man Tyson Chandler.
No, Oklahoma City isn't a two-time defending champion. But unlike this season's Lakers, the Thunder are a team that can beat the Mavs in a playoff game.
The Mavs got slapped in the face with that reality with a series-tying 106-100 loss in Thursday night's Game 2 of the Western Conference finals. A veteran squad that prides itself on defense and finishing games strong failed miserably in both of those facets against a young, star-studded and energetic Thunder team at the American Airlines Center.
And just like that, the Mavs' seven-game winning streak and home-court advantage in this series vanished into outer space.
"When you're afraid of a team or you feel like a team can beat you every single night, you go out there and you play with a certain type of edge," Chandler said, explaining the Mavs' approach while busting out the brooms against Kobe Bryant & Co. "I feel like we came out here and we took these boys lightly. There's a reason why they're in the Western Conference finals. They're not a team to be taken lightly, so we've got to make our adjustments and come out and win Game 3."
There is no reason to panic in Dallas. These Mavs proved beyond any doubt that they could respond to adversity, reeling off those seven consecutive wins after an epic collapse in Portland's Rose Garden, where they allowed a 23-point third-quarter lead to disappear.
• To read the full story, click here »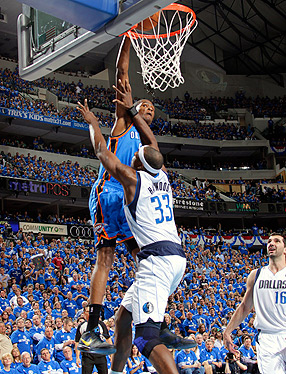 Photo by Glenn James/NBAE via Getty Images
8.

Mavs Look For Response
By Jeff Caplan
ESPN Dallas

DALLAS -- Just outside the Mavericks' locker room, Jason Terry bent over a weight bench, pressed his hands into his thighs and shook his head as he studied the final box score: Oklahoma City 106, Dallas Mavericks 100.
The score that mattered most to him looked worse: OKC 50, Dallas 29. In a near-reversal from Game 1, when Terry and J.J. Barea combined for 45 of 53 bench points -- the decisive edge in the Dirk Nowitzki-Kevin Durant shootout -- Game 2 came down to the Thunder's reserve guards who took charge.
"They surprised us because their shots were going in," said Terry, whose eight points on nine shot attempts were his lowest scoring output of the playoffs. "But other than that, they made some tough ones. Give them credit."
What left Terry in total disbelief was the small Thunder lineup in the fourth quarter. The 6-foot-9 Durant played power forward with the 6-10 Nick Collison at center but battled Nowitzki -- and with five fouls for the final 3:45. Those two were surrounded by the 6-3 Maynor, 6-5 James Harden and 6-5 Daequan Cook.
"We've got to punish that lineup," Terry said. "It's good it happened like this. We'll make our adjustments and bounce back."
Terry, who was 0-of-4 from the floor and scoreless in 10 minutes of the fourth quarter, had little help from his benchmates. Peja Stojakovic had flashes, but finished with eight points in 19 minutes. Barea knocked down three 3-pointers and had 11 points.
"Nine [shot] attempts," Terry said. "I don't call that a very aggressive game on my part."
• To read the full story, click here »
9.

Most By Road Bench Since 2006

Maynor
The Oklahoma City Thunder got 50 points off the bench in their win at Dallas on Thursday, led by
James Harden
(23 points) and
Eric Maynor
(13). Oklahoma City was the first NBA team to get at least 50 points from substitutes in a road playoff win in more than six years. The last team to do that was the Cleveland Cavaliers, with a 57-point effort from their bench in an overtime win at Washington in May 2006. The last team whose subs scored at least 50 points in a road postseason win that did not require overtime was in April 2005, when the Spurs' bench contributed 53 points to a victory at Denver.