1. Nowitzki Finds Range Late, Mavs Take Game 3

By Marc Stein
ESPN.com
OKLAHOMA CITY -- It is bound to be remembered as the worst game of the playoffs for the standout player of this postseason. But that's the surface interpretation.
Behind the numbers?
Once he dragged himself past the clanked 3s and the career-high seven turnovers and the most suffocating team scheme he's seen in this run to the Western Conference finals, Dirk Nowitzki dug out a fourth quarter that was still pretty scrapbook-worthy.
"The big boy," Mavericks guard Jason Kidd said, "wasn't going to let this one go."
You could have said the same about Kidd and the savvy floor game he delivered in Saturday night's 93-87 victory, steeling the Mavericks from another bad fall when Nowitzki looked so very un-Dirk-like for three quarters. Dallas likewise couldn't have seized a 2-1 series lead over the Oklahoma City Thunder and reclaimed home-court advantage if not for Shawn Marion's breakout 18 points … and what Mavs coach Rick Carlisle deemed to be the first dose of "championship-level defense" that the visitors have managed since their 4-0 sweep of the Lakers.
Yet in the end, Dallas still needed Nowitzki to supply the bailout when the Mavs stopped getting stops and their offense went stagnant. They needed Nowitzki to spare them from "another Portland," as the media gnats were calling it in the postgame inquisition, because the young Thunder -- despite that dreadful start, woeful 1-for-17 shooting from long distance and some shaky crunch-time choices -- had Dallas' early 23-point cushion hacked all the way down to six.
They also had Nowitzki blanketed like no one else has in these playoffs, helped along by the fact that the Thunder's physicality went thoroughly unchecked. From 24 trips to the free throw line in his Game 1 masterpiece to just three free throw attempts in Game 3, Nowitzki had to find another way.
So he went right.
Going left is Nowitzki's well-chronicled preference, which prompted Phil Jackson to announce in the last round that he didn't want Ron Artest guarding Dirk, largely because Artest stubbornly tends to send him to his strong side. The Thunder, though, took it to the opposite extreme, loading up on Nowitzki's left hand with the discipline and relentlessness few teams have mustered, thanks to the pesky smothering of Nick Collison under Nowitzki's chin on the ball and a variety of helpers jumping out at him on the catch.
Yet Nowitzki eventually mustered a game-turning response and atoned for missing 12 of his first 15 shots … as well as five of six 3s in a failed attempt to rekindle his old love affair with the long ball. Dirk got loose for a short baseline jumper, then drilled two huge J's wheeling to his right in the final 3:57, finishing with 10 crucial points in the final 7:22 for a passable closing total of 18.
"It's tough," Thunder guard Russell Westbrook said, back from his fourth-quarter benching in Game 2 with an ultimately fruitless 30 points.
"You're down 20 most of the game and you finally cut it down and then they hit a shot that hurts your heart."
Quick-shooting OKC definitely didn't help itself down the stretch with its inability/refusal to make sure Kevin Durant got touches, with Durant himself guilty of hovering on the fringes while Nowitzki was calling for the ball every time down. Then came the stake-driver with 42.8 ticks left, when Nowitzki finally lost Collison at the 3-point line with a pump fake and worked his way closer to Kobe Bryant territory on the right elbow to rattle in a 14-footer for an 88-80 lead.
"Just found a little airspace on a couple pull-ups," Nowitzki said. "I think that was the way to go. I obviously didn't get a lot of whistles going to the basket, so I had to go with the one or two dribbles and up. And that created some separation."
Mavs center Tyson Chandler acknowledged: "He was frustrated, because he's used to having a certain level of success. But you've got to give it up to him. They played to Dirk's tendencies, but great players make adjustments."
Indeed. Nowitzki made sure that the Mavs' impressive sprint to a 35-12 lead over the inexplicably flat OKC kiddies -- all too reminiscent of the 23-point bulge in Portland that got erased in Game 4 up there -- would not be wasted. Ditto for the resurrection of a defensive mindset that held the Blazers and Kobe's Lakers under 100 points in each of Dallas' 10 games in the first two rounds.
Jason Terry threw in a key pull-up of his own with 1:42 to go, which also helped Dallas escape on an evening when its top guns and only two holdovers from the team that went to the 2006 NBA Finals were a combined 10-for-33 from the field. Most of all, Nowitzki's late flurry made sure that the Mavs could slap a silencer onto a real potential mess, when reserve center Brendan Haywood decided at the morning shootaround to not only publicly indict veteran teammate Peja Stojakovic for his defensive limitations but also announce that "there's no way in the world" Dallas should have Stojakovic on Kevin Durant.
"We're going to blame that on a coaching error," Haywood said.
Rest assured that none of his superiors found any of the above amusing, despite Haywood's attempts after the win to convince reporters to attach an "LOL" to the statements because he swears he was mostly joking. Now Dallas can focus on other things, as opposed to getting caught up in what Carlisle called a "s--- throw" about what really led to the 218 points it surrendered in the two home games.
Among them: Kidd's 13 points, eight assists, six rebounds and four steals, all while trading back and forth with Marion when it came to checkingchecking Durant (24 points but a costly 0-for-8 from deep) or Westbrook at the other end.
And Carlisle, not surprisingly, wanted a word about that lack of whistles Nowitzki referenced, struggling to believe that his star drew only two fouls in 37 minutes after drawing 16 on seven different defenders when he uncorked that majestic 48 points in the series opener.
"They're making a great effort on him," Carlisle said of OKC's Dirk Defense. "Now, I don't know in terms of legal limits, I believe the line may be crossed at times. And if so, the league will see it.
"But Collison is another guy that's extremely underrated as a player. … I watched him during the whole Memphis series. And the job he did on [Zach] Randolph, when they really needed to guard him, [Collison] guarded him one-on-one. It's phenomenal. You're talking about a guy that's one of the best post defenders, really, in basketball. He's proven that in three playoff series now."
As for Nowitzki?
He did what the great ones must. He found a way to score when he didn't have it -- when he wasn't parading to the line -- and when it matters most.
"If our top two shooters and top guns are off like that and we still win the game," Nowitzki said, "that's a tribute to our defense."
Considering he had just eight points with seven minutes and change remaining -- and now sits just two wins away from a long-awaited return to the Finals stage -- give Dirk his usual props slice, too.


ESPN.com senior writer Marc Stein
• On Twitter @ESPNSteinLine | On TrueHoop | On ESPN.com | On email
• Follow ESPN's NBA coverage on Twitter | On Facebook | On Google+
Dimes past: May 1 | 2 | 3 | 4| 5 | 7 | 8 | 9 | 10 | 11 | 12 | 13 | 14 | 15 | 16 | 18 | 19 | 20
2. Lineup, Shooting Hurts OKC In Game 3
By John Hollinger
ESPN.com

Perkins
OKLAHOMA CITY -- On the night defense made an unexpected appearance in the Western Conference finals, the Thunder didn't play enough of it at the start. A 23-point deficit proved too much to overcome in Oklahoma City's 93-87 Game 3 loss to Dallas, for which we can blame in equal measure bad shooting and bad lineups.
More on that in a minute, but let's spend a brief moment pondering the positives. This was a huge missed opportunity for the Thunder, because two things that hadn't gone right for them in the first two games did in a big way Saturday night.
First, the defense of Serge Ibaka and Nick Collison hounded Dirk Nowitzki into one of his worst games in ages; he shot just 7-of-21 with seven turnovers. To give you an idea of the rarity of this event, Nowitzki hadn't missed two-thirds of his shots in a game since April 2, a span of 18 games, and hadn't had a seven-turnover game since the second week of the season. This was a precious gift from the basketball gods, and the Thunder smashed it like Humpty Dumpty.
Second, Russell Westbrook rebounded from his Game 2 fourth-quarter benching by carrying the Thunder offense with a game-high 30 points. The biggest story heading into the night turned into a total nonstory by the end of it, as Westbrook once again showcased the resiliency and hard-headedness that are both his best and worst traits as a player.
Those two major positives should have translated into a win, and the fact that it didn't may very well cost the Thunder the series -- Dallas has now regained home-court advantage, and Game 3 winners in a tied series prevail in 76 percent of them.
For that, we return to the bad shooting and the lineup issues.
First, the Thunder couldn't throw it in the ocean. They shot 36.5 percent overall and 1-of-17 on 3s; insert your own Bricktown joke here. Oklahoma City missed its first 16 3-point attempts, and the odds of that happening to a team that shot 34.7 percent in the regular season are about 1-in-1,000. (OK, 1 in 914.9, to be exact.)
• For the full story, click here »
3. Daily Dime Live
Zach Harper, TrueHoop Network bloggers and fans gave their in-game opinions on all topics throughout Saturday's slate of NBA playoff talk in Daily Dime Live.
SATURDAY'S BEST

Marion
Shawn Marion, Mavs: After enduring some withering in-house criticism for his play earlier in the series, Marion went 9-for-13 from the field and defended NBA leading scorer Kevin Durant into a terrible shooting night. Just what Dallas needed to take charge in Game 3.
---
SATURDAY'S WORST

Thunder's start: Falling behind 27-12 after one quarter, and eventually trailing by as many as 23, is not the stuff of champions. The masonry in Bricktown was led by Kevin Durant, who shot 7-of-22 from the field, including 0-for-8 from 3.
---
TWEET WATCH
Westbrook's 3 ended OKC's 0-for-16 start on triples. OKC shot 34.7% in regular season; odds of 34.7% team missing 16 straight are 1-in-1,00011:50 p.m. ET via web
Favorite
Retweet
Reply
John Hollinger
johnhollinger
QUOTE OF THE NIGHT
"There's no question they started the game really hitting us and knocking us out of our offense. And we missed a lot of 3s. Those 3s weren't all contested.
-- Thunder coach Scott Brooks.
---
By Tim MacMahon
ESPN Dallas

OKLAHOMA CITY -- Shawn Marion's teammates might not be nice to him the rest of the playoffs.
Not after the way a mad Matrix played during the Dallas Mavericks' 93-87 win in Saturday night's tiebreaking Game 3 against the Oklahoma City Thunder.
"We've got to have him pissed," Mavs big man Tyson Chandler said. "We've got to have him slashing all over the place and being aggressive. We don't want the happy Trix. I like the angry [Marion]. He can be pissed off at all of us if he gives us the results."
Marion's teammates and coaches mercilessly criticized him during film sessions the last couple of days. They wouldn't accept his lack of aggression in the first two games of this series, when Dallas had by far its worst defensive performances of the postseason.
The Matrix's response: He embraced the challenge. Unlike the last two games, Marion was the aggressor from the get-go.
Marion was the main man in the Mavs' defense of Kevin Durant, who made only 7 of 22 shots from the floor and went 0-of-8 from 3-point range during a horribly inefficient 24-point performance. He set the tone for Dallas' return to the in-your-grill defensive style it had during the first two rounds, when the Portland Trail Blazers and Los Angeles Lakers failed to crack triple digits in any game.
• To read the full story, click here »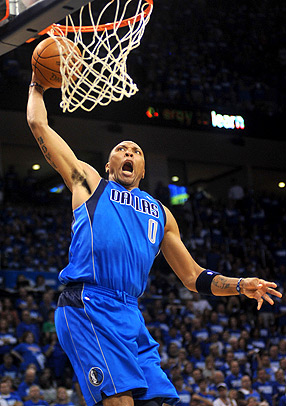 Mark D. Smith-US PRESSWIRE
Mavericks forward Shawn Marion threw it down on the Thunder in keying the Game 3 win.
By Jeff Caplan
ESPN Dallas

Terry
OKLAHOMA CITY -- Somewhere the Spurs, Celtics and maybe even the Lakers got a hearty chuckle at this one.
The Dallas Mavericks, representing the NBA's old guard for both conferences in perhaps that group's last stand, again came raging off the ropes to put a defensive whipping on the Oklahoma City whippersnappers.
Kevin Durant and his band of college-age hoopsters are going to have to pry this Western Conference finals from these creaky, but ever-resilient and mentally tough Mavs if 2011 is to go down as the year the oldies bow out to Generation Next.
"The last of the Mohicans," Jason Terry said. "But if you look at the last champions, they're all veteran teams."
In Saturday night's 93-87 victory -- their fourth consecutive road win for a 2-1 series lead -- the Mavs held the Thunder to 22 points below their series average and 15 under their home playoff average to move two wins away from playing for that elusive championship.
Yes, the Mavs again had to hang on for dear life after leading by 23 points -- ring a bell? But Dallas seized Game 3 with a first-quarter hijacking of frenzied Oklahoma City Arena. They combined team-wide, swarming, body-bumping defense that forced massive Kevin Durant misfires and an offense-by-committee sparked by Shawn Marion for a 21-8 lead 10 minutes in and 35-12 two minutes into the second quarter.
• To read the full story, click here »
9.

More Swishin' Than Dishin'
By ESPN Stats And Information

Westbrook
The Thunder were making a charge in the second half with Russell Westbrook leading the way, scoring 14 of his 30 points in the fourth quarter alone. To do it though, Westbrook had to leave his teammates out in the cold. In the first three quarters of the game, there were 12 possessions in which Westbrook brought the ball up past half court and didn't pass once. In the fourth quarter, Westbrook didn't pass on 10 possessions. For the game, Westbrook scored 24 points on 7-of-16 shooting (43.8 percent) when he didn't pass.
Kevin Durant may have suffered the most from this. Durant had an offensive touch on 47.3 percent of the possessions he was on the court for in the first three quarters. In the fourth quarter, Durant had an offensive touch on just nine possessions, 33.3 percent of the ones he was on the floor.