1. Inspired By Slight, Bosh Burns The Bulls

By Brian Windhorst
ESPN.com
MIAMI -- They call themselves Team Bosh and they are, quite literally, Chris Bosh's corner. And at times this season, their little pod of courtside seats in the corner opposite the team bench may have seemed like Bosh's only supporters.
No one basked in the success of the power forward's Game 3 surge Sunday night more than Team Bosh. In large part because of Bosh's contributions, the Miami Heat have their first lead in the Eastern Conference finals after a 96-85 victory over the Chicago Bulls. With each jumper that splashed through the net -- the arc and rotation so perfect that for awhile it seemed as though Bosh had morphed into some sort of surreal Dirk Nowitzki -- Team Bosh's enthusiasm poured forth.
Bosh himself tried to stay in the moment. He held back from letting out one of those screams in which his closed eyes, clenched fists and black mouthpiece make him seem like a being from a science fiction movie. But Bosh couldn't stop himself from stealing glances at the floor's edge to join in his family's increasing celebrations.
Some night it's his brother, Joel, and even his daughter, Trinity.
But for Game 3 it was his ever-present fiancée, Adrienne Williams, and his father, Noel, who were leading the parade. As Bosh kept making baskets -- first three straight, then five, then eight in a row -- the screams grew louder and louder. Williams raised her hand and shook her head in approval, while Noel Bosh led standing ovations and eventually standing whistles that Bosh could sometimes hear above the increasing cheers.
Finally, late in the fourth quarter with the game in hand, Bosh let it out. After a spin move and two-handed dunk, he emitted the Bosh scream as his cheering section stomped on the floor.
"They have so many conversations with me at home about so many different things -- about the game, about life in general," Bosh said. "Just to share that moment with them, just to be out there and them being here for this deep run, it's a great feeling."
Bosh scored 34 points in Game 3 and, for a second time in the series, he penalized the Bulls for devoting extra attention to LeBron James and Dwyane Wade. Bosh made 13 of his last 15 shots attempts, completely foregoing any hesitation that often plagues his game. The Bulls' usually stiff defense didn't have time to recover, and it burned them over and over as Bosh took advantage of foot and air space.
In general, he played with a confidence level that's been elusive for him during his first probing season with the Heat, a year defined by periods of tentative play as he learned a new and lesser role.
During that process he and the rest of Team Bosh heard all the commentary. All the "Two and Half Men" jokes. The "Like a Bosh" viral video from Toronto. The "fake tough guy" rant from Kevin Durant. All the heckles in arenas containing some variation of the word "soft." Or, in some cases, worse.
Most recently, Bulls forward Carlos Boozer, who before the series waved off Bosh by saying the Heat had "two great players."
All along Bosh claimed that he ignored it or even laughed about it. He said he didn't watch TV and mostly spent his time reading books and sampling Miami's diverse local food scene. Bosh hit so many different restaurants during the season that he made Anthony Bourdain's palate seem unrefined. But, of course, it was just a diversion.
Even when the Heat were winning, Bosh had to take more criticism than he was used to or even expected. And yes, it got to him. So did Boozer's comments. Even as he tried to stick to the creed of not letting his guard down, Bosh couldn't help it. He said it all in one paragraph in the moments following the biggest game of his career.
Did Boozer's comments, the latest to pile on, motivate him in this series with the Bulls?
"Not really. You know we've been through so much in the regular season that comments really don't -- that's really not -- that doesn't affect me too much. I just go out there and try to be aggressive."
But Bosh kept talking and the truth came out.
"You can find inspiration in all kinds of different ways. But I mean, it does nothing but help. Yeah, I think about it when I'm shooting. It helps me out. It helps me get some extra reps up."
Whatever Bosh wants to pin it on, he's been making a statement so far in the series. He's already recorded two 30-point games and is leading the Heat in scoring. In the Bulls' game plan, as Boozer pretty much revealed, that is probably what they wanted as they figured Bosh to be the preferred option for the defense to Wade and James.
The series isn't over and in the end there remains the possibility that Boozer could be laughing last. Bosh's performances are impactful because they're largely unexpected. But even the Bulls' big man had to admit Bosh has won the opening rounds.
"It's tough when you put so much attention on LeBron and D-Wade, but we've got to be able to help and cover our men," said Boozer, who had 26 points and 17 rebounds of his own in Game 3. "I always have respect for [Bosh]."
If Boozer doesn't really "always" have it, you could understand why. During the regular season, Bosh had a 1-of-18 shooting game against the Bulls and another game when he went 7-of-18 and couldn't finish the game after spraining his ankle. He complained afterward about the play in which he got hurt, when Bulls center Omer Asik fell on his leg. Bosh claimed Osik's actions diving for a loose ball were unnecessary.
Bosh isn't perfect, and he's had his moments that have invited scorn. But he's also had an All-Star season and several crucial outings already in the playoffs. Those standout performances include a strong Game 4 in the Heat's series victory over the Boston Celtics and three 20-point games in the first-round series with the Philadelphia 76ers.
"A lot of people don't understand how difficult it's been to make the adjustment, to play with two other players who dominate the ball so much," Wade said. "Some games he gets it. Some games he doesn't. So to find a flow, to find a rhythm, sometimes it's tough. But Chris is a professional. He's stuck with it and he's been able to explode and have big games."
Maybe Bosh hasn't totally arrived, and he's shown that he's going to have some inconsistent performances. Ultimately, he and the rest of the Heat are aware that the team probably is going as far as James and Wade are able to take them.
Within that reality, though, Bosh has steadily been able to do what's been asked of him -- to provide a buffer or, as Heat coach Erik Spoelstra likes to call it, "a relief" for the All-NBA players that are his teammates. From Boozer's perspective -- and he's not alone -- that may not qualify him as having "star" status. But Bosh has already proved in this series that considering him a role player is a flawed rationale.
Unless the Bulls adjust their viewpoint and perhaps their game plan defensively, that oversight might be a mistake they have to ponder for a long summer.
"I'm human, it is what it is, I really don't care for it," Bosh said of the steady stream of criticism he's heard this season. "You know, I'm a good ballplayer. There's always going to be somebody throwing rocks [no] matter what you do. So I continue to go. I know who is in my corner, my teammates and my family. I talk to them. I get better every day."


NBA Writer Brian Windhorst
• On Twitter @WindhorstESPN | On ESPN.com
• Follow ESPN's NBA coverage on Twitter | On Facebook | On Google+
Dimes past: May 1 | 2 | 3 | 4| 5 | 7 | 8 | 9 | 10 | 11 | 12 | 13 | 14 | 15 | 16 | 18 | 19 | 20 | 22
2. At This Point, Bulls' Flaws Showing
By Michael Wilbon
ESPN

MIAMI -- Games like the Bulls' loss Sunday night are why there was so much angst in Chicago at the NBA trading deadline in late February, when team executives decided not to make a deal for a big-time scorer, when they decided to stand pat and go into the playoffs with the roster they had, the roster with just one legitimate defense-wrecker. Don't get me wrong, given the team's youth, upward arc and the wisdom of looking at the big picture, Gar Forman and John Paxson probably did the right thing keeping talented young bigs Taj Gibson and Omer Asik, who are so much more difficult to find than a shooter.
Almost certainly it'll pay off down the line, but the price the Bulls are paying in the conference finals is that the lack of a deal means the Bulls don't have enough offense now, not when Miami can send 6-foot-11 Chris Bosh and 6-8 LeBron James to double-team 6-3 Derrick Rose, as happened more than a few times. Miami's 96-85 Game 3 victory produced more than a few storylines, including Bosh's second huge game of the series.
But what should stand out even more is that the Bulls don't have enough offense to beat Miami in a seven-game series. Back in late February, when Forman and Paxson decided to put off finding a scorer to complement Rose until the summer, Hall of Famer Scottie Pippen said, "We'll be able to beat good defenses, but against a team with great defense and scorers like Miami, we just won't have enough firepower."
• For the full story, click here »
3. Daily Dime Live
Zach Harper, TrueHoop Network bloggers and fans gave their in-game opinions on all topics throughout Sunday's slate of NBA playoff talk in Daily Dime Live.
SUNDAY'S BEST

Bosh
Chris Bosh, Heat: Boozer's two cents to the contrary, this sure looked like a big three. Draining his assortment of dunks, drives and jumpers, Bosh led the way for the Heat, netting 34 points on 13-for-18 shooting in Miami's Game 3 win.
---
SUNDAY'S WORST

Noah
Joakim Noah, Bulls: Just a bad night all around. Foul trouble limited him to 29 minutes, one point and five boards. Most foul was his alleged uttering of a gay slur, which stood in contrast to the NBA's campaign to stop that talk.
---
TWEET WATCH
Even when @CbooztheBull has a great game, it still isn't enough. The @miamiHEAT just have too much talent.11:30 p.m. ET via WhoSay
Favorite
Retweet
Reply
Earvin Magic Johnson
QUOTE OF THE NIGHT
"I always have respect. I never didn't have it."
-- Bulls forward Carlos Boozer, on Chris Bosh after Game 3.
---
6.

Frustrating Times For Rose
By Melissa Isaacson
ESPN Chicago

Rose
MIAMI -- If there was ever a point when it appeared Derrick Rose was enjoying a charmed postseason to cap off his MVP season, the Chicago Bulls' current situation has put a hold on such thoughts.
The Bulls' 2-1 deficit in the Eastern Conference finals feels just a little deeper after Rose's second subpar performance, a game in which the Bulls' floor leader actually seemed not to pose much of a threat in Miami's 96-85 victory Sunday night.
The most glaring statistic: Rose had no assists in the first half, only the 11th time in his career that has happened. Second-most glaring: Rose attempted only two shots in a two-point fourth quarter.
"It's definitely frustrating," said Rose, who finished with 20 points on 8-of-19 shooting, 1-of-3 from 3-point range and just 3-of-3 from the foul line. "Our will wasn't there tonight."
It's tough to say that this night reflected the cumulative effect of a season in which Rose was asked to cover for the absence of two Bulls starters and carry the team offensively. But he sure looks like he's wearing down under the strain of a team that has presented the most imposing defensive challenge to the Bulls this postseason.
While the Pacers may have bounced Rose around on his way to the basket, the Heat have, more often than not, been able to clog the middle completely due to the lack of a consistent outside threat by the Bulls.
"We have to make some jump shots," Bulls guard C.J. Watson said.
• To read the full story, click here »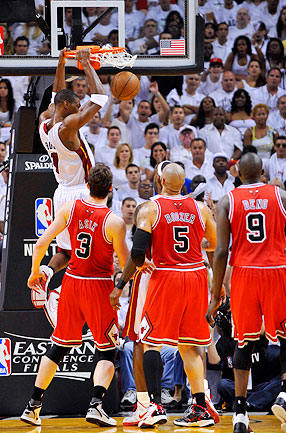 Steve Mitchell-US PRESSWIRE
Chris Bosh dunks the ball as Bulls forwards Luol Deng, Carlos Boozer and Omer Asik look on in the first quarter.
By Jeff Caplan
ESPN Dallas

Terry
OKLAHOMA CITY -- Jason Kidd is defying age and, quite frankly, the odds this postseason. He's obviously a steady presence on offense, averaging 10.0 points and 7.5 assists. It's at the other end of the floor where Kidd's performances have been eye-opening against some of the league's top scorers.
Can't guard Kobe Bryant? No hope against Russell Westbrook? Not a chance against Kevin Durant?
Kidd can't check those guys for an entire game, but the 38-year-old is showing he has enough left in his legs to combine with a savvy noggin to be an effective defender against taller and quicker guards who can light it up.
"I believe that I still have that athletic ability," Kidd said. "I probably lie to myself, but I can still do the things I could do at 25 or 26. But, sometimes I'm brought back down to understand that I'm not as fast as I once was."
After four more steals in Game 3, Kidd has 28 steals this postseason, by far the most of any player. Twenty of the 28 have come against the Los Angeles Lakers and Oklahoma City Thunder.
• To read the full story, click here »
Chris Bosh scored a game-high 34 points on the strength of 13-of-18 shooting from the floor to lead the Miami Heat to a Game 3 win over the Chicago Bulls in the Eastern Conference finals. Bosh, who made 12 of 17 field goal attempts in Game 1 and shot 4-of-8 from the floor in Game 2, has a .674 field goal percentage (29-for-43) in the series against Chicago. Over the past 26 years (19862011), only the Heat's Dwyane Wade (.688 vs. Detroit in 2006) and the Lakers' Pau Gasol (.696 vs. Phoenix in 2010) had higher field goal percentages through the first three games of a conference finals series than Bosh (minimum: 25 field goals).