1. Buckle Up: Mavs On Brink Of Finals

By Marc Stein
ESPN.com
Archive
OKLAHOMA CITY -- You saw it, right? Surely you saw Kevin Durant -- so sure he had just hit the Dallas Mavericks with a game-sealing dagger -- morphing into Aaron Rodgers and cinching up his imaginary championship belt before prancing back to the bench.
Dirk Nowitzki says he didn't see it. Not when it was happening, anyway.
Nowitzki was too busy, with his Mavs suddenly down 15 and seemingly doomed to an all-tied-up flight home, ripping into himself on his way to a timeout.
"I was swingin' the ball too much," Nowitzki said in a quiet moment at his locker, retracing his thoughts leading up to what has to rank as the most momentous comeback in Mavericks history.
"Too much facilitating."
It didn't last, though. None of it. Not Dirk as a pass-first facilitator and not Oklahoma City's fat lead. When the Thunder thought it was over -- when the ever-humble Durant uncharacteristically let loose with that painfully premature celebration -- Nowitzki, Jason Kidd and the Mavs were still scheming. Still thinking they had time to steal Game 4 of the Western Conference finals on the road, just like they swiped Game 3.
They weren't wrong, either.
With Nowitzki uncorking one of his signature shot-making flurries, Kidd's savvy and a Shawn Marion-led defensive stand -- along with copious amounts of assistance from the young Thunder's crunch-time mismanagement -- Dallas reeled off 17 of the final 19 points in regulation and ultimately claimed a 112-105 overtime victory that didn't just give the Mavs a 3-1 stranglehold on this series as it heads back to Big D for Game 5.
For Nowitzki and Jason Terry especially, this was their chance to move within one win of a return to the NBA Finals and see the other side of the gulf between historic resurrection and infamous collapse.
"Being a veteran team," Terry said, "you know five minutes is a long time."
That's something Nowitzki and Terry, Dallas' lone holdovers from the team that was some six minutes away from a 3-0 lead in the 2006 Finals, really know. They had a hunch Durant's straightaway 3 with 5:08 to play, stretching Oklahoma City's lead to 99-84, didn't end this Game 4. They'll never forget how it feels to be the springy kids, bossed by a young coach, unraveling so close to the finish line.
So they banked on the Thunder's penchant for self-destruction in the halfcourt and went to work. After following up a 22-point first half with a long stretch of quiet, Nowitzki started shooting again and pumped in 12 points in that stunning 17-2 run in the final 4:49 of regulation, sandwiching two crazy fallaway jumpers around a got-to-have-it 3, ultimately finishing with a sparkling 40 points. Kidd drained the key 3-pointer in overtime off a feed from Nowitzki and frustrated both Durant and Russell Westbrook with his sticky D, all while the 38-year-old was racking up 17 points and seven assists. And there's more: Marion blocked Durant's too-far-out heave from 3 at the fourth-quarter buzzer, Terry chipped in 20 points and Dallas also managed to overcome a 55-33 hammering on the boards by forcing a whopping 26 turnovers.
"It was almost over," Nowitzki said. "If we mess up one more time or give up one more rebound [after Durant's 3], that would have been the game. So we couldn't afford any mistakes down the stretch.
"We were almost perfect."
No one fit that description better than Dirk himself, who had teammates drooling after his surgical slicing of a defensive scheme that ever-so-briefly bugged him in Game 3. "Larry Legend Night," reserve center Brendan Haywood blurted out at Nowitzki as they passed each other on Dirk's way to the post-game podium ... and Haywood wasn't the only one drawing Larry Bird parallels after Nowitzki's second 40-point eruption of the series.
The Mavs, as a result, are almost back in the Finals for the first time since 2006, when Nowitzki and Terry sank to a low that Durant, crushed as he clearly was by getting so close to 2-2 and then crumbling, can't even imagine.
Durant missed 13 of 17 shots from the field after a highly aggressive 5-for-5 start, committed nine of those 26 turnovers and went scoreless for the final 10 minutes, sullying his 29 points and 15 boards. He dropped in a catcher's crouch near the end of OT, looking down at the floor in disbelief and obvious despair, after OKC's offense completely short-circuited from the point that James Harden picked up his sixth foul with 4:34 remaining in the fourth. When he later spoke of the noisy fans who had just watched this team lose back-to-back games for the first time in these playoffs, Durant said: "I feel upset because I think I let them down. I let the city down."
But Durant is just 22 and surrounded by promise. He'll learn from what happened here, learn to tune out the wicked cracks already in circulation about how you can't spell choke without OKC, learn like Nowitzki, Terry and so many others have from playoff heartache.
Not that either of Dallas' 2006 survivors are ready to say they've achieved anything. For weeks they've told us, stretching back even before that sweep of Kobe Bryant's L.A. Lakers, that winning it all is the only way to achieve lasting vengeance.
"Nothing is ever going to compare to that," Terry said, referring to the 13-point lead in Game 3 in Miami five years ago that didn't hold up, along with the three straight crushing losses that followed. "Unless we go all the way."
But this?
This feeling ain't bad.
These Mavs have won five straight road games in the playoffs and outlasted the Lakers, Celtics and Spurs to be the last veteran team standing in a league where young isn't supposed to win.
They've got a chance to close out OKC at home and have history on their side, since NBA teams that hold 3-1 leads boast a composite record of 192-8, which means they go on to win the series 96 percent of the time.
And for all the steel Kidd and Chandler provide that the '06 squad didn't have, don't forget this is the same team that had two projected starters watching this wild rally in suits: Caron Butler (lost on New Year's Day to a ruptured knee) and second-year guard Rodrigue Beaubois (whose season has been a washout thanks to persistent foot and confidence problems).
"Instant classic," Terry said.
Then he added: "This team right here is trying to make its own legacy."
When it comes to comebacks?
"As good as it gets," Nowitzki said.


ESPN.com senior writer Marc Stein
• On Twitter @ESPNSteinLine | On TrueHoop | On ESPN.com | On email
• Follow ESPN's NBA coverage on Twitter | On Facebook | On Google+
Dimes past: May 5 | 7 | 8 | 9 | 10 | 11 | 12 | 13 | 14 | 15 | 16 | 18 | 19 | 20 | 21 | 22 | 23
2. Losing A 15-Point Lead Like This? Improbable
By John Hollinger
ESPN.com

Durant
OKLAHOMA CITY -- As charmed a life as the Oklahoma City Thunder have lived in their rapid ascent to the NBA's elite, you knew that eventually they would have to go through some postseason pain before they could emerge as legitimate championship contenders.
Suffice it to say that this game qualifies.
No team in the past 15 years had blown a 15-point lead with five minutes left in a playoff game … until Monday night.
And there's a reason for that. It takes a lot of work to blow a lead this big this fast. But in a comedy of errors, the Thunder pulled it off, and they kept the laughs rolling through a five-minute overtime that was nearly as bad.
Not only did they punt the game, they almost certainly kicked away any chance of winning the series, too. Monday's 112-105 overtime loss to the Mavericks in Game 4 of the Western Conference finals put the Thunder down 3-1 with two of the final three games in Dallas -- a scenario only two teams in history have come back from (Boston in 1968 and Houston in 1995).
Painful? This one cut to the bone. It left Kevin Durant speaking in a low monotone (with his backpack still unstrapped!) and his teammates at a loss to explain how it vanished so quickly.
"If this loss did not hurt, " Thunder coach Scott Brooks said, "there's no such thing as a loss that can hurt you."
"I don't know what went wrong," guard Thabo Sefolosha said. "It's hard to talk about it."
How did they screw this up? Let us count the ways:
First and foremost, by losing James Harden to a silly sixth foul 90 feet from the basket -- one that gave Dallas two free throws with the clock stopped at 4:33 in the fourth quarter. Minus Harden, Oklahoma City's offense immediately went off the rails, scoring just six points in the following nine-plus minutes.
"When Harden fouled out," Dallas center Brendan Haywood said, "we focused all our attention on KD. That was basically it."
• For the full story, click here »
3. Daily Dime Live
Zach Harper, TrueHoop Network bloggers and fans gave their in-game opinions on all topics throughout Monday's slate of NBA playoff talk in Daily Dime Live.
MONDAY'S BEST

Nowitzki
Dirk Nowitzki, Mavs: Goes for 40 points in the 112-105 OT Game 4 win that put Dallas up 3-1 on OKC in the West finals. Scoring an even dozen in Dallas' 17-2 closing run that forced OT makes him look like a Dirk of Destiny now.
---
MONDAY'S WORST

Thunder's finishing skills: Even after losing a big lead late, OKC still had overtime. But the toll of the collapse appeared to be too much, and views of the bench might have led one to believe these were the closing minutes of a blowout. Hard to watch.
---
TWEET WATCH
Dirk is the G.E.E. (greatest Euro ever, with apologies to Sabonis). In my humble opinion.Midnight ET via Twitter for iPhone
Favorite
Retweet
Reply
Shane Battier
ShaneBattier
QUOTE OF THE NIGHT
"This was a defining moment in our season where we look back and say, 'Hey, that was the game.'"
-- Mavs guard Jason Terry, who knows how to step into the future and then look back with the best of 'em.
---
By Tim MacMahon
ESPN Dallas

OKLAHOMA CITY -- The celebration in Loud City reached such high decibel levels that the rumbles could probably be felt blocks away in Bricktown.
Kevin Durant's 3-pointer stretched the Oklahoma City Thunder's lead to 15 points with a little more than five minutes remaining in Monday's Game 4 of the Western Conference finals. There was a bunch of shoulder-shimmying and chest-bumping and imaginary championship belts being busted out on the Oklahoma City bench, as the Thunder seemed to have a series-evening win in their grasp.
Then something happened that was almost as unbelievable as the one-and-done-prone Dallas Mavericks making a realistic run for a ring.
The Mavs buckled down on defense, hopped on Dirk Nowitzki's back on offense and pulled off a historic, heart-pounding comeback for the 112-105 overtime win, putting them a victory away from a return to the Finals after five long, painful years.
This is a team that lost its second-best player to a season-ending injury when Caron Butler crumpled to the floor on New Year's Day after rupturing the patellar tendon in his knee. It's a team that expected dynamic young guard Rodrigue Beaubois to start at shooting guard and develop into a budding star, only to have his sophomore season wasted by a combination of a broken foot and a confidence crisis.
It's not a team that will pack it in just because it's down 15 points in enemy territory.
"We're never going to give up," said big man Tyson Chandler, the Mavs' emotional leader. "If they beat us, they beat us. But we're not going to give up."
• To read the full story, click here »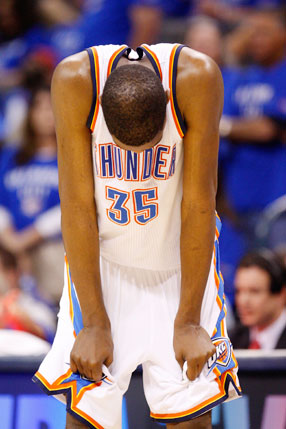 Ronald Martinez/Getty Images
After a fast start, Kevin Durant finished with 29 points, 15 rebounds and nine turnovers -- one of which led to a big Jason Kidd 3-pointer.
By Jeff Caplan
ESPN Dallas

Kidd
OKLAHOMA CITY -- After 17 years in the NBA, Jason Kidd feels no fear with his team down 15 with 5:05 to play. One man's journey to the refrigerator is another man's eternity.
On Monday night, Kidd and the Dallas Mavericks stopped time inside Oklahoma City Arena for the 18,203 disbelievers wearing Thunder blue shirts.
It seemed that Kevin Durant had iced the game with a 3-pointer for a 99-84 lead with 5:05 to go. Mavericks coach Rick Carlisle called timeout, and the roar inside the arena shook nearby Bricktown.
"During the timeout there was always the comment that there was a lot of time left," Kidd said. "Five minutes, three minutes left, we felt if we could get the clock stopped and be able to score, hopefully that would give us a chance to do something."
The 112-105 overtime victory -- a game that seemed all but lost, yet somehow ended in a commanding 3-1 Western Conference finals lead for the Mavs -- had many heroes. Dirk Nowitzki scored 40 points and was a dominant force in the comeback after a long scoreless drought.
Shawn Marion again came up large defending Durant. And, of course, it must be said that the inexperienced Thunder stubbed their own toe with horrific late-game execution.
But Kidd, at 38 and feeling great, simply did it all. He finished with 17 points, his third consecutive double-figure game and his seventh of the postseason. He added seven assists, five rebounds and four more steals -- giving him a playoff-high 32 -- in 41 minutes, his longest night of work in these playoffs.
No sequence epitomized Kidd's overall contribution to this run more than the 35 seconds or so late in overtime. Kidd manned up on Durant. The game was tied 105-105 with less than 90 seconds to go. Kidd forced Durant right, caught him with nowhere to go and stripped the ball away.
Headed back the other way, Nowitzki had the ball at the elbow. Russell Westbrook, Kidd's 22-year-old point guard counterpart, acted as though he was coming to double, and Nowitzki dished it to Kidd. Kidd pump-faked Westbrook out of the play, got his feet situated behind the arc and let it fly.
It swished through the net and instantly deflated the crowd.
• To read the full story, click here »
9.

Board Domination Not Enough
The Thunder lost to the Mavericks despite outrebounding the visitors 55 to 33, becoming the first NBA team in just over 25 years to lose a playoff game in which it had such a wide rebounding advantage. The last such game came on April 18, 1986, when the Washington Bullets defeated the 76ers 95-94, although Philadelphia won the battle of the boards 58 to 29.