1. Heat's Stuff Enough To Put Bulls On Edge

By Brian Windhorst
ESPN.com
Archive
MIAMI -- For months, it seemed like Miami Heat coach Erik Spoelstra was spinning or just lying. Either way, it wasn't very believable.
"We have enough," Spoelstra would say over and over when challenged about the depth and resolve of his team.
Injuries to guard Mike Miller and forward Udonis Haslem in the first month of the regular season. Trouble closing out games. Trouble winning close games. Two players signed after getting bought out elsewhere and promptly inserted into the starting lineup. Aging veterans in the "locker-room presence" era of their careers being relied on for key minutes. An inability to guard opposing centers. An inability to guard opposing point guards. A roster with three All-Stars who needed to play near their best most nights to win.
"We have enough," was Spoelstra's answer to all the ills that might derail the Heat's high expectations.
Four games into the Eastern Conference finals, Spoelstra's mantra is headed toward vindication. The Heat are proving they do have enough -- and a bit more than the Chicago Bulls. "Enough" is the primary reason the Heat are one win from the NBA Finals after a 101-93 overtime victory in Game 4.
Enough begins with Heat forward LeBron James, who can guard any player on the floor; he picked up Bulls point guard Derrick Rose and put him on lockdown for the game's final 10 minutes. Heat center Chris Bosh can calmly make clutch shots even though he has never before been under such pressure in his career. Haslem and Miller can miraculously heal from major injuries at the exact moment their team needs them most.
Enough, enough, enough.
"The regular season was about figuring things out," Dwyane Wade said. "We figured it out."
Wade went 30 minutes of floor time without a basket in Game 4, a circumstance that likely would've crushed the Heat in a most games this season. But Miller, who had made just three baskets in the entire playoffs because of thumb and various other injuries, came to the rescue by making five hoops. That production afforded Wade time to gather himself for overtime.
The Bulls were finally getting some scoring in the paint, beating the Heat by 20 points inside over the course of the game, and racked up 26 fast-break points. It was the kind of relief against the Heat's defense Chicago had been looking for since Game 1. But the Heat eliminated the Bulls' usual offensive rebounding strength and compensated for other shortcomings by making their last 24 free throw attempts.
Bulls big men Luol Deng and Carlos Boozer combined to score 40 points and shoot 15-of-30 from the field -- the kind of help the struggling Rose has needed badly in this series with the Heat devoting so much attention to him. But the Heat bench, a maligned underperforming unit all season long, came up with 23 points and 18 rebounds to mitigate it.
Any one of these leaks would've meant doom for the Heat during the bulk of the season. Now they just cope with these issues and move on. They've been told they have enough, you see, and they are now playing as if that's always been the case.
"They're a great team," Bulls coach Tom Thibodeau said. "They compete, they play hard, they play great defense and they make tough shots down the stretch."
Embedded in a series that resembles a wrestling match, the Heat continue to pull themselves ahead because of what they have. They have a margin for error that lets them get away with mistakes or subpar efforts from their stars, something the Bulls do not enjoy in this matchup.
It was hard to see that for so long this season as the Heat fought realities and personalities, losing games along the way that certainly seemed important at the time. It was hard to see it when the Bulls surged ahead in the standings, as their Most Valuable Player's endless talent and their Coach of the Year's relentless defense appeared to be great obstacles for an imperfect team like the Heat to overcome.
Now, in the revealing light of late May, the Heat's blemishes have faded. Miami looks like a squad with championship-worthy credentials and intangibles. No team left in the playoffs is perfect, but the Heat are inching closer to that ideal.
This was the naked truth in the overtime period that may end up being the moment when the Bulls' backs were broken in this series. The Heat pounded the top seed. The Bulls fought back but couldn't overcome the Heat, a microcosm of the past three games.
James had his drives, contested jumpers and space-hogging defense on a humbled Rose. James scored 35 points on 26 shots, his least efficient game in the series. Rose had 23 points on 27 shots with seven turnovers, his new reality against this team. He can't get past James easily and he can't shoot over him. When Rose does find space, he always encounters other Heat defenders.
"It's hard where a guy, he's running at top speed, he can easily catch up with you," Rose said. "It's extremely hard where a 6-8 guy can easily defend you."
There was Wade, emerging from his slump in time to claim a hero title with a step-back jumper, a thrilling transition basket and three blocked shots. There was Bosh, scoring the first four points of overtime after he scored the Heat's last basket of regulation.
Rose and Deng and Boozer just couldn't keep up. They went 0-for-6 in the extra five minutes. During the regular season, when Chicago swept a different version of this Miami team, these three Bulls were stronger finishers, more clutch and more physical than the Heat.
Now, though, they just look inferior. They are the ones who look like they don't have enough.
"This is something we envisioned," James said. "And it's coming together at the right time."


NBA Writer Brian Windhorst
• On Twitter @WindhorstESPN | On ESPN.com
• Follow ESPN's NBA coverage on Twitter | On Facebook | On Google+
Dimes past: May 5 | 7 | 8 | 9 | 10 | 11 | 12 | 13 | 14 | 15 | 16 | 18 | 19 | 20 | 22 | 23 | 24
2. Miller Shines During Trying Times
By Michael Wallace
ESPN.com

Miller
MIAMI -- The real fight Mike Miller has on his hands has nothing to do with the late-game heroics he delivered in the clutch -- finally -- that helped the Miami Heat take a commanding 3-1 lead in the best-of-seven East finals against the Chicago Bulls.
The true struggle Miller is coping with didn't take place in AmericanAirlines Arena -- even as he rose to the occasion in the most important game of his first season with the Heat, a 101-93 overtime victory that moved Miami one step closer to the NBA Finals.
Basketball, despite all the success and relief that came Miller's way on Tuesday night, was simply a diversion -- a much-needed one, considering what she's going through.
That's right, she.
"She's still in ICU," Miller said as he dressed quickly after speaking to reporters, then headed toward a side door to leave the arena. "She had some complications. But it's going to be all right. She's a fighter. She's the most important thing I'm thinking about right now."
She is Miller's week-old daughter, Jaelyn, who has been in an intensive care unit fighting an undisclosed illness that resulted from complications with his wife's delivery last Thursday. Miller said on Tuesday that his wife, Jennifer, is doing fine. The couple, who also have two young sons, remains in relatively good spirits even as they wait to see if Jaelyn might need a surgical procedure.
Not all of Miller's teammates even know what he is going through these days as he hustles back and forth from practices and games to a South Florida hospital. He wants to do his job and be there for his team at the most crucial point of their playoff push.
• For the full story, click here »
3. Daily Dime Live
Zach Harper, TrueHoop Network bloggers and fans gave their in-game opinions on all topics throughout Tuesday's slate of NBA playoff talk in Daily Dime Live.
TUESDAY'S BEST

James
LeBron James, Heat: Even more than the 35 points, it was his defense on Derrick Rose that made the difference in Game 4. Rose finished 8-for-27 from the field, with seven turnovers. It appears LeBron is headed to his second NBA Finals.
---
TUESDAY'S WORST

Chicago's excruciating loss: The Bulls played well enough to win. If Derrick Rose makes a winner at the end of regulation, the momentum and series would swing back to Chicago with the series tied 2-2. In NBA playoff history, 96 percent of the teams down 3-1 have lost the series, so it seems like just a matter of when for the Bulls' demise.
---
TWEET WATCH
LeBron outplaying Rose isn't reason enough to question MVP vote. LeBron outplaying Rose and NOBODY BEING SURPRISED, on the other hand ...11:30 p.m. ET via web
Favorite
Retweet
Reply
John Hollinger
johnhollinger
QUOTE OF THE NIGHT
"It's extremely hard where a 6-8 guy can easily defend you."
-- Bulls guard Derrick Rose, on LeBron's effect.
---
6.

Wade Comes In From Cold
By Tom Haberstroh
Heat Index

Wade
MIAMI -- If you're a believer in the hot hand, then you may also believe in the cold hand.
After sitting for the first five minutes of the fourth quarter of a close game, you could say Dwyane Wade was cold.
He hadn't played since he checked out with 1:55 remaining in the third quarter. He hadn't scored since the 1:50 mark in the second quarter. In fact, he hadn't made a shot from the floor since four minutes before that.
On the Heat's second possession upon re-entering the game, Wade lost the ball on a routine dribble crossover, recovered it just before crossing half court, drove left and took a fadeaway 15-foot jumper. The ball careened off the backboard, completely missing iron.
"He missed a lot of shots he usually makes," Chris Bosh said after the game. "You could tell his rhythm was kind of off tonight."
At the end of regulation, Wade had tallied eight points on 3-for-12 shooting. Of the 79 playoff games under his belt, he has finished in single digits only once -- and it was during his rookie season.
But he would get a chance to redeem himself, as the game was tied at 85 at the end of four quarters.
"I think I was the only person in the arena that was happy we were in overtime," Wade said after the Game 4 win. "I knew I had another five minutes to make up for the first 48."
• To read the full story, click here »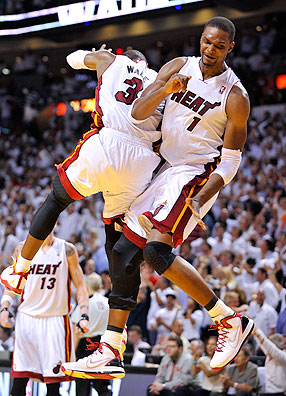 Steve Mitchell-US PRESSWIRE
Heat guard Dwyane Wade celebrates with Chris Bosh after scoring in overtime of the Game 5 win over Chicago. Miami now leads 3-1.
By Jon Greenberg
ESPN Chicago

Rose
MIAMI -- Cue the violins, lower the curtains, tip your waitress.
Can the ushers take their places at the door? The show is over, everyone. Thanks for coming out.
"It's not over," Derrick Rose said after the Chicago Bulls' soul-crushing 101-93 loss to the Miami Heat in Game 4 of the Eastern Conference finals.
OK Derrick, let us agree to disagree.
I don't want to pilfer the idiom "It's all over but the shouting," but I think that's pretty apt, considering Tom Thibodeau's vocal cords still have some juice left.
Meanwhile, after the Bulls' first three-game losing streak of the season, I imagine the team plane was probably so quiet, you could hear Carlos Boozer wink.
• To read the full story, click here »

Wade
Dwyane Wade
was held without a field goal for 32:35 in Tuesday night's game before making one in overtime. That was Wade's longest field goal drought in any playoff game of his career. He had one longer streak during this past regular season, 36:47 against Milwaukee on Jan. 7.