1. Furious Finish, Final Goal For James, Wade

By Brian Windhorst
ESPN.com
Archive
CHICAGO -- Clad in their "Eastern Conference Champion" shirts and hats and in the midst of hearty handshakes and hugs, Miami Heat players stopped their locker room celebration so they could watch TV.
It wasn't that they wanted to see their own highlights from the mystical final three minutes of their stupefying 83-80 comeback victory over the Chicago Bulls on Thursday night. They needed to see them. They had no idea what had happened.
As the plays cycled through, from the gritty defensive stops to the astonishing barrage of 3-pointers from Dwyane Wade and LeBron James, players exchanged looks and laughter as if it wasn't even them on the screen from just a couple of minutes before.
It was the completion of a collective out-of-body experience that carried the Heat to the Finals after their fourth consecutive win over the Bulls.
NBA Finals on ESPN.com


The Mavericks defeated the Heat 4-2 to win the NBA title. Get your championship coverage on ESPN.com:

• Finals page | Finals schedule
• Mavs Center | Blog | ESPN Dallas
• Heat Index | TrueHoop | Playoffs

"We don't even know what happened," Wade said. "I'm not going to lie to you and say we do. I can't remember all the plays."
There will be time enough for that. The Heat's furious finish eventually will carve itself into memories. For Wade and James especially, this is one they'll talk about for the rest of their lives. They scored 22 consecutive points for the Heat in the fourth quarter -- a number they couldn't believe when they were informed -- as they led a 12-point comeback in the final three-plus minutes.
"Man, that was maybe the three best minutes of my life," James said to Wade as they rehashed the finish. "At least so far."
Just a couple of minutes before, the Heat had looked done for and those boxes of hats and shirts were about to be clandestinely slipped out of the United Center and shipped to Miami for Game 6. Down 12 points with less than four minutes to go, the Heat shuffled into a timeout.
They'd scored 64 points in the game's 44 minutes, well on their way to their worst offensive game of the 105 they've played this season. Yes, including the preseason.
Wade had nine turnovers, dubiously tying the franchise playoff record, and was giving off body language that screamed fatigue and frustration. He'd missed a breakaway layup a few moments before that was as bizarre as his missed dunks in Games 3 and 4. He was 3-of-10 shooting for the game and playing oddly unassertive, passing up open looks.
At one point late in the third quarter, Heat coach Erik Spoelstra called timeout so he could take Wade out of the game.
Meanwhile, James didn't make a field goal for more than 30 minutes of game time, barely keeping the Heat within miracle distance by hitting free throws as the Bulls punished his attempts to get to the basket with physical fouls.
Then things get a little fuzzy.
"I just remember the timeout," Wade said. "And Coach just looked at us and said, 'We've done this before. We've been in games where we've gone on a 12-0 run or a 14-0 run. Just believe.'"
Spoelstra was doing what coaches do, trying to keep his team in it. But there was no way it could work. Everything pointed to Game 6. Maybe Wade and James could do it on their best day if they both caught fire. But this was far from their best day; it was shaping up like their worst.
"We just reminded them there's a lifetime left in the game," Spoelstra said. "We've done it before."
As the huddle broke, James walked to the scorer's table, rubbing his feet over the stick pad to clean the bottoms of his shoes. He looked up and made eye contact with several Nike officials who were sitting there, and gave them a little smile.
He and Wade were about to make a commercial that was beyond even the most creative script.
In 3 minutes and 27 seconds, they each made three baskets, converted free throws and got steals. They did it with haymakers like a heavyweight punching out of the corner to a knockout.
Wade got things serious by stepping in front of a Derrick Rose pass to ignite a fast break. There were no dead legs on this play.
James hit a 3-pointer, his first basket in 34 minutes, when the Bulls inexplicably forgot to cover him in transition.
Then another 3, this time by Wade on a step-back over Rose. James had the ball with a chance to fire up another jumper -- the time was right for a trademark heat check -- but went to Wade in a play that unexpectedly changed Wade's outlook.
Wade caught the ball and shot it with remarkable confidence for a guy who was having a bad night and hadn't made a 3-pointer in six games.
"When LeBron threw me back the ball, after me struggling so much, I was like, 'Well, I have to make something happen,'" Wade said. "D-Rose hit me on the elbow, and that's where the momentum started to shift a little bit."
A little bit is reverse hyperbole. The 4-point play after Wade made the shot as Rose hit his elbow turned it from a three-possession game to a one-possession game with 1:30 left. All of a sudden, the Heat looked as if they were favorites to win, even as they had been down 10 points 90 seconds earlier.
When James buried another long 3-pointer coming off a screen, his left heel within inches of the Bulls' sideline and coach Tom Thibodeau's dress shoes, the historians were running to their computers.
Now, it seemed like destiny. And so it was when James stole the ball from Rose as he smothered the Bulls point guard on a pass attempt. James confidently strode to the other end and faked left, stepped back, and hit a 20-footer over Ronnie Brewer, who was helpless to stop it.
"I've been working on that [move] for years," James said. "I've been working on this and waiting for this for eight years."
It wasn't over yet. Rose had a couple more letdowns in the face of the James and Wade onslaught. Rose missed a free throw that would have tied the game with 26.7 seconds left and had a 3-pointer at the buzzer blocked by James.
Chris Bosh made two clutch free throws to finish off a 20-point, 10-rebound, four-block night that threatens to become a footnote in history, because James and Wade were just that amazing in those three minutes.
You got the impression that, even if Rose had made the free throw and 3-pointer, the two future Hall of Famers would have prevailed anyway.
"The reality is great players -- there's a history of this in the game -- great players shining in those moments," Spoelstra said, knowing the same.
For Wade, it was a redemptive turn after a grueling and draining series.
"I got to get these legs back," Wade said to James as he was dressing an hour or so after their heroics.
"Your legs went on vacation with Ray Allen," James responded with a smile.
When Wade and James finally left the locker room, the last two players out after their icing and highlight watching and laughter in the showers, there was finally a little time for perspective.
"It's been a long four years for me," James said, recalling the last time he'd tasted the NBA Finals back in 2007.
"It's been a long five years for me," Wade said, trying to good-naturedly one-up him.
With that, they were off and done with talking about old memories. There are new ones to enjoy now.


NBA Writer Brian Windhorst
• On Twitter @WindhorstESPN | On ESPN.com
• Follow ESPN's NBA coverage on Twitter | On Facebook | On Google+
Dimes past: May 9 | 10 | 11 | 12 | 13 | 14 | 15 | 16 | 18 | 19 | 20 | 22 | 23 | 24 | 25 | 26
2. Riley Savors The Winning Moment
By Michael Wallace
ESPN.com

Riley
CHICAGO -- The one moment of uncertainty -- likely the only time Pat Riley truly came close to fearing that the greatest free agency haul in NBA history could fall to pieces -- played out on the sixth floor of the Ritz Carlton hotel on July 2 in downtown Cleveland.
The poker face was somewhat pale.
That confidence was cracking just a bit.
The reality that there was even a slight chance things could turn into ruins was beginning to take shape.
Riley, the Miami Heat president, had just emerged from his free-agency meeting with LeBron James an hour earlier and had retreated back to the hotel with owner Micky Arison, Alonzo Mourning and a few other members of the front-office staff.
I approached Riley near the elevators that afternoon and asked him what he thought about Dwyane Wade taking a second recruiting visit with his hometown Chicago Bulls later that day. I also asked if he had heard that James' camp had reportedly requested more information from the New York Knicks.
Of course, Riley was aware of both situations.
"There's a lot going on right now, but we feel good about what we've presented," Riley said that afternoon in Cleveland. He then summed up our conversation with the five words that essentially would become his mantra for the next 11 months.
"Let this all play out," Riley said.
Fast forward to Thursday night, after James, Wade, Chris Bosh and the Heat finished off an improbable comeback to eliminate the Chicago Bulls in five games and advanced to a rematch with the Dallas Mavericks in the NBA Finals.
Riley entered the hallway outside the Heat's locker room in the United Center relieved after enduring a season filled with scrutiny, controversy and criticism for everything from their celebration in July after the free-agency coup to the way the Heat fell apart in November, came back together midseason, gradually improved, then ultimately peaked in these playoffs.
• For the full story, click here »
3. Daily Dime Live
Zach Harper, TrueHoop Network bloggers and fans gave their in-game opinions on all topics throughout Thursday's slate of NBA playoff talk in Daily Dime Live.
THURSDAY'S BEST

James
LeBron James, Heat: The Heat are back in the NBA Finals with an improbable 83-80 win over the Bulls in the East finals. James finished with 28 points and 11 rebounds, joining fellow clutch mate Dwyane Wade with eight points apiece in the breathtaking 18-3 closing run.
---
THURSDAY'S WORST

Excruciating Chicago loss, Part 2: The Bulls were up 77-65 with 3:14 left to play. Then, the pie hit the fan. Derrick Rose had a tough finish, with a bevvy of turnovers and missed shots during the meltdown. Fittingly, his last-gasp 3 was swatted by LeBron.
---
TWEET WATCH
Heat players pointing out in locker room they only have homecourt over Dallas because won last game of season in Toronto when stars sat.Midnight ET via Twitter for iPhone
Favorite
Retweet
Reply
Brian Windhorst
WindhorstESPN
QUOTE OF THE NIGHT
"They're Hollywood as hell but they're still very good."
-- Bulls center Joakim Noah, damning and praising and the Heat after Game 5.
---
By Melissa Isaacson
ESPN Chicago

Deng
CHICAGO -- It didn't feel as if the season was slipping away.
The Bulls leading 73-63 after two free throws by Luol Deng with 6:06 remaining in regulation, their fans were in celebration mode, victory stories being constructed, plane reservations to Miami for Game 6 of the Eastern Conference finals being secured.
Sure, Kurt Thomas missed a 22-footer following a steal by Ronnie Brewer at 5:20 of the fourth quarter. But on the other end, Derrick Rose thwarted a Miami fast break by forcing Dwyane Wade to miss the layup.
And yeah, Deng missed a 20-footer following a rebound, and after a Thomas rebound, Rose couldn't connect on a 3-pointer. But it still felt like the Bulls had the momentum when LeBron James missed one of two free throws, snapping his streak of 32 straight.
Yep, Rose's driving layup was then blocked by Chris Bosh, the ninth straight missed shot by the Bulls. But there was Thomas with the rebound, keeping the drive alive. And when Brewer nailed the 3-pointer to give the Bulls a 12-point lead at 76-64 with 3:53 left in regulation, it sure seemed like the knockout punch the crowd -- by now on its feet -- and the Bulls were looking for.
Apparently, it was exactly where the Heat wanted them.
Having outscored the Bulls 64-47 in the fourth quarters of the previous three games of the Eastern Conference finals and having consistently outplayed them down the stretch en route to a 3-1 series lead, the Heat struck once again Thursday night with a sudden force and decisiveness that stunned the United Center crowd, ended the Bulls' season and strengthened the notion that Miami's star-laden team can perform at will.
• To read the full story, click here »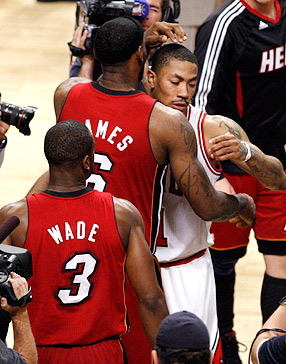 Steve Mitchell-US PRESSWIRE
LeBron James and Derrick Rose exchange hugs after the end of the Eastern Conference finals.
8.

Rose's Season To Remember
By Jon Greenberg
ESPN Chicago

Rose
CHICAGO -- For reasons and moments too numerous to list, this will be a season Derrick Rose will never forget. He will live within its highs and lows for the next few months in Chicago and California, and wherever else he travels. He will probably draw on the lessons he learned for the rest of his life.
One thing he will certainly never fail to recall is the timbre of coach Tom Thibodeau's voice. Because Thibodeau's voice, that raspy, throaty call to arms, was Rose's co-pilot as he made the leap.
Thibodeau, the first-year head coach, was hard on Rose in practice and during games, for his own good, and Rose appreciated it.
Thibodeau's one constant message to Rose, aside from "push the ball," was "get better every game."
Rose listened. Boy, did he listen. He got better all season and turned into the MVP, surprising us all with rapid ascent. He practiced hard and set an example for his teammates, and he pushed the ball like Michael Jordan and he finished at the rim like Michael Jordan.
No, Rose can't escape the Jordan comparisons, so why bother pretending.
But when the clock hit zero on the Bulls' season with a haunting 83-80 loss to Miami in the Eastern Conference finals Thursday, Rose couldn't do it. He had the ball in his hands, but that ball fell to earth way short of its destination.
Rose just couldn't be the hero, no matter how many shots he took. And don't sweat his 9-for-29 in Game 5.
Aside from Luol Deng, who else is there? Carlos Boozer was benched in the fourth quarter, with good reason. While Rose (25 points, eight assists, four turnovers) got the blame for trying to be the MVP, Boozer's lousy game (five points, six rebounds) was mostly ignored, for now anyway.
It's not fair, but that's Rose's life. He who wears the crown, and all that.
• To read the full story, click here »
Derrick Rose
made only nine of 29 field goal attempts in the Bulls' loss. It was the first time an MVP missed 20 or more shots from the field in the game in which his team was eliminated since Bob McAdoo went 16-for-36 as the Buffalo Braves were closed out by the Washington Bullets in 1975. The only MVPs to do so prior to McAdoo were Kareem Abdul-Jabbar with the Bucks in 1972 (16-for-37) and Wilt Chamberlain as a rookie with the Philadelphia Warriors in 1960 (22-for-42).