1. Big Three Connection Strong In Finals Opener

By Brian Windhorst
ESPN.com
Archive
MIAMI -- There were no fireworks or hydraulic lifts or screaming proclamations this time -- just three guys shooting in an empty arena.
The night before their first NBA Finals as teammates, LeBron James, Dwyane Wade and Chris Bosh came together for a last private session. Having traveled such a long road since they had their oft-criticized introduction party inside AmericanAirlines Arena in July, their desire to get back together was partly symbolic and partly a collective deep breath.
For an hour or so they worked and sweated and laughed. Later on, teammate Erick Dampier arrived because, well, they needed a rebounder. Most of these now commonplace late-night shooting sessions in the NBA take place in practice gyms. But for this occasion the Miami Heat players pulled some strings and got a few lights flipped on in the arena bowl.
The Finals logos and signage now scattered across the place glowed, an effect that pulled the guys into the moment. This, after all, is what they'd come down this road to do -- to play together in the Finals.
It wasn't hard to work up the emotion.
Twenty-four hours later, the clock nearing midnight again, the time they'd spent in the quiet gym was back on their minds.
"This is what last night was about," Wade said to a friend sitting courtside during free throws when there were three minutes to play and Game 1 against the Dallas Mavericks in the balance.
Seconds later Wade came up with a crucial block on Shawn Marion, who'd been a thorn in the side of the Heat throughout the evening. Wade then raced to the other end and calmly, confidently fired in a 3-pointer.
Then he delivered a laser pass to Bosh for a dunk.
Then he floated a lob to James for a dunk.
As the Heat's three stars embraced on the floor after the 92-84 victory, basking in their collective strong finish, they knew it was just the start of what promises to be a hotly contested Finals. They also knew they're now just three wins away from the dream they started to imagine last summer.
James, Wade and Bosh did in Game 1 exactly what they usually do. They came together to apply rarely relenting pressure to the opponent. They traded off scoring, rebounding, passing and defending until the other guys cracked.
The totals from Tuesday night were 65 points, 28 rebounds, 14 assists and three blocks. In a game in which all of those were at a premium, it felt even more impressive than the stats indicate.
"Obviously, that's one of the ideas of us playing together," Wade said. "For one individual to not have to carry that load."
Dirk Nowitzki played strongly for the Mavericks, putting up 27 points and eight rebounds despite severing a tendon in his left hand late in the game. Marion was excellent, too, with 16 points and 10 rebounds. But in Game 1 -- like the Philadelphia 76ers, Boston Celtics and Chicago Bulls before them -- the Mavericks couldn't overcome the triple threat.
Not many have since mid-March, when the Heat began to find the rhythm with their three oft-discussed free agents after months of tinkering. The Heat are 28-6 since their five-game hiccup, a spring of discovery that grows only more impressive as the stakes increase.
NBA Finals on ESPN.com


The Mavericks defeated the Heat 4-2 to win the NBA title. Get your championship coverage on ESPN.com:

• Finals page | Finals schedule
• Mavs Center | Blog | ESPN Dallas
• Heat Index | TrueHoop | Playoffs

"It's a very confident feeling," said Bosh, who had 19 points and nine rebounds. "Just to know that we have each other's back … we just believe in each other so much. We've worked so hard that you just know who is in the foxhole with you."
The game unfolded the way many have in this postseason for the Heat, with their stars rotating through the spotlight.
First, it was Bosh's play in the first half as he continues to act like he's done all of this before, even if technically he's the most inexperienced star in the series. Bosh carried over his confidence from the Eastern Conference finals and put up 13 points with seven rebounds during the choppy first half when the Heat looked lost at times against the Mavericks' zone, and Wade and James struggled to get good looks.
Then, in the third quarter, it was James taking charge, showing off the massively improved jumper and a new confidence on long shots under pressure that has defined his postseason. He made three 3-pointers in the third quarter to score nine of his 24 points and put the Heat into the lead after they'd fallen behind by nine points.
The last one was part luck and part talent, as James pivoted and jumped backward to nail a long 3-pointer that gave the Heat badly needed separation going to the fourth quarter.
"I knew what he was going to do," Wade said of James' rainbow 3-pointer. "Not many guys can make that."
Wade's second half was on par with some of his performances the last time he saw Dallas in the NBA Finals back in 2006. He scored 15 of his 22 points after halftime, breaking out of a several-games-long slump during the third quarter that included two crucial driving baskets that snapped the Mavericks' best run of the game.
But he did his best work in the fourth. With James and Bosh having done most of the heavy lifting, Wade took control and tapped into an energy stream he seemed to have been saving for the past several weeks. His three baskets, including that 3-pointer, were important. But his three rebounds, three assists and that statement block broke the Mavericks' backs.
"He's such an explosive offensive player that he spoils you a little bit," Bosh said. "You kind of look for that every game. When it comes, you're like 'OK, here it is.'"
The same could be said for all of them. The Heat's so-called "big three" are delivering under the hot lights and scrutiny. For everything that happened last summer and during most of the regular season, when adversity ate at them daily, their reputations are being crafted now.
They just got one win closer to being able to have a celebration that no one can begrudge.
"We always said we would figure it out," James said. "We always believed in our abilities."


NBA Writer Brian Windhorst
• On Twitter @WindhorstESPN | On ESPN.com
• Follow ESPN's NBA coverage on Twitter | On Facebook | On Google+
Dimes past: May 11 | 12 | 13 | 14 | 15 | 16 | 18 | 19 | 20 | 21 | 22 | 23 | 24 | 25 | 26
2. Mavs Can't Match Heat's Boarding Party
By John Hollinger
ESPN.com

Marion
MIAMI -- Here's a stat that most people don't expect: The team with more offensive rebounds usually loses.
It's simple if you think about it. You can't get an offensive board unless you miss a shot. And usually it takes three or four misses for every one offensive rebound. So to have a small advantage in offensive boards usually implies a much larger one in bricks.
Game 1, however, proved the exception to that rule. The Miami Heat did, indeed, miss more shots than the Dallas Mavericks -- 49 to 42. But the Heat were so much better at recovering their errant tries that they won anyway. Miami may have missed seven more shots than Dallas, but the Heat more than made up for it with a whopping 16-6 edge in offensive boards. In short, this was a victory built on quantity rather than quality.
"We're minus 10 on offensive boards," Mavs coach Rick Carlisle said. "There's 10 more times we don't get the ball and they have it. So possession is key."
Dig further and you'll discover "team rebounds," the place on the stats sheet where the NBA hides rebounds under the rug in an effort to make the box score neat and tidy. While team rebounds are a grab-bag stat that also encompasses non-events like missing the first of two free throws or a missed shot at the buzzer (memo to the league: Please cease this nonsense at once), it also covers rebounds tipped out of bounds or personal fouls on rebound attempts.
Throw the four offensive team rebounds by Dallas into the soup along with the two by Miami, and it's actually an eight-rebound advantage for Miami on the offensive glass. That result is even better for our purposes -- given that teams score about one point per possessions, it means rebounding might explain the entirety of the eight-point gap between the two teams Tuesday.
This is almost literally true. Dallas scored 84 points on 82 "true" shots; Miami scored 92 on 91 "true" shots. So the Mavs were actually slightly more efficient shooting the ball. They just didn't shoot it nearly as often.
"What really killed us were the offensive rebounds," said Dirk Nowitzki .
"Rebounding killed us tonight," said Shawn Marion. "I'll tell you this, we didn't win too many games getting 67 shots."
"We can't have that kind of deficit," said Carlisle.
Well, at least we're all on the same page.
Should we have expected this disparity? Not really. Certainly, the Heat have an edge on the glass -- Miami ranked third in the NBA in rebound rate, and in particular was a better defensive rebounding team than Dallas in both the regular season and the playoffs.
But the differentials are only on the order of 1-2 percent, or about one rebound a game. Miami's offensive rebound rate Tuesday was more than double Dallas', 34.8 percent to 16.7 percent. The two facts I can assure you of are (1) if that rate holds up this will be a very brief NBA Finals, and (2) that rate isn't going to hold up.
While in the long-term rebounding is pure skill, in the short term there's a whole lot of randomness mixed in. "A lot of the game is a scramble," Carlisle said. Of course, funky bounces and friendly deflections can and do play a role in individual game results.
The lingering worry is that Dallas' zone defenses -- a necessary antitode to the Heat's superior firepower on the wings -- leaves the Mavs vulnerable to second shots because of the gaps in the zone. Carlisle didn't seem to think the zone was culpable, but added he'd have to look at the film.
"The biggest thing is, we have to straighten out the rebounding," Carlisle said in closing his media conference.
Given the inherent volatility of this stat, one should expect better results for Dallas even if it does nothing. And certainly, if the Heat continue to miss more shots than the Mavs it will eventually come back to bite them. But in this case, Miami's rebound margin was so exceptional that it proved an exception to the usual rule -- the Heat were the team with more offensive boards, and they won anyway.
3. Daily Dime Live
Zach Harper, TrueHoop Network bloggers and fans gave their in-game opinions on all topics throughout Tuesday's slate of NBA playoff talk in Daily Dime Live.
TUESDAY'S BEST

Wade
The Takeover Twins: That's LeBron James and Dwyane Wade. While LeBron's 3-pointer stroke was a constant, Wade's ability to turn it up late was a difference in the Game 1 win. Wade's 3 with 3:06 left put the Heat up 82-73. LeBron's super slam put an exclamation point on the win.
---
TUESDAY'S WORST

Mavs' bench and boards: Outrebounded by 10 boards and picking up only six offensive caroms is not getting it done. J.J. Barea and Peja Stojakovic combined for 43 points in closing out the Lakers. In Tuesday's Game 1, they had two.
---
TWEET WATCH
Heat bench outscored the Mavs bench 27-17...the 10-point margin was their largest pt differential vs an opponents bench this seasonMidnight ET via web
Favorite
Retweet
Reply
Stats/Info
ESPNStatsInfo
QUOTE OF THE NIGHT
"For me, going into the fourth quarter, it's winning time."
-- LeBron James, on Game 1 win
---

MIAMI -- If this low-scoring Game 1 of the NBA Finals is any indication of how this series will play out, it won't be the way the Heat Voltronned together to form a superteam that's a threat to the league -- it'll be the method they're using to grip the championship trophy that strikes fear into those of us who enjoy basketball in its most free-flowing form.
It turns out the group Joakim Noah instantly labeled a "Hollywood team" is looking less like a J.J. Abrams production and more like a PBS documentary. The Heat are grinding opponents into submission with their defense, not overwhelming them with their offense. They're more about the shutout than the shootout -- as in the 3 1/2 minutes they held the Mavericks without a point in the fourth quarter Tuesday.
When it's time to take over, they're not even thinking about the offensive end.
"We just used the fourth quarter to say, 'All right, defensively we have to win this game,'" Dwyane Wade said.
And defensively they did. Not creatively, not spectacularly, just effectively.
That .373 you'll find next to Dallas' field goal percentage in the box score is the Mavericks' lowest of the postseason. And if not for a Jason Kidd 3-pointer in the final seconds that helped their pride more than the outcome (92-84), the Mavericks would have posted their lowest total points of the playoffs.
Only once in the past eight games have the Heat allowed an opponent to score more than 89 points without going into overtime. Even in that lone exception, a 103-82 loss to the Bulls in the opener of the Eastern Conference finals, the Heat were pleased with their defense; they just lamented the fact that they couldn't keep the Bulls off the offensive boards.
That was Dallas' complaint Tuesday night. The Mavs played good defense themselves, something that's become commonplace rather than exceptional this season, but Miami got 16 offensive rebounds.
The poor shooting from both sides (it was the first Finals game to feature two sub-.400 shooting performances since the Spurs and Nets in Game 4 in 2003) kept it close for most of the night. And no, we don't even need to be reminded of those 2003 NBA Finals again. The Heat are taking us in the wrong direction.
• To read the full story, click here »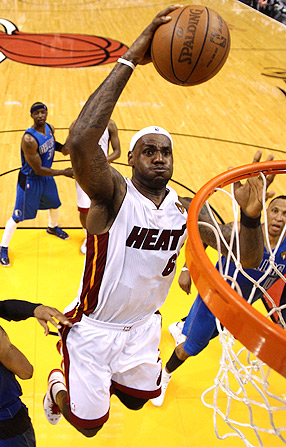 Mike Ehrmann/Getty Images
LeBron James dunks the ball over Tyson Chandler in the fourth quarter of Game 1.
8.

Nowitzki's Tough Night
By Art Garcia
ESPN Dallas

Nowitzki
MIAMI -- Dirk Nowitzki not only had his most frustrating outing of the playoffs, he tore a tendon on his left middle finger on a freak play late in the fourth quarter of Tuesday night's 92-84 loss to Miami in Game 1 of the NBA Finals.
The injury put even more of a damper on Nowitzki's offensive struggles, as Miami Heat defenders gave the Dallas Mavericks' chief scoring threat different looks throughout the game. Nowitzki shot 7-of-18 from the floor -- just the second time he's made less than 50 percent of his shots in his past 11 playoff games, going back to the first-round finale against Portland.
It had to feel like the 2006 Finals all over again for Nowitzki, with Heat power forward Udonis Haslem having the primary assignment on him. But Chris Bosh was also involved and quick double teams came often. Nowitzki made half of his 12 shots when single-covered but missed five of six when Miami provided help.
Nowitzki, though, said the poor shooting had more to do with himself than what Miami did.
"I had my opportunities there," said Nowitzki, who scored 27 and made all 12 of his free throws. "I had some good drives there in the first half. I just got to finish. I missed a righty layup. I missed a lefty layup that rolled around.
"I have to keep attacking and take my opportunities when they're there. We know Haslem is a good defender at the [power forward] position, probably one of the best in the league. I still got my opportunities there when I put the ball on the floor. I just got to finish."
• To read the full story, click here »

The Miami Heat has won each of their nine home games in the 2011 playoffs, while allowing 95 or fewer points in each game. Only three other teams in NBA history had a streak like that: the Chicago Bulls in 1996 (all 10 home games), Los Angeles Lakers in 2004 (nine) and Boston Celtics in 2008 (nine).