1. Carlisle's Response Key For Mavs In Game 2

By J.A. Adande
ESPN.com
Archive
MIAMI -- For the record, Rick Carlisle does have feelings. They might not surface among the major storylines of this series, which include Dirk Nowitzki attempting to make good on his second chance at a championship and LeBron James retooling his reputation as a clutch playoff performer, but the Dallas Mavericks coach has suffered his share of heartbreaks and setbacks along the way.
In his first season with the Detroit Pistons, he won the coach of the year award. In his next season, he reached the Eastern Conference finals. Then he was out of a job.
He was in the conference finals again during his first season with the Indiana Pacers … then the next season came the brawl at the Palace of Auburn Hills, and that Pacers team would never be the same.
He knows how thin the divide between those we consider winners and losers can be. His Pistons lost the first two games of the 2003 conference finals at home by a total of four points and they couldn't bounce back.
With Indiana in Game 2 of the conference finals the next year, Reggie Miller was on his way to a game-tying layup in the final minute when Tayshaun Prince demonstrated the elasticity of his arms to block the shot.
Carlisle has put in the requisite amount of playoff suffering. He has learned from the postseason classroom.
"Just an overall view of when you get to this point, how challenging it is," Carlisle said. "How you're presented with challenges of opposing great players, difficult situations, difficult venues, all that. But the thing that you learn more than anything is that those challenges are something you have to love, and you have to embrace them. As difficult as things are, you become more resourceful and find ways to be successful."
Carlisle has plenty of challenges on his hands right now. And does he ever need to be resourceful. His Mavs are down one-love to the Miami Heat in the NBA Finals, and must find a way to win a game in a building where Miami hasn't lost in these playoffs. He must devise ways to enable his team to score against what has been the fiercest defense in the league over the past month.
The Mavericks hired Carlisle because they noticed his players improved at an unmatched rate at his previous two coaching stops. Now comes another element of coaching, the in-series adjustments that mean everything during the playoffs.
"We'll make adjustments, for sure," Carlisle said.
"Like?" he was asked.
"You want to know specifically," he responded.
"Please," the questioner begged.
"We'll be ready for Game 2," was all Carlisle would allow.
No, on the day Shaquille O'Neal retired Carlisle didn't quite nominate himself to take over Shaq's role of adding levity to the Finals off-day media sessions. Carlisle made only 11 3-pointers during his NBA career, but he still had more shooting range as a player than he does emotional range as a coach. He's serious, but that's one reason the team is a more legitimate contender than it was way back in the Don Nelson days.
He'll have to elicit some passion from his players, however, if they are to win what he called "the line of scrimmage." That means the battle for the ball, boxing out and diving on the floor making whatever sacrifice is necessary to get or maintain possession.
The stat the Mavericks kept coming back to was Miami's 16 offensive rebounds.
"If we get some rebounds, get the ball in [Jason] Kidd's hands, I think that should play to our advantage," Nowitzki said.
Even if he's not in charge of rebounding, Kidd said that picking up the pace is on him.
"We've got to get out and run and explore easy baskets," he said. "Then also play in flow and put pressure on their defense."
The Bulls expressed the same desire in the conference finals, and they had one of the fastest players in the league with Derrick Rose, but they still couldn't make it an uptempo game because Miami is so good at getting back on defense.
That means the Mavs can brace for lots of looks at the Heat's half-court defense, the one that held them far below their averages of 99 points and 46 percent shooting during the playoffs.
"They do a good job of rotating and covering up, so we've got to make quick reads, the ball has to move and we have to make plays," Carlisle said.
If the ball has to move it means Nowitzki might have to be more of a facilitator. The Heat are double-teaming him earlier than the Thunder did in the Western Conference finals. They'd rather take their chances with the other shooters than let Nowitzki start dropping those off-balance jumpers on them.
Carlisle also will have to use less zone if the Heat keep outrebounding them and/or continue making 3-pointers as well as they did in Game 1 (11-for-24).
"We have to become more resourceful and more opportunistic, because those have been two traits that have identified who we've been getting to this point," Carlisle said.
"Effective" is a word that could apply to Carlisle's coaching. "Unfortunate" comes to mind as well. Game 2 should give us a good indication of which label will be most reflective after this series.
Dimes past: May 14 | 15 | 16 | 18 | 19 | 20 | 21 | 22 | 23 | 24 | 25 | 26 | June 1
2. Splint Issue: Nowitzki's Hand Injury
By Tim MacMahon
ESPN Dallas

Nowitzki
MIAMI -- Dallas Mavericks star Dirk Nowitzki's injured finger on his non-shooting hand isn't as sore as he anticipated, giving him hope that he won't have to wear a splint for the remainder of the NBA Finals.
Nowitzki tore the tendon in his left middle finger when he was called for a foul after stripping the ball from Miami Heat forward Chris Bosh with 3:44 remaining in the Mavericks' Game 1 loss Tuesday night.
The finger was bent at an awkward angle above the top knuckle during the injury, which typically takes six weeks to heal. Nowitzki played the remainder of the game after Mavs athletic trainer Casey Smith straightened the finger and did a quick tape job during a stop in play.
"I have this splint on for now," said Nowitzki, whose tendon is detached in his top knuckle. "I think we're going to play around with some other stuff. Try tape, or try a splint from the back so I can feel the ball and not lose grip of the ball.
"We're going to play around with it today in practice, maybe tomorrow in shootaround. By then, I'll have an idea how it feels and how it is to play with the thing. I'll be OK. I'm really not worried. It's not that sore, so it should be OK."
• To read the full story, click here »
3. Wade Watches And Learns -- From Himself
By Michael Wallace
ESPN.com

Wade
MIAMI -- Dwyane Wade never intended to watch it.
To him, it just didn't register as must-see TV. But as he was flipping through the channels the other day while waiting for the NBA Finals to start, Wade came across a replay of the Miami Heat's run to their 2006 championship.
The run that had his footprints and fingerprints all over it.
It was a rerun of Game 3 against the Dallas Mavericks in the Finals, the game when Dwyane Tyrone Wade Jr. would simply be shortened to D-Wade, the game when the gap between Kobe Bryant and the league's next-best shooting guard would be narrowed to nearly nonexistent.
Wade never intended to watch the replay of that game as the Heat prepared for what would be their 92-84 victory on Tuesday night in Game 1 of their NBA Finals rematch against the Mavericks.
But LeBron James insisted.
• To read the full story, click here »
4.

Twenty Reasons To Back Mavs

Nowitzki
MIAMI -- Pull for Dallas to win these NBA Finals because Miami will get forklifts of rings someday. This might be Dallas' last chance.
Pull for Dallas because it got screwed in the 2006 Finals worse than Bartman. To lose to the same team five years later would be tantamount to basketball waterboarding.
Pull for Dallas because Mark Cuban hasn't opened his mouth once.
Pull for Dallas because Dirk Nowitzki deserves this title more than anybody else on the floor, more than LeBron James, more than Dwyane Wade.
Pull for Dallas because Nowitzki stayed with his team, never took his talents anywhere but to the damn gym every day.
• To read the full story, click here »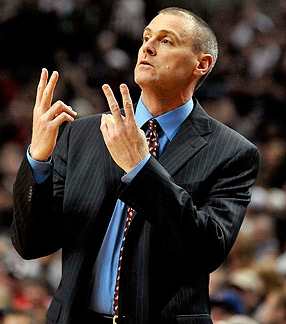 Steve Dykes-US PRESSWIRE
Mavericks coach Rick Carlisle has known disappointment, so will experience help him steer the Mavs back on course in Game 2? [See Box 1]
By Tom Haberstroh
Heat Index

James
MIAMI -- Speaking at Wednesday's news conference, LeBron James asked himself a question that many of us are wondering ourselves.
"Am I going to make every shot or close every game out from now on?"
The way he's been shooting lately, that seems like a legitimate question.
"I hope so," James answered. "I don't know."
James is on a tear. With jumpers, dunks and drives, James has almost single-handedly shut the door on every opponent he's faced this season. Heading into the playoffs, clutch shooting remained one of few stains on his resume and in a month's time, he's done everything in his power to wipe that clean.
Here are the numbers:
In clutch time (final five minutes of the game, score margin within five points) during the 2010-11 playoffs, James has shot 15-for-31 (48.2 percent) from the floor and 5-for-10 from downtown. How good is that? Consider that the average field-goal percentage in clutch time stands at a lowly 39.2 percent during the playoffs and the conversion rate from beyond the arc checks out at just 25.8 percent.
• To read the full story, click here »
By Kevin Arnovitz
Heat Index

Spoelstra
They call him "No Problem."
Mind picking up some dry cleaning?
No problem.
Can you throw together some video clips of our pick-and-roll defense?
No problem.
We need someone to make a sandwich run.
No problem.
This is 1995, the Miami Heat's seventh year of existence. Expansion teams never get an engraved invitation to legitimacy. At some point, if they want to become a franchise that matters in the NBA, they have to cultivate an organizational identity, find a leader or two and lay down a path.
On the periphery of that process is a 25-year-old named Erik Spoelstra.
After playing a couple of seasons of pro ball in Germany, Spoelstra is eager to return to the United States to get into coaching. His father, Jon, a well-respected NBA marketing executive, puts a call in to his friend Chris Wallace, the director of player personnel for the Heat, to see if there's anything available in Miami.
• To read the full story, click here »