1. Mavs Comeback Spurred By Heat Gloating

By J.A. Adande
ESPN.com
MIAMI -- The Miami Heat were at it again, celebrating before they had accomplished anything.
There were no fireworks or smoke machines or hydraulic lifts this time. This was a much simpler, two-man production. It consisted of Dwyane Wade extending his right hand up like a swan's neck, pausing to savor the 3-pointer he made in front of the Dallas Mavericks' bench that put Miami ahead by 15 points with 7:44 left in Thursday's Game 2 of the NBA Finals.
When the Mavericks called timeout and Wade finally started heading toward his own bench LeBron James joined him, the two rejoicing in the moment.
Jason Terry wasn't going to have that. He stomped forward, but he never quite reached them and, according to Terry, no words were exchanged before they all returned to their respective huddles.
"I know what I wanted to say," Terry said.
Which was ... ?
"It's not over."
The Heat could have checked with the Los Angeles Lakers, who led the Mavericks by 16 in the third quarter in the first game of the second round yet wound up getting swept.
They could have asked the Oklahoma City Thunder, who had a 15-point lead over Dallas in the fourth quarter of the fourth game of the Western Conference finals yet lost that one and the next.
Instead the Heat got a lesson of their own from the Mavericks, who delivered Miami its first home loss of the playoffs, 95-93, in stunning fashion.
"If there's time on that clock, there's still time for us," Terry said.
Time enough for Terry to pull himself out of a dreadful performance to score eight points in the game's final six-plus minutes.
And time enough for Dirk Nowitzki to work his way to 24 points, in the process shoveling a little dirt over the painful memories from the 2006 NBA Finals while keeping talk about the torn tendon in his left middle finger to a minimum for the next two days.
He lofted a 3-pointer that gave the Mavericks their first lead of the second half with 26.7 seconds remaining.
And after the Mavericks let Mario Chalmers (Terry's defensive assignment) float by himself to the far right corner for a wide-open 3 to tie the game, Nowitzki delivered the victory by spinning past Chris Bosh for the game-winning layup with, yes, his left hand.
"It felt great," Nowitzki said. "I thought it wasn't going to bother me before the game, and it didn't."
And now Nowitzki doesn't have to be bothered by every ghost from the Mavericks' 2006 Finals collapse that began here in American Airlines Arena. He finally got a postseason win in this building. And wherever this series goes from here, at least it won't involve those familiar numbers: 2-0.
This just got real good, real quick.
First offense returned to the series. Both teams made more than 50 percent of their shots in the first quarter, both teams scored more than 50 points in the first half after scoring a combined 33 points in the first quarter and shooting less than 40 percent in Game 1.
The Mavs' victory ensures that the rest of the NBA Finals will be a contest and not a celebratory lap for the Heat, who find themselves tied instead of holding a 2-0 lead.
The Heat converted 20 Dallas turnovers for 31 points and Wade was spectacular up until that 3-point pose, scoring 36 points to go with five assists, three steals and two blocks. James had an array of highlight dunks and jumpers to beat the shot clock.
The Mavericks extended their defense to create Miami turnovers and earned some fast-break chances of their own, speeding up the game up to a tempo that makes the Heat comfortable. They cut Miami's offensive rebounds from 16 to six and on the overall board battle, 41-30.
Shawn Marion kept the Mavs in the game when the barrage of big plays by the Heat made it feel as though the celebration should have started in the fourth quarter, not the third. He had 20 points and eight rebounds and also played defense well enough to hold James to eight points in the second half.
The postgame news conference broke down into a matter of semantics, debating what does and doesn't constitute a celebration.
"There was no celebration at all," James said.
Wade added: "A celebration is confetti, champagne bottles."
Wade had a point when he said every team in the league does something to commemorate a hot run, and he would have been within bounds to say that the guy who took the greatest offense, Terry, can be one of the primary offenders when he does his "jet" move after hitting a shot, sometimes even his first shot of the game.
But the Heat should know by now that they're held to a different standard, viewed differently, liable to be criticized for every move they make.
Where the Heat have gone wrong since the moment -- and method by which -- James joined them was to fail to comprehend the way their actions would be interpreted. What might have seemed like a good way to raise funds for charity, or a rallying opportunity for an excited fan base have come across as an insensitive breakup on national TV, followed by a self-indulgent party.
What Wade didn't take into account during those few seconds of celebration in the corner in the fourth quarter wound up preventing him from celebrating in the locker room after the game.
"It's definitely frustrating when a guy does that and celebrates in front of your bench," Mavs center Tyson Chandler said. "When you've got a guy showboating like that in front of your bench and you're down 15 with seven minutes to go, you're like, 'The game ain't over.' That's all we said on the bench: 'Listen, I don't care what they're saying over there on the other bench. The game ain't over.'"
This was like a synopsis of everything bad that was said about the Heat this season:
• Chris Bosh doesn't deserve superstar status:
After quieting that talk with a string of solid playoff performances he boosted the volume again when he missed 12 of 16 shots, failed to step up and challenge Nowitzki when he came off the screen to hit the game-tying 3 and then got taken to the hoop for the winning layup.
• They can't finish close games:
At the 90-second mark their next three shots consisted of contested 3-pointers with the shot clock running down. No crisp passing, no attacking the basket ... seemingly no clue how to close.
• Erik Spoelstra doesn't get the nuances of coaching on this stage.
We all remember how his revelation of crying in the locker room blew up on him. Thursday, when he said, "We went to our normal package of late-game sets, we just didn't have the necessary execution," he has to understand that it can come across as laying all the blame on the players. "Strategy" is a synonym for coaching failures, "Execution" is code for player failures.
That said, there were no signs of a player-coach fissure developing. Wade said the Heat's failure to foul when they had one to give on Dallas' last possession was "a mental breakdown on us" because the coaches had reminded them in the huddle. Bosh twice said the team didn't execute and said the final play was "all bad defense by me."
Next time, Spoelstra should let the players say it.
And next time the Heat should wait until the game actually ends to exhale. They could have been halfway toward wrapping up the best-of-seven series. Instead they aren't even guaranteed another appearance in American Airlines Arena to either party or play.
"We made it a lot harder on ourself," Wade said.
That's been the theme of their season. They accelerated the timetable for a championship and erased the allowances for finding roles and learning chemistry when they strutted on stage last summer.
And maybe this was a referendum on these Mavericks, the comeback kings of these playoffs.
"We have shown that we have the ability to come back and the guys believe that if we get stops, we'll always give ourselves a chance," Rick Carlisle said.
Just like the Heat have shown that they never think it's too soon to party ... even if they're far from sharing a confetti-covered stage with David Stern.


ESPN senior writer J.A. Adande
• On Twitter @jadande | On ESPN.com | On TrueHoop | On e-mail
• Follow ESPN's NBA coverage on Twitter | On Facebook | On Google+
Dimes past: May 14 | 15 | 16 | 18 | 19 | 20 | 21 | 22 | 23 | 24 | 25 | 26 | June 1 | June 2
2. Anatomy Of A Gilded Collapse
By John Hollinger
ESPN.com

James
MIAMI -- Fool's gold.
That's my two-word analysis of the Miami Heat's offense that got them a 1-0 series lead and 15-point edge midway through the fourth quarter of Game 2. With LeBron James and Dwyane Wade converting an unusually large number of bailout 3-point attempts and the Heat getting multiple easy baskets from their defense, it was easy to overlook the fact that Miami's half-court offense was struggling to consistently generate good shots.
That is, until the tap stopped flowing on bailout 3s and transition dunks, at which point it became abundantly clear that Miami's half-court offense was struggling to consistently generate good shots. Those facts go a long way toward explaining why the Heat won the highlight film but lost the basketball game.
"Offensively," Heat coach Erik Spoelstra said, "if we could have executed and moved the ball, we might have been able to stem the tide a little bit, even as poor as we were defensively down the stretch."
Forget about all the things Miami might have done wrong defensively, or the many ways you might second-guess the Heat's choices on the Dallas Mavericks' final possession. (Including but not limited to: Not giving the foul they still had in their back pocket, not double-teaming Dirk Nowitzki, not having Joel Anthony in the game, and not having Udonis Haslem on Nowitzki instead of Chris Bosh).
That's all important, obviously, but the fly in the punch bowl in this box score is the 14 combined 3-point attempts by Wade and James, part of the 30 that Miami launched as a team.
"To shoot 30 3s in a game is not our style of basketball," Spoelstra said, "and at the end of the game to not be able to execute and move the ball and find an open shot. We were running the clock down to the end. That's not been a successful formula for us the last three months."
And don't just focus on the fourth-quarter collapse, people -- look at the whole second half. Even before the death spiral at the end, Miami had only 23 points on 22 trips in their second-half half-court possessions; the Heat closed with five on their final 10 trips (not including Wade's heave at the buzzer), for a total of 28 points on 32 second-half possessions in the half court. That's not good enough.
Obviously, things went from bad to worse late in the fourth quarter, when Miami inexplicably became 3-point giddy. Again, I think the fool's gold was a big reason. Up til that point, James and Wade were a combined 10-of-17 on 3-pointers and had to be feeling good about their strokes.
And then the Sample Size Gods smacked them down.
The Heat took nine 3-point tries in the final eight minutes, making only two of them; Wade's 3-pointer from the corner (begetting the posing and mugging that will fill the talk radio airwaves for 72 interminable hours til the start of Game 3) was the only one of the six attempts by either Wade or James that found the net.
Moreover, it took James and Wade away from the things they actually do well. With the fast-break game closed off by Dallas' sudden flurry of scoring, the Heat rarely got the ball near the basket. Miami took 10 jump shots from 15 feet or farther, had two turnovers where the ball never threatened to enter the paint, and had only two attempts with a genuine foray to the basket. One of them produced two free throws for James, Miami's only points in a stretch of nearly seven minutes, and the other was a short-range shot that he missed.
All this is a shame because, up til that point, Miami went up 15 by putting together 20 minutes of some of the best defense you'll ever see. Starting with the Heat down nine in the second quarter and James on the bench with three fouls, Miami forced 12 turnovers in a 20-minute span while surrendering a meager 21 points, allowing the Heat to build a seemingly insurmountable 15-point advantage.
Included in that stretch was perhaps the single best defensive trip of the playoffs -- when a series of Dallas passes pinged the ball all over the court, and a Miami player rotated to cut off a potential shot on every one of them. Despite exquisite ball movement, the Mavs ended up with a shot-clock violation.
Effort like that should be enough to bring home victory for Miami, because their offense should be good enough to generate decent looks consistently against Dallas. There's no reason for them to settle for hero shots by James and Wade on trip after trip. But they did, and one has to suspect the fool's gold results of their first 17 3-point attempts in the series were a big reason why. As a result, a Finals that should have been in Miami's back pockets now stands in genuine doubt.
THURSDAY'S BEST

Nowitzki
Dirk Nowitzki, Mavs: The winning bucket, scored while using his injured left hand, fittingly delivered the NBA Finals Game 2 win for the Mavs. Nowitzki finished with 24 points and 11 rebounds in the 95-93 momentum-turner.
---
THURSDAY'S WORST

Heat's collapse: Yep, looked like it was time to start filling the balloons and polishing the fire trucks for the parade. Dwyane Wade's 3-pointer with 7:15 left capped a 13-0 run and made it 88-73, Heat. Is that a dagger we saw? Yes, but it was oddly pointed at the Heat. Now they know how the Bulls must feel.
---
TWEET WATCH
Mavs fans who started selling their tickets for Game 3 are pulling them back. 100 tickets came of StubHub in minutes.Midnight ET via UberSocial
Favorite
Retweet
Reply
darren rovell
darrenrovell
QUOTE OF THE NIGHT
"There was no celebration at all. I was excited about the fact that he hit a big shot and we went up 15."
-- LeBron James, on Dwyane Wade's 3-point celebration midway through the fourth quarter
---
By Calvin Watkins
ESPN Dallas

Marion
MIAMI -- Shawn Marion has the nickname of Matrix because of his amazing athletic ability. As he has gotten older, Marion has slowed down some.
Happens sometimes.
But in the first two games of the NBA Finals, the old Marion has been flying around.
Marion scored 20 points on 9-of-14 shooting from the field in Dallas' 95-93 Game 2 win over the Miami Heat on Thursday night. Marion is averaging 18 points a game in the first two games of this series and is shooting a sizzling 57 percent from the field.
"[I'm] just being aggressive on both ends of the floor," Marion said. "I think I'm seeing some things I can take advantage of, and I'm doing it. My teammates are finding me, the balls are finding me, in ways to create opportunities for myself and my teammates. I'm taking advantage of it."
The Mavericks' struggled on the boards in Game 1, preventing them from pushing the ball up the floor. But a 41-30 rebounding edge in Game 2 allowed them to get up court at a faster pace and put Marion in a position where he's at his best, scoring on layups and dunks. Even after made baskets by the Heat, point guard Jason Kidd sped things up and Marion was able to get out on the wings and take some passes and create.
"Just being aggressive and taking the ball to the rack," Marion said. "Also, I was able to handle some pick-and-rolls. I like that. I was able to come off and be aggressive and attack more. I was able to find my teammates or attack the basket."
• To read the full story, click here »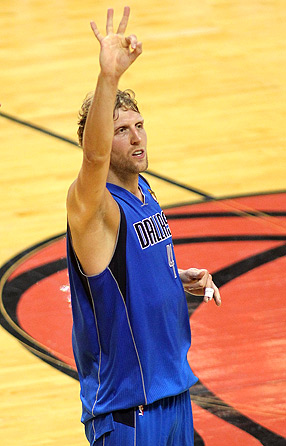 Marc Serota/Getty Images
Dirk Nowitzki signals a 3-point shot in the final minute of the fourth quarter. Then he hit the winning shot, tying the series 1-1.
Watch his Dream Performance.
By Art Garcia
ESPN Dallas

Kidd
MIAMI -- It started with a pose from Dwyane Wade.
"He followed through and left the hand up," Dallas Mavericks guard Jason Kidd said of Wade's 3-pointer that gave the Miami Heat an 88-73 lead with 7:14 left. "The big thing was he made the shot and at that point we were down 15. For us, we had nothing to lose. We had to keep playing. Everybody who played tonight stayed together and encouraged one another to keep playing it out, and we found ourselves in the ball game."
The speed and efficiency of the Mavs' comeback was stunning, considering what they were facing. A 2-0 series deficit in the best-of-seven NBA Finals was staring the Western Conference champs in the face before a 22-5 run was capped by Dirk Nowitzki's left-handed, game-winning layup with 3.6 seconds left for a 95-93 victory.
The finishing kick could very well end up defining the Finals and the season for the Mavericks. It wasn't out of the ordinary, especially this postseason. The Mavs have rallied to win facing double-digit deficits once in each of the four rounds so far. All on the road.
They did it from 12 down at Portland in Game 6 to close out the first-round series. The Los Angeles Lakers series opened with a 16-point comeback to quickly steal the home-court edge in the second round. Dallas then rallied from 15 down in the fourth quarter at Oklahoma City in Game 4 to take a 3-1 series lead in the conference finals that effectively eliminated the Thunder.
But none was bigger than what took place Thursday night at AmericanAirlines Arena. Much was made of LeBron James and Wade celebrating in front of the Dallas bench after taking the 15-point lead, but the Mavs shutting down the Heat's best two players afterward proved to be the difference.
• To read the full story, click here »

Dirk Nowitzki scored the Dallas Mavericks' last nine points, including a layup with three seconds remaining, that gave them a 95-93 victory in Miami to deadlock the NBA Finals at one game apiece. It was the fifth time in this year's NBA playoffs that a player scored his team's last nine or more points of a game, including the game-winning bucket. Only one player had done that during the previous seven postseasons.
LeBron James was the only player to do so over that span (2004-2010), when he scored Cleveland's last 25 points, including the game-winner, in a double-overtime victory at Detroit in the 2007 Eastern Conference finals. The others to do it in 2011 were Nowitzki (vs. Portland), Joe Johnson (vs. Orlando), Kevin Durant (vs. Denver) and James (vs. Boston).
Zach Harper, TrueHoop Network bloggers and fans gave their in-game opinions on all topics throughout Thursday's slate of NBA playoff talk in Daily Dime Live.