1. LeBron's Unexpected Finals Duel

By Brian Windhorst
ESPN.com
Archive
DALLAS -- There isn't a playoff series, much less a single game, in which the Miami Heat don't expect to dominate at the small forward position. It isn't a matter of LeBron James winning his individual battle; it's usually only a question of by how much.
The first two games of the NBA Finals have provided a bevy of intrigue, and there's a rising excitement level because this series still seems like it could go any direction. But perhaps the most surprising aspect is that James is being played to a virtual draw by the Dallas Mavericks' Shawn Marion.
Not to knock Marion, who has been playing some of his best basketball during the Mavs' playoff run, but this was an unexpected development. Dirk Nowitzki has made the biggest baskets, but Marion's two-way play and especially his offensive creativity have largely defanged the standard James effect.
James is averaging 22 points, 8.5 rebounds and 4.5 assists in the first two games. These are strong numbers but off his pace from the regular season and the first three rounds of the playoffs, when he successfully outplayed Andre Iguodala, Paul Pierce and Luol Deng. Marion averaged just 12.5 points a game in the regular season and in the first two rounds of the playoffs put up less than 10 points per game.
So far in the Finals, Marion is averaging 18 points, 9 rebounds and 3.5 assists. James is shooting 55 percent, and he's drawn praise for having the best run of jump shooting in his career. But Marion has been even better, shooting 57 percent. Much of that has come with James, by most accounts the defensive MVP of the postseason, as his primary defender.
Meanwhile, even as James has been making those jumpers, it has largely been Marion who keeps forcing him to take them. Although he's surely getting help from teammates in frequently double-teaming James, Marion has done a remarkable job of keeping James at bay. James has just six free throws in the two games, and three of them have been the result of transition fouls.
Coming into the Finals, James was among the playoff leaders by averaging nearly 10 free throw attempts per game.
"He's got the toughest job on the planet right now guarding James and he just came off a series where he was chasing [Kevin] Durant around," Mavs coach Rick Carlisle said. "These are two of the top five players in the game, easily. What we're really asking him to do is give us everything he can defensively. And the offense he's given us is really helping as well."
Marion has been especially difficult for the Heat to handle on defense because of his ability to create open looks with his unorthodox shots. He has a rare knack for creating space in traffic by using an array of floaters. This isn't something the Heat have seen much of in the playoffs, and it has clearly befuddled and frustrated them at times.
He's also leading Dallas with six offensive rebounds in the two games, creating some needed extra possessions as his quickness has allowed him to get to some loose balls.
"I think I'm seeing some things I can take advantage of and I'm doing it," said Marion, who had 20 points on 9-of-14 shooting in the Mavs' Game 2 victory. "The balls are finding me in ways to create opportunities. I'm taking advantage of it."
It was duly pointed out coming into the series that James had some issues with the Mavs in the two games during the regular season. He shot just 31 percent and averaged a below-average 21 points in the two losses. But he did get to the foul line 22 times, and the Mavs weren't going to have the now-injured Caron Butler, one of the few small forwards who can battle with James physically, to help Marion out in this series.
But James hasn't been able to impact the first two games like he does normally, especially in the half court. This was very clear in the fourth quarter of Game 2 when Marion and his help defense shut James down. He did miss an open layup, but everything else was long jumpers under pressure and double-teams.
"It's something we can go to the film to figure out and do a better job with," James said of his issues. "They've picked up their aggression, and it has gotten us out of the flow."
Marion, though, seems only to be getting stronger. He averaged 17 points on 57 percent shooting while holding Durant to 38 percent shooting in the final three games of the Western Conference finals, all three of which the Mavs won. Now, he's quietly affecting James, too.
"He's had a great playoffs," Carlisle said. "The last five games, he's been spectacular."


NBA Writer Brian Windhorst
• On Twitter @WindhorstESPN | On ESPN.com
• Follow ESPN's NBA coverage on Twitter | On Facebook | On Google+
Dimes past: May 14 | 15 | 16 | 18 | 19 | 20 | 21 | 22 | 23 | 24 | 25 | 26 | June 1 | 2
2. Donnie Walsh Departing Knicks
By Chris Sheridan
ESPN.com

NEW YORK -- Donnie Walsh's tenure as president and general manager of the New York Knicks came to an abrupt end Friday, with owner Jim Dolan announcing Walsh and the Knicks were parting ways, and with Walsh later saying he did not know if he had the energy to continue in the job for two more seasons.
"Following a long series of discussions regarding his future role with the New York Knicks, Donnie Walsh and I have mutually agreed that he will be leaving his position ... at the end of June," Dolan said in a statement.
Walsh will work in a consultant's capacity for the team next season.
"It took me a lot of energy the last three years to do this, and I'm running out of energy," Walsh said.
• To read the full story, click here »
3. Heat Get Reacquainted With Adversity
By Michael Wallace
ESPN.com

Wade
MIAMI -- Is it possible to be responsible, fair and objective the morning after?
Or are we still attaching one team's motivation to another team's silly, in-the-moment celebratory method of a single play?
Now that the dust -- as well as the faux confetti and champagne -- has settled, does anyone truly believe the Heat's collapse was caused by Dwyane Wade's celebration after that 3-pointer he drained in front of the Dallas Mavericks' bench?
No, it wasn't the freeze-frame that followed Wade's shot midway through the fourth quarter of Game 2 to put the Miami Heat ahead by 15 points that was the Heat's undoing -- but that the Heat froze up afterward and now have three days to thaw on the raw emotions before Game 3 in Dallas on Sunday.
So much has been made of Wade's celebratory follow-through as the moment that triggered the Heat's demise in Thursday's 95-93 collapse that evened this best-of-seven Finals at 1-1 heading to Dallas for the next three games.
The problem is the Heat failed to follow through after Wade's follow-through.
• To read the full story, click here »
4.

Mavs Keep Cool After Comeback

Nowitzki
MIAMI -- It's a trade that Dirk Nowitzki would have happily made before the Dallas Mavericks ever touched down to play two games in the beach house filled with white T-shirts and bad memories.
Torn tendon in his left hand for a road split in the NBA Finals?
"I'll take it," Nowitzki said early Friday morning, not exactly smiling as he marched to the team bus ... but definitely not looking for the nearest exercise bike to kick on the way out of AmericanAirlines Arena.
Nowitzki and his Mavericks finally know how it feels to leave this place with a playoff win after a Game 2 in the teams' five-years-later Finals reunion in which they, well, Miami'd Miami.
• To read the full story, click here »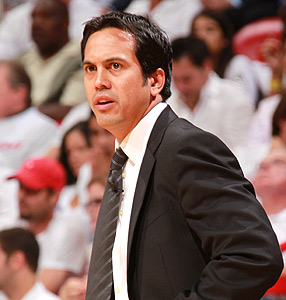 Steve Dykes-US PRESSWIRE
The Heat fell apart down the stretch of Game 2. What will Miami coach Erik Spoelstra do to prevent a repeat in Game 3?
7.

How Hero-Ball Haunted Miami
By Tom Haberstroh
Heat Index

James
That's the thing about luck. At some point it runs out.
The Heat couldn't keep winning games by depending on LeBron James and Dwyane Wade to play out of their minds from downtown. The warning signs were right there for everyone to see. The Heat's hero-ball antics finally caught up to them, and some of their ill-advised 3-point shots propelled the Heat into a spiral that led to one of the biggest collapses in playoff history.
What is hero-ball? Cue up the final two minutes of the Heat's loss and you'll catch a glimpse here and there.
• To read the full story, click here »
8.

Shaq Did Things His Way
O'Neal
WINDERMERE, Fla. -- Shaquille O'Neal never truly answered the question. It still was the most informative response of the day, on what figures to be his last big round of interviews for a while now that he's heading to retirement.
I asked him Friday who was the greatest player he ever played with. His late-career stops in Miami, Cleveland and Boston brought Dwyane Wade, LeBron James and Kevin Garnett into play, but he didn't start comparing their skills. He didn't talk about them -- or basketball -- at all. Instead he veered into a discussion of what he termed business policy and how it applied to Kobe Bryant.
• To read the full story, click here »