1. Will Mavs Find Their Usual Shooting Range?

By J.A. Adande
ESPN.com
Archive
DALLAS -- This can't continue, can it? These are the Mavericks, and the Mavericks make shots. At least they used to. In each of the first three rounds, they had a game in which they shot 50 percent or better. They're running out of chances to make it happen in the NBA Finals against the Heat.
If it's going to happen, it will be at home, where the next two games are played. The best-case scenario would be for them to squeeze out an "ugly" victory on the defensive end in Game 4 and then have the hot shooting night in Game 5. But they're not built to win this entire series on defense. That's the Miami Heat's game.
"I think they do a good job on our shooters," Dirk Nowitzki said. "I think our ability to spread the floor and shoot is a big reason why we made it to the Finals, to really spread the ball around and shoot and make timely and big shots. But for some reason, they're so long and athletic on the perimeter that they're able to swarm me and my post-ups, and when we swing, they're still athletic and quick enough to get to our shooters on the weak side and run them off or at least contest them."
Nowitzki has made 28 of his 61 shots but has been forced to pass more than suits the Dallas offense because of the Heat's ability to send help defenders. And when he passes, the results haven't been pretty.
J.J. Barea has made only five of 23 shots. Jason Kidd is 8-for-23. Jason Terry is 13-for-34.
Peja Stojakovic has been such a defensive liability that Rick Carlisle has limited him to less than 26 minutes of playing time during the series. And when he's in, Stojakovic can't hit enough shots to justify leaving him in; he's 1-for-5 in the series, hitless in all four of his 3-point attempts.
NBA Finals on ESPN.com


The Mavericks defeated the Heat 4-2 to win the NBA title. Get your championship coverage on ESPN.com:

• Finals page | Finals schedule
• Mavs Center | Blog | ESPN Dallas
• Heat Index | TrueHoop | Playoffs

I wouldn't chalk it up to fatigue at this late stage of the season or wilting under the magnitude of the event. Miami's defense has been just that good. The Heat have held their playoff opponents to 41.9 percent shooting, the second-best number in this postseason and best of all the teams that advanced past the first round.
"They're running everybody off the 3-point line as quick as they can," Barea said. "When you get to the paint, there's always somebody there. We've just got to keep playing. We've got to keep moving the ball, see what happens."
The Mavericks are too good offensively for something good not to happen if they keep shooting. This is the same cast of characters that hit 60 percent of its shots in its second-round finale against the Lakers. Of course, that was a Lakers team that had stopped caring about defense.
The main issue for the Mavericks is they can't go inside-out -- that is, use their inside game to set up their outside game -- because they don't really have an inside game. Their tallest starter, Tyson Chandler, doesn't have an array of low-post moves. And the other 7-footer in the starting lineup, Nowitzki, is a perimeter player.
Shawn Marion has been the closest thing they have to a low-post threat when he goes to the left block and tosses up that semi-hook shot of his.
Kidd has not been penetrating. If he could get the defense's attention and allow Chandler to sneak in from the backside for an alley-oop, it could help. But Chandler is trying not to be so dependent.
"I've got to get more aggressive on the offensive end," Chandler said. "I've got to make myself available."
Everyone else has to make shots. And if not making shots, make plays. The Mavericks have been so thrown off when they're not allowed to catch and shoot. They'll have to accept the fact that those open looks won't be there and do something about it.
"We've got to make them pay other ways," Marion said, sounding almost annoyed. "If you're a basketball player, you should be able to do certain things. And whatever you do, do it and be aggressive."
"We've got to do a better job of realizing you don't have to rush it," Terry said. "There's still time on the clock, maybe you can exhaust all of the opportunities, maybe put the ball on the ground one or two times."
We're reaching the stage where there are no more tactical moves to be made. The game gets simpler as it goes on, not more complex. Over and over, the refrain from the Mavericks was the same: We have to make shots.


ESPN senior writer J.A. Adande
• On Twitter @jadande | On ESPN.com | On TrueHoop | On e-mail
• Follow ESPN's NBA coverage on Twitter | On Facebook | On Google+
Dimes past: May 15 | 16 | 18 | 19 | 20 | 21 | 22 | 23 | 24 | 25 | 26 | June 1 | 2 | 3 | 4 | 5 | 6
2. Plumbing The Depths Of Foul Disparity
By Tom Haberstroh
Heat Index

DALLAS -- As human beings, we're hardwired to connect the dots. We don't survive as a species without the ability to fill in the gaps when there's insufficient information presented to us.
So naturally, there's some debate about what caused the foul disparity in Game 3.
As we see in the box score, the Dallas Mavericks were whistled for 14 personal fouls, while the Miami Heat were called for 27. And unfortunately, the postgame conversation has degenerated into something like this:
Conspiracy! Payback for 2006! Danny Crawford is a crook!
Let's slow down. It's not enough to point to the whistle gap and suggest that foul play was involved. For some reason, fans rush to judgment, contending that there's zero possibility that the Heat simply fouled the Mavericks twice as much as the Mavericks fouled the Heat. That stuff happens in a physical game like basketball.
But what was interesting, to me at least, wasn't the foul disparity, but the nature of the calls themselves. At the end of Game 3, it seemed that no rebound was pulled down without being paired with the piercing screech of a whistle.
Was I just imagining this?
Since the box score doesn't break down types of foul calls, I went back to the tape and double-checked my memory. Here are the facts:
• There were 27 fouls called against the Heat in Game 3. Of those 27 fouls, 18 of them were non-shooting fouls.
• Of the final 11 fouls called on the Heat, only one was in the act of shooting (Mario Chalmers fouling Dirk Nowitzki).
• Seven of the foul calls on the Heat were on live-ball rebounds (over the back, e.g.). Five of those came in the last 13 minutes of the game.
• There were 14 fouls called against the Mavericks. Of those 14 fouls, eight of them were non-shooting fouls. Of the eight non-shooting fouls, four of them were on live-ball rebounds.
• All in all, just 15 of the 38 fouls called in Game 3 were in the act of shooting.
• To read the full story, click here »
3. Time For Dallas To Fake It
By David Thorpe
Scouts Inc.

Kidd
Three games into the NBA Finals, both teams now have ample data and opportunity to figure out what's been going right and what needs to be changed, added or dropped in the overall game plan. Adjustments, both large and small, can add points per possession and take away the same on defense, and considering how razor thin these winning margins have been in the last two games, those points are likely going to be the difference-makers between celebration and devastation.
With the series now at 2-1 in favor of Miami, let's look at some corresponding adjustments the teams should make, two for Dallas and one for the Heat.
Adjustment No. 1: Dallas must use more fakes

There are two huge factors enabling Miami to play the suffocating defense we are seeing from it thus far. One of them is obvious -- team speed and all-out hustle on that end of the floor. Miami's defenders, other than Mike Bibby, are fast to begin with (or exceedingly long, or both), and they are expertly coached. That means they know exactly where to race as Dallas attacks or swings the ball.
• To read the full story, click here »
By Jeff Caplan
ESPN Dallas

Terry
DALLAS -- Dirk Nowitzki needs scoring help and he knows teammate Jason Terry has yet to deliver in the NBA Finals.
Terry, the Dallas Mavericks' charismatic sixth man who likes to bust out his arms like airplane wings after he makes 3-pointers and prides himself on cold-blooded shooting in the clutch, has found little breathing room with Miami Heat forward LeBron James shutting him out of the late-game offense.
"They keep sticking him [James] on Jet in the fourth quarters and he's been doing a good job," Nowitzki said. "Jet hasn't really been a crunch-time, clutch player for us the way we need him to."
Nowitzki scored 34 points in the 88-86 Game 3 loss and he scored the Mavs' final 12 points of the game. Terry, the team's second-leading scorer, was 0-of-4 from the floor in the fourth quarter of the disappointing home loss that put the Mavs in a 2-1 hole with Game 4 on Tuesday night at the American Airlines Center.
Terry is a combined 0-of-7 in the fourth quarters of the Mavericks' two losses in the NBA Finals.
"They know to take me out of the fourth quarter, which they didn't do in Game 2," Terry said of the Heat's choice to turn to James defensively, "then they got a good chance."
Added Terry: "Let's see if [James] can defend me like that for seven games."
• To read the full story, click here »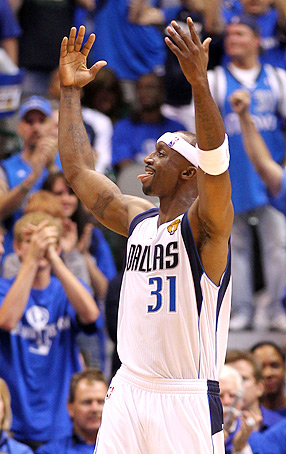 Photo by Mike Ehrmann/Getty Images
7.

Chat: The Walking Man?
By Michael Wilbon
ESPN.com

James
Chuck D (nyc): Wilbon, why are the refs swallowing their whistles when it comes to the Mavs fouling Heat players? It appears that the refs are trying to make up for the 2006 foul disparity in favor of the Heat. Have you noticed this too?
Michael Wilbon: Stop with the refs. People are way, way, way to obsessed with refereeing. In Dallas people are asking why the refs are swallowing their whistles when it comes to Miami players fouling the Mavs. The refs are fine. There hasn't been anything controversial or even questionable to me about the officiating in this series.
I do know this. LeBron walks ALL THE TIME, just slides his feet all over the place and it never gets called. I mean, it's not intentional ... or a hop or anything like Patrick Ewing used to do...it is just when a defender is up into LeBron he just slides back, maybe three feet out of the pressure and it is NEVER called ... Wow. Anyway, that's fixable right away and it's not a huge thing. But fouls? I just don't see any disparity in the way the game is being called.
• To read the full chat wrap, click here »
By ESPN Stats & Information

Top three things to know for Game 4:
1. In the fourth quarter, the Mavericks have led for only six seconds out of the 36 minutes played in the three games. Miami has led for more than 33 minutes of this time, which means Dallas played from behind in each of the fourth quarters.
2. It seems incredible, but nearly half of Dwyane Wade's field goal attempts in this series have come when attacking the rim. Wade has attempted 60 shots in this series, and 27 (45 percent) have come inside 5 feet.
3. LeBron James has not been very good shooting the ball in the fourth quarter in this series. James is just 3-for-11 from the field in the fourth quarter, including 0-for-5 on 3-pointers. James is 0-for-7 in the fourth quarter from 5 feet or farther in this series.