1. Dirk Wheezes Early, Surges Late For Mavs

By Marc Stein
ESPN.com
Archive
DALLAS -- It would have made for a fairly-tale journal entry from the postseason ride of Dirk Nowitzki's life, except that no one's going to remember this one as a full-fledged Flu Game. Least of all Dirk Nowitzki.
Literally the first smile of Nowitzki's long, clammy, cough-filled night came at the interview podium late, late Tuesday. It came when someone asked if No. 41 -- 19 games and 55 days into a magical playoff run already filled with uncomfortable Larry Bird comparisons -- had finally found his inner Michael Jordan.
"Obviously I was way off, looking at my line," Nowitzki said, almost laughing at the question, as well as himself, by the end of his answer.
Jordanesque? Not quite. With Nowitzki stunningly missing 13 of 15 shots in one stretch, Game 4 of the 2011 NBA Finals wasn't exactly Game 5 in Utah in 1997. Under no circumstances does Dirk ever expect to clank like that. Not with a torn tendon in his left middle finger and not even with a temperature that had strayed into triple digits.
The Miami Heat, though, still saw way more of Sick Dirk than they ever wanted, along with some of the stiffest crunch-time D ever generated by the Mavs and some long-awaited production from his increasingly maligned supporting cast. With Nowitzki delivering early and especially late to sandwich all that, Dallas had just enough to eke out what indeed can safely be described as an 86-83 triumph that saved the Mavs' season.
No team in Finals history has ever recovered from a 3-1 deficit. To its obvious relief, Dallas no longer has to worry about trying to be the first. It's a 2-2 series now -- "This series is a jump ball," Heat coach Erik Spoelstra said -- after Nowitzki drained his first three shots and then recovered from an unfathomably long cold spell to manufacture 10 decisive points in the fourth quarter.
All while an anonymous LeBron James, hovering around the 3-point line more than he ever should, was slinking to a career playoff low of just eight points.
"He did everything he could possibly do," Mavs coach Rick Carlisle said of Nowitzki.
"I love the way he played. Fighting through that was not easy."
Using a savvy spin at the free throw line to lose Heat forward Udonis Haslem and set up a tough game-turning layup -- with the right hand this time Nowitzki wound up wowing just about everyone in the building before his hacking fit at the post-game press conference. The lone hedge, as always, came from Nowitzki's ever-demanding shooting coach, Holger Geschwindner, who came away saying: "Not pretty. But energy-efficient."
Try telling that to the Heat. Good luck convincing Miami after it followed up its Game 2 collapse at home by squandering a nine-point lead in the fourth here, all while watching James get more passive with every quarter against the Mavs' pick-and-roll blitzing and, later, their packed paint. Compared to LeBron's eight points, which included just one solitary field goal attempt in the fourth quarter, Nowitzki's 21 points and 11 boards must have seemed like Jordan's 38-point stratosphere in the '97 Finals.
"Every time he shoots the ball," Spoelstra said, "you hold your breath."
A wheezing Nowitzki didn't sleep much Monday night, didn't participate in the Tuesday morning shootaround, and had teammates and team officials somewhat alarmed in the run-up to this must-win home date because Dirk, as described by one longtime confidante, was so uncharacteristically "quiet" all day.
"He was barely able to talk," said Mavs center Tyson Chandler, supplier of 13 points and 16 rebounds.
Turns out Nowitzki got hit with a hard fever Monday night, which eventually took his temperature to 102 degrees. The irony is that, in Dirk's younger days, coaches and teammates actually believed that he often played better sick, when sinus infections were a more frequent occurrence. This performance, with his 33rd birthday less than two weeks away, was more about survival.
The national TV audience was treated to shots of Nowitzki coughing in huddles and guzzling water to stay hydrated while covered in towels and jackets, revealing the secret Dallas had tried to conceal as long as it could. But Dirk and his Mavs eventually made sure that their season can't end at home in Game 5 on Thursday night, helped along by a late missed free throw and fumbled inbounds pass by an otherwise brilliant Dwyane Wade along with Carlisle's switch to a zone that flummoxed the Heat on eight straight possessions in the fourth.
So this time, assuming that the relentless Wade (32 points) and Chris Bosh (24) will soon be rejoined by the James who had such a swagger going in the first three rounds, Miami will have to finish the Mavs off in Miami.
And if James can't shake his sudden funk? Then it's more than the series scoreline that's deadlocked. Several Mavs not named Nowitzki outplayed King James on this night, including Jason Terry (after challenging LeBron publicly) and DeShawn Stevenson (after losing his spot in the Mavs' starting five). The playing field is far closer to leveled, going forward, if LeBron can't respond to the forthcoming torrent of armchair doubt (and worse) he's about to be subjected to after the indignity of hearing Bosh, Miami's No. 1 bash-ee all season, telling the assembled press that James "struggled ... point blank. Period."
That's because Miami also has to know that Nowitzki, by Thursday night, will be a lot more dangerous than he was for most of his 39 minutes in Game 4. The Heat have the home court in two of the three games that remain, true, but you wonder how much they're ultimately going to rue their failure to close against Dallas' dogged zone D on an evening that Dirk shot 6-for-19 and the Mavs shot 4-for-19 on 3s as a team.
"Couldn't really finish around the rim," Nowitzki said. "Had a couple of good looks today, but just really no lift. But, like I said, the crew was outstanding.
"There's no long-term [prognosis]. I'll be all right on Thursday. It's a little sinus infection."
Torn tendon. High fever. What's next?
Based on the evidence presented so far in these Finals, Dirk can roll with pretty much anything but Jordan talk.
"Wow," Terry said when asked to weigh in on the parallels to MJ in '97. "A Jordanism?
"I wouldn't quite call it that, but hitting that shot down the stretch was key. Iso [against Haslem], free-throw-line, took it to the rack, got it done. Big time."
Said Mavs guard Jason Kidd, having just supplied perhaps the most effective 39 minutes of scoreless basketball in Finals history to match Nowitzki's PT load: "We always believe he's going to finish. No matter what the circumstances are."


ESPN.com senior writer Marc Stein
• On Twitter @ESPNSteinLine | On TrueHoop | On ESPN.com | On email
• Follow ESPN's NBA coverage on Twitter | On Facebook | On Google+
Dimes past: May 22 | 23 | 24 | 25 | 26 | June 1 | 2 | 3 | 4 | 5 | 6 | 7
2. Carlisle's Moves Key For Game 4 Win
By John Hollinger
ESPN.com
DALLAS -- Rick Carlisle said the players win the game, and in the big picture he's right about that.
But in a series of razor-thin margins between the players on the Miami Heat and Dallas Mavericks, the slightest of adjustments can have an outsized impact. Three straight final-possession games have the Mavs and Heat justifiably tied at two apiece, and Tuesday it was the subtle adjustments Dallas' coach made before and during the game that swung it.
We talked about Dallas' superior depth heading into the series, but look at the box score and you'll realize the Mavs were using a tighter rotation than Miami's. Carlisle made a fairly complex series of adjustments that involved changing his starting backcourt so that he could entirely reupholster his forward rotation, and then threw a few more wrinkles into his special fourth-quarter sauce as the Mavs once again rallied late.
Ultimately, he was using a 7.5-man rotation, with Brian Cardinal as the 0.5 with "remove only in case of emergency" tattooed on his warm-ups. Dallas' bench only played 71 total minutes, barely more than the 67 from Miami; only six Mavericks scored.
And Carlisle made it work.
He made it work first by bringing DeShawn Stevenson off the bench and starting J.J. Barea at point guard. After a series of bad starts by Dallas' starting lineup, Barea's ball pressure and penetration got Dallas into a better offensive flow early in the game. After constantly finding themselves digging holes early in each half, the Dallas starting five was a +1 on Tuesday.
Starting Barea rather than Jason Terry kept Terry in his accustomed bench role (although it still limits his minutes -- he played 35 while the other prominent players on both sides played at least 39), and Carlisle pointed out it's something Barea has done before. He started 16 consecutive games in the middle of the regular season.
"He gives us a different dimension to our team," Carlisle said. "I thought he did a good job. His stats don't look great, but his penetration helped us and his ball pressure helped us."
• For the full story, click here »
3. Daily Dime Live
Zach Harper, TrueHoop Network bloggers and fans gave their in-game opinions on all topics throughout Tuesday's slate of NBA playoff talk in Daily Dime Live.
TUESDAY'S BEST

Nowitzki
Dirk Nowitzki, Mavs: His temperature hit 102 and he wheezed his way on the court. But in the end, he scored 10 fourth-quarter points on his way to 21 points overall and 11 rebounds in the 86-83 NBA Finals Game 4 win.
---
TUESDAY'S WORST
James
LeBron James, Heat: A little more aggression to the hoop on just a few occasions and the Heat would be headed home needing just one win for the parade. Instead, LeBron had a career-playoff low eight points in defeat.
---
Unless something was seriously wrong, health-wise, LeBron owes Dwyane an apology. Simple as that.12:30 a.m. ET via Twitter for BlackBerry®
Favorite
Retweet
Reply
Michael Wallace
WallaceHeatNBA
QUOTE OF THE NIGHT
"Every time he started to talk he started coughing. He was wheezing."
-- Mavs center Tyson Chandler describing Dirk Nowitzki's pregame state
---
6.

Haunting Night For James?
By Brian Windhorst
ESPN.com

DALLAS -- That hollow, far away look was back in LeBron James' eyes.
It hadn't been seen for a while. In fact it had nearly disappeared for good. James himself had tried to bury it, some said he'd even run from it. Now, though, it has attached itself like a stain to his permanent record. Again, like before, he's probably going to have to live with it for some time. James has certainly played some bad games on his career, bad big games, too. But this was different. This was an evil outlier.
If James and the Miami Heat don't end up winning these NBA Finals -- the series is tied 2-2 after the Dallas Mavericks' struck back with a 86-83 win -- what happened on Tuesday night will be attached to him with a simple moniker: "Game 4."
It will be talked about it for years. Fair or not, because of both James' polarizing persona and the gravity of this season, what happened has the potential to ultimately define James' entire playoff run that until recently had been superb.
He'd spent the last 13 months trying to eliminate the stigma of the other game that dogs him, what they just call "Game 5" in Cleveland, in reference to last season's series with the Boston Celtics. That one had special circumstances that, to this day, are debated in James' home state. But that dark night for James and this one shared the same DNA, which made it all the more chilling. James' performance -- if you can call it that -- in Game 4 was as unexpected and hard to explain as what happened to him a year ago.
• To read the full story, click here »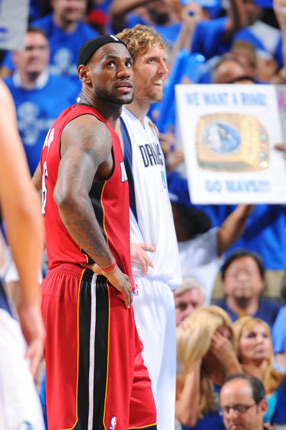 Jesse D. Garrabrant/NBAE via Getty Images
LeBron James had his first single-digit scoring night in his 90-game playoff career, while an ailing Dirk Nowitzki had 10 of his 21 points in the fourth.
8.

Bench Shuffles With Success
Stevenson
DALLAS -- DeShawn Stevenson understood the move to the bench Tuesday night despite starting every previous game of the playoffs. And he sees no reason to go back after the Dallas Mavericks knotted the NBA Finals at 2-2 by nipping the Miami Heat, 86-83, in a must-win Game 4.
"We need anything," Stevenson said of the switch to J.J. Barea in the starting lineup. "We went with that and just got to keep going with it."
Mavericks coach Rick Carlisle's decision to change up the rotation wasn't just about swapping Stevenson for Barea. Carlisle also had to manage the minutes of a fever-stricken Dirk Nowitzki and an overworked Shawn Marion.
• To read the full story, click here »

The Dallas Mavericks evened their NBA Finals series at two games each with an 86-83 win over the Miami Heat. That was the third straight game of the best-of-seven series decided by three points or fewer. There were only two other championship finals in which three consecutive games were won by a margin of no more than three points, and both were played in the 1940s in the BAA (the predecessor of the NBA): the Philadelphia Warriors vs. the Chicago Stags in 1947, and the Warriors vs. the Baltimore Bullets in 1948.