1. Defense The Difference For Mavericks

By J.A. Adande
ESPN.com
Archive
DALLAS -- Rick Carlisle doesn't like to give much away. He even tried to deflect attention from a report (which turned out to be as authentic as a verified Twitter account ) that J.J. Barea would be starting Game 4 by mentioning the "T-Mobile 4G Girl." Yet even while he was avoiding certain topics, Carlisle put down a fundamental truth. I simply chose not to believe in it.
"I just really feel like the defensive end and the rebounding is always going to be a great indicator of how we're playing," the Dallas Mavericks coach said.
That's almost exactly how it played out. The Miami Heat won the rebounding battle 44-41, but the Mavericks won Game 4 because their defense held the Heat to 14 points in the fourth quarter
I just wasn't willing to take Carlisle at his word. I have a hard time thinking of the Mavericks as a defense-oriented team. Maybe that's on me. I'm slow to change my mindset. I still refer to Sean Combs as "Puffy."
And part of me sees "Mavericks" and thinks of the fluffy, high-scoring team, too unconcerned with defense to ever be taken seriously. It's why I didn't consider them championship material back in the Don Nelson days, no matter how many games they won in the regular season. It's why I referred to them as the Fraudulents.
Of course, the makeover has been in the works for some time now.
"That transition, that transformation, Avery Johnson started it and we realized that was the formula for success," Jason Terry said. "It's a mentality, but then it's personnel. And then the system."
During the 2003-04 season, the Dallas defense allowed 100.8 points per game, next-to-last in the NBA at a time when the average team scored 93.4 points. The next season the Mavs were in the middle of the pack with 96.8 points allowed, with the league average at 97.2. In 2005-06, Johnson's first full season as head coach, the Mavericks' defense tightened up to hold opponents to 93.1 points per game, seventh in a league that allowed 97 points on average that season.
After regressing to the middle of the pack last season, the Mavericks once again are in the upper echelon, allowing 96 points this season (No. 10 in the NBA), against a league average of 99.6.
The roster moves have been taking the team in this direction, from Brendan Haywood last season and especially with the addition of Tyson Chandler this season. Chandler was named to the NBA's all-defensive second team.
"I think Tyson added a lot to this defense," Dirk Nowitzki said. "He's great in pick-and-rolls, he's showing he's still able to get back. He's so quick on his feet, protecting the paint and rebounding. Haywood, some of the same things, when we got him last year in the trade. So I think those two guys are great for us in the back."
Mavericks general manager Donnie Nelson credits Rick Carlisle, now in his third season as head coach in Dallas.
"I think Rick has done an unbelievable job of taking players in the past that were considered to be average, and all of a sudden he's taking them to a different level," Nelson said.
He cited Jason Kidd, who never had a reputation as a great defender but in these playoffs has been asked to guard the likes of Kobe Bryant and LeBron James in critical situations and has held his own.
No wonder Carlisle calls this his favorite team to coach. They've responded to what he's asked them to do on the defensive end. Coaches ask all the time. Players don't always listen.
"On our opening meeting the beginning of the year it was something we talked in great detail about and put forth some goals: that if we wanted to be a championship-contending team, we had to get into the top 10 [defensively]," Carlisle said.
So here are the Mavericks in the NBA Finals, holding the Heat to 89 points per game. Similar to the 86 points per game the Heat averaged against the highly acclaimed Bulls defense in the four regulation games during the Eastern Conference finals.
I still think the Mavericks are capable of having a hot shooting night. The difference with this team is, they still can win without one.


ESPN senior writer J.A. Adande
• On Twitter @jadande | On ESPN.com | On TrueHoop | On e-mail
• Follow ESPN's NBA coverage on Twitter | On Facebook | On Google+
Dimes past: May 23 | 24 | 25 | 26 | June 1 | 2 | 3 | 4 | 5 | 6 | 7 | 8
2. Late No-Shows: Why Are Heat Struggling?
By John Hollinger
ESPN.com

DALLAS -- If basketball games were only 41 minutes long, the Miami Heat would be back in Florida setting up for the parade already.
In the first four games of the NBA Finals, Miami has had the upper hand at the 41-minute mark of every game against the Dallas Mavericks, leading by 3, 15, 7 and 5 -- a combined 30-point advantage. By all rights, this series should be over.
Instead, we're tied at two games apiece, and the Heat own a slight edge thanks solely to home-court advantage: AccuScore has them prevailing in 63 percent of scenarios, and the history books say 70.6 percent of teams with home-court advantage, a 1-1 split after two games and a 2-2 split after four games end up winning the best-of-seven series.
So maybe the Heat will win anyway. But if they don't, they're going to remember their colossal failures, starting at the 41-minute mark. As I noted above, Miami has led the past three games by 15, 7 and 5 with seven minutes remaining. Amazingly, it lost two of the games and barely hung on in a third. Since the Heat's impressive closing fury in Game 1, Miami has barely scratched in the closing minutes the past three games.
And although Dirk Nowitzki's finishing flourishes certainly have been impressive, the fact is that, for Miami, this is almost purely an offensive phenomenon. In the final seven minutes of the past three games, the Heat have scored 19 points on 36 trips, for an impossibly bad offensive efficiency mark of 52.8.
The Heat are melting down late in games by repeatedly settling for long jump shots. Break down the four games at the seven-minute mark, and the disparity becomes pretty clear. It's almost all down to shot selection: Although the Heat's three straight turnovers in the fourth quarter Tuesday night were an issue, turnovers have been a minor factor overall in their late collapses.
Let's start with Game 1, when Miami scored 20 points on its final 14 trips. Yes, there was some hero ball mixed in, but the Heat also took three layups, two dunks and a five-footer, and they twice earned free throws. Miami took six jumpers, too, but by and large got its points the easy way -- 15 of the final 20 points were at the rim or the line.
• Read the rest of Hollinger's PER Diem for Wednesday

3. Mock Draft 4.0: Who's The One?
By Chad Ford
ESPN.com
In this mock draft we'll not only make an educated guess as to who's going where, but we'll also give you a look at the other possible picks for each team. Here's our most informed take, after talking to numerous NBA team sources, on how the draft might play out.

Irving
1. Cleveland Cavaliers: Kyrie Irving, PG, Duke
Analysis: Derrick Williams' camp is doing its best to cast doubt on the Cavs' coronation of Irving as the No. 1 pick. But with two weeks to go, all signs still point to Cleveland selecting Irving first. Williams is still in the picture here in part because the Cavs feel they could get a very good point guard (either Brandon Knight or Kemba Walker) at No. 4. But sources say it's Irving's to lose.
---

Williams
2. Minnesota Timberwolves: Derrick Williams, F, Arizona
On Friday, I detailed the Timberwolves' draft strategies in the wake of signing Ricky Rubio to a contract. Here's the CliffsNotes version: Publicly, the team is claiming that they're likely to hang on to the pick. Privately, they're hoping that a team comes along and offers them an impact veteran -- someone such as Pau Gasol, Monta Ellis or even JaVale McGee -- for the pick.
If they get a good deal, they'll be more than happy to dump the pick. Rubio is their rookie this season. If they do keep the pick, expect them to take either Williams or Enes Kanter. If they get Williams, Michael Beasley could be gone by the time the season starts.
• Check out the rest of Ford's latest mock draft

By Brian Windhorst
ESPN.com

James
DALLAS -- As the Miami Heat attempt to regroup in the standard fashion after a playoff loss, they are examining every possible solution that might lift LeBron James out of his slump. They could start by just giving him a break. Literally.
James' position for years, repeated several times in this postseason, is that he's willing to play as many minutes as needed in the playoffs. But James is starting to show wear from what has been an extreme high load of minutes recently. It may be a significant factor in why James appears to have less than his normal energy in fourth quarters during the NBA Finals. He has scored only two points during the last two games in the fourth as his playing time has soared to new levels.
In the Heat's 86-83 Game 4 loss, James was on the bench for just a little over two minutes -- and that rest came in the second quarter. He played the most amount of minutes in a regulation game so far in the postseason. He played the whole second half for the sixth time in the last seven games, resting for about 90 seconds in the second half of Game 2.
Heat coach Erik Spoelstra has noticed and hinted that he may look at finding James a couple of minutes of rest in the second half, perhaps around a television timeout that would extend the break in a tactic commonly used by coaches in the playoffs.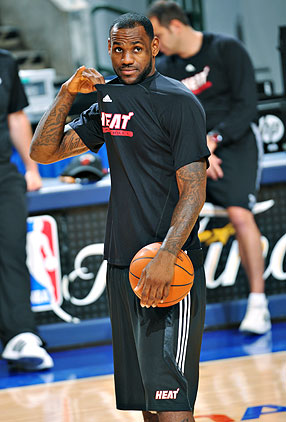 Jesse D. Garrabrant/NBAE/Getty Images
LeBron James is taking some heat for an eight-point performance in Game 4. Can King James put things back in order on the court?
6.

Can't Question Dirk's Greatness

Nowitzki
For all the coronations of the Miami Heat not only as a great basketball team but as the future face of the league -- LeBron James is the first NBA superstar for the generation in which television and Internet sports coverage has surpassed in influence newspapers and magazines -- the real winner in these NBA Finals is not Wade, James or the forever-maligned Chris Bosh.
Regardless of the outcome, Dirk Nowitzki finally has answered all questions about his abilities and his greatness as a basketball player, questions that were never fair in nature.
Nearly as much as James, Nowitzki has been the subject of the fickle discussions that surround a star: what he did or did not do in crunch time, whether he came up small in the final moments of Game 3, whether he too should have jumped ship in the offseason. These discussions existed when print was king but have been accelerated to recklessness in the age of runaway television punditry and a social media culture that assesses legacy -- a term that by definition cannot be discussed without appropriate distance -- minute-to-minute, timeout-to-timeout.
8.

Dallas' Tower Of Power

Chandler
DALLAS -- So much of this tremendous Dallas Mavericks postseason run has centered on Dirk Nowitzki's effort to reshape his legacy, and ageless (ring-less) Jason Kidd defending the league's most prolific scorers, who view him as a mentor.
Make room for another movie-ready script of redemption on this quest for gold.
Center Tyson Chandler, the bearded 7-foot-1 pogo stick of fire and brimstone, has been everything the Mavericks hoped he would be, and what no one knew for sure he could be.
Two seasons of disheartening foot injuries and swirling doubt are being wiped clean with every snarl, every growl and every right fist he pounds into his ever-broadening chest.
In the first NBA Finals appearance of his 10-year career, Chandler has saved his most ferocious basketball for the Miami Heat's dynamic duo. In fact, the three previous teams with which Chandler toiled had never advanced past the second round of the playoffs.