1. Deep Mavs Handle Hobbled D-Wade
By Marc Stein
ESPN.com
Archive
DALLAS -- The Dallas Mavericks were convinced that Dwyane Wade barreled right through Brian Cardinal's chest on that first-quarter drive. So they naturally screamed for a charging call.
In retrospect?
Let's just say that the starving home team -- once all of its ringless vets got past their fury over Cardinal getting called for blocking -- wound up getting so much more than the whistle it wanted.
Because of that early collision, Wade had to make two trips to the locker room for treatment in what LeBron James had openly called the "biggest game of my life." Because of the damage that tangle did to Wade's left hip, Dallas never had to deal with the defense-shredding slasher who, until this Game 5, looked hauntingly like the relentless younger model who had wrecked the Mavericks in 2006.
The Mavs' longtime tormentor mustered 23 points Thursday night, including a huge late 3-ball that briefly seized crunch-time control, but this D-Wade was guardable. This was a D-Wade whom the home team could handle, because Dallas also finally found more to throw at the Miami Heat than Dirk Nowitzki.
The biggest game of LeBron James' life didn't belong to LeBron -- not even close -- and this D-Wade couldn't bail his buddy out, either. It might have taken the Mavericks all night to get there, but they ultimately capitalized on Wade's limitations and a fourth successive fourth-quarter abdication in this series for the self-styled King James to seize a 112-103 triumph filled with Dallas heroes for a change.
With a compromised Wade and a hollow triple-double from James, Miami couldn't keep up with the Mavs' long-awaited offensive breakout. The Heat couldn't withstand the 13 3-pointers that fell one short of a Finals record, four more double-digit scorers besides Nowitzki's 29 points or the sight of Jason Terry (eight of his 21 points in the final 3:23) stepping into the late-game breach to spare Dirk from his usual daunting load at closing time.
The Heat thus limp back home praying that their closer absorbed no lasting damage from the Cardinal crash, since James has given zero indication that he's capable of filling that dominance void. After all those vows to redeem himself from his eight-point misery in Game 4, LeBron looked like a shooter with zero faith in his jumper while managing just two free-throw attempts in nearly 46 minutes and finishing with a lowly two points in Game 5's final period.
Cardinal's 9 minutes, 37 seconds of playing time were no less memorable.
"He's really a unique player," Dallas coach Rick Carlisle said of Cardinal, who gave himself a shot to be remembered -- even if that wasn't the intention as he slid into charge-taking position -- as the first Mav who's managed to stop (or maybe just slow) Wade.
"He's always going to be there taking charges," Carlisle continued. "He's always going to be making contact with people. He's going to be there."
Two games ago, Cardinal wasn't even in Carlisle's rotation. Now he's a fixture after Carlisle responded to Miami's Game 3 win here by moving J.J. Barea into the starting lineup (in place of DeShawn Stevenson) and letting Peja Stojakovic know that Cardinal was going to start getting the first crack at the few minutes available during Nowitzki's rests.
Now look. Barea backed up Terry with 17 points of his own, matching Mario Chalmers' latest haul of four 3s for the Heat. Jason Kidd threw in 13 points, including a bigger late 3 than Wade's, after going scoreless Tuesday night. Cardinal, meanwhile, left such an impression with his scrappiness in that 9:37 stint that Stojakovic, on his 34th birthday, could be seen on the Mavs' bench serving up some of the heartiest congratulatory slaps for the effort.
"It looked like a Mavericks game," said center Tyson Chandler, referring not only to the 112 points on the scoreboard but the Dallas rally in the final 4:37.
Said Carlisle: "Persistence is our game. We're an old-school team. We're not high-fliers. ... Our game is near the ground. We have to play with brains and guts."
Nowitzki remembers how annoyingly pesky Cardinal can be when he's on the other side. Dirk has been known to tell the story of how he once tried to dismiss the dude in the Minnesota uniform hounding him, as they lined up for a free throw when Cardinal was still with the Wolves, by saying: "How are you still in this league?"
They've since become so close that Cardinal is a frequent attendee at Nowitzki's dinners on the road. "One of my favorite teammates of all time," Dirk said earlier this week.
The Heat potentially have two games left to prove that they can match the Mavs' togetherness, or else Dallas will win a first championship that would mean redemption galore for the likes of Nowitzki, Kidd, Terry and ghostly silent Mavs owner Mark Cuban. Miami's problem is that the Mavs, in these past two wins, have become a T-E-A-M again, looking more like the group that swept the Los Angeles Lakers and schooled Oklahoma City with varied doses of help to supplement the hottest two months of Nowitzki's career.
"We always said: When [Terry] plays well, they're very tough to beat," said James, whose 17 points, 10 rebounds and 10 assists could not mask his run of misfires -- or the two 3s that Terry lofted over him -- after Wade's triple and subsequent scowl had staked Miami to a 99-95 lead.
Said Heat forward Chris Bosh, pinpointing one key to Miami's strategy after seeing Dallas score 15 of the evening's final 18 points: "They can't have [other] guys more than Dirk have a good game."
The hungry, hungry home team indeed hurt the Heat with variety in the season's final game to be staged in Big D. An example: Terry, Nowitzki and Barea all connected with fortuitous heaves from beyond the 3-point line -- Terry more than once -- to more than cancel out another Chalmers buzzer-beater at the end of the first quarter.
As for how badly Wade is hurt heading into Sunday, Heat coach Erik Spoelstra said: "Way too early [to know]. We'll have to see how it responds tomorrow. When he's able to sweat and keep it warm, he was fine. Fortunately we have an extra day. We'll see if that's enough."
Wade had even less to share beyond insisting that Spoelstra, James and the rest of the Heat have nothing to worry about when it comes to Game 6. He actually volunteered more about the Mavs than his limp, refusing to expound on an injury that -- despite no hip contact with Cardinal on available replays -- forced Wade to miss the start of the second half.
"Obviously, they're a tough team to guard," Wade said. "They're the best offensive team in this game."
One more win and, for 2010-11 purposes at the very least, Dallas can strike the word offensive from that sentence.


ESPN.com senior writer Marc Stein
• On Twitter @ESPNSteinLine | On TrueHoop | On ESPN.com | On email
• Follow ESPN's NBA coverage on Twitter | On Facebook | On Google+
Dimes past: May 22 | 23 | 24 | 25 | 26 | June 1 | 2 | 3 | 4 | 5 | 6 | 7 | 8 | 9
2. Heat Needed King, Not Viscount
By John Hollinger
ESPN.com
DALLAS -- LeBron James had a good game. Seventeen points, 10 rebounds and 10 assists. Perfectly fine, respectable production. I'd give him a solid B-plus.
And that, in a nutshell, is the problem.
This is LeBron James. The most talented player in the entire league. The guy who went to Miami specifically for these moments. The guy who said early Thursday, on his Twitter account, that it was "Now or Never." The guy playing in the biggest game of his career to date.
He was good.
The situation demanded great.
With the Mavs knocking down crazy shots and the Heat responding in kind for three quarters Thursday, it was a classic situation for King James to come through with a finishing flourish, put his foot on Dallas' throat and take the series back to Miami for the clincher.
Instead, for the fourth game in a row, King James was merely a viscount. Miami had a four-point lead with 4:37 left; from there, James missed two jumpers, committed an offensive foul and was beaten for two 3-pointers by Jason Terry. Granted, the second of those was a borderline miraculous shot, and the offensive foul call just as easily could have been a basket-and-1.
And as I said, he had a pretty good game overall for almost any other NBA player. Just not for LeBron James. He made some nice passes, setting up three fourth-quarter layups that gave Miami its short-lived lead, and had a great contest on Shawn Marion in transition.
On the other hand, he declined to take over when Dwyane Wade was out with a hip injury for the first seven minutes of the third quarter, taking three shots in 7:30. He rarely attacked when the Heat repeatedly posted him up through the first three quarters. And while he was more assertive in the fourth quarter than in Game 4's debacle, he wasn't any more effective.
James had a triple-double, but his two points in the final stanza came on a basket that was basically conceded to him after Terry's game-clinching triple at the other end.
Overall, he scored 17 points but needed 46 minutes to do it. The average NBA player this season, per 46 minutes, scored 18.9 points.
• For the full story, click here »
3. Daily Dime Live
Zach Harper, TrueHoop Network bloggers and fans gave their in-game opinions on all topics throughout Thursday's slate of NBA playoff talk in Daily Dime Live.
THURSDAY'S BEST
Terry
Jason Terry, Mavs: When you back up your talk, you can spread your wings. JET did. Made 8 of 12 shots en route to 21 big points, including a dagger 3-pointer with 33 seconds left, boosting the Mavs to a 3-2 series lead.
---
THURSDAY'S WORST
James
LeBron James' touch in clutch: Somewhere, the Celtics and Bulls are wondering how the guy who rained impossible 2-pointers and fallaway 3s mercilessly on their heads could come up this cold again in the fourth quarter.
---
Miami clinical to take the lead then got stagnant & panicked as Barea, Dirk, Kidd & Terry all hit big shots in crunch time. Mavs = destined?11:45 p.m. ET via Echofon
Favorite
Retweet
Reply
Steve Nash
SteveNash
QUOTE OF THE NIGHT
"This is our time."
-- Mavs guard Jason Terry
---
6.

Opportunities Already Missed
By Brian Windhorst
ESPN.com

DALLAS -- The Miami Heat are wading deeper into a pool of regret, one that now threatens to drown them.
Ironically, not much of it will come from what happened in Game 5, as the Dallas Mavericks took their first lead of these NBA Finals with an impressive 112-103 win Thursday night. The Mavs flat-out beat the Heat in this game regardless of LeBron James' triple-double, marginalized because of another weak fourth quarter, or even Dwyane Wade's bum hip.
No, the Heat are not going back to Miami on the brink of elimination because Jason Terry backed up his trash talk like a champion prizefighter, J.J. Barea rediscovered his little-man mojo and Dirk Nowitzki conquered the flu.
No, not because Dallas made 13 of 19 3-pointers, because of Brian Cardinal's timely hip check on Wade and because of the most important charge Tyson Chandler has taken in his life.
The Heat aren't down 3-2 because a great offensive and home team finally put together a great offensive game on its home floor. The Heat aren't facing a summer of sheer misery and a lifetime of avoiding the 2011 Finals on ESPN Classic because of anything that happened in what was a wonderful-to-watch Game 5.
The Heat are in trouble because of all the wouldas, couldas and shouldas that defined Games 2 and 4. The Heat gave away -- or some would say the Mavs expertly stole -- those two games. It is said that a seven-game series is long, but it's not long enough to afford such missteps.
• To read the full story, click here »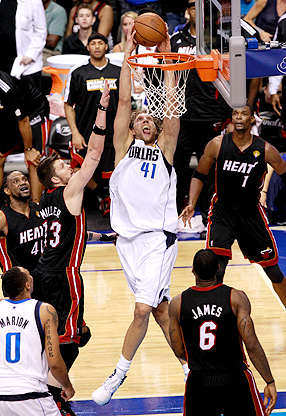 Tom Pennington/Getty Images
Mavs forward Dirk Nowitzki drove for a baseline dunk and a 102-100 lead with 2:45 to go, giving Dallas a Game 5 edge it would not relinquish.
8.

Feelin' Like A Kidd Again
By Calvin Watkins
ESPN Dallas
Kidd
DALLAS -- There is so much love for Dallas Mavericks point guard Jason Kidd.
After the Mavericks' 112-103 Game 5 victory over the Miami Heat on Thursday night, Kidd was holding court near his stall in the locker room talking basketball.
New Jersey Nets guard Deron Williams was chatting it up with Kidd trying to get all the knowledge he could from the 38-year-old guard who is just one victory from his first NBA title.
Across the locker room, Tyson Chandler said Kidd's clutch 3-pointer late in the fourth quarter was just another example of what he's meant to this team. In a corner stall, DeShawn Stevenson said Kidd was a monster, a legend.
In an interview room down the hall, Jason Terry said the team feeds off Kidd's leadership.
"It's all about our leader, Jason Kidd," Terry said. "The way he plays the game, the way he has always played the game rubs off."
• To read the full story, click here »
By ESPN Stats & Information

The Dallas Mavericks made 13 of their 19 3-point field goal attempts in Game 5. The 13 3-pointers are tied for the second-most made in an NBA Finals game.
The 68.4 percent shooting from 3-point range in the past 20 postseasons when a team attempted at least 15 3-point field goals (2001 Game 5 -- Lakers, 70.6 percent, 2010 Game 2 -- Celtics, 68.8 percent) is the third-highest accuracy in an NBA Finals game.
Most 3-Pointers Made in NBA Finals Game
| Year | Team | No. |
| --- | --- | --- |
| 1995 Game 1* | Rockets | 14 |
| 1995 Game 4 | Magic | 14 |
| 2011 Game 5 | Mavericks | 13 |
| 2008 Game 6 | Celtics | 13 |
* overtime game