1. Unwrapping A New Reality In L.A., NBA

By J.A. Adande
ESPN.com
Archive
OAKLAND, Calif. -- So this is how it goes. The Lakers not as awe-inspiring as they once were, the Clippers not as exciting as we thought they'd be.
Good luck finding any beholders who could see the beauty in the two games the L.A. teams played. Certainly not this one.
Those are two games' and one flight's worth of observations. And yes, I'm aware they don't sound that enthralling. Maybe we should settle in and get used to it. More often than not, this season will be about winning on the off nights, when a team is in its fourth city of the week and the legs are saying, "no more."
For me, catching the 5:45 p.m. PT flight from Burbank to Oakland meant leaving the Lakers' 88-87 loss in the fourth quarter and listening to their last-minute collapse to the Chicago Bulls on the radio. But I'd witnessed enough to get a grasp of what was going on.
I'd already seen six of Kobe Bryant's eight turnovers. I'd picked up the sense that the Lakers are like the Spurs teams we've watched the past decade or so. They're going to beat you with savvy more than with flash. When the Lakers were at their best Sunday was when they ran the offense through Bryant and Pau Gasol, and when Derek Fisher was disruptive on defense. The old standbys, all the guys with the multiple rings (give or take Luke Walton).
But they're not likely to make many plays that make fans jump out of their seats at the arena or rush to post videos on YouTube. It's no longer about Kobe soaring over everyone, it's about his finding a way to score 28 points despite a damaged wrist. Kobe abdicated most of the highlight plays to Shannon Brown last season, but with Brown gone, Kobe felt the need to do it himself on a fast break in the second half. The result was an underwhelming dunk, with Kobe adding a lot of leg action while he hung from the rim afterward to try to gain style points. The next time on the break, he executed a simple two-on-one with Fisher that resulted in a Fisher layup.
The Lakers can say they were within a possession of victory without Andrew Bynum, just as the Celtics can say they were within a shot of victory without Paul Pierce. And the Lakers can say it took a tough bucket by the reigning Most Valuable Player to beat them.
But at the moment, the Lakers can't say they're ahead of the Clippers, who beat Golden State 105-86 in their opener. There are signs things are changing. Like, literally, huge full-sized billboard signs. Such as the one on a building a block away from Staples Center, which is accustomed to being painted with images of Lakers greats but Sunday morning was in the process of being covered with images of Blake Griffin, Chris Paul and DeAndre Jordan. Things sound different, too. Such as the tone of frustration in the voice of Clippers coach Vinny Del Negro, after his team won its opening game. On the road. By 19 points.
Del Negro was complaining about his team's perimeter defense and rotation and points-in-the-paint deficit. Chauncey Billups missed 13 of 19 shots and the bench struggled.
"I just know we can play better," Del Negro said. "I wasn't pleased with the way we gave up so many offensive rebounds. Wasn't pleased with the way we were moving the ball in the first half. There's going to be some tough spots."
Then his voice picked up, as if it dawned on him that he was 1-0, his first time with a winning record as coach of the Clippers, and life wasn't so bad after all.
"I was glad the guys kind of hung together, executed down the stretch," Del Negro said.
They finally found a semblance of a half-court offense, and it took them only 42 minutes to arrive at that point. It not-so-coincidentally coincided with the return of Paul at the 6:08 mark. He assisted on a Billups 3-pointer, then a Caron Butler jumper, and then Paul hit a couple of jumpers of his own to stretch the Clippers' lead to double digits.
It also put some scoring back into a game that had devolved into an aesthetic nightmare. Toward the end of the third quarter, new Warriors coach Mark Jackson had his players foul Jordan four times away from the ball, sending him to the line for eight free throws (he missed five). Jordan wound up missing eight of 12 free throws on the night -- an unfortunate ratio of one for every shot he blocked in his Bill Russell-like performance on defense.
"We got a win, so that's all that really matters," Jordan said. "I could've rebounded a little bit more, I felt like. What people are going to talk about is me missing however-many free throws."
The most entertaining part of the whole day was the show the Clippers put on in warm-ups, when they tried to outdunk each other to the delight of the Warriors' crowd. In the game, L.A. wound up with only one alley-oop.
It was as if the Warriors' whole game plan was to declare martial law on Lob City. Brandon Rush swiped a Griffin over-the-head pass to Jordan, and in the second half Kwame Brown simply bulldozed Jordan out of the way before he could get to a lobbed ball.
"Not every game is going to be alley-oops left and right," said Griffin, who managed 22 points but often found it tough going inside. "If it's like this every game and we get a win, we'll take it."
A pedestrian, workmanlike victory is not what fans of even the more accomplished team in Los Angeles are used to. But it's something the Lakers could have used themselves on Christmas Day.
Before it all started, Bulls coach Tom Thibodeau was talking about what Game 1 really represented.
"It's the next step that you're taking," Thibodeau said. "So you're out of preseason. Now it's regular season. You're trying to build the right habits so you can continue to improve. The whole idea is to be ready at the end."
That's where the focus should be, even if it's hard to picture the finish line on this day of beginnings.


ESPN senior writer J.A. Adande
• On Twitter @jadande | On ESPN.com | On TrueHoop | On e-mail
• Follow ESPN's NBA coverage on Twitter | On Facebook | On Google+
2. Despite Loss, Things Looking Up For Lakers
By Dave McMenamin
ESPN LA
Bryant
LOS ANGELES -- The way the Los Angeles Lakers blew an 11-point fourth-quarter lead Sunday certainly reeked of the devastating losses against the Dallas Mavericks in the Western Conference semifinals, but the overall basketball product was far from disappointing.
No Chris Paul. No Lamar Odom. No Shannon Brown. Kobe Bryant dealing with yet another serious injury. L.A.'s series of unfortunate events coupled with the team's utter meltdown in that 36-point loss to the Mavs to complete the sweep in May created the feeling of the franchise falling down.
But it's very possible this group is improving.
"Yes, I'm upset we lost the game," Bryant said, "but I saw a lot, a lot of positive things. A lot of them. A lot of them. So I'm very pleased."
That may seem like a lot of a lots, but think about how lousy the Lakers looked less than a week ago in that 114-95 preseason loss to the Clippers and how formidable they looked in Sunday's 88-87 loss to the Chicago Bulls, a team that led the NBA in wins last season with 62.
"We're going to score," new Lakers coach Mike Brown said. "I don't care who we play against, we're going to score. So if we can get better defensively and then do the little things -- take care of the ball, knock down free throws, and so on and so forth -- we're going to be pretty doggone good."
3. The Changeup: Heat, Mavs Trade '06 Places
By Marc Stein
ESPN.com


DALLAS -- When the hosts were hoisting their championship banner, LeBron James and Dwyane Wade and the rest of the Miami Heat were spilling into the hallway adjacent to the visitors quarters at American Airlines Center, determined not to watch what was happening out on the floor.
The Heat were never going to watch from the bench, obviously, but they were just as intent on keeping the ceremony off the monitors inside their locker room, too. Ditto for the TV that hangs from the ceiling of the corridor where they were stretching.
So when it was time for the roof-bound pulleys and cables to hang proof of what the Dallas Mavericks won in June at the Heat's expense, Miami's players were jostling for wall space to lean on for those stretches.
And watching crunch time in the Boston-at-New York nail-biter on the hallway set instead.
"I was expecting some dramatic moment," Heat newcomer Shane Battier joked, toying with the media crowd around him. "I was expecting a dark cloud to descend over the hall. But there were no rah-rah speeches. Nothing like that.
"Anticlimactic is the word I'm looking for. Sorry, guys."
4. Daily Dime Live Rewind
Relive all the chatter, memes and photoshops of Sunday's Christmas Day Daily Dime Live.
By Justin Verrier
ESPN.com
SUNDAY'S BEST
James
LeBron James, Heat: After hearing every choking joke in the book after Miami's Finals flop (heard the one about James having only three quarters when asked for change for a dollar?), LeBron bounced back in a big way: 37 points, 10 rebounds, six assists and two blocks in an opening-day rout of reigning champ Dallas.
---
SUNDAY'S WORST
Odom
Lamar Odom, Mavs: Odom certainly made a first impression for the new-look Mavs. In his Dallas debut, the reigning Sixth Man got a standing O and provided some instant O with a game-tying 3 … and then missed his next six shots and got ejected for arguing a call. Yikes. On the bright side, it should provide some good fodder for a new "Khloe & Lamar" episode.
---
QUOTE OF THE NIGHT
"Every game is going to be a slug -- not a slugfest. I hate to use those words."
-- Knicks coach Mike D'Antoni describing the Knicks-Celtics rivalry after an opening-day New York win that ended with Kevin Garnett's hands around ex-teammate Bill Walker's throat
6.

Opening Win Shows NY's Flaws
By Stephen A. Smith
ESPN New York

NEW YORK -- Carmelo Anthony put on the kind of show Broadway has been starving for from its basketball inhabitants for far too long. The box score showed that Amare Stoudemire wasn't too shabby, either. But once the game ended, officially putting a New York Knicks victory in the books, we learned a few things that raise concern.
Yet again!
A victory is a victory. So nobody should rain on the Knicks' parade after they pulled out a 106-104 season-opening victory over the Boston Celtics at Madison Square Garden on Sunday afternoon. The truth, however, is that folks will try. Primarily because the Knicks continue to be who we thought they were, which isn't saying much right now.
They're erratic and inconsistent on offense. They're inept on far too many more occasions defensively. Essentially, they provoke exuberance from competitors like Celtics coach Doc Rivers, who said: "This is a game we could've easily won. Don't think we don't know this."
Bulls Close Door On Kobe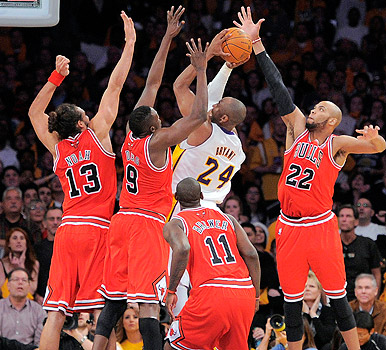 AP Photo/Mark J. Terrill
After Derrick Rose hit the go-ahead bucket, the Bulls' big men closed out on Kobe's last-second attempt and sealed a big 88-87 victory.
Read more »
7.

LeBron Calm, Cool, Collected
By Brian Windhorst
ESPN.com
James
DALLAS -- The annual epiphany on the true difference between the regular season and the playoffs usually doesn't come until April. It's never something to consider on the first day of the season, when hopes naturally obscure bad memories.
But it was unavoidable Christmas afternoon because the schedule forced it to attention. There was no way a Dallas Mavericks-Miami Heat game on retrofitted opening day could be viewed through any other prism than an afterword to last spring's Finals. Not part of the plot, but it had to be in the book.
Two hours before tipoff on a cloudy day that was nearly 70 degrees cooler than the last time the Heat were in town, the loudspeakers in the arena concourse played ESPN Dallas Radio's replay of Game 6 of the Finals. It was a special Christmas presentation and probably would have been more pleasant for the crowd to hear than standard holiday music, which was flipped on as soon as the doors opened.
9.

Thunder Off To Fast Start
By Royce Young
TrueHoop Network

OKLAHOMA CITY -- Every player knows all about it. They watch "SportsCenter." They read.
The Thunder are aware of the great expectations placed on them this season. Virtually every expert is picking them to win the Western Conference. Some even expect them to win it all.
It would be easy to feel the weight of that hype, to feel the burden of expectation. That kind of stuff terrifies fans. It's why I freaked out a little and didn't pick the Thunder to win the West in a pre-Christmas 5-on-5, despite picking them to everywhere else. Oklahoma City is not used to this sort of thing. It's new territory. Everyone here's a little anxious, a little shaky.
Except for the actual team. It seems to be handling things fine.
The Thunder raced out of the gates, handling the Magic 97-89 in a game that was never that close. Oklahoma City made pretty easy work of one of the East's better teams, basically shutting off the Magic's supply line. Dwight Howard had only 11 points, Orlando went just 8-for-28 from the floor and shot 37 percent overall. You're not beating many teams in the NBA with that kind of output -- especially not Kevin Durant and Russell Westbrook.