1. Another Guy From Cleveland Lifts Miami

By Brian Windhorst
ESPN.com
Archive
MIAMI -- The gym was nearly empty and silent when LeBron James noticed Norris Cole sitting by himself.
"What are you doing, rookie?" James said, standing at the door at the conclusion of a training camp practice a little more than a week ago.
Cole, the 23-year-old Miami Heat point guard from Cleveland State who got to know James when they worked out together in Ohio during the summer, just gave a sheepish smile.
"Oh, I get it, you're trying to make sure you're the last one out of the gym," James said. "That's cool; I used to do that, too. You're good."
The Boston Celtics, and likely a large portion of the national television audience, probably were wondering to themselves, "Just who the hell is this Norris Cole?" during the Heat's 115-107 win Tuesday night. The Heat players had formed their opinion on that after only a few days of practices.
Cole arrived in Miami earlier this month with his mother and a honed work ethic. His mom was there to help him make the transition to his new life. The focus helped him catch the attention of his new teammates and coaches.
"He's been so focused that I've barely talked to him," Heat president Pat Riley said two weeks in. "I don't want to disturb it."
What Cole didn't bring was anything resembling fear. That's a mantra plenty of rookies attempt to follow during these fragile days in their careers. Cole's fearlessness somehow has been both quiet and brazen at the same time.
He has not been afraid to be embarrassed. He likes to drive the lane and attempt to finish at the rim, and several times he's had it smashed back in his face. There will be more of those. He's not afraid to stand in front of players vastly larger than him to take charges, either. He's also not the least bit afraid to take any shot, even if he probably should be.
Whether Cole's 14-point fourth quarter, which included a couple of dead-eye pressure jumpers, was the start of something special or his best game of the season happened to take place in the Heat's home opener will be revealed over the coming months. But it certainly thrust him into the spotlight.
"It's only my second game; I don't know what normal is," said Cole, who finished with 20 points, four assists and three steals. "At this level, we're professionals, and at this level we're expected to go out and produce like that."
No one is expected to do it in his second game, though. He ended up being the coming-out star in a dual storyline that unfolded in an interesting fourth quarter. One was how the Celtics -- who are weak on the front line on a good night, and Tuesday was a bad night -- had gone to a rare zone defensive look. The other was how the Heat badly needed a rookie to step up when the defense seemed to freeze up their stars in their new offense. The Heat were dangerously on the edge of ripping open some old scabs before Cole stole the show.
"He's pure … he has an ability to focus and concentrate," Heat coach Erik Spoelstra said. "He's playing with a free mind; that's what is the key."
This was evident when the Celtics were trying to overcome not having Paul Pierce because of injury and a sluggish start that saw the Heat establish a big early lead. Facing a Boston comeback on the backs of Ray Allen and Keyon Dooling's 3-point shooting plus that defense, James and Dwyane Wade went 2-of-7 shooting down the stretch as they looked unsteady, like they hadn't worked at all in practice on attacking a zone.
James had 26 points and six rebounds, and Wade had 24 points and eight assists, but they were well on their way to a disappearing act when the Celtics cut the lead to three points with three minutes left. All the talk of up-tempo offense and playing in the post had a hollow feel in the Heat's first crunch-time chance of the season. Plus, they had a catalogue of memories of great Celtics finishes, the sort of demons that brought James to his knees the last time he saw them, in May.
Cole, as Spoelsta pointed out, is free of such burdens. He played like it, stepping into shots when the ball found him as if he were playing a midseason conference game against Wright State.
Late in the game, while the Heat were under shot clock stress with the ball out of bounds, Spolestra yelled out the call "special" from the sideline, a play that certainly wasn't designed for Cole. But one pass later, Cole had the ball and saw a seam in the zone and broke the play all the way to the basket for another hoop.
"He's got savvy," Celtics coach Doc Rivers said. "Great pickup."
The Celtics were one of several teams that were interested in Cole in the draft. Most, it seemed, thought he would last into the second round. The Heat, in search mode for help at point guard, saw several of their targets fall off the board before it came to their second-round pick, which was No. 31 overall. In a draft that was considered weak, the Heat paid dearly to move up three spots to the No. 28 pick to get Cole, sending two draft picks plus cash to get it done.
Facing a thin free-agent point guard market, they really wanted Cole. They got him, and already it has the makings of being a steal. The previous five No. 28 overall picks: Greivis Vasquez, Wayne Ellington, Donte Greene, Tiago Splitter and Maurice Ager.
If any of them had a night such as this against Hall of Famers in the first week on the job, it is not recorded. James, Wade and the Heat's new offense will get plenty of more opportunities to prove its worth in the clutch as the season unfolds.
After what happened Tuesday, it looks like Cole will, too.


NBA Writer Brian Windhorst
• On Twitter @WindhorstESPN | On ESPN.com
• Follow ESPN's NBA coverage on Twitter | On Facebook | On Google+
2. Nets Looking About Ready To Shed Jersey
By John Hollinger
ESPN.com


NEWARK, N.J. -- Before the home opener in the Nets' final season in the Garden State, coach Avery Johnson said, "The fans in New Jersey that supported us for 35 years deserve something special."
Oh, they got something special, all right.
Looking thoroughly abominable from start to finish, the Nets limped home to a 106-70 loss to Atlanta that served as a metaphor for their tenure on the less expensive side of the Hudson. All they needed was the Secaucus Seven to throw the ceremonial opening tip.
As the Hawks ran away with it, the locals chanted, "We want Dwight," through much of the second half -- and, "We want Howard," just in case people thought they were talking about Dwight Yoakam.
But ironically, wanting Dwight is partly what caused this mess. The Nets looked like they had just met each other moments before tip-off, largely because that was pretty much what happened. While they were exploring Howard trades in the abbreviated preseason, the Nets had to hold their cap space and couldn't sign players. As a result, several were late additions to the squad and got in only a couple of practices.
Or none, in the case of Mehmet Okur -- who joined the team just prior to the opener and looked positively awful for a second straight night. He finally scored in his 39th minute as a Net, after missing eight times from the field and one on a technical foul shot. In 40 minutes, he has seven rebounds and seven fouls, and has not blocked a shot. Or run at full speed. Or jumped.
One immediately wonders how long Deron Williams will put up with this mess. A free agent after the season, he's let it be known he'll explore his options in the summer of 2012, and if Howard isn't lining up next to him, those options are unlikely to include Brooklyn.
Williams wasn't even the best Turkish league veteran on this night. He was swarmed all evening by a Hawks defense that happily left the likes of Damion James and Johan Petro open, and finished with 10 points and six turnovers.
Instead, it was Atlanta's Zaza Pachulia -- who played for Turkish club Galatasaray during the lockout -- who had the highlights. He finished with 13 points, 11 rebounds and one facial on a dunk-and-one in the face of former teammate Shelden Williams. Coincidentally, Pachulia and Deron Williams were supposed to face off last week in Istanbul if the lockout hadn't been resolved.
About the only positive for New Jersey was the play of rookie Marshon Brooks, who had 17 points, three boards and one highlight-reel block. The long-armed wingman might find himself starting out of necessity, as the Nets' other wings simply aren't getting the job done offensively. If they don't find some sources of offense soon, this season seems headed for an ending similar to those of most of the previous 34.
3. Daily Dime Live Rewind
Relive and note all the chatter, memes and photoshops of Tuesday's Daily Dime Live.
TUESDAY'S BEST
Cole
Norris Cole, Heat: Cleveland State's finest scored 14 of his 20 points in the fourth quarter, helping the Heat avoid the shame of losing a huge lead to the C's. Cole narrowly earned the nightly top honor over Bucks rookie Jon Leuer, who had 14 points against Minnesota.
---
TUESDAY'S WORST
Jefferson
Al Jefferson, Jazz: With a fresh Jefferson playing a Lakers front line toiling in its third game in as many days, one might guess he might thrive in the post. Not the case. He went 2-for-16 from the floor in 26 minutes of a blowout loss.
---
QUOTE OF THE NIGHT
"This is very disappointing that we came out and put up a stinker like that in our first one. It was one of those games where nothing seemed to go right. We have a lot of work to do and not a lot of time to do it."
-- Nets guard Deron Williams after his team dropped its home opener 106-70 to the Hawks.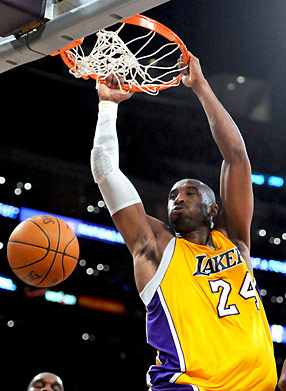 Jayne Kamin-Oncea-US PRESSWIRE
Kobe Bryant and the Lakers played their best game of a back-back-back, a blowout of the Jazz. Kobe cruised to 26 points in 32 minutes.
6.

Win No. 1 For Iron Man

LOS ANGELES -- A telltale moment of the preseason came when I poked my head into the Lakers' coaches office at Staples Center to get a glimpse of the now-infamous Mike Brown ironing board. There was the board, fully extended in all of its light-blue glory, a tie draped across it. Brown picked up the iron, looked at the brand name and said, proudly, "Steam Master."
And there's the transition between Phil Jackson and Mike Brown neatly summed up. From Zen Master to Steam Master.
The biggest difference between the two is that Jackson arrived in Los Angeles with the cachet of six rings in Chicago. He wasn't going anywhere before his initial five-year contract was up. Brown started with zero capital from Lakers fans. The 272 regular-season games he won in Cleveland were treated like junk email because they didn't produce any championships.
Jackson's Lakers didn't lose three consecutive games until midway through his third season in Los Angeles. Brown was at risk of doing so on his third day on the job.
That's why urgency arrived quickly in this season, and the Lakers' 96-71 victory over Utah stands as one of the most important of the initial week. Brown needed this victory to quell any Internet insurrection. Now he has his first dollar bill he can frame and hang on the wall.
The Lakers can exhale. They got their first victory, and they're one game away from Andrew Bynum returning from his suspension. The Lakers can also celebrate the end of their only set of back-to-back-to-back games. In one of the many scheduling quirks this season will bring, the Lakers had already played two games before the Jazz played one and rhythm might have been a bigger factor than fatigue.
Utah looked awful. The Jazz made only 7 of 23 shots in the first quarter, then managed to dive deeper and shoot 6-for-27 in the second quarter.
There shouldn't be too much glory attached to this Lakers victory because the Jazz were so horrendous. Utah's shot chart had more X's than an illiterate autograph-signing session. Al Jefferson shot 2-for-16. Enes Kanter, in his NBA debut, didn't get any of his three shots above the rim, coming up short on two layups and having the third attempt blocked.
At halftime the scoreboard looked like something from the days when the Lakers wore MPLS on their chests. Lakers 41, Jazz 31. And Brown was OK with that.
Love
Kevin Love had 31 points and 20 rebounds at Milwaukee on Tuesday night, giving him five career games -- all since November 2010 -- with at least 30 points and 20 or more rebounds. That's the most 30/20 (points/rebounds) games for any NBA player over two seasons since Shaquille O'Neal had six from 1999-2000 to 2000-01.