1. 'Snowbird' Is The Word For Wade, Heat

By Brian Windhorst
ESPN.com
Archive
The unbeaten Miami Heat got themselves a "snowbirding" victory Wednesday against the Charlotte Bobcats, personified literally and symbolically by Dwyane Wade.
Jumping on the Heat with an 11-0 run to start the game on the way to a 60-point first half, the Bobcats were up 15 points in front of the largest crowd in Time Warner Cable Arena history. And Wade spent part of the second and third quarters in the locker room with ice on his left foot after he landed awkwardly and bruised it.
Playing without the offensive or defensive energy they showed against the Dallas Mavericks and Boston Celtics to open the season, the Heat looked like they were headed for their first loss.
But then Wade came back after getting some treatment, got a key basket on a blatant cherry pick to help the Heat's late comeback and then hit the game-winner with 2.9 seconds left for a 96-95 win. Wade's late heroics obscured the tremendous efforts by both LeBron James, who had 35 points, and Chris Bosh, who had 11 of his 25 points in the fourth quarter. A fact they jokingly weren't letting Wade get away with.
Bosh called Wade's fortunate fourth-quarter dunk that fell into his lap after he'd not run down the court on defense "snowbirding" after Bosh's block and a full-court pass from James rewarded Wade for dogging it a bit. James then chided Wade saying "That's why they pay him the big bucks" after he got the winning points.
"He didn't play well tonight but no one cares what else you did if you hit the game-winner," James told reporters after the game.
The same could be said for the Heat as a whole. They did their own cherry picking by overcoming their lethargic start with some late-game defense that held the Bobcats to just 35 percent shooting in the second half.
The play that Heat coach Erik Spoelstra drew up for Wade was the result of the Bobcats' choosing to leave Gerald Henderson alone in space with Wade on the previous possession, which resulted in a turnover. Henderson, who led his team with 21 points, had just hit a 3-pointer to give the Bobcats the lead. He played sound defense on the play, not biting on a Wade pump fake and contesting the shot strongly. But Wade found an angle and banked the ball in.
"Henderson is a pretty good defender and pretty athletic," said Wade, who scored just 10 points on 5-of-13 shooting. "But he was picking up almost at half court and I like my chances in that foot race even though I'm not 100 percent."
Bobcats guard D.J .Augustin, who had 20 points, missed a 3-pointer at the buzzer. The Heat felt they were owed the karma after James had been robbed of two points earlier in the quarter when a dunk bounced off Henderson's head and came out of the hoop. Officials missed the clear goaltending.
"Can I call the league office and get my two points?" James said, recalling when the league changed the box score to cost him an historic triple-double at Madison Square Garden in 2009. "They took one of my triple-doubles away; I want my two points back."


NBA Writer Brian Windhorst
• On Twitter @WindhorstESPN | On ESPN.com
• Follow ESPN's NBA coverage on Twitter | On Facebook | On Google+
2. Remember These Guys?
By Andrew McNeill
TrueHoop Network

SAN ANTONIO -- Amidst all the hoopla of Lob City, the same old San Antonio Spurs did what they make a habit of during the regular season, taking care of business in a 115-90 win over the Los Angeles Clippers.
Winning in the regular season is like death and taxes as long as Tim Duncan is in uniform for San Antonio. This season, like many before it, has been deemed the last rodeo for the Spurs. Last season's first-round exit to the eighth-seeded Memphis Grizzlies shined a spotlight on many of San Antonio's fatal flaws -- several of which have yet to be addressed.
However, last season's team still had the Western Conference's best record and the core of that team returns. The Spurs entered this lockout-shortened NBA schedule with a starting five that opened the majority of games last season and the synchronicity that many teams can only hope to achieve by the end of this season.
At the same time, the Spurs introduced three relatively new faces to the rotation. Tiago Splitter and James Anderson both had their rookie campaigns sabotaged by injuries, and Kawhi Leonard joins the rotation after two college seasons at San Diego State. The combination of those three players gives the Spurs a formidable defensive second unit, though one that has trouble creating its own shots offensively.
Against the Clippers on Wednesday night, San Antonio showed off its "corporate knowledge" as, time and time again, players made the extra pass at the right moment to find teammates open for good looks. "Give San Antonio credit," Clippers coach Vinny Del Negro said after the game. "They were cutting hard and they were moving the basketball."
Two wins in their first two games, the Spurs already show all the makings of a spring playoff run, whether anyone expected them to or not.
3. For Now, Time Not On Clippers Side
By D.J. Foster
TrueHoop Network/Clipperblog

The Clippers got what they needed this offseason. They changed the culture around the team and added the game's best point guard to pair with the league's most exciting big man. With their new additions, they seemingly became a contender overnight.
But after playing the first two games of the season, it has become painfully obvious that the Clippers are still missing something. Although the roster has a few small holes (Brian Cook playing major minutes is never advised), what the Clippers really need now can't be acquired -- which is rather unfortunate, because San Antonio certainly has an abundance of it.
What they need, more than anything else, is time. They need time to figure it out how to fulfill the lofty expectations placed upon them, and now they need time to let the wounds heal after the Spurs issued a 115-90 drubbing in San Antonio.
4. Daily Dime Live Rewind
Relive and note all the chatter, memes and photoshops of Wednesday's Daily Dime Live.
WEDNESDAY'S BEST
James
LeBron James, Heat: The full-court pass to Dwyane Wade while falling out of bounds wins on style points alone. Throw in 35 points, six rebounds, seven assists for LJ and that adds up to Miami rallying to overcome Charlotte's bid.
---
WEDNESDAY'S WORST
Westbrook
Russell Westbrook, Thunder: The All-Star missed all 13 field-goal attempts, finishing with only four points, all on free throws, but OKC still edged the Grizzlies 98-95. But it looks like Westbrook had an issue with Kevin Durant.
---
QUOTE OF THE NIGHT
"It's a great homage to him. He was laughing. He was cracking up. But it was great respect to him. I wasn't trying to show nobody up. It's about how much respect we have for the athletes."
-- Heat guard Dwyane Wade, who hit a game-winner then turned to a courtside Carolina Panthers quarterback Cam Newton and imitated Newton's popular Superman touchdown celebration by pretending to rip open his shirt.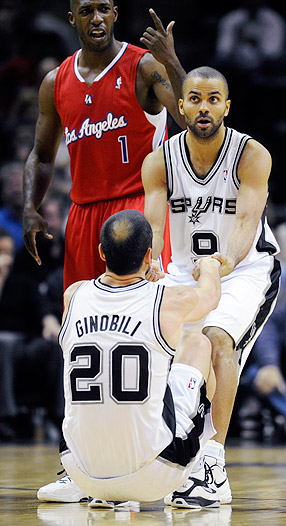 (AP Photo/Bahram Mark Sobhani)
Tony Parker gives a hand to Manu Ginobili during the Spurs' 115-90 win over the Clippers. After a first-round exit last season, will those two help the Spurs make their usual deep playoff run?
7.

Warriors Shut Down Knicks
By Ethan Sherwood Strauss
TrueHoop Network
On a brisk Oakland night, two teams sought to break free from a blighted shared past.
Like opposable-thumbed sheep, the New York Knicks and Golden State Warriors are always trying to fleece each other. It began in the 2009 NBA draft when GSW selected Stephen Curry before a throng of Steph-hopeful Knicks fans. The year after, New York traded David Lee to Oakland as a means of signing Amare Stoudemire. And this summer, the Knicks swiftly inked Tyson Chandler, a center the Warriors desperately coveted.
Despite all the movement, both squads underwhelmed expectations on account of underwhelming defense. But perhaps this evening would represent a sea change for one of these run-n'-gun traditions -- if not for both.
The game had a glass-riddled molasses flow from the outset. Golden State was without Curry, and struggled to the tune of 37 first-half points. Ish Smith scored 11 in Steph's stead, but failed to create offense off high pick-and-rolls. The Knicks did not fare much better with their 43-point opening argument.
Stoudemire failed and flailed against Ekpe Udoh's length, but he simply missed a few too many open jumpers against other defenders. Carmelo Anthony jab-stepped at a rate that would sprain the ankles of most men, but his ball-stopping led to a mere 3-for-13 night.
Ultimately, New York was undone by Tyson Chandler's foul-fraught performance. The defensive stalwart played only 22 minutes, and his fourth-quarter benching spurred some splendid play by Monta Ellis. The GSW guard was 4-of-5 in the final stanza while pitching in six assists. He often drove around the Knicks' defense without help from screeners, sometimes dropping passes shorter than his arms.
In the end, Golden State held New York to a stingy 78. Such nights are per usual elsewhere. In the Bay? This is major progress in an ugly fashion.