1. Durant's Big Shot Speaks Loudest

By Royce Young
TrueHoop Network/Daily Thunder
Archive
OKLAHOMA CITY -- Kevin Durant is clearly a one-upper.
His Oklahoma City Thunder teammate Russell Westbrook had the arena chanting his name. Had everyone inside Chesapeake Arena behind him, believing in him, supporting him.
And then Durant went all Durant and hit a game-winning shot, lifting the Thunder to a 104-102 win over Dallas. Such is the life of a second banana, I guess.
"I just tried to shoot a good one," Durant said. "I'm just glad I made it, man. I'm glad I made it."
Much to the Thunder's delight, that's what everyone will be talking about for a little while, instead of the supposed bubbling dissension between Durant and Westbrook. Never have I been in a Thunder locker room before the game where it was that quiet. Normally it's a place where a bunch of 23-year-olds are acting ... well, like 23-year-olds. But Thursday there was tension. It was somber and reserved. It wasn't so much because there was tension between the actual team, as much as tension and frustration about the situation they were put in. Both Westbrook and Durant sat in their chairs waiting for the inevitable questions about what happened 24 hours prior.
Nothing washes away all of that quite like a game winner, though. But it never would've been possible without Westbrook bouncing back from another bad start.
The Thunder's All-Star point guard checked back in the game with 6:41 left to play, his stat line standing at 3-for-9 from the floor with nine points. He closed it going 3-for-4 and scoring seven of the Thunder's last 12. His first points, a fast-break, and-1 dunk, brought out the old Westbrook, the one that's fiery and emotional. The sellout Oklahoma City crowd broke into a chant of "RUSS-ELL! RUSS-ELL!" as Westbrook stepped to the line to shoot his free throw.
"I've never seen in my 20 years with the NBA what the crowd did tonight," Thunder coach Scott Brooks said. "They knew he was struggling. They watched our game [Wednesday] night and he struggled. When he made the layup and the free throw and the crowd started chanting his name out, that was special. This is a special place to play. I've never seen it before."
Said Westbrook: "It's amazing what these fans would do for you. I love this city, I love my teammates and I'm just thankful."
This game was almost a perfect snapshot of the Thunder, though. If you ever want to try and explain this team and how it functions with Westbrook and Durant, here's your go-to tape. Durant and James Harden kept OKC's head above water as Westbrook struggled again for the first 44 minutes or so. But those last four minutes were so very Russell Westbrook. He lives by the two words "Why Not?" with a bracelet always on his wrist that says that. And that's how he plays.
"The crowd was unbelievable tonight encouraging him, and I think that gave him some extra push," Durant said. "For them to encourage him like that was beautiful to see. I'm glad he was able to carry us in the last few minutes of the fourth and lead us to a good win."
Call it exorcising demons, call it revenge, but this win has to taste a little sweeter for the Thunder. The Mavs weren't only a major thorn in the Thunder's backside during the playoffs, but beat Oklahoma City in the most painful ways possible. A Game 4 meltdown in the West finals and then a crushing Game 5 loss left the Thunder looking for answers in Dallas as their season abruptly came to an end.
And this one had the makings of another installment in the heartbreak series for OKC. Vince Carter's 3 to put Dallas up a point with 1.4 seconds left to play was something this Thunder team had seen before.
But Durant came to the rescue.
"He lives for shots like that," Westbrook said. "He has come such a long way and I'm happy for him, man."
If there was ever something symbolic of somebody putting their foot down and telling everyone to shut up and move on, it was Durant drilling that 3. Another growing moment for this young Thunder group. Another experience for them to tuck away in their pocket and call upon at a later time when needed.
It's just the fourth game of a long, but also short, 66-game season. Still, there was something more to this one, for a whole lot of different reasons.
2. Vince Carter, 1.4 Seconds From Hero
By Jeff Caplan
ESPN Dallas

OKLAHOMA CITY -- One flick of Kevin Durant's wrist splashed a remarkable, fall-away 27-foot game-winner at the buzzer, first stealing an elusive first win from the Dallas Mavericks and then setting off a wildly odd spectrum of emotion from a defending champion still grasping at how to look and act like one in its new skin.
Mavs coach Rick Carlisle said the basketball gods are not with his team, not yet.
When you're going through a tough stretch those kinds of shots go in against you," Carlisle said after the stunning, 104-102 loss that sent the defending champs to 0-3. "Right now, that's our reality."
Center Brendan Haywood, having played his finest game of the season after heavy early criticism, sat in front of his locker, knees wrapped in ice and his face long.
"Just disappointing," the 7-footer said, still wearing his headband. "We had the game won and Durant throws in a hell of a shot. Just disappointing because we fought very, very hard and it looked like we had the game, so just very disappointing."
3. Daily Dime Live Rewind
Relive and note all the chatter, memes and photoshops of Thursday's Daily Dime Live.
THURSDAY'S BEST
Durant
Kevin Durant, Thunder: Facing a shocking reversal of fortune, Durant reversed the reversal. His long 3-pointer at the buzzer overcame a virulent case of temporary Vinsanity moments earlier, when KD was preoccupied covering Dirk, not Vince Carter.
---
THURSDAY'S WORST
Williams
Deron Williams, Nets: With a cast of castoffs surrounding him, D-Will sank further under the weight of Net terribleness in a 94-78 loss in Orlando. D-Will shot 2-for-12 from the floor to go along with six turnovers at the Amway Center.
---
QUOTE OF THE NIGHT
"It was crazy, a crazy course of events. When two tough teams always go at it, it always comes down to the last play."
-- Thunder forward Kevin Durant, after his team won a thriller over the defending champs.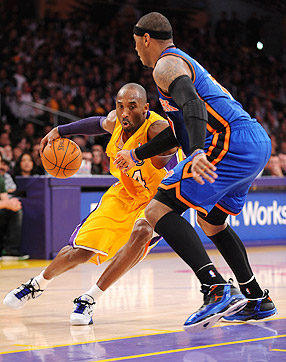 (Andrew D. Bernstein/NBAE via Getty Imagesi)
Kobe Bryant dropped in 28 points in the win over Carmelo Anthony and the Knicks. The Knicks
could use a clear-cut leader
, J.A. Adande writes.
6.

KD's Buzzer-Beating Past
By ESPN Stats and Information
Before Thursday's heroics, the last NBA regular-season game with two go-ahead 3-pointers with less than three seconds remaining also involved Kevin Durant and the Thunder.
It was January 2, 2009 (Nuggets at Thunder), when Durant hit a 3-pointer with 2.7 seconds left to put the Thunder ahead before Carmelo Anthony hit a 3-pointer with 0.1 seconds left to give the Nuggets the win.
The Thunder had four wins after that game as well. It made them 4-30, instead of 4-0.
7.

A Winter Of Fading Green?

What's all the fuss about? This time last season, the Boston Celtics already had six losses. It was eight the year before that at this point of the season.
Oh, that's right. This season started on Christmas Day, not around Halloween, like the two before. Oh well ...
Seriously, folks, does anyone see the sky falling in Celtics Nation? Sure, there are reasons to be concerned, even three games into a 66-game season (see below). But it's waaaay too soon to be worried, unless, of course, the Celtics lose at home to Detroit on Friday night. Which they WILL NOT DO. I think.
Before we get to the Debbie Downer portion of this column, let's look at the positives -- even after an 0-3 start. The Celtics coulda, shoulda beat the New York Knicks -- and doesn't it steam you even more to know that those two bogus, I-AM-BIGGER-THAN-THE-GAME Joey Crawford technical fouls in the fourth quarter have now been rescinded?
Did anyone really expect Boston to beat Miami, in Miami? I didn't. The Heat may not lose a game until February. New Orleans was a bit of a surprise, except I think Doc Rivers is right about the Hornets, at least at this point in the season. Take them lightly at your own peril.