1. In Face Of First Defeat, OKC Duo Stands Firm

By Marc Stein
ESPN.com
Archive
DALLAS -- Kevin Durant and Russell Westbrook said some things Monday night.
Edgy things.
Defiant things.
All of them, though, were aimed in the same direction this time, heaved at the naysayers from the same harmonious corner of the visitors' locker room at American Airlines Center.
KD and Russ couldn't stop the humming-at-last Dallas Mavericks from inflicting the first blemish on the Oklahoma City Thunder's previously spotless record, but an evening spent stalking these two in search of fissures in their relationship only reinforced a longstanding hypothesis: If anything ever breaks them up, it's going to be fit and basketball reasons -- real basketball reasons -- as opposed to some sort of personality conflict.
Because there isn't one.
Questions about on-court compatibility, well, those will persist for as long as it takes Westbrook to develop more of a team game. For all his dynamic scoring ability and athleticism, Westbrook still so often leaves you with the feeling that he can't help looking for his own shot first. For all the media slams Westbrook absorbed during the playoffs for not forcing himself to find Durant first, it's almost as if he's more determined to do it his way in the new season. You can almost sense when the ball is going up before he even crosses half court.
Of the Thunder's many problems here after that 5-0 start, with Dallas (2-4) so unexpectedly lively for four quarters in this 100-87 triumph after looking comatose just one night prior in Minneapolis, OKC coach Scott Brooks didn't deny that "we played too much one-on-one."
Yet you eventually remember Westbrook's age (23) and how much room for growth he has. You take note of how much OKC has achieved with only three reliable scorers (Durant, Westbrook and the ever-improving James Harden) and how you never hear any of them angling to get themselves to a bigger market. You also hear how Durant and Westbrook talk about each other, how they proudly share all the same scars -- dating all the way to the Thunder's 3-29 start in 2008-09 -- and you quickly understand why the Thunder isn't in a rush to satisfy the outsiders shouting break it up.
Both players are adamant that any suggestion of tension between them, most recently during a sideline blowup in Memphis that actually involved several Thunder players, stems purely from an external agenda against them.
"Me and Kevin get along better than anybody on our team," Westbrook insisted. "So I don't care what is said about nothin'. The better your team means the more guys will try to break it up. That's how I look at it.
"We're closer than we've ever been. [Episodes like the one in Memphis] just brings us closer as individuals and teammates."
Said Durant: "Of course it happens. When you have a team that doesn't have too many skirmishes or there's not enough real news going around, of course [the media] will try to blow up one small thing, which was very minor for us. You knew that was going to be blown out of proportion. But it's over with now."
Yes and no.
The incident itself? I do buy that the Thunder have buried it. Energy, not togetherness, was OKC's big issue in Dallas, particularly with the hosts getting meaningful contributions from Vince Carter (14 points in 23 minutes) and Ian Mahinmi (10 points and nine rebounds in 21 minutes), as well as a rare dagger 3 from the corner to cap a 17-point outburst from Shawn Marion. The kids, strangely, couldn't keep up.
The nuisance of the conflict storyline, by contrast, will almost certainly stick for a while. It figures to be the biggest challenge of the Thunder's season -- or at least the next 60 games -- with OKC's star duo sure be asked about their co-existence wherever this team goes now. How much will that take out of them?
We'll soon see. We'll soon see how draining that it is for a young group lacking a seen-it-all-veteran to preach calm and ease tensions, which is why Durant lobbied so hard for Shane Battier before Miami snapped him up. We'll soon see whether or not Westbrook, like Derrick Rose, gets an extension before the Jan. 25 deadline and what impact that has on things, with sources briefed on the matter saying that the sides are still talking regularly but that a deal is likely to either happen closer to the deadline or not until the summer.
Westbrook, frankly, has to play a lot better and smarter if he wants some peace from the press. Hovering in the nightly range of five assists and five turnovers won't get it done. Yet I'd have to say, on this evidence, that Durant and Westbrook are either great actors or truly unruffled by the near-daily inquisitions they're facing.
"It's a joke to us, man," Westbrook said of the persistent rumblings that he and Durant can't co-exist in the same fivesome. "It's definitely a joke to me. It's a joke to our whole team, because we know how we act amongst each other.
"The more you win, you're on TV more and you've got a lot of attention on you. And somebody is going to try to find something to break us apart. But I just think it's brought us closer. We're both just trying to win and we both know that."
Said Durant: "You've got a lot of stories with different teams, but with us, it's boring. It's not like we have a lot of stuff going on. It's not like we have celebrities coming to our games.
"We're the boring team in the league. I like that. Everywhere I've been, I've been the boring guy. Everybody asks me what I'm doing and all I'll say is 'I'm chillin,' because that's all I do.
"I love playing with Russell Westbrook and I love this organization. I enjoy being here, man. Anywhere else would be too much over the top."


ESPN.com senior writer Marc Stein
• On Twitter @ESPNSteinLine | On TrueHoop | On ESPN.com | On email
• Follow ESPN's NBA coverage on Twitter | On Facebook | On Google+
2. Pacers Stay On Target Against Woeful Foe
By John Hollinger
ESPN.com

NEWARK, N.J. -- Now that's more like it.
Indiana was supposed to have an upgraded offensive attack, but through four games against the league's bottom-feeders, evidence of such improvement was scant. Despite opening with Cleveland, Toronto, and twice against Detroit, the Pacers were just 24th in offensive efficiency heading into Monday night's game against another member of the NBA's JV, New Jersey.
The cause was too much one-on-one and not enough passing, something Pacers coach Frank Vogel reiterated to the team over and over during a film session.
"We showed them loud and clear how many open men we were missing," Vogel said.
On Monday, they found them. Indy shredded the Nets for 52.6 percent shooting and piled up 26 assists en route to a 108-94 win. The Pacers are now 4-1 heading into a much more difficult stretch of schedule that includes road games in Miami, Boston and Philadelphia in the next week.
"It's a simple game when we share the basketball," said Vogel, whose team came out strong and opened an eight-point lead before backsliding into selfish ways in a sloppy second quarter. A remedial lesson at the break drove the point home.
"We talked about that at the half, how in the first quarter the sharing was off the charts. They understand it, and they just have to do it night in and night out," Vogel said. "In the second quarter we fell back."
Vogel told his team in the locker room that they were falling into bad habits again, and said he was greeted with a chorus of strong "yeps" -- a sign that his message was getting through. Indy came out for the second half and hung 60 points on the Nets to blow the game open; their 13-of-21 3-point shooting mark came largely on unmolested shots after strong ball movement, with Paul George's 5-for-5 leading the way. Sixteen of Indiana's 21 second-half field goals came from an assist.
Happy though they are with the result, one also must take it with a grain of salt. The Nets may be the league's worst team right now; they have not held a lead in either of their two home games, and, playing without starters Kris Humphries and Brook Lopez, are so desperate for offense that at one point they ran three straight isolations for Damion James.
Nonetheless, this was much more encouraging than the first four games, when a soft schedule helped disguise some truly awful offensive execution. The Pacers expect to be a top-five playoff team this season, but they'll need the ball to keep moving to make it happen. For one night, at least, they showed they can do it.
3. Daily Dime Live Rewind
Relive and note all the chatter, memes and Photoshops of Monday's Daily Dime Live.
MONDAY'S BEST
McGrady
Tracy McGrady, Hawks: Throwing oops. Dropping 3s. Just being T-Mac. The 32-year-old franchise player-turned-journeyman scored 13 points in the fourth, his biggest final quarter since November 2008, as his Hawks handed Miami its first loss.
---
MONDAY'S WORST

Winless Wiz: Playing the royal and ancient Celtics for the second straight night, the youthful Wiz were run ragged by ageless 36-year-old Ray Allen. Nice. It's not inconceivable that everybody will continue to beat the Wiz -- 0-10 looks possible.
---
QUOTE OF THE NIGHT
"Manu [Ginobili] is pretty important to us and we lost him. We'll just have to deal with it."
-- Spurs coach Gregg Popovich, on his shooting guard, who broke the fifth metacarpal on his shooting hand during a loss in Minnesota.
5.

Kobe Vows To Keep Shooting
Bryant
EL SEGUNDO, Calif. -- Hours after a disappointing 99-90 road loss to the Denver Nuggets on Sunday in a game in which Los Angeles Lakers guard Kobe Bryant shot just 6-for-28 from the field, new Lakers coach Mike Brown and Bryant huddled together on the team plane and reviewed the game tape during the flight back to Los Angeles.
"I normally [watch tape on the plane], but watching it with the head coach is different," Bryant said. "I really enjoyed it because you get a chance to digest things, process things, go over things, talk about adjustments in terms or personnel and who to put on what spot on the floor and all that kind of stuff."
What they saw on the screen left Bryant defiant as ever about his decision making and the coach defending his star's shot selection following Monday's practice.
"I do what I do. If guys are open, I kick it to them; if they're not, I shoot it," Bryant said. "I play my game."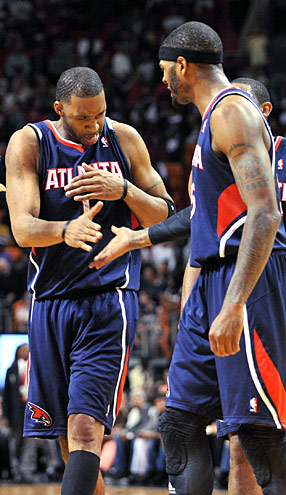 (Steve Mitchell-US PRESSWIRE)
Hawks reserve Tracy McGrady celebrates with teammate Josh Smith during the Hawks' 100-92 win over the Heat.
By Brian Windhorst
ESPN.com

MIAMI -- Perhaps the best way to explain the Miami Heat's first loss, odd as it may seem, is with some baseball analogies.
Let's start with this one: The Atlanta Hawks threw quite a changeup Monday night and the Heat were caught out on their front foot.
Then: The Heat have been through the order once and the hitters are starting to figure them out.
One more: The Heat can't lay off the high one.
There were several reasons the Hawks left Miami with an impressive 100-92 win. Tracy McGrady hit jumpers with the consistency and confidence he had circa 2004. Atlanta's willingness to patiently and coolly execute its offense under pressure and not slip into the long-running trap of standing around and watching Joe Johnson try to create a miracle helped. Some pretty good clutch defense at the rim from Josh Smith and Al Horford in the fourth quarter was a factor, too.
But mostly the Hawks beat the Heat with their scouting report. That left the Heat with more than just a loss -- with a headache. Like a hitter who can't lay off the curve in the dirt, the Heat know they're probably about to face a steady diet of what finally beat them for the first time in six games.
The season is now a little more than a week old and the book on the Heat has started to get around. The advance scouts have filed their reports. The assistant coaches have a catalog of games to watch to make suggestions. Head coaches have a huge bullet point for their game plan.
Right now, the Heat have a problem with zone defense, and the whole league is about to realize it.
Wallace
The Pistons downed the Magic 89-78, holding Orlando to 32 points in the second half. But the Elias Says nod for the night goes to Detroit's Ben Wallace, who furnished the Unusual Box-score Line of the Night: 20 minutes of playing time, no field goal attempts or free throw attempts, five rebounds and five steals. Actually, forget about the playing time and the rebounds; Wallace simply became the first player since 1973, the year the NBA started keeping track of steals, to have five or more steals in a game in which he didn't attempt a shot from the floor or the line.