1. Kobe Finds Shot, But Not Blooming Bynum

By J.A. Adande
ESPN.com
Archive
LOS ANGELES -- The most fascinating matchup in the NBA has become who Kobe Bryant is versus who he was.
At times it's a violent clash. Exhibit A came Sunday in Denver, where current Kobe missed 22 of 28 shots. Then there are times when the past wins out and it's as beautiful a sight as the high-arcing, fallaway jumper he dropped through the net against the Houston Rockets on Tuesday.
You never know what to expect from game to game, or even quarter to quarter. Bryant made his first three shots Tuesday, then missed nine of his next 12.
Then he made five of seven in the third quarter. He finished with a stat line that would have been the most beautiful thing in the building if Cindy Crawford hadn't been sitting courtside at Staples Center: 37 points on 14-for-29 shooting, along with eight rebounds, six assists and one taco-saving block in the Lakers' 108-99 victory over the Rockets.
But the Lakers could end up with an innocent civilian casualty from Kobe's internal war: Andrew Bynum.
Bynum, now in his seventh NBA year, has been posting All-Star numbers since the suspension-delayed start to his season. Tuesday provided the best yet, to the tune of 21 points, 22 rebounds and three blocked shots. He is skying for rebounds and maneuvering around opponents in the paint with an array of moves.
Apparently it will take much more than that for Bynum to become the first option. Through hot streaks and cold streaks, Kobe took more shots than Bynum and Pau Gasol combined once again, despite the big men's higher efficiency (58 percent shooting to 48 percent). At least this time Bryant's shots were coming from better places than they did in Denver, including on the block against smaller defenders.
Still, it was evident the lack of even distribution was getting to Bynum at halftime, when he scowled, untucked his jersey and brushed aside a teammate as he stomped toward the locker room. Bynum said he was mad at himself for missing some easy shots and frustrated because "I was running the court and wasn't getting the ball."
Late in the game, Bryant seemed more intent on going for his first 40-point game of the season than facilitating Bynum's first 20-20 game of his career. With Bynum sitting on 17 points and 21 rebounds in the final four minutes, Kobe took seven shots in about three minutes. (Kobe was more considerate to the fans; when Kyle Lowry attempted a 3-pointer that could have given the Rockets their 100th point, thus denying Lakers fans free tacos in a promotion, Kobe blocked the shot.)
It took Bynum grabbing an offensive rebound, getting fouled and making two free throws to get to 19. Then Matt Barnes, who noted Bynum's stats before he checked back into the game, threw a long pass to the giant receiver he compared to Calvin Johnson of the Detroit Lions ("I saw 'Megatron' running down the middle of the field," Barnes said) for a dunk that brought Bynum to the milestone.
Bynum can afford to go after personal statistical goals because of what his numbers mean to the Lakers.
"It's only benefiting," Bynum said. "Consequently, we'll be able to get out, we'll be able to run, we'll get guys open shots. We have three guys that can command double-teams. Offensively, we just go down low to one of us -- or set screens for each other -- and then defenses collapse, we'll hit shots."
It's the same case Shaquille O'Neal used to make ... and perhaps once the playoffs roll around, Bryant will come back to the fold the way he used to in the postseason when the Lakers were three-peating.
For now, however, Bryant is testing the limits of his 33-year-old body, in particular the right wrist with the torn ligament.
"Some shots it hurts, some shots it doesn't, so it's pretty inconsistent," Bryant said in an on-court television interview.
He elaborated later in the locker room, saying it affects his release point.
"You try to make every release the same, but it doesn't work out that way," he said. "Sometimes when I follow through, it just catches. I have to figure out how to make it more consistent."
There are times when his cartoonishly swollen right hand won't even allow him to catch the ball cleanly or throw a simple pass.
On Tuesday night, he ditched the Allen Iverson-style arm sleeve he wore in previous games (he said it was too restrictive) and went with just tape on the wrist. He's learning how to play through this at the same time he and the Lakers are learning a new offense. The one thing he won't get is a stop sign from coach Mike Brown. Brown didn't hesitate to call Bryant out for defensive lapses in the opening game, but he has yet to criticize him for shot volume or selection.
"He's a great player, and you've got to give great players, in my opinion, some freedom," Brown said.
"Kobe's a superstar. He's been there, done that. He can score. You've got to give him more freedom than I give Darius Morris. You've got to give him more freedom than I give Pau Gasol, more freedom than Derek Fisher. That's it. There's nothing more to it."
So there's the update from the front on the NBA's biggest battle. Kobe Bryant is liberated; Bynum is a prisoner of war.


ESPN senior writer J.A. Adande
• On Twitter @jadande | On ESPN.com | On TrueHoop | On e-mail
• Follow ESPN's NBA coverage on Twitter | On Facebook | On Google+
Dimes past: Dec. 25 | 26 | 27 | 28 | 29 | 30-31 | Jan. 1 | 2
2. Rose Looks Decisive In Comeback
By Jon Greenberg
ESPN Chicago

CHICAGO -- Derrick Rose had Jeff Teague all sized up. We all know the aw-shucks attitude is for off the court. He's a predator between the lines.
So with the game there for the taking, Rose went to work. It was a sight to see.
Two between-the-leg crossovers, a hesitation dribble to freeze the point guard, and then an explosion to the hole. After he picked up the dribble, Rose carried the basketball -- though it wasn't a carry -- coasting toward the rim where Atlanta Hawks forward Josh Smith lay in wait.
Smith had already blocked Rose at the rim twice in the quarter, but this time Rose timed his shot perfectly, a teardrop high over Smith's extended hand. It kissed in off the glass.
The basket gave the Bulls a one-point lead with 9.9 seconds left.
It wasn't the winning points. Al Horford tied the game with a free throw on the other end, necessitating another winning play -- a fabulous Joakim Noah backdoor pass to Luol Deng a few seconds later on a set play. But still, to watch Rose move so economically and so decisively is a welcome sight.
"That's the beauty with Derrick," Noah said. "He just keeps attacking."
The way Rose sees it, he's just getting warmed up. This was only his second home game of the season and the sixth overall. The Bulls are 5-1, but far from a polished product.
"I'm still getting back into my rhythm of driving," Rose said. "Just trying to get fouled, and it's coming back to me slowly. But the more I'm playing games like this and the more I play, it's definitely coming back."
3. Daily Dime Live Rewind
Relive and note all the chatter, memes and Photoshops of Tuesday's Daily Dime Live.
TUESDAY'S BEST
Bynum
Andrew Bynum, Lakers: This goes for a 10 on the By-no-mite! meter. Drops 21 points and 22 rebounds against a Rockets front line that could have used a little more of the now-departed Chuck Hayes' muscle. According to Elias Sports Bureau, Bynum (23 years, 68 days old) is the youngest Laker to register a 20-point/20-rebound game since Rudy LaRusso had 30 and 21 on Feb. 26, 1961, at 23 years, 107 days.
---
TUESDAY'S WORST
Johnson
Joe Johnson, Hawks: The $124 million man went 3-for-17 from the field, including the final miss, in a 76-74 come-from-ahead loss to the Bulls. Still, the Hawks did inspire some trust, considering this was their fourth game in five nights.
---
QUOTE OF THE NIGHT
"I'm a scorer, so I can't get down on one game. I can't let it snowball to the next."
-- Thunder forward Kevin Durant, who went 8-for-26 from the field in a 103-93 loss to visiting Portland.
5.

Contenders For Davis' No. 1 Rank

Davis
NBA GMs and scouts are, uniformly, tagging this draft as one of the best in the past five years. Kentucky's Anthony Davis continues to be the consensus No. 1 pick in the draft. But is it time to declare him a lock for No. 1?
His top contenders for the spot -- Baylor's Perry Jones (Top 100 Rank: 2), North Carolina's Harrison Barnes (Top 100 Rank: 3) and UConn's Andre Drummond (Top 100 Rank: 4) -- have all been very inconsistent in the first half. We can give Drummond a bit of a pass considering his age, his inexperience and the fact that he had to wear a distracting face mask for much of the first two months of the season.
Jones started off red hot but has relapsed into his wallflower ways a bit the past few weeks. Barnes has been a consistent scoring threat all season, but he's also been terribly one-dimensional. His rebounding, assists, free throw attempts and defensive effort have all been lacking this season.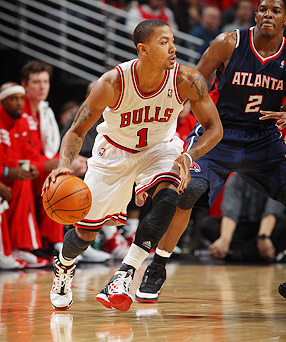 (Gary Dineen/NBAE via Getty Images)
Derrick Rose scored 17 of his 30 points in the fourth quarter, helping rally the Chicago Bulls from a 19-point deficit to beat Joe Johnson and the Hawks 76-74.
8.

Forecast: More Highs In The 30s
Aldridge
LaMarcus Aldridge scored 30 points to help lead the Blazers to a 103-93 victory over the Thunder on Tuesday night. It was Aldridge's 13th game with 30 or more points in the 86 games he has appeared in since the start of the 2010-11 season. That is nearly double the total number of 30-point games Aldridge produced (seven) in the 298 games he played in his first four seasons in the league.