1. Knocks On Knicks Grow Louder
By Jared Zwerling
ESPNNewYork.com
Archive
NEW YORK -- Rewind to Nov. 14, 2010. It was early in the NBA season, and the Knicks had just lost their fifth game in a row -- this time to the Rockets, 104-96 at Madison Square Garden. After the game, their leader, power forward Amare Stoudemire, called out his teammates.
"I don't understand why we're not playing with the urgency," a visibly dejected Stoudemire said at the time. "I'm not used to that. We don't have that sense of urgency. It's almost as if it doesn't matter. That's something I'm not used to."
What happened next? The Knicks went on to win 13 of 15.
Fast forward to Wednesday night at the Garden, where the Bobcats were victorious 118-110. While it was only the Knicks' second straight loss, they fell to 2-4 on the season. After the game, it was Stoudemire's superstar sidekick, small forward Carmelo Anthony, going on the offensive.
"I don't think the trust factor is there for us as a team," he said. "We don't have no choice but to be committed. We just have to build that trust factor for everybody."
Will that spark a win streak similar to that at the start of last season? Here's what the Knick will have to overcome:
On offense, the numbers from the starting five indicate they're producing. Going into Wednesday night, they were averaging 75.8 points per game, which put them third best in the league. The issue is that they've been scoring mostly individually. It's been too much Anthony and not enough team basketball.
Even after Monday night's 90-85 loss to the Raptors, rookie center Josh Harrellson said film sessions showed the team tends to stand around and watch Melo go to work in isolation. He excels in that category, but that pattern will prevent the team from finding a consistent flow in the offense. Unfortunately, as good as starting point guard Toney Douglas is as a shooter -- he's draining two 3-pointers per game this season -- he's not a facilitator. Therefore, the team's pick-and-roll game, for which Knicks coach Mike D'Antoni is known, has dried up like a prune. D'Antoni has been using Anthony occasionally as his point forward, but he's not the long-term solution to rhythmic problems.
Hopefully Baron Davis is healthy soon to take over Douglas' duties, or the ball movement will continue to stutter. Case in point: The Knicks are averaging only 17.4 assists per game -- tied for fifth worst in the league with the Memphis Grizzlies. Davis will especially help Tyson Chandler and Stoudemire in the pick-and-roll, where he's become a nonfactor. He's shooting more shots from 16 to 23 feet (6.3 attempts; 26 percent) than at the rim (3.7 attempts), where he's 63.6 percent. Previously, Stoudemire played with a true point guard in Steve Nash (in Phoenix) and Raymond Felton (in New York last season). Douglas is neither.
The Knicks' bench is also a concern, as it is averaging 26.9 points per game -- the worst mark in the league entering Wednesday. But that should change come February, when Davis is expected to return from a herniated disc in his back. That will allow Douglas to be a significant spark in the second unit, along with rookie combo guard Iman Shumpert, who's already surpassing expectations. In two games -- he missed four with a sprained right MCL -- he's averaging 14.5 points per game.
Defensively, the impact of Mike Woodson, who was hired in the offseason as an assistant coach to teach just that, still remains to be seen. After the Bobcats game, different reasons were expressed. A shortened training camp, poor rotations, lack of communication, still learning the defensive schemes. All those factors were obvious Wednesday night as the Bobcats found wide-open pockets in transition and from the backside. The Knicks had no hands in shooters' faces nor body-up ball hawking.
Douglas said it best: "It's a mentality that we've just got to have. There are no excuses for us not to come out in the first half ready to play on the defensive end. Offense will be there; I'm not worried about that. We've just got to stop teams. We can't keep giving games away like this. We have to play for something."
That mentality comes in the form of energy. Before Wednesday night's game, Shumpert said the team needed more of that, and he displayed those extra bursts on both sides of the ball. In the NBA, it's all about instincts and split seconds, and the Knicks right now are slow reactors. From watching Melo to being a step slow on defense, they better get after it and work better as a team.
If the Knicks are going to facilitate -- literally -- a winning streak like they did in 2010, Friday is a great place to start. They're playing the 0-6 Wizards on the road and then the 2-4 Pistons on Saturday.
Still, the Knicks will have short-term issues, and some of them will be corrected only with Davis as the starting point guard. The question is: Can his recurring injuries leave him alone? The real solution might come in this summer's free agency, when the consistently healthy Nash is available and could reunite with Stoudemire. And, of course, a focused commitment to defense. Without that, all of the Knicks players' talk of championship will go to waste.
Read more of Zwerling's work at ESPNNewYork.com.
Dimes past: Dec. 25 | 26 | 27 | 28 | 29 | 30-31 | Jan. 1 | 2 | 3
2. Clippers Work On Sagging Board Scores
By J.A. Adande
ESPN.com

LOS ANGELES -- The only fourth-quarter drama to be found in this Rockets-Clippers game was on the stats screen, not the scoreboard. The Clippers had the game well in hand, but the rebounding race was going down to the buzzer.
The Clippers had been outrebounded in each of their first four games, by a total of 40. Their league rank is right where you'd expect. Total rebounds: last. Rebound differential: last. Defensive rebound percentage: last. Last, last, last.
The Clippers figured out one way to make up the difference: cut down the opponent's defensive rebound opportunities by refusing to miss shots. Los Angeles shot better than 60 percent for most of the game and finished at 58 percent.
Chris Paul was more assertive early on than he had been since he joined the Clippers and made five of six shots in the first quarter. He wound up with 20 points on 9-for-14 shooting. Blake Griffin was 10-for-15 (eight of his buckets coming in the paint). Chauncey Billups returned from a groin injury that kept him out of the previous two games and made three of his five shots.
The Rockets couldn't keep up, so the starters got extensive rest in the fourth quarter of the Clippers' 117-89 victory. It was up to the end of the bench to secure that first rebound victory ... and those players couldn't quite do it. The final rebound totals: Rockets 33, Clippers 33.
"We didn't win the rebounding battle, but we didn't lose it," Clippers coach Vinny Del Negro said. Then he pointed out the kind of statistical discrepancy coaches love to see: "30 assists, only seven turnovers."
Yes, the Clippers had almost as many assists as rebounds. The strengths and weaknesses of a team have never been clearer.
3. Last Winless Team Needs Repairs

ORLANDO, Fla. -- The Wizards are not a very good basketball team right now, and their sixth straight loss was an embarrassing, albeit telling blowout at the hands of an Orlando squad that is struggling with identity problems of its own.
The big story in Washington is immaturity, impatience, inability to run an offense and play defense, and inexcusable squandering of talent.
That talent? John Wall. Wall went 6-for-16 in the game including a goose egg in the first quarter. In fact, he and the other Washington guards combined for an 0-for-11 effort in the first quarter, in which the Magic built their insurmountable lead.
Insurmountable, that is, if you're a team of volume shooters who give less than a desired effort.
When the season started, it seemed as if there was hope in the fact that Wall was on the roster as a second-year guy. Maybe, many thought, he could put the team on his back and carry it to success. More success than last season anyway, right?
The Wizards acquired veteran Rashard Lewis, and already had streaky shooters in both Nick Young and Jordan Crawford, loose cannons to say the least. In a word, the bar wasn't terribly high for this Washington team, but it was certainly higher than how this team played Tuesday night in a blowout loss to Boston.
Lewis didn't comment on the reckless abandon with which his teammates played. He didn't mention Andray Blatche's inability to play good defense, nor did he mention the lack of post presence from an ailing JaVale McGee. Instead, Lewis cited lack of intensity as the root problem.
"It seemed like everybody's head was somewhere else besides this arena. To me no one had energy. No one came out ready to play," Lewis said. "You could just look at everyone's body language. I have no idea why. It's not legs. Everybody has a tough schedule. It's not an excuse. This is just a young team looking for direction. Everybody had bad body language tonight."
Intensity, it seems, is step one for the Wizards. But they will need to make big adjustments in both IQ and execution if they want to find success. Oh, and it might help to have John Wall posting a better line than 14 points and 5 assists. After all, they have to get on this guy's back.
4. Daily Dime Live Rewind
Relive and note all the chatter, memes and Photoshops of Wednesday's Daily Dime Live.
WEDNESDAY'S BEST
James
LeBron James, Heat: Stepping up with Dwyane Wade out, LBJ went for 33 points, 13 assists and eight rebounds in a 118-83 rout of the Pacers. The key to Bron's success? He's "getting back to himself", as Brian Windhorst notes.
---
WEDNESDAY'S WORST

The Tri-State Area Nets: The Nets' starters facing Boston were -- and I am not making this up -- Shelden Williams, Damion James, Mehmet Okur, Sundiata Gaines and MarShon Brooks. The Nets fell to 1-6 in the blowout loss, and with D-Will and Brook Lopez out, this team looks every bit the club that could threaten the 1972-73 Philadelphia 76ers' single-season record for losses (73) -- were it not a 66-game season.
---
QUOTE OF THE NIGHT
"It's everything. We go over everything on defense in the shootaround, but we didn't do it out there. You see what happened to us. Once everybody started being selfish on offense, [and] then on the defensive end we're not trusting each other."
-- Wizards guard John Wall, after his team fell to 0-6 with a loss in Orlando.
6.

No Manu, But Winning Still Here

In Wednesday night's win over the Warriors, the Spurs found victory in an unexpected storyline.
Without Manu Ginobili, many expected second-year Spurs guard James Anderson, who was given the start, and Gary Neal, just back from an appendectomy, to fill the offensive void created by the fracture in Ginobili's left hand. But as the Spurs rallied back from a game-long deficit, both Anderson and Neal cheered from the bench.
And why not? Anderson and Neal were a combined 5-for-15 from the field -- with little else to show for their efforts -- in 36 minutes of play.
Instead, Spurs coach Gregg Popovich turned to an unorthodox lineup featuring Spurs starters Tony Parker, Richard Jefferson and Tim Duncan alongside first-year Spurs point guard T.J. Ford and third-year forward Danny Green, who spent considerable time in the D-League last season.
While Ford's play was noteworthy, Green contributed the most to the Spurs' win. The seldom-seen wing provided San Antonio with a defensive cooler for Monta Ellis' hot hand (15-for-30, 38 points). But his impact was bigger than solid defense, a couple of crucial baskets and a critical assist on a Jefferson 3-pointer that put the Spurs ahead 89-88 with four minutes remaining.
Green entered the game with 3:41 left in the third quarter, and Popovich was so satisfied with his play that he left him in the game until the final horn. In his 16 minutes of action, Green figured prominently in a half-dozen game-changing plays for the Spurs, whether on offense or defense.
After the game, Popovich got right to the point. "T.J. [Ford] was fantastic. Danny Green was fantastic. The two of them, they gave us the energy to get that ball game. They played fantastic basketball."
This certainly isn't how the Spurs envisioned getting by without Ginobili. But in a way, it's the only way the Spurs know how to play. The one constant with the Spurs -- Ginobili or not -- is their ability to eke out wins.
The Bad News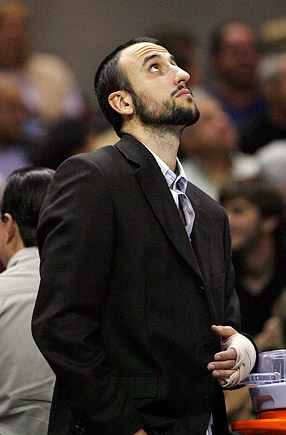 (Soobum Im-US PRESSWIRE)
Allen
Tony Allen made all eight of his field goal attempts in the Grizzlies' 90-86 win at Minnesota. Allen tied a single-game franchise record for most shots from the floor without a miss. Stromile Swift (March 12, 2003), Lorenzen Wright (March 24, 2005) and Marc Gasol (Nov. 14, 2009) each shot 8-for-8 from the floor in a game for the Grizzlies, but no player in franchise history has ever gone 9-for-9 or better.