1. Heat's Other Guys Deliver Triple-OT Win

By John Hollinger
ESPN.com
Archive
ATLANTA -- There was no LeBron, no Wade and, yes, it was ugly.
But to a man, the Miami Heat were beaming with pride after gutting out a 116-109, triple-overtime win over an Atlanta Hawks team that had defeated them just four days earlier. The much maligned supporting cast of a season ago has been dramatically upgraded, and this was the perfect venue to show it.
"I've been in lot of wins in my 10 years in the league," said Heat forward Shane Battier, "and this is right up there with them because of the circumstances."
Playing on a back-to-back and for the fourth time in five nights, Miami held the Hawks to 38.3 percent shooting and became the tenth team in league history to hold an opponent scoreless in an overtime period, winning the final stanza 7-0.
"That game was an exercise in absolute endurance," said Miami coach Erik Spoelstra, "[and] in mental and physical toughness."
Both Wade and James sat with ankle injuries, with Wade's being the more serious of the two. James tested the ankle before the game after spraining it Wednesday night before ruling himself out; both players are day-to-day heading into Saturday's contest against New Jersey.
Inevitably perhaps, the Hawks relaxed -- Atlanta coach Larry Drew called it a "total mental letdown" -- and they again shot themselves in the foot from the free-throw line, making just 31 of 46 attempts.
But the Heat had a lot to do with Atlanta's offensive struggles, and three huge performances stood out.
First, Chris Bosh led the way with 33 points, 14 rebounds and five assists, including a game-tying 3-pointer with one second left in regulation, and in doing so reminded everyone that it's a big three in Miami and not a big two. Miami's one sustained bumpy stretch came after Bosh went to the bench with his fourth foul in the third quarter, allowing a 16-1 run while surrendering a 13-point advantage.
Second, Battier came up with a blocked shot at the end of the second overtime while guarding Joe Johnson on an isolation. With the game tied and the Hawks playing for the last shot, Johnson drove past Battier for a left-handed layup but Battier recovered and slapped it off the backboard.
"I knew it was going to be an iso," Battier said. "I knew he wanted to get his left hand. I looked out of the corner of my eye and I saw Josh Smith on the left side of the court so I thought I was going to get a little more support. But once he started to go I realized they're hugging Josh Smith, so I was a step behind and I had to meet Joe at the rim. I was just trying to get a finger on the ball and I timed it well."
The 33-year-old forward played 49 minutes and skied for the rejection in minute 44. That was after Spoelstra said before the game he wanted to keep Battier to fewer than 30 while he recovers from a groin injury.
"He's lost all credibility," Battier joked.
And finally, there were the kids. Mario Chalmers tore Atlanta's Jeff Teague apart in pick-and-rolls and finished with 29 points and eight assists, Dexter Pittman played some solid backup center minutes, and Norris Cole had another strong outing with nine points and five dimes in 20 minutes.
All that paled next to Terrel Harris. The D-League refugee cracked Miami's roster because of how well he defended Wade in training camp, and his quickness proved vital at both ends on Thursday night. The 6-foot-5 guard had an eye-popping 14 rebounds, including seven at the offensive end -- one of which he converted into a sweet behind-the-back pass to Bosh for a layup. Throw in a crucial charge in the third overtime and innumerable hustle plays throughout, and he was the talk of the Heat's locker room.
"He has been doing this in practice, but he's been a secret to all of you," Spoelstra said. "That speed and quickness you can't teach, but also that fearlessness."
"They've been very coachable," Udonis Haslem said of Miami's younger contingent. "They listen, they work hard, they're the first guys in the gym and the last guys to leave. It's no coincidence that those guys showed up big for us tonight."
As a result, the Heat walk out of Atlanta with an unlikely victory and retain their hold on the league's best record at 7-1. Even more, they walk out with a sense that their supporting cast is good enough this time around.
And the Hawks? They take away a second straight disappointing loss after giving away a win in Chicago two days earlier. The timing couldn't have been worse, either. After Thursday's triple-overtime game, they'll take leaden legs into a back-to-back-to-back that begins in Charlotte on Friday before facing the Bulls again Saturday.
Dimes past: Dec. 25 | 26 | 27 | 28 | 29 | 30-31 | Jan. 1 | 2 | 3 | 4
2. In First Game Post-Westphal, Kings Rally

SACRAMENTO -- The Sacramento Kings have played poorly in all but two games this season. Poorly enough that coach Paul Westphal was fired Thursday morning, following a 27-point drubbing by the Denver Nuggets the night before on the road.
Down 21 points at half on Thursday to the Milwaukee Bucks, the Kings rallied for new coach Keith Smart. They rallied in a way that they hadn't for Coach Westphal. They rallied to victory.
With 18.1 seconds left, Tyreke Evans, playing his best game of the season, he hit two free throws to give the Kings a one-point lead. After a defensive stop and another pair of free throws by Evans, the Kings handed Smart an improbable first victory, 103-100. DeMarcus Cousins had 19 points and 15 rebounds. Evans went for 26 points, 10 rebounds and five assists.
"We came together tonight, through all these ups and downs, played together and got the big W," Cousins said.
According to Kings president Geoff Petrie, the decision to fire Westphal had been made the day before, after he met with team owners Joe and Gavin Maloof.
Petrie refused to pin Westphal's firing on the spat between the coach and second-year big man Cousins, at least not specifically.
"You can't take a philosophical vacation," Petrie said of Westphal, "because things are happening in real time."
So six games into a regular season was enough to make a judgment on the coach for a team whose average age is just 24 years old.
3. Even Without Manu, Spurs Dominate
By Jeff Caplan
ESPN Dallas

SAN ANTONIO -- First came the bombardment, and then the debate.
Were the Dallas Mavericks really that bad? Or were their legs such a rubbery, fatigued mess that they had no chance to be good?
For a team that's shown improvement after starting the season 0-3 and with consecutive embarrassing home losses to start this strange season, a third whipping by halftime immediately raises red flags.
The mantra is "No Excuses," but the reality is that Dallas was playing a sixth game in eight nights, unheard of during a conventional, 82-game season. And once the San Antonio Spurs came out firing, gunning in five of their first six 3-point attempts in the opening eight minutes, the Mavs were toast.
The 55-29 score at the half is not a misprint. The final score was 93-71. Dallas finally reached 40 points with 2:55 to play in the third quarter.
4. Daily Dime Live Rewind
Relive and note all the chatter, memes and Photoshops of Thursday's Daily Dime Live.
THURSDAY'S BEST
Bosh
Chris Bosh, Heat: Played like a Bosh. The Hawks led 93-90 when Bosh canned a tying 3-point attempt with only six-tenths of a second remaining in regulation. His 33 points and 14 rebounds helped the Heat top the Hawks, even though they were playing without Dwyane Wade and LeBron James.
---
THURSDAY'S WORST

Nowitzki
Dirk Nowitzki, Mavs: Even the great ones have duds. Made 3-of-11 shots en route to six points, his lowest output in over two years. At least he wasn't alone in the 93-71 rout by the Spurs -- the team shot 5.3 percent from 3-point range.
---
QUOTE OF THE NIGHT
"That was a Christmas miracle."
-- Spurs forward Matt Bonner, after learning his 17 points Thursday gave him more than Tim Duncan and Dirk Nowitzki combined.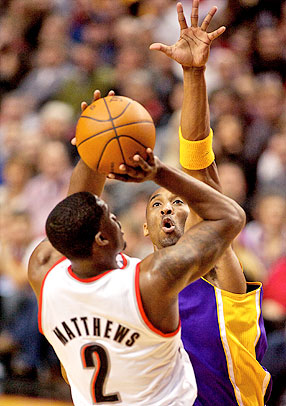 Craig Mitchelldyer-US PRESSWIRE)
Kobe Bryant and the Lakers couldn't overcome Wesley Matthews and the Blazers. Bryant had 30 points but the Lakers fell in Portland 107-96. Portland has the West's best mark at 5-1.
Bryant
I spent a fair portion of Tuesday on the phone with a front office executive who was explaining to me why he doesn't care what the statistics say: There is tremendous value in Kobe Bryant in crunch time. His ability to make tough shots inspires all kinds of double-teams and defensive oddities, which create a buffet of opportunities for the Los Angeles Lakers, from counter-attacks to offensive rebounds.
Of course that's true in theory. But in reality, it simply doesn't happen much. If Bryant is going to help, he's going to help largely by making shots.
Look how much Pau Gasol and Metta World Peace don't have the ball in that photo above from Christmas Day. There are players cut from middle school teams who'd be deadly left open from that range. When the photo was snapped, the clock read five-tenths of a second, probably too late to pass. But check the video, Bryant had four guys on him and a passing lane to an abandoned Gasol more than a second earlier.
In other words, the phenomenal threat of Bryant's scoring ability is best combined with the threat of making the best basketball play.

The San Antonion Spurs' 93-71 victory over the Dallas Mavericks was lopsided from 3-point range, where San Antonio made 16 of 33 attempts compared to Dallas' 1-for-19. It was the 12th game in NBA history in which a team made at least 15 more 3-point field goals than its opponent, and it was the second such game for the Spurs.
It was the first game in franchise history in which the Mavericks took as many as 19 3-point shots while making no more than one. Only one other NBA team has done that over the past five seasons. That was the Raptors, who made one of 20 3-point shots in a loss to the Suns on Nov. 29, 2009.