1. Suns: Steve Nash Rises And Sets With Them

By Marc Stein
ESPN.com
Archive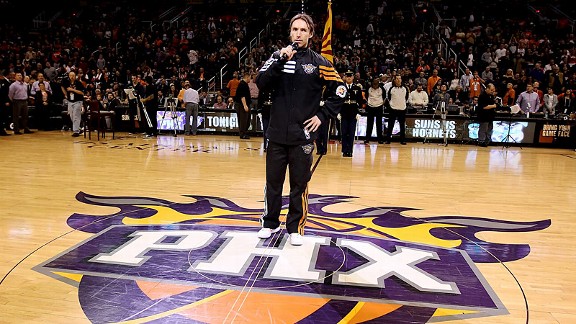 Christian Petersen/Getty ImagesThe Suns and Steve Nash have issued the same warning: Don't look for Phoenix to deal him in-season.
DALLAS -- Steve Nash sits at his locker with an ice pack on his right knee, another on his lower back and a sheepish smile on his face, having just told the laugh-at-yourself story about the new protective pad he's been forced to wear under his jersey to protect bruised left ribs.
"It's like half a bra," Nash says. "C cup."
Then he does one of those Nashian pivots that he usually busts out to make space in the lane and starts jabbing at the one doing the asking, anticipating what's coming before the conversation goes any farther, his feel and vision undented even with birthday No. 38 just a month away.
"Lemme guess what you want to talk about."
Nash knows. He knows because he's been getting the question -- questions, really -- for more than a season now. He hears it not just from media pests but from fans, too. Suns fans, even. The desert dwellers obviously don't want to see their prodigal point guard leave, but they don't want to see the NBA's all-time leader in playoff games without reaching the NBA Finals suffer any more, either.
Isn't it time to finally ask for a trade? Don't you want one more shot at a ring before you retire? How much more of this can you take?
"What does that mean?" Nash asks back. "Do I go in and say, 'Trade me to a top two or three team?' I think it's lot more difficult than people think.
"One, it's not my style. Maybe I'm old school, but I feel like that's not my place to give up on my team, give up on my teammates. I signed a contract and made a commitment.
"And two, I don't feel it's like choosing a restaurant. It's got to be a situation that works for two teams. And I don't know how simple that is. But before we even get to that part of it, I just feel that I owe it to my teammates to stay committed to them. I feel that I owe it to the fans and the organization to fight."
So the cycle continues in Phoenix. Nash is adamant: He will not go to his bosses and ask to be traded. The Suns likewise haven't budged: They insist they will not trade Nash unless he comes to them and says he can't bear another day detached from relevance. The trading deadline isn't until March 15 in this shortened and late-starting season, so there's lots of time for positions to change and QB-hungry suitors to make their pitches, but the present course will find Phoenix playing out the next 60 games and then trying to persuade Nash to re-sign come July 1 ... or risk losing him without compensation.
On this scorecard, if you exclude the restricted free agent studs like Kevin Love and Russell Westbrook whose teams are sure to match any offers they get, Nash surely ranks as the No. 3 free agent-to-be in the 2012 class, behind only Dwight Howard and Deron Williams, no matter what his birth certificate says. Yet Nash, who turns a year older on Feb. 7, eventually cuts short any discussion about the future, having pledged to the Suns that he'll try as hard as he can to prevent the uncertainty about how much longer he'll be a Sun from becoming a daily distraction.
"Particularly with this condensed season, all the energy I have is to try to prepare to play," Nash said. "I'm still rusty. It was a long layoff with really no basketball for me. It takes a lot of energy and effort every day to prepare to play. So I really don't have time to think about the future. I gotta try to get back to midseason form."
Said Suns president of basketball operations Lon Babby: "We have a pretty definitive plan, which is to stay as competitive as we can with the leadership of Steve and Grant [Hill] and try to begin to put the pieces in place to look towards the future and maintain flexibility in 2012 and beyond. Those are the elements of what we're doing.
"We're trying to brick by brick put a team together that will compete at the highest levels and create a little bit more balance than we've had here offensively and defensively and try to do what's difficult to do: build for the future but at the same time maintain a level of competitiveness. It's a tough task, but we'll see if we can pull it off."
The obvious problem is that July -- when the Suns come into their first significant cap room since swiping Nash back from the Dallas Mavericks in the summer of 2004 -- feels years away because of where they are now in the West's pecking order. As one scout said Wednesday after watching Nash rack up 12 assists to go with 15 points in the Suns' eighth straight loss in Dallas: "How many of their other guys are legit NBA starters?"
Hill, at 39, splits the leadership load with his little buddy and is as equally stubborn in his devotion to the Suns (and his resistance of Father Time). Marcin Gortat continues to develop and raise hope that he can solidify his standing as one of the NBA's top 10 centers. Jared Dudley remains a determined and endearing sixth man. But beyond those three? The Suns have only four holdovers from the 2009-10 team that fell two wins shy of a Cinderella trip to the NBA Finals and are borderline unrecognizable some 18 months later.
These Suns, sacrilegious as it sounds, struggle to score, falling shy of 90 points three times in their first six games. The game-changing bench of 2010 is a memory. Suns coach Alvin Gentry and Nash have openly frothed at the idea of what Lamar Odom might have given the team as a one-year rental, because power forwards who can make plays are tailor-made to play with Nash, but sources close to the situation insist that the Lakers never made Odom available to the masses after the collapse of their Chris Paul deal, agreeing to trade the reigning Sixth Man of the Year to Dallas because that's where Odom's camp pushed for if he had to leave L.A.
Suns owner Robert Sarver is still paying for the decision after the near-Finals trip to let Amare Stoudemire go ... and then ill-advisedly spend $80-something million on Hedo Turkoglu, Josh Childress, Hakim Warrick and a re-signed Channing Frye in a doomed attempt to replace Nash's longtime pick-and-roll partner. Sarver has resolved to take a lower profile and let Babby do the bulk of the talking now, which he lived up to Wednesday night by declining to be interviewed for the first time I can remember, but it's going to take more than measured words for Phoenix to recover from that plan.
According to one theory circulating in GM circles, Phoenix favors keeping Nash for the entire season at least partly because it knows it can't possibly get multiple difference-making assets for him now, having held onto the league's fifth-oldest player for so long instead of moving him sooner. And if Nash elects to walk away in July, deciding it's finally time to put himself first after resisting any urges to force his way out like we expect NBA stars to do when rings are out of reach, Sarver will be able to say that he tried his hardest to hang onto No. 13 and just couldn't stop him.
"He's going into the Hall of Fame in a Suns jersey and I think he's earned that," Babby said, rejecting any premise which contradicts the notion that keeping Nash is Phoenix's Plan A, B, C, etc.
"And it's not just that he's earned it, it's what we want as an organization. Maybe people say you should do this or do that, but we disagree. I think treating a player of his stature in this way is projecting the right values. As long as he wants to be a Phoenix Sun, he'll be a Phoenix Sun.
"This is what I told him as soon as we got back to work," Babby continued. "What I told him is there's Isiah Thomas, there's Magic Johnson, there's John Stockton. Those are three of the greatest point guards who ever played and all of them essentially played with one team. We know there's a little glitch in his background where [Nash] didn't play here, but fundamentally everybody views him -- and we certainly view him -- as a Phoenix Sun. And that's what I want for him. That's what our organization wants for him. So what I told him is as long as he wants to be here and believes in what we're doing and is all in with what we're doing, we want him to stay. That's the commitment I made to him and I think we're on the same page."
Said Hill: "We're all hoping he'll stay and retire a Sun. It wouldn't look right if he's in a different uniform. But as I say that I know it's a business. And that means anything can happen."
Critics have struggled to comprehend how Nash can settle for the comfort and continuity of desert life instead of chasing that elusive title, but Hill's presence is one of those factors that helps Nash stay at peace no matter where the Suns are in the standings. They're as close as Nash and Dirk Nowitzki were in Dallas, which helps explain why Hill returned to the Suns on a one-year, $6.5 million contract last month despite interest from a handful of contenders.
The same holds for a Suns training staff that has nursed Nash through countless ailments in this second Suns run, headed by head athletic trainer Aaron Nelson and strength and conditioning coach Mike Elliott. It's no coincidence that Stein Line HQ favorite Michael Redd, having seen the sort of care Nash and Hill get, chose Phoenix as the launching pad for his comeback from three straight seasons interrupted by knee troubles.
Those are the central figures in Nash's basketball family. Phoenix, of course, is also where he shares custody of his three children after getting divorced last season.
It likewise helps that Nash has the unique ability to tune out external chatter about his résumé, legacy, defensive deficiencies and any other advice from the masses. He too, like Hill, finds it difficult to prognosticate.
All he can promise at this point is that he wants "to keep playing for two or three more years for sure." Not because he's burning to make it to his 40th birthday as an active player, like Stockton did, but because "if I can still compete with the best I want to do so."
"I don't know what the organization's plans will be," Nash said of the next two months, "if they'll have a change of heart. We've talked about it. At this point they want me to stay for as long as I want. And I'd like to stay. But you just never know. This is a business that changes every day. They could change their philosophy and I understand that.
"To be honest, I really don't think about [the future] much. It doesn't enter my mind a lot. I'm trying to get this team better. I'm not going to be at my best for a while, but I think that's a realistic outlook. I think even guys who played a ton of basketball [over the summer] are still finding their rhythm. I'm actually surprised that I am where I am considering it was such a long layoff from the game.
"I did the best I could without playing much basketball [during the lockout] and I think it put me in a really good position to find my game. If we continue to struggle, that's not the type of thing that I handle easily, but I can't predict what that would do to the situation from my perspective or the front office's perspective. I expect a lot of myself, so sometimes I get pissed [off] and frustrated, but the truth is I'm way ahead of probably where I should be considering the layoff. I think I'll be right back to where I've always been fairly soon, and I feel like I can do that for a couple more years."
Dimes past: Dec. 25 | 26 | 27 | 28 | 29 | 30-31 | Jan. 1 | 2 | 3 | 4 | 5


ESPN.com senior writer Marc Stein
• On Twitter @ESPNSteinLine | On TrueHoop | On ESPN.com | On email
• Follow ESPN's NBA coverage on Twitter | On Facebook | On Google+
2. Western Conference

Jan. 25 is the deadline for Oklahoma City's Russell Westbrook to secure a contract extension. Ditto for Minnesota's Kevin Love and Portland's Nicolas Batum.
If the buzzer sounds with no extension for any of those franchise cornerstones, they become restricted free agents on July 1. And if you presumed that Westbrook would reach terms on a new deal roughly as fast as Derrick Rose did in Chicago, you're not alone.
One possible explanation for the delay -- and we stress that this falls under the category of educated speculation -- is that the sides haven't yet agreed on the length of a contract. The Thunder undoubtedly would love to see Westbrook commit to a five-year deal with no player option entering Year 5 like Kevin Durant did when he agreed to a max extension in the summer of 2010. It's presumed that Westbrook would prefer a three- or four-year guarantee with a player option tacked on.
It should be noted, though, that the majority of such extensions generally aren't finalized until closer to the buzzer, so it's probably still too soon for alarm bells. OKC is also secure in the knowledge that it can't lose Westbrook if no deal materializes this month because of the ability to simply match any offer he gets in the summer as a restricted free agent.
Whether the absence of an extension has contributed to Westbrook's uneven (and some would say stubborn) play so far is another matter.
Westbrook, for his part, insists that the extension is a non-issue and that blocking out the criticism he's received in the early part of the season is "an easy job for me" because he's been taking heat for his shoot-first mentality "since I got in the league."
Asked specifically about whether the state of contract talks has weighed on him, Westbrook said: "Not at all. I'm blessed to be in the position I am now, so I'm not stressing over that at all. Sam [Presti], Clay [Bennett] and my agent, them guys will take care of that and I just go out and play every night."
---
Some numbers of note in the West this week:
91.3: The Suns entered Friday's play averaging 91.3 points per game, putting them 23rd in the league in scoring. In the previous four seasons, Phoenix never averaged less than last season's 105 points per game, which placed them fourth in team overall scoring. The Suns averaged 110.2 points (first), 109.4 points (first) and 110.1 points (third) in the three seasons before that.
6: Minnesota's Kevin Love is the first player since Kareem Abdul-Jabbar in 1975-76 to record at least 20 points and 12 rebounds in his team's first six games.
16: After notching its 27th straight home win over Golden State on Wednesday night by overcoming a 10-point deficit, San Antonio is 16 victories shy of matching the Lakers' league record of 43 consecutive home Ws over Sacramento from 1975 through 1992.
7: Lamar Odom was held under 10 points in seven of his first eight games as a Maverick. That happened to Odom four times in the first eight games of the 2008-09 season, his previous slowest start.
9: Dirk Nowitzki is just the ninth player to play in at least 1,000 regular-season games all with one team, joining Utah's John Stockton (1,504), Indiana's Reggie Miller (1,389), Boston's John Havlicek (1,270), Philadelphia's Hal Greer (1,112), L.A's Kobe Bryant (1,110), San Antonio's Tim Duncan (1,059), Detroit's Joe Dumars (1,018) and Houston's Calvin Murphy (1,002).
---
Why aren't the Suns offering Steve Nash an extension to try to keep him off this summer's free-agent market?
Because they can't.
Nash, remember, signed a two-year extension worth $22 million in July 2009. League rules dictate that a contract which was extended cannot be extended again until the third anniversary of its signing. And Nash will become a free agent before that anniversary arrives.
3. Finley To D-League, Too?

Finley
Catching a Dirk vs. Nash duel, though, is not the only reason Michael Finley was in Dallas this week. The 38-year-old has worked out for the past two days with newly signed Mavs forward Yi Jianlian under the watchful eye of Texas Legends coach Del Harris, as Finley continues his comeback after a year away from the game.
Yi's time in Dallas will begin with a rehabilitation stint under Harris with the D-League's Legends so China's top player -- as he's known in the wake of Yao Ming's retirement -- can ease into his return from a knee injury sustained during the lockout while playing in a league game back home.
But team sources say that the Legends are also trying to persuade Finley to play a few games for them to show NBA teams that he's fully shaken the ankle problems that restricted the two-time All-Star to a limited role with the Boston Celtics in the 2010 playoffs.
Finley, according to sources, is determined to land one last NBA job but is still weighing whether he wants to go the D-League route.
If he does decide to submit his name into the D-League player pool, Finley is not guaranteed to land with the Legends, since they would not be at the front of the line to claim him. But it's believed that Finley would eventually land in Frisco because his agent (Henry Thomas) would presumably inform teams ahead of the Legends in the waiver process that Finley is only willing to play in the D-League if he winds up with the team just 25 miles up the road from the American Airlines Center.
Should he indeed decide to sample D-League life, Finley would join a growing number of NBA veterans following the same route to try to make it back to the big stage. Antoine Walker, Ricky Davis, Luther Head, Mike James, Damon Jones, Keith McLeod, Mikki Moore and Duncanville's own Greg Ostertag, who recently joined the Legends, are all on the comeback trail in the NBA's official minor league. Next week's D-League Showcase in Reno, Nev., which brings all 16 of its teams to one venue to play two games each, is typically attended by executives and scouts from every NBA team.
Finley is unlikely to join the Legends that quickly even if they can get him to emulate Ostertag. Harris, though, says he won't be surprised if Finley makes it back to the NBA this season with or without a D-League stint.
"Mike looks very good," Harris said Thursday. "He's in shape and shooting the ball well. He could play somewhere and help someone."
To read the full ESPNDallas.com blog entry, click here »
Lawson
Five questions with Nuggets guard Ty Lawson:
Q:It's a long way from Denver to Zalgiris in Lithuania. Describe what life was like playing for a team in Eastern Europe during the lockout.
A: There was nothing for me to do but play basketball. I was a gym rat over there.
Q: We saw a lot of frustrated tweets from you while you were over there and I remember reading about one game where you went scoreless in only six minutes. Looking back, are you still glad you went instead of just staying in the States to work on your game?
A: If I had to do it all over again, I would go. From a basketball standpoint and just life, I got to experience some things that a normal 23-year-old doesn't get to experience.
Q: The expectation for an NBA player in Europe has always been the same: Put up big numbers. How much pressure did you feel to live up to that?
A: I'm playing 18 minutes a game. Sometimes people would say, 'What happened to 20 and 10?' But what am I going to be able to do in 18 minutes? Bring me over and pay all that money ... I didn't understand it. It was kind of tough being more controlled [by the team].
Q: So how do you rate your overall play there?
A: I wasn't weak, but it wasn't my best. They can just pack the paint and stay in the zone forever. You go from private jets to long bus rides. ... (Turning toward teammate Arron Afflalo, Lawson said:) You go see how it is. I'm never gonna take the NBA for granted ever again.
Q: But you've put all that behind you and you're off to a fast start with the Nuggets. What will we see you doing different over the course of the season than we've seen in the past from you?
A: Just shooting the ball more, attacking more is the main thing. More leadership. I have a lot of built-up [aggression].

Of the eight teams ESPN.com has confirmed as registering interest in trading for Sacramento's
DeMarcus Cousins
in the past week, in the wake of Cousins' recent one-game suspension, five of them hail from the East.
According to sources close to the situation, they are: Boston, Detroit, Indiana, New Jersey and Washington. (Portland, Houston and Utah are the others.) The Wizards might rank as the most surprising team on that list, given their longstanding non-interest in Cousins and the number of hard-to-harness youngsters already playing in the nation's capital, but perhaps the Wiz couldn't resist exploring the possibility of reuniting John Wall with his college teammate.
Cousins, of course, was widely presumed to be unavailable even before Sacramento fired Paul Westphal on Thursday. The teams out there that like the former Kentucky big man, despite his well-chronicled need to become a much better pro, are aware that Kings owners Joe and Gavin Maloof are not prepared to give up on Cousins just yet, despite the mixed signals coming from the Maloofs' basketball people.
If/when Sacramento does reach the point of shopping him, there will be no shortage of takers -- no matter what's happened so far -- who believe they'll be able to manage Cousins better than the overmatched Kings. What sort of support system did Sacramento put in place? Why would Kings president Geoff Petrie allow Westphal to release a statement on team letterhead Sunday saying that Cousins was being sent home for demanding a trade ... unless Petrie wanted Westphal to set himself up to be axed and justify the firing at such an unusually early juncture? How can anyone in the organization assail Cousins' professionalism when Petrie's department has made mistake after mistake in recent years to transform the Kings into a lottery fixture and alienate the NBA's most vociferous fan base?
---
Some numbers of note in the East this week:
0: Thursday night marked the first time in the shot-clock era (since 1954-55) that a team went scoreless in a third overtime (or later) when Atlanta was blanked 7-0 in the third extra period in a home loss to Miami ... with LeBron James and Dwyane Wade out injured.
28.6: Chris Bosh was shooting just 28.6 percent from 3-point range in his career before draining the 3 that forced the first overtime against the Hawks.
2: LeBron and D-Wade have combined to hoist only two 3-pointers this season ... after averaging a combined six per game last season.
34: Orlando's Dwight Howard is up to 34 games with at least 20 points and 20 rebounds since his rookie season in 2004-05 after a 28-and-20 night Wednesday against Washington. Minnesota's Kevin Love is next in line in that span with 13.
6: Entering Friday's play, including playoff games, New York was six games under .500 since acquiring Carmelo Anthony at 16-22.
---
Color me skeptical about New York's ability to join the bidding for Dwight Howard by offering up Amare Stoudemire.
Even if New York indeed has the temerity to shop the guy whose free-agent arrival in July 2010 made the Knicks viable again and essentially paved the way for the February acquisition of Carmelo Anthony, there has yet to be any indication that the Magic are prepared to consider such a scenario.
Amare obviously has ties to Central Florida, but one source with knowledge of the Magic's thinking said Friday that Orlando has shown little interest in the high-scoring forward in recent years, presumably because of the various knee surgeries that made Stoudemire's Knicks contract uninsurable.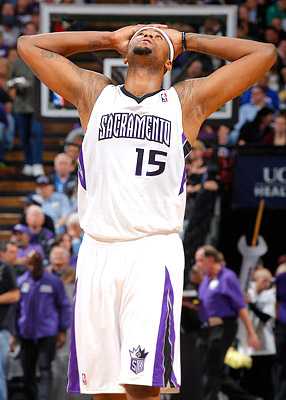 Rocky Widner/NBAE via Getty Images
Hey, DeMarcus: Don't fret. Plenty of teams are interested in you if the coaching change doesn't fix things in Sacramento. (See Box 5 above.)
Durant
"I trust him. He's been great this year."
Thunder star Kevin Durant, on how rookie teammate Reggie Jackson has been handling the transportation of all his belongings -- including Durant's various famed backpacks from his private collection -- to and from the team bus on game nights this season.
It's been one of the surprises of the early season, at least to me, after two up-close visits with the Thunder over the course of the past month.
Never imagined that KD, after all those playoff press conferences where we saw him doing interviews with that trusty backpack slung over his shoulders, would be content after a game to hand off his signature accessory to a rook instead of wearing it out of the visitors' locker room.
But I've seen it happen twice now.
"I get a little lazy sometimes," Durant joked.
OK, OK. Maybe it's a topic not quite on par with what's been going on with Russell Westbrook lately, but I had to ask: Will we see your backpack back in its rightful spot on your person once the playoffs roll around, Kevin?
All I got in response: "We'll see."
NBA trivia question to confound your friends with: How many current NBA players were locked out in the summer of 1999 and again in the summer of 2011?
Answer: 25
They are:
| Player | 1998-99 Team | '11-12 |
| --- | --- | --- |
| Ray Allen | Bucks | Celtics |
| Mike Bibby | Grizzlies | Knicks |
| Chauncey Billups | Nuggets | Clippers |
| Kobe Bryant | Lakers | Lakers |
| Marcus Camby | Knicks | Trail Blazers |
| Vince Carter | Raptors | Mavericks |
| Tim Duncan | Spurs | Spurs |
| Derek Fisher | Lakers | Lakers |
| Kevin Garnett | Timberwolves | Celtics |
| Al Harrington | Pacers | Nuggets |
| Grant Hill | Pistons | Suns |
| Juwan Howard | Wizards | Heat |
| Antawn Jamison | Warriors | Cavaliers |
| Jason Kidd | Suns | Mavericks |
| Rashard Lewis | Sonics | Wizards |
| Tracy McGrady | Raptors | Hawks |
| Brad Miller | Hornets | Wolves |
| Nazr Mohammed | 76ers | Thunder |
| Steve Nash | Mavericks | Suns |
| Dirk Nowitzki | Mavericks | Mavericks |
| Jermaine O'Neal | Trail Blazers | Celtics |
| Anthony Parker | 76ers | Cavaliers |
| Paul Pierce | Celtics | Celtics |
| Kurt Thomas | Knicks | Blazers |
| Ben Wallace | Wizards | Pistons |
10.

Coaching Carousel Spinning
Washington's Flip Saunders and New York's Mike D'Antoni are the names most frequently cited when the talk turns to NBA coaches who already find themselves parked on a toasty seat, but the Kings' dismissal Thursday of Paul Westphal after just seven games marked the second-quickest firing since the NBA/ABA merger in 1976-77.
Only the 1977-78 Sixers made a coaching change faster, replacing Gene Shue with Billy Cunningham after a mere six games.
Sactown residents, though, shouldn't expect a similar response. Coming off a trip to the Finals, Philly went 53-23 after Cunningham took over and wound up making eight straight trips to the playoffs under him along with a run to the championship in 1982-83, after Moses Malone arrived to team up with Julius Erving. Here's Elias Sports Bureau's list of the fastest firings post-merger:
Coach
Games
Team
Gene Shue
6
1977-78 76ers*
Paul Westphal
7
2011-12 Kings
Jack Ramsay
7
1988-89 Pacers
Sidney Lowe
8
2002-03 Grizzlies
Cotton Fitzsimmons
8
1996-97 Suns*
*Denotes teams that made the playoffs after the early coaching change
PS -- The NBA's last lockout season, incidentally, was Rick Adelman's first in charge of the Kings, who went 27-23 in 1999 to post the franchise's first winning season after the move to California in 1985 and proceeded to make the playoffs in each of Adelman's eight seasons in Sacramento. Keith Smart, promoted Thursday to replace Westphal, is the Kings' fifth coach since Adelman's departure after the 2005-06 season.