SUNDAY'S BEST
Aldridge
LaMarcus Aldridge, Blazers: Bouncing back from a beatdown in Phoenix, Aldridge led the Blazers with 28 points, eight rebounds, four assists and four steals to help Portland stay perfect at the Rose Garden with a 98-78 win over the Cavs.
---
SUNDAY'S WORST
Parker
Tony Parker, Spurs: Went 1-for-8 from the field en route to four points in a 108-96 loss to the Thunder. It was his lowest scoring output since Feb. 27, 2011, when he left a game with a calf injury.
---
QUOTE OF THE NIGHT
"It's frustrating. It's sickening. Embarrassing. They booed us; we deserved it. I don't know what to say."
-- Wizards forward Andray Blatche, after his team fell to 0-8 with a rout at the hands of the Timberwolves.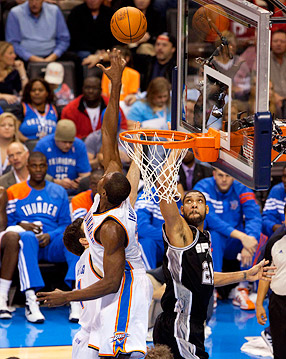 Richard Rowe-US PRESSWIRE
Getting the ball over Thunder power forward Serge Ibaka is quite a reach, which Tim Duncan found out again here during Sunday's loss to OKC.
8.

Back-To-Back-To-Back First
By Royce Young
ESPN TrueHoop/Daily Thunder

So, I think the second unit might be just fine.
OK, that's probably way too early a judgment, but considering the way the Thunder -- and, more importantly, the second unit -- performed sans Eric Maynor for the first time definitely should make Thunder fans feel a bit better.
Powered by 53 bench points, Oklahoma City used a 37-21 third quarter to run the Spurs out of The Peake 108-96 and became the first team to sweep its back-to-back-to-back. Three nights, three wins.
Thunder coach Scott Brooks wasn't about to get too excited about handling the Spurs, though. He was happy to win, but wanted to keep it in perspective.
"You have to put things in proper perspective. [Manu] Ginobili is a big part of their team and he didn't play," Brooks said. "A few other guys only played a few minutes, and this was their fourth game in five nights."
Rubio
Ricky Rubio recorded 14 assists in the Timberwolves' 93-72 victory at Washington. It was Rubio's eighth NBA game, and his assist total tied the all-time single-game high for that early in a player's career. Three other players posted 14 assists in one of their first eight games, but not the players you're probably expecting. They were Ernie DiGregorio of the Buffalo Braves in his NBA debut in 1973, Bryan Warrick of the Washington Bullets in 1982 and Greg Grant of the Suns in 1989.
Oscar Robertson first posted as many as 14 assists in the 20th game of his NBA career. Neither Magic Johnson nor John Stockton tallied 14 assists in one game until early in their second seasons in the NBA (Magic in his 80th game, Stockton in his 86th).