1. Tale Of Two Rookie PGs: Iman And Kemba

By Justin Verrier
ESPN.com
Archive
Kemba Walker had long been established as one of the nation's elite youngsters before stepping onto the Madison Square Garden floor in March, returning to the court he had graced countless times in his journey from the New York prep and AAU leagues to the college All-American point guard he had become.
But one five-day trip to the House That Reed, Frazier, et al. Built would build the image of Kemba Walker that persists today. The one you've seen quickly zigzagging through the lane like a swatted-at fly. The one barreling into bigs with the recklessness of a kamikaze pilot. The one creating highlights that don't need video or audio.
Ben Gordon, the heralded, championship-winning UConn guard almost a decade before the new model erased most of his warm-and-fuzzy memories, was sometimes referred to as Madison Square Gordon throughout his three seasons in Storrs, Conn. Not necessarily for the then-record 81 points the Mount Vernon, N.Y., native scored at MSG to lift the Huskies to the 2004 Big East Tournament title, but mostly because, well, it sounded cool.
By almost singlehandedly leading his Huskies to five victories in five days in last season's conference tournament in the precursor to one of the most surprising postseason runs in college hoops history, Kemba officially became Kemba. No last name needed. (If it ever was.)
In the second return trip to the Garden in Walker's short stint as a pro after being selected No. 9 overall by the Charlotte Bobcats back in June, you could see the same flashes of basketball grandeur -- the step-back jumper, the fearlessness charging toward the rim, the wide smile and bravado-infused head-bob on the way back to the bench.
Only, they weren't coming from Walker. They were the work of another rookie, one who has no need for a career-defining moniker. He already has one he's picked out for himself, one that he uses for third-person outbursts.
In his first time stepping in front of the MSG home crowd as a starter, Iman Shumpert -- "Shump" or "Shump-Shump" as he's now referred to thanks to one wonderfully placed MSG mic in a preseason practice session -- proved his ability to step into (one of) the void(s) that years of roster-razing has created in order to construct the New York Knicks' star-studded trio of Carmelo Anthony, Amare Stoudemire and Tyson Chandler. After a rocky start that saw him tank two of New York's first three possessions (first by sailing a cross-court pass well over Landry Fields' pointy coif and into the stands, then clanking a long-2 on the next), Shumpert quickly rebounded, helping to start and finish alley-oops in the Knicks' first-half lob-fest, slashing through the lane and creating transition opportunities, and using the long-reach grabbers attached to his shoulders to get his hands in the passing lanes and bother ballhandlers.
Shumpert's first major Madison Square Garden moment certainly won't linger in the stadium as some magic feat of basketball brilliance. But with 16 points (on 7-for-13 shooting), six rebounds, four assists and three steals in 35 minutes of the Knicks' 91-87 squeaker against the Bobcats, Shumpert, a player fueled by tamed cockiness, showed that he could at least be a valuable contributor. Which, given the recent history of New York basketball, might as well be a miracle.
After years of reshaping the roster and trying all sorts of stopgap solutions in order to remove the stench still stuck in the carpets from the Isiah Thomas era, the Knicks now have their "big three." But unlike the Model-A down in South Beach, which, in its first season, could overcome the Land of Misfit Veterans the rest of the roster had become by relying heavily on its All-Star trio, the Knicks' strewn-together version has yet to show that it can reach similar heights without some surrounding help.
Four losses against a rather soft season-opening schedule serve as pretty damning proof, and Monday's matchup with Charlotte almost became Exhibit E.
After erasing a 10-0 deficit that brought the boo-birds back out, the Knicks were able to put out the fire with a 9-2 run in response and eventually ride Melo's new interest in sharing (six assists, two days after dropping seven dimes in Detroit) and Amare's usual scoring prowess (25 points) -- in spite of his usual disinterest in sharing (zero assists) -- to a nine-point lead midway through the second quarter.
But instead of turning one of Chandler's best offensive performances as a Knick (20 points, 13 rebounds, three steals, three blocks) into a third straight victory that might have quelled some early concerns, a ghastly 13-for-43 combine shooting from Melo and Amare only added a little more kerosene.
No, New York. No matter how many "M-V-P" chants you rain down upon him, Shumpert likely isn't the cure-all point guard, the lost key excavated from the late first round that will turn the juice on in Mike D'Antoni's sacred high-tempo offense. In fact, once Baron Davis returns from a herniated, um, back, and takes his stab at trying to unstick the team's ball movement, Shumpert more than likely will slide over to off-guard. (Given the way the Knicks' offense tends to roll, though, it likely won't matter much; Shumpert and Melo tooks turns as offensive initiators in the early going, and although the rookie kept the ball moving when he could, you could often find him standing in the corner watching the Iso Show unfold.)
But Shumpert should remain a valuable piece moving forward, particularly on the defensive end, where he made a noticeable impact for a Knicks team that is slowly climbing its way up to also-ran status in the defensive efficiency rankings. While Shump isn't the sole reason New York limited its opponent to under 90 points for a second time in two games after 28 games without doing so, the Knicks struggled some to fill his void in crunch time with his long limbs and 6-foot-5 frame once again sidelined by leg cramps. After a still-injured Toney Douglas couldn't cut it, D'Antoni had to throw Bill Walker onto the floor, leaving what's left of the Landry Fields we once thought we knew and kind of liked to guard D.J. Augustin ... which of course led to Fields -- for some reason, unbeknownst to all of mankind -- doubling Boris Diaw 10 feet from the 3-point arc in the waning seconds, giving Augustin a clear look at a game-tying 3.
Moments like those used to be tailor-made for Walker when he was with the Huskies, whose late-game diagraming was a mere formality. But despite scoring the Bobcats' first six fourth-quarter points to cut the deficit to three, the only chance the rookie point guard would get to touch the ball on the Cats' final possession would be to push it up the court.
All told, it was another Hyde performance in the college star's inconsistent first season, one in which his most significant contribution thus far has been as a symbol of hope (or entertainment, even) for a franchise in need of a face now that the 24-year-old Augustin has seemingly run out of promise rope and the roster has ejected all recognizable personalities. Clumsily operating the pick-and-roll and struggling to finish among the much thicker redwoods at the rim, Walker, who received a warm welcome from his hometown crowd, finished with 10 points on 2-for-9 shooting and with more turnovers (four) than assists (three).
At one point in the second half, Walker was able to shimmy his way past Josh Harrellson on the switch and leave him in the dust like he's done to hundreds of Gary McGhees in the past. Only, the clean look he got at a leaner clanked off the iron.
There were faint resemblances to the Walker that once dominated on this court. The same sharp cuts and on-the-dime changes of direction are still there. The free-throw attempts, when they do come, come in bunches (seven Monday). The same been-there-done-that confidence still pours out of him, even after bungling set after set.
You just have to dig through the misfires to appreciate them. That is, when you weren't admiring the play of the rookie on the other end.
On a night when Shumpert looked like a player the Knicks desperately need, Kemba looked nothing like Kemba.
Justin Verrier is an NBA editor for ESPN.com
Dimes past: Dec. 25 | 26 | 27 | 28 | 29 | 30-31 | Jan. 1 | 2 | 3 | 4 | 5 | 6-7 | 8
2. Carlisle Not Settling For Letdown
By Jean-Jacques Taylor
ESPNDallas.com

We can talk about a championship hangover for the Dallas Mavericks. Or the ridiculous schedule that's cramming 66 games into 123 days this season.
We can even discuss how long it's going to take players such as Delonte West, Vince Carter and Lamar Odom to adapt to the Mavs' free-flowing offense and defense coverages.
Each would be a valid excuse for a sluggish 4-5 start to the season that already has included blowout losses to Miami, Denver and San Antonio.
The beauty of Rick Carlisle and why he's become one of the NBA's best coaches is that he refuses to accept them.
In this era of pampered, sensitive overpaid jocks regardless of sport, it's nice to see a coach who doesn't pander to the players. Carlisle prefers to keep it real.
3. Daily Dime Live Rewind
Relive and note all the chatter, memes and Photoshops of Monday's Daily Dime Live.
MONDAY'S BEST

The Sixers' bench: Thaddeus Young (12 points, eight boards, one missed FG), Lou Williams and rookie Nikola Vucevic (11 points, eight boards) helped key the Sixers past Indy 96-86. Perhaps they'll draw a crowd soon. With only 8,612 in the stands for the 6-2 Sixers, you could have fit the whole Wells Fargo crowd into the Palestra.
---
MONDAY'S WORST
Maxiell
Jason Maxiell, Pistons: Went 1-for-12 from the floor, serving as leading errant shooter in the Pistons' nine-point fourth quarter travesty that turned a reasonably close game into a 92-68 loss in Chicago.
---
QUOTE OF THE NIGHT
"It felt like there was a cap on the rim at some point. I remember (missing) a reverse layup and looking at it like, 'You've got to be kidding me.'"
-- Wolves forward Kevin Love, who missed 13 of 16 shots in a loss in Toronto.
By Kevin Arnovitz
ESPN.com

Eighty percent of life is showing up.
Of all of Woody Allen's enduring punch lines, none is so practical as a life lesson. You don't have to be a genius to achieve success -- just show up. Those silly perfect attendance awards they hand out in school? They're a better predictive measure than we think -- and we can apply that lesson to basketball.
At its very root, a basketball possession is an opportunity for points. There are no promises you'll score. But NBA teams that get a shot off at the basket score an average of 1.16 points per possession. Barring an illegal defense call or a foul away from the ball, teams that don't get a shot off score exactly zero points on average.
The lesson here is fairly simple: Show up for the possession and you're likely to pad your lead or narrow your deficit. That's a primary reason Dean Oliver rates turnover rate as one of his "Four Factors of Basketball Success," second only to shooting proficiency.
The Clippers have ranked as one of the three most efficient offenses in basketball since the outset of the season. They've accomplished this while running very rudimentary stuff in the half court. Much of the playbook consists of angle pick-and-rolls, some early drag screens and horns sets (bigs at the elbow; wings in the corners) that move into simple curls or ball screens. In recent days, they've added some second-side actions in which, after an initial pick-and-roll with Chris Paul and Blake Griffin, the ball is swung quickly to Chauncey Billups, who will get into a similar action with DeAndre Jordan.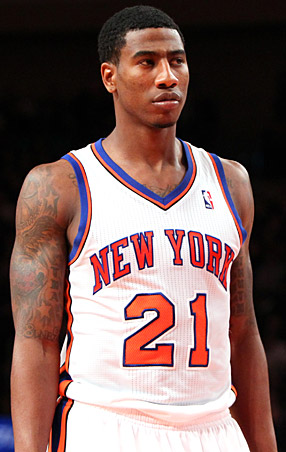 (Photo by Debby Wong-US PRESSWIRE)
Iman Shumpert had 16 points, six rebounds, four assists and three steals in his first appearance at Madison Square Garden as starting point guard.
By Michael Wilbon
ESPN.com

Justin (Philadelphia): Mike, what are your thoughts on the 76ers this season? Yes it is early but come on you have to give credit to a team thas has brought the "team" aspect back to the game.
Mike Wilbon: I picked the Sixers to finish fifth or sixth in the Eastern Conference and I think I under-bid. I didn't have the guts to pick them to win the Atlantic Division, even though that's what I thought when I looked at the teams on paper. Sixers coach Doug Collins has them really playing well and in this, his second season, is when Doug really reaches young players.
They've got a star-less roster by today's NBA standards, yet they play as a team, with emphasis on defense and sharing the ball. ... Hooray for Philly.
I love Collins, I think he has one of the best minds in the history of basketball. I'm very lucky in that I've had access to Doug (and his mind) for my entire career and he's been patient to a fault with my phone calls and in-person brain-picking over the years. So I root for Collins. I think he's on to something this season. That team WILL win the Atlantic Division.

The Chicago Bulls defeated the Detroit Pistons by 24 points on Monday, sending Detroit to its third straight loss by 20 or more points and their fourth straight loss by at least 15 points. Each streak ties the longest skid in Pistons history; they lost three straight by 20 or more in 1963 and 1967; they lost four consecutive games by 15 or more in 1966.