1. Two Points For A Dazzling Game

By Zach Harper
ESPN.com
Archive
MINNEAPOLIS -- How will Ricky Rubio fit into the league? How will he deal with the impossibly fast point guards in the NBA?
As we all waited for the Spanish phenom point guard to finally enter the NBA, these were the questions that typically popped up. Sure, he can pass in Europe, but how will he deal with Russell Westbrook, Tony Parker, John Wall and reigning MVP Derrick Rose? These players are far too fast for him to handle.
After his showdown with Rose on Tuesday night at the Target Center, it seems like he's more than capable of holding his own. He had 13 points and 12 assists in Minnesota's 111-100 loss to Chicago. The Bulls jumped out to an early lead, hammering the Wolves with swift defense and overwhelming shooting. Thanks to Rose's 14 first-quarter points, they took advantage of a Wolves starting lineup that has been digging early deficits for the team to overcome.
As the Bulls seemed ready to cruise to victory with their first-half lead reaching as much as 24 points, the rookie Spaniard helped his team rally and stage a furious comeback right before halftime. Minnesota ended the second quarter on a 20-2 run, fueled by Rubio's six assists during this stretch. Once the Wolves appeared to be serious about giving Chicago a game, the spotlight shined on the showdown between Rubio and Rose.
Rubio's defense along with Rose's decision to pace his scoring in the second and third quarters showed that the rookie is more than capable of handling the quickest of the elite on the defensive end. He harassed Rose defensively, forcing multiple turnovers and doing an admirable job of keeping him out of the paint for extended stretches. Between the first and fourth quarters, Rose tallied just three points on 1-for-7 shooting.
However, once the fourth quarter began, Rubio learned just how terrorizing his counterpart can be on the offensive end. Rose knocked down five of his eight shots, including a 3-pointer disguised as a dagger with just more than a minute left, to saddle the Wolves with the defeat.
While the final tallies for both players are heavily in favor of the Bulls' franchise point guard, both players executed their roles to near perfection. Rose set the tone for Chicago early and then managed the game until it was time for him to take over in the fourth quarter. Rubio, on the other hand, came off the bench to galvanize a Wolves team in desperate need of execution and organization.
"Rubio played a hell of a game," Rose said after the victory, in which he finished with 31 points and 11 assists. "All of their other players played well, knocking down shots when he was passing them the ball. They're a different team. They play with a lot of energy.
"They all are on the same page. Everybody knows their own role."
This is what Rubio was brought in to do -- get this team headed in the right direction, both on and off the floor. Regardless of concerns and/or assessments that he wasn't going to be able to handle the pressure, speed and strength of the NBA, Rubio's experience as a longtime professional player in Europe has helped his game translate seamlessly in his first 10 contests in the NBA.
His passing game, perfectly on display Tuesday night, has been as exciting and impactful as advertised. But he's also brought a surprising shooting ability that was much maligned in all his scouting reports. While on Team USA in 2010, Rose played against Rubio in an exhibition game overseas. According to the 2011 NBA MVP, not much has changed in Rubio's game.
"There's no difference -- if anything, he's shooting the ball. Over there, he wasn't shooting the ball. Over here, he has a lot of confidence when he plays. When he gets inside midrange, he's a good player," Rose said.
Through the first 10 games of the season, Rubio has gone toe to toe with several of the top point guards in this league and held his own every time on the floor.
There's no longer a question of whether he belongs in the NBA. The question now forming about Ricky Rubio is, where will he end up among the position's elite?
Zach Harper is the host of Daily Dime Live.
Dimes past: Dec. 25 | 26 | 27 | 28 | 29 | 30-31 | Jan. 1 | 2 | 3 | 4 | 5 | 6-7 | 8 | 9
2. Mamba Strikes Back From Old Wounds
By J.A. Adande
ESPN.com

LOS ANGELES -- This is personal.
It has to be. Even though the number of people Kobe Bryant would love to shut up this season (including every voting member of the ESPN.com NBA rankings panel) would probably exceed the total number of Facebook users, I'm convinced the 48 points Kobe dropped Tuesday night were directed at one person in particular: Steve Nash.
Kobe keeps saying how much he hates the Phoenix Suns.
But there's almost nothing left from the Suns teams that knocked the Lakers out of the first round of the playoffs in 2006 and 2007. The coach is gone, the general manager is gone, every other player is gone ... there's even a different guy doing tricks in the Gorilla suit. The only one who remains is Steve Nash. The same Steve Nash who won the Most Valuable Player award over Bryant in 2005 and 2006.
So really, whom else is Kobe supposed to hate? Channing Frye? Hakim Warrick? He sure doesn't hate Shannon Brown, his former teammate whom he embraced in a tight hug right after the buzzer sounded.
It's gotta be Nash.
Those 48 points Kobe scored during the Lakers' 99-83 victory were the most since he scored since March 22, 2011 -- against the Phoenix Suns. This can't be a coincidence. Kobe is too cold and calculating for this to be coincidence.
"I don't like them," Bryant said of the Suns. "Plain and simple, I do not like them. They used to whip us pretty good and used to let us know about it and I. Will. Not. Forget. That."
3. Daily Dime Live Rewind
Relive and note all the chatter, memes and Photoshops of Tuesday's Daily Dime Live.
TUESDAY'S BEST
Robinson
Nate Robinson, Warriors: The Thunder castoff delivered one of those rare and amazing Nate the Great games, sparking Golden State with 24 points off the bench in the win over Miami, including a perfect 14-of-14 free throw night.
---
TUESDAY'S WORST
Diaw
Boris Diaw, Bobcats: Maybe Diaw can pretend every team is the Knicks, against whom he's averaging 23 points per game this season. In an 82-70 loss to the Rockets, Diaw made two of 14 shots en route to four points.
---
QUOTE OF THE NIGHT
"We got tired of being booed."
-- Wizards forward Nick Young, offering one reason why the team snapped an eight-game losing streak to start the season.
By Brian Windhorst
ESPN.com

OAKLAND, Calif. -- Part of being the runner up-turned-favorite is dealing with both expectations and demons. This is not a new burden for the Miami Heat but it doesn't mean they're immune to the side effects, either.
The Heat have generally gotten off to a strong start to the season, blowing away their opponents most nights and winning at least three games so far that very easily could've been losses. So what happened Tuesday against the Golden State Warriors was part regression to the mean and part regression to 2011.
This time the Heat didn't get the clutch shot and didn't execute under pressure. And for all his talk about playing with a more free mental mindset and putting in the hours to work on his post game, LeBron James looked like the confused and tentative guy from last June in that pesky fourth quarter.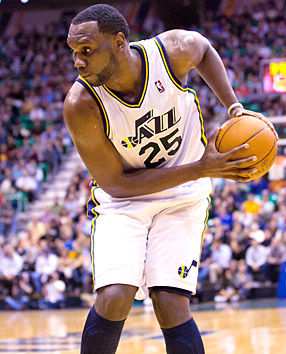 (Photo by Debby Wong-US PRESSWIRE)
Al Jefferson had 30 points, leading the Jazz to a 113-105 win over the Cavs. The Jazz (6-3) are now 5-0 this season at home.
Bryant
Entering Tuesday night's schedule, 131 NBA games had been played this season and not one player had reached the 40-point mark in a game. Then Kobe Bryant lit up the Suns for 48 points in the Lakers' win. It's the farthest into a season in the shot-clock era, in terms of games played, before the first player scored 40 points in a game.
Prior to this season, the latest "first player to 40" came in the 2004-05 season, when Dirk Nowitzki scored 41 points on Nov. 11. Prior to that day, there had been 68 NBA games played that season.
The total of 48 points scored by Bryant, who was 33 years, 140 days old Tuesday, is the most by a player that old in a regulation-length game since Michael Jordan scored 51 points for the Wizards against the Charlotte Hornets on Dec. 29, 2001, at age 38. It also is the most points Bryant has scored in a game in which he did not make a 3-point field goal.