1. In Missing Man Formation, LeBron Falls Again

By J.A. Adande
ESPN.com
Archive
LOS ANGELES -- Chris Paul didn't guard LeBron James when the Clippers played the Heat on Wednesday night. That doesn't mean he didn't defend him.
"That's a good dude over there, man," Paul said, fully aware that a fresh wave of criticism was coming LeBron's way after he came up short again in crucial moments of the Heat's overtime loss to the Clippers. "People don't know. That's a good dude."
Usually you hear players vouch for the character of someone who's constantly in trouble with the law, or clashing with his coach, or going into the stands to fight fans. We've never seen LeBron perp-walked into a police station or even so much as suspended by David Stern, yet he's morphed into the NBA's Public Enemy No. 1.
He's also the only player not allowed to miss in the fourth quarter.
Paul shooting 1-for-5 in the fourth quarter could easily have been the story of this game … if he had not been on the same court as LeBron.
It's not that James let Paul and the Clippers off the hook by missing three of six free throws in the final 81 seconds of the fourth quarter. It's that analyzing LeBron's shortcomings in crunch time can overshadow everything else in the league. If the NBA were Wall Street, the "LeBron's Not Clutch" theme would be a growth stock.
There's an element of truth behind every label and stereotype. LeBron's fourth-quarter and overtime numbers from the past two games, much like the ghastly fourth-quarter stats from the 2011 NBA Finals, can't be denied. Against Golden State on Tuesday: no field goal attempts in the fourth quarter, 1-for-3 from the field in overtime. Against the Clippers Wednesday: a combined 1-for-6 from the field in the fourth and OT, 6-for-10 from the line.
You probably already knew about LeBron's game Wednesday night. It was on ESPN, and if you didn't watch it your phone was buzzing with an update on every miss. It seems there's nothing the Internet revels in more than James' shortcomings.
At this point it's more about what we choose to see and comment on than what he's actually done.
If LeBron had just managed to make one more free throw, it could have been Paul as the scapegoat.
Paul was brilliant overall. The Heat's defense challenged him to be more of a scorer than a playmaker, yet he found a way to do some of everything, finishing with 27 points, 11 assists, six rebounds, three steals and only one turnover in just under 45 minutes on the floor.
But in the fourth quarter the shots stopped falling. It could have been the game the night before, the flight home and then more heavy minutes getting to him, but Paul attributed it to: "Missing. It ain't nothing more than missing. I just missed it."
Would we ever let LeBron get away with such a simple explanation? Wouldn't it have to be that he is physically or psychologically incapable of getting it done when it matters?
You also could make Paul just as big a villain this season as LeBron was a year ago. Just like LeBron, Paul left a hard-luck city. Unlike the free agent LeBron, Paul was actually still under contract when he departed via trade by a Hornets team that understood he had no desire to stay. Granted, unlike LeBron, Paul didn't state his intentions on a television special.
Not only did Paul become a bad guy, he even emerged as a sympathetic figure when Stern (serving as the Hornets' owner by proxy) blocked a trade that would have sent him to the Lakers. All the vitriol was directed at Stern, none toward Paul.
Paul played it perfectly, never said a peep except a three-letter tweet ("WoW") the night the Lakers trade fell through, and never experienced the fall from grace that LeBron went through.
But we're predisposed to liking Paul, aren't we? Small guy, big heart, easy to root for.
It's more difficult to relate to LeBron because he seemingly hit the DNA lottery … although he apparently didn't come up with the bonus number that is the clutch gene.
For a stretch in the final two minutes of the fourth quarter Wednesday they were equally mesmerizing. LeBron did a spin move in the lane and exploded to the hoop for a layup. Then he drove and dropped a pass to Udonis Haslem for a baseline jumper.
Paul hit a fallaway jumper, bravely drove into the lane for a layup and foul on Joel Anthony for a three-point play, then worked into the middle of the defense and dropped a pass to DeAndre Jordan for a layup. If he topped it off by hitting that fallaway jumper he took at the third-quarter buzzer, the roar from Staples Center would have registered on the Richter scale.
On a night that served as a postseason simulator -- "The physicality of the game was up there," Blake Griffin said. "Our guys stepped up and played like it was a playoff game" -- the vets like Paul, Chauncey Billups and Caron Butler provided the savvy to go with the energy from Griffin and Jordan.
Paul said he was sure LeBron would be mad about losing, but James accepted the defeat in stride, said he was satisfied with his team's effort but not with his play down the stretch.
James was more aggressive Wednesday. He got to the basket, he went to the line, as seemingly everyone in America has asked him to do in the fourth quarter. He just didn't convert.
"My teammates trusted me, especially down the stretch, and I was able to get fouled and at least give us a chance to win the game," James said.
He blew the chance with two missed free throws in the final 17 seconds. And he revealed a slight distinction between him and Paul when he sounded almost surprised that his teammates trusted him, or at least considered it newsworthy. Paul always sounds like he expects it, like it was part of the package when he arrived in Los Angeles.
Who knows? Maybe it's all gotten to LeBron so much that he expects to fail. Or expects others to expect him to fail.
It didn't take much searching on Twitter to reveal the split in public perception. While Paul was being serenaded with tweets such as "There are some guys in the league that are so humble and good its impossible not to like them … Chris Paul being one of them" (@Elle3) and "Chris Paul is a class act. Salutes to that man" (@MistahFAB), a #MoreClutchThanLeBron theme moved to the top of the trending topics, with entries ranging from Dora the Explorer to Michael Jordan playing baseball.
Paul doesn't want to see his friend being mocked or villainized. Paul wants you to rewatch The Decision and look at the anguish in LeBron's face just before he announced he was taking his talents to South Beach. He wants you to remember that advertising sales for the TV show raised more than $2 million for the Boys and Girls Clubs of America.
It's too late of course. America has made up its mind. Chris Paul on one side, LeBron James on the other. Even on a night when their storylines and stats align.


ESPN senior writer J.A. Adande
• On Twitter @jadande | On ESPN.com | On TrueHoop | On e-mail
• Follow ESPN's NBA coverage on Twitter | On Facebook | On Google+
Dimes past: Dec. 25 | 26 | 27 | 28 | 29 | 30-31 | Jan. 1 | 2 | 3 | 4 | 5 | 6-7 | 8 | 9 | 10
2. Gasol's Dagger 3 Jolts Jazz
By Dave McMenamin
ESPN Los Angeles

SALT LAKE CITY -- At 7 feet, 250 pounds and one of a dying breed of true back-to-the-basket post players in the league, Pau Gasol has been relegated to the paint for most of his 11-year career.
When he dared dabble out on the perimeter, the results haven't been pretty. Sure, he proved he could hit a 3-pointer in a pressure-cooker situation with that triple he connected on in the fourth quarter of Game 3 of the first round against New Orleans last spring, but he also infamously missed a potential winning 3-pointer at the buzzer that Phil Jackson had drawn up for him in a game against Portland a few seasons back and had just a 19-for-88 career mark from downtown.
That all went out the window with 2:02 remaining in OT on Wednesday, when Kobe Bryant sucked in the defense and passed out to a wide-open Gasol who was parked in the corner and calmly splashed the 3 to turn a two-point deficit into a one-point lead for L.A.
"I'm just glad that he found me and I was [shooting] with confidence and I practiced that shot enough that I can make it," said Gasol who had hit a 3-pointer in the preseason against the Clippers but started the regular season 0-for-3 from deep. "I was also happy that I made it because I did not have a good game overall, so it was a big play for the team to make and I was happy I was able to score and knock it down basically."
Gasol finished with 14 points and 11 rebounds, but had five turnovers, including two early in the extra period that led to the Jazz opening a four-point lead.
Lakers coach Mike Brown said Gasol has "a green light to shoot the 3," and added, "as you could tell, guys trust him [shooting it]," but it wasn't such an easy decision for Bryant to cough it up.
"Coach [John] Kuester's been urging me to trust him at the 3-point line, because he's statistically one of our better 3-point shooters in practice and I decided to kick it to him and he knocked it down," Bryant said. "I thought about it [for what] seemed like an eternity and I thought, 'What the hell.'"
3. Daily Dime Live Rewind
Relive and note all the chatter, memes and Photoshops of Wednesday's Daily Dime Live.
WEDNESDAY'S BEST
Bryant
Kobe Bryant, Lakers: Went for a second straight 40-point-plus game on the second night of a back-to-back, a 90-87 overtime road win in Utah. Mamba did it on 14-for-31 shooting, making all 11 free throws while registering eight rebounds.
---
WEDNESDAY'S WORST

Heat free throw shooting: Maybe getting swatted all night by Clippers center DeAndre Jordan, himself a notorious charity-stripe mason, affected the Heat. Shooting 58.8 percent from the free throw line (20-for-34) is no way to win.
---
QUOTE OF THE NIGHT
"You think Tebow prays? When that ball left his hand, I must have said 30 Hail Marys."
-- Lakers guard Kobe Bryant, on feeding big man Pau Gasol for a clutch 3-pointer.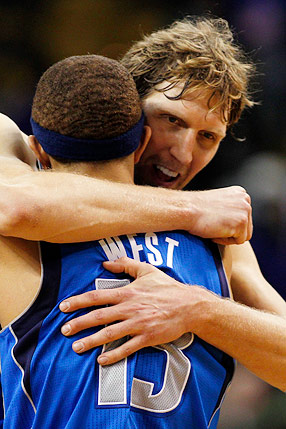 Greg M. Cooper-US PRESSWIRE
Dirk Nowitzki gives guard Delonte West a hug after their Mavs defeated the Celtics 90-85. Nowitzki had 16 points, including the game-winner, and former Celtic West had 12.
7.

Lucas Steps In For Rose
By Nick Friedell
ESPN Chicago
Lucas III
CHICAGO -- When Tom Thibodeau was asked before Wednesday's game whether John Lucas III was starting in place of Derrick Rose, Thibodeau responded affirmatively.
"Yes, he is," Thibodeau said.
"And who's going to back him up?" the same reporter asked.
"Lucas," Thibodeau said.
Everyone around the veteran coach laughed. Turns out Thibodeau wasn't kidding.
The Bulls really didn't have another option on this night, considering that Rose was out with a turf toe injury, C.J. Watson was out with an elbow injury and veteran point guard Mike James -- fresh from the NBDL -- didn't arrive at the United Center until a couple of minutes before the national anthem.
The Bulls were going to ride or die with Lucas on this night, and he delivered for his team in a clutch spot, almost going off for a triple-double with 25 points, eight assists and eight rebounds. It was exactly the kind of performance Thibodeau had been telling people for weeks that the longtime backup was capable of. It was also just the type of game that Lucas knew he could provide.
By Ian Begley
ESPN New York
Anthony
The Knicks' first-round loss to Boston last spring still stings Carmelo Anthony.
"I think that's in the back of our minds," Anthony said of the Celtics' 4-0 sweep of the Knicks. "For me personally, I was on a personal vendetta because I get tired of hearing it. We get tired of hearing it."
The Knicks allowed the Celtics to score an average of 107 points in two playoff games at Madison Square Garden last spring. Boston beat the Knicks soundly in the final two games of the series, winning by an average of 19.5 points.
Anthony said Wednesday that the loss to the Celtics motivated him to dedicate himself to improving on defense.
Never known as a stopper, Anthony has been more active on the defensive end in recent games. He had five steals in the past two games -- both Knicks wins.
It would be foolish to expect Anthony to be an all-league defender, but he seems to be putting forth the effort recently.
"These last five, six games we've been doing a great job," Anthony said after the Knicks' 85-79 win over Philadelphia. "Teams are only averaging [92] points on us [in the last five]. Now we've just got to get our offense better than our defense."
Durant
Kevin Durant scored 29 points, grabbed 10 rebounds and added four blocked shots for good measure as the Thunder defeated the Hornets in New Orleans. It was the second time in Durant's NBA career that he scored that many points to go along with double-digit rebounds and at least four blocked shots in one game. He did so previously in a victory over the Grizzlies on Jan. 28, 2009 (35 points, 10 rebounds and four blocks).