1. Without Al, How Will Hawks Hold It Together?

By John Hollinger
ESPN.com
Archive
ATLANTA -- Here's the thing: These Atlanta Hawks have never done squat without Al Horford.
He might not be a superstar, but he filled so many roles for this team that nobody else could, from the locker room to the low post, that it made him one of the league's more indispensable players.
"He's the glue for us," Hawks coach Larry Drew said.
And now that Horford is out for what is likely the remainder of the regular season, the goalposts have moved on the Hawks' season. A club that was gunning for a top-four playoff seed and hoping to push through to a first trip to the Eastern Conference finals now has much more modest sights: Make the playoffs.
If the Hawks get there, they're likely to have Horford back, and maybe then they can make a run. But just getting to that point is going to be a seriously uphill climb.
A little history lesson shows why. In 2006-07, the Hawks had Joe Johnson, Josh Smith, Marvin Williams and Zaza Pachulia -- four of the five starters they'll be playing in Horford's absence. They went 30-52 and missed the playoffs by 10 games.
That May, a fortuitous pingpong bounce gave them the third pick in the draft and the rights to Horford. (Doubly fortuitous, actually: Had it been the fourth, they would have owed the pick to Phoenix). Once Horford came aboard, taking over as the starting center and chief pick-and-pop weapon, the other pieces fit a whole lot better. Atlanta made the playoffs the next season and took eventual champion Boston to seven games in the first round. Since then, the Hawks have had a winning record and won a playoff round every season.
Even so, the Hawks have struggled in his few absences. He missed one game in his rookie season; the Hawks lost. In 2008-09, he missed 14 games, not including a season-ending game in which all the starters sat; the Hawks went 6-8. Throw in the game in which he was injured, in which he played just seven minutes, and they were 6-9. Last season, he missed five games and the results were a bit more encouraging, at 3-2. But Tuesday night in Indiana was a similar theme -- he left after six minutes due to injury, and the Hawks were hammered.
Overall, that makes 22 games Atlanta has played without Horford. The Hawks went 9-13 for a .409 wining percentage, not too far off the .366 pace they set in their last season without him.
Which is a problem because he's going to be out three to four months with a torn pectoral muscle. That means the likely timing of his return is the opening round of the playoffs … presuming there is an opening round to be played. Having entered Thursday's play at 7-4, Atlanta likely needs to go 26-29 or thereabouts over the final 55 games without Horford to make the playoffs.
The Hawks don't need to be great without Horford to make the playoffs; they just need to be average. Which doesn't sound that imposing until you remember they're at a .375 pace in the previous 104 games this nucleus has played without him.
For one night at least, they pulled it off. Playing with a skeleton crew -- in addition to Horford, the Hawks lined up minus Williams, Tracy McGrady and Kirk Hinrich -- Atlanta still had more than enough to blow away Charlotte 111-81 on Thursday.
"I think we certainly can make a playoff push," Drew said before the game.
While his tone sounded somewhere south of certain, on paper one can see who might hold down the fort. For starters, Smith is playing like an All-Star and has become the team's top per-minute scorer; he led the way Thursday with 30 points and 13 boards. In his current five-game mini-tear, he's eclipsed 23 points four times and shot 63.1 percent from the floor. Even his 20-footer is finding the net of late, although one fears this will only encourage him.
Johnson has been there the past five years, of course, and he was no slouch either Thursday with 23 points, eight boards and seven dimes. Behind those two, Jeff Teague has solidified the point guard spot, Williams was having a career year before spraining his ankle last week, and the spare parts -- most notably low-rent pickups McGrady and Vladimir Radmanovic -- have been unexpectedly productive.
And of course, the Hawks still have options. Drew talked to the media for 10 minutes, and it was hard not to notice the paper on his desk listing every NBA center. The Hawks have two true 5s on the roster with Pachulia and Jason Collins but clearly will explore their options in the coming days to round out the roster. Unsigned free agent Kyrylo Fesenko would be one potential option.
Unfortunately, their hands probably are tied when it comes to replacing Horford with anywhere close to similar production. Atlanta is already over the luxury tax threshold -- it can get under by paring down a couple of nonguaranteed contracts, but the Hawks gave out all minimum contracts this offseason partly to avoid the tax man.
As a result, it's mostly on these four -- Smith, Johnson, Williams and Pachulia -- to show how far they've come in the past half-decade.
"All the guys are going to have to raise their games," Horford said. "It starts with Joe and Josh."
So far, so good. If they can get this team to the playoffs, hope remains for what they might accomplish afterward with Horford in the fold. But .375 won't get it done.


ESPN Insider John Hollinger
• Twitter @johnhollinger | ESPN.com | TrueHoop | Email | Stats
• Follow ESPN's NBA coverage on Twitter | On Facebook | On Google+
Dimes past: Dec. 25 | 26 | 27 | 28 | 29 | 30-31 | Jan. 1 | 2 | 3 | 4 | 5 | 6-7 | 8 | 9 | 10 | 11
2. Monitoring D-Will's Decline
By John Hollinger
ESPN.com
Williams
John (New Jersey): How much longer can Deron Williams play at such a poor level? If he out of shape? Does he hate NJ? Just going through the motions for Dwight Howard?
John Hollinger: I was shocked by how mediocre Williams looked when I was up in Jersey at the start of the season, and his play hasn't improved much. He just doesn't seem to have that same burst when he attacks off the dribble, so he's running into a lot more traffic. Very interesting for what it portends for free agency -- hard to sell him as a max guy if he keeps playing like this.
3. Daily Dime Live Rewind
Relive and note all the chatter, memes and Photoshops of Thursday's Daily Dime Live.
THURSDAY'S BEST
Howard
Dwight Howard, Magic: Hack-A-Howard almost worked, but "Superman" set an NBA record in the end. Howard made 21 of 39 free throws en route to 45 points in a 117-109 road win over the Warriors. D12's 39 free throw attempts are a regular-season record, matched only by Shaq in the 2000 playoffs.
---
THURSDAY'S WORST

Knicks balking in Memphis: Amare in foul trouble. Melo spraining his ankle. Shump hoisting like J.R. Smith. When you fall behind by 25 to start the fourth quarter, it is not your night. If Beale Street could talk, it would tell the Knicks to make a peanut butter and banana sandwich, take off their shoes and get ready for OKC.
---
QUOTE OF THE NIGHT
"We're just kind of giving up now."
-- Bobcats coach Paul Silas, after a 30-point loss to the Hawks.
5.

Point Guards Through The Ages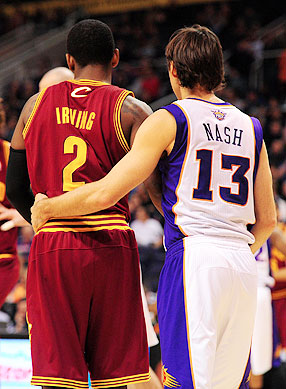 Mark J. Rebilas-US PRESSWIRE
Cavaliers rookie Kyrie Irving posted a career-high 26 points going up against two-time MVP Steve Nash. The Cavaliers defeated the Suns 101-90, reaching the .500 mark at 5-5.
By Michael Wilbon
ESPN.com
Rubio
The men who truly know the game of basketball globally, from little towns in China to little towns in Indiana, weren't really worried about Ricky Rubio successfully transitioning to the NBA. They weren't daunted by the number of times he'd score zero points and get only an assist or two in an entire game playing in Europe. They looked at his hands, his ability to throw pinpoint passes, his fearless creativity, and they knew the point guard from Spain was going to be better here, in the U.S., than he was on his native soil.
Magic Johnson, the man who probably knows more about the passing game than anybody in the history of basketball, saw Rubio go 0-for-5 shooting with three assists in an exhibition victory over the Lakers nearly two years ago, and still he came away certain Rubio would be at the very least a good NBA point guard. I told Magic the Timberwolves were nuts for wasting the No. 5 overall pick in 2009 on this kid who kept putting up zeros in international competition. Magic said, and I quote, "You're going to be wrong. Listen to me on this kid. He'll be better in the NBA than he is in Europe because our guys are more athletic and they run to the rim. In Europe, guys don't really run the break; they fan out around the 3-point line, they pump-fake, they look to score in other ways. Our guys are going to see a dude who can pass it like Rubio and run like hell to the rim. Trust me."
I didn't. I was a fool.
Rubio's game, just as Magic promised, is better suited to the NBA than any league in Europe. It's clear the kid can find an open teammate like very few rookies in recent years. Rubio is averaging 7.9 assists even though he's played more than 30 minutes in just three of 10 games. In four of his last eight games, he has reached double-digits in assists. And his creativity on the move is much more Steve Nash than John Stockton, which has made the Timberwolves worth watching for the first time since Kevin Garnett left.
"There's a difference," Magic said by way of explanation, "between making a pass to somebody and creating a shot for a guy. Rubio creates a shot. He's got instincts, great instincts."

The Bucks were 17-for-17 from the free throw line in their 102-93 win over the Pistons, while Detroit made all 24 of its free throw attempts. It was only the second game in the NBA's shot clock era in which both teams were perfect from the line. The only other such NBA game since 1954-55 was on Dec. 22, 2000, at Toronto, where the Hawks went 11-for-11 from the free throw line and the Raptors hit all five of their free throws.