1. Where Will Dwight Howard Land?

By Marc Stein
ESPN.com
Archive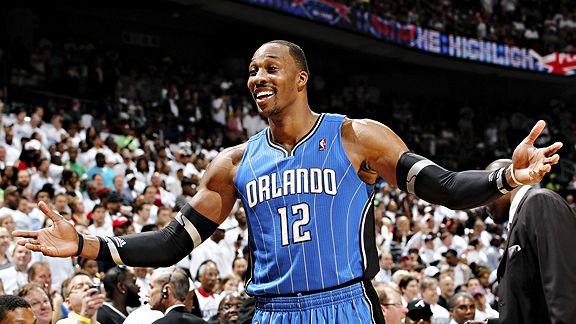 Kevin C. Cox/Getty ImagesTwo months away from the trade deadline, Dwight Howard can't be sure where he's headed, either.
RENO, Nev. -- It wasn't quite as easy as walking into one of the sports books downtown and finding a printed menu with all the possibilities, but Dwight Howard trade forecasts could be found in abundance this week in The Biggest Little City In The World.
With representatives from all 30 teams in town for the annual D-League Showcase, grading the potential of the 160-plus players toiling in the NBA's official development league, ESPN.com asked a handful of team officials in attendance to share their predictions for how the Howard saga will ultimately play out, given that the reigning three-time Defensive Player of the Year is still angling for a new address and with the trade deadline only two months away.
Reps from 10 teams were asked to weigh in anonymously on the various outcomes we're likeliest to see in coming weeks, with the Orlando Magic clinging to the hope that they can convince Howard to make a U-turn on his refusal to commit there long term even though they lack quality trade assets or financial flexibility to improve the roster to sway him.
The most popular scenarios in play during scouting breaks:


Dwight winds up in New Jersey before the deadline
Only three of the 10 teams surveyed in Reno cosigned on the idea that the teetering Nets, with their 2-9 record and Brook Lopez still weeks away from getting back on the floor, can manufacture a multi-team deal that unites Howard and Deron Williams in New Jersey before the team moves to Brooklyn next fall.
The consensus is that the Nets, thanks to Lopez's broken foot, will now have to assemble a far more attractive deal than the three-teamer discussed in December that would have sent Lopez and Portland's Gerald Wallace to the Magic -- while also unburdening Orlando of the unwanted contracts owned by Hedo Turkoglu and Chris Duhon -- before Lopez went down. The Blazers' growing fondness for Wallace since those discussions dissolved would presumably make it tough on the Nets just to get talks back to where they were last month with the Magic and Blazers, when Nets owner Mikhail Prokhorov was poised to furnish Portland with four first-round picks in exchange for its willingness to surrender Wallace.
One of those three pro-Nets teams, however, made the audacious claim that the Knicks can still swoop in and beat New Jersey to Howard, despite the fact that the only apparent means for the Nets' dreaded neighbors in nearby Manhattan to force their way into the Howard sweepstakes would hinge on the Magic's willingness (or another team's in the deal) to take on Amare Stoudemire. Even with Amare's considerable Orlando ties, sources say that the Magic's interest in Stoudemire has been chilly at best since he became a free agent in July 2010. The 29-year-old is in Year 2 of a nine-figure contract that can't be insured because of his history with knee surgeries.


---
Dwight winds up in Lakerland before the deadline
I thought this number would be higher, but officials from the four Laker-backing teams were at least more adamant than their counterparts that L.A. has the strongest hope of eventually constructing a Dwight deal that the Magic can stomach.
It's widely assumed in GM circles that the Lakers are not willing to surrender both Andrew Bynum and Pau Gasol to acquire Howard. Whether or not L.A. relaxes that stance, it's still hard to imagine someone out there being able to trump a multi-team trade construction that ultimately sends Bynum to Orlando.
"The Lakers still have the best pieces to offer," said one team official from the East.
Said another from the West: "If Dwight's getting traded before March 15, it's only going to be to the Lakers."


---
Dwight winds up in Chicago before the deadline
Only one team rep I encountered was prepared to list Chicago as the favorite to land Howard, but a couple others openly wondered why Howard is so reluctant to add the Bulls to the Nets, Lakers and Mavericks on his list of preferred destinations.
The only plausible theory, unless Howard is so vehemently averse to Chicago weather, is the one in circulation about adidas urging Howard not to play alongside Derrick Rose so its two biggest shoe-sellers don't wind up in the same city.
One source in Reno said of the Bulls: "They've got so many pieces to work with [headlined by Joakim Noah] and they're very interested. I don't think [the Bulls] are going away, either. They're not going to be convinced they can't get Dwight until he goes somewhere else."


---
Dwight goes to a "rental" team before the deadline
Couldn't find any support at the Showcase for this scenario.
There obviously are teams out there willing to trade for Howard with no assurance that he'll stay beyond June, just because they're convinced it's worth it to them to try to get him in town and hope that he can be swayed to stay.
The problem?
The two most prominent teams on that list (Atlanta and Golden State) have just been forced to shelve their two most attractive trade assets (Al Horford and Stephen Curry) with worrisome injuries. The sort of injuries that would have a big impact on trade talks.
So perhaps a viable renter for Howard will emerge over the next 63 days. But it hasn't happened yet.


---
Dwight stays in Orlando
In the surprise of the week on this scorecard, I heard officials from two teams insist that Orlando's keeping Howard past the March 15 trade buzzer is the scenario they actually expect ... even if that means exposing the Magic Kingdom to the prospect of being leveled again by a repeat of Shaquille O'Neal's defection without compensation to the Lakers in the Olympic summer of 1996.
Could GM Otis Smith and Magic ownership really dare to let the trade deadline pass and risk the sight of Howard's leaving not only for the 2012 London Games in July but also for a new full-time team ... while getting nothing back in return?
Just so they can tell Magic fans they exhausted every concept they could concoct to try to keep Dwight?
Can't see how.
Yet one observer from the West says: "Is that any more risk than taking a bad deal now?"
Added an observer from the East: "I really think Otis is going to dig in and try to convince him to stay in Orlando. Especially if they keep playing well."
One source who voted in the Nets' favor, however, disputes the widespread notion that Orlando is permanently locked into keeping Howard through All-Star Weekend -- which comes to town Feb. 24-26 -- and will then use the next two-plus weeks before the deadline to find the right deal.
The source said: "When the owner says, 'Let's trade him,' is when it's finally going to happen."


---
Dwight and Dallas-area native D-Will wind up with the Mavs next summer
It has not reached the point that teams think Dallas actually has this fantasy double down all lined up already Miami Heat-style. Anyone who has studied the Mavericks' cap situation knows they'd have to clear out pretty much everyone on the roster not named Dirk Nowitzki to have enough cap space to make bids high enough for two max-level players to consider them.
Specifically? Dallas would likely have to release Brendan Haywood through the amnesty clause next summer, trade away Shawn Marion without taking back any salary and also give away young guards Roddy Beaubois and Dominique Jones, while also letting free agents-to-be Jason Terry, Lamar Odom, Vince Carter and Delonte West all walk.
However ...
Lots of folks around the league are starting to believe that it's possible if not probable. Even before the Showcase started Monday, two rival executives told ESPN.com that they think Marion will still have trade value at season's end after the defense and energy he supplied during Dallas' championship run and the solid manner in which he's started this season.
If they're right, even with two seasons left on Marion's contract after this one (valued at just over $18 million) and his 34th birthday looming in May, Dallas really could have a shot as long as Howard is wearing anything but a Nets or Lakers jersey at season's end.
Said one East admirer of Mavericks owner Mark Cuban: "Mark has made Dallas a destination city right up there with the Lakers and Miami."


Dimes past: Jan. 1 | 2 | 3 | 4 | 5 | 6-7 | 8 | 9 | 10 | 11 | 12


ESPN.com senior writer Marc Stein
• On Twitter @ESPNSteinLine | On TrueHoop | On ESPN.com | On email
• Follow ESPN's NBA coverage on Twitter | On Facebook | On Google+
2. Western Conference

Negotiations on a contract extension are underway between Nuggets forward Danilo Gallinari and his representatives, according to sources close to the situation.
Jan. 25 is the deadline for such extensions and Gallinari has joined Oklahoma City's Russell Westbrook, Minnesota's Kevin Love and Portland's Nicolas Batum at the top of the list of players hoping to join Chicago's Derrick Rose in receiving a new deal before that buzzer sounds. Rose is the only player from the 2008 NBA draft to sign an extension so far.
The current leaguewide expectation is that only a few more Class of 2008 draftees will actually land extensions in the next 12 days, since teams don't necessarily have to rush knowing that all of the above become restricted free agents on July 1 without an extension as long as they receive a qualifying offer by June 30.
Other top draftees from the class of 2008 include Minnesota's Michael Beasley, Memphis' O.J Mayo, New Orleans' Eric Gordon, Charlotte's D.J. Augustin, New Jersey's Brook Lopez, Indiana's Roy Hibbert, Washington's JaVale McGee and Orlando's Ryan Anderson.
Gallinari started the season slowly, averaging just 12.3 points on 34.1 percent shooting in Denver's first four games, but he's leading the Nuggets in scoring now at 17.2 points per game on career-best 47 percent shooting from the floor. Yet it remains to be seen whether Denver, fresh off re-signing Nene and swingman Arron Afflalo for a combined $110 million last month, is prepared to do another big deal now or ask the Italian forward to wait.
---
Some numbers of note in the West this week:
131: Before Kobe Bryant's two scoring eruptions this week for the Lakers, 131 games had been played this season without a single 40-point game. That's the furthest into a season in the shot-clock era (which dates to 1954-55) in terms of NBA games played without a 40-point game, according to the Elias Sports Bureau. The previous longest drought was established in 2004-05, when Dirk Nowitzki scored 41 points for Dallas after 68 games had been played that season.
48: Kobe's 48 points against Phoenix on Tuesday night came at the age of 33 years and 140 days. That's the most points he's ever scored in a game without making a single 3-pointer and the most in a regulation-length game for a player that old since Michael Jordan scored 51 points for the Wizards against the Charlotte Hornets on Dec. 29, 2001, at age 38.
6: The Clippers average a league-leading six dunks per game, ahead of Miami and New York, each at 5.5 slams per game.
54: With his 27 points and 11 assists in the Clippers' overtime win Wednesday over Miami, Chris Paul recorded the 54th 25-and-10 game of his career … one more than the Heat's LeBron James since Paul's rookie season in 2005-06. New Jersey's Deron Williams has 50 25-and-10 games in the same span.
14: Minnesota's Ricky Rubio had 14 assists in his eighth NBA game. Oscar Robertson didn't have a 14-assist game until the 20th game of his NBA career … and neither Magic Johnson nor John Stockton rang up 14 assists in a game until early in his second NBA season (Magic in his 80th game, Stockton in his 86th).
---
Thunder big man Serge Ibaka is another prominent draftee from the Class of 2008, but he's not eligible for an extension until July because he wasn't signed to an NBA contract until 2009.
Kevin Durant, meanwhile, says he's going to need more time in the gym to be able to replicate Nowitzki's one-legged stepback jumper with greater regularity despite working on the shot all summer.
"I get double-teamed a lot in the post," Durant said, "so I gotta figure out how to shoot that shot a little quicker."
3. All-Showcase Team
After 16 games in four days featuring 160-plus NBA aspirants in Reno, Nev., it's time for ESPN.com's annual All-Showcase Team from the D-League Showcase, selected by yours truly based overwhelmingly on what happened on the floor ... but also with a dash of subjective whim thrown in:
Guard: Justin Dentmon (Austin Toros)
Dentmon probably ranks as the front-runner in the D-League MVP race after leading Austin to a 14-3 start and had two more big scoring games (26 and 27 points) in the presence of all the scouts at the Reno Events Center.
An undersized shooting guard for most of his career, Dentmon is trying to convince NBA folks that he can play point guard at the highest level after going to training camp with the New Orleans Hornets but failing to stick.
Dentmon also played a significant role for the bronze medal-winning squad USA Basketball sent to the Pan American Games over the summer and, based on the rumbles I'm hearing, will eventually break through this season for no less than a 10-day contract. He didn't shoot the ball well with the Hornets but is back to blazing with the Toros.
The challenge, though, for all the top D-League point guards is not letting themselves get discouraged by the fact experience won out when the Chicago Bulls needed an extra point guard this week. Mike James got the NBA recall from the Bulls over Dentmon and Co. after just two games in the D, which is the sort of disappointment D-League youngsters have to grind through ... especially when they're still waiting for their NBA break.
Guard: Mike James (Erie BayHawks)
The 36-year-old had only one big game here, struggling in the second half of a back-to-back, but that was after he rung up a smooth 23 points in a whopping 42 minutes in his Erie debut. James then became one of only two players in town -- along with Malcolm Thomas going from the Los Angeles D-Fenders to the San Antonio Spurs before he actually got to play in Reno -- to get called up to the big time from the Showcase. Which clinched a spot on this squad because that's the goal of the whole exercise.
Also impressive were Walker Russell Jr. of the Fort Wayne Mad Ants (who, in his fifth D-League season, had 19 assists in his first game) and my personal favorite: Jerome Randle of the Maine Red Claws. Lil' Randle won several admirers in Dallas for the way he played in Mavs camp and looks to me like a sure-thing NBA tempo-changer off the bench despite the natural concerns about his size. With his speed and the way he can shoot it, Randle surely will get his shot.
The steady and experienced Blake Ahearn (Reno Bighorns) and the lights-out shooter with one of the best names in basketball -- Booker Woodfox of the Texas Legends -- delivered as they always have at this level. Manny Harris of the Canton Charge also left the distinct impression that he'll be back in the NBA soon.
Forward: Edwin Ubiles (Dakota Wizards)
I could have easily gone for Gerald Green here based off his one breakout game, but we cover Green plenty in Box 7. Suffice it to say that he's worked his way back onto the NBA radar because scoring ability is such a treasured commodity. ("Green scored 35 in half his games here," one Eastern Conference witness quipped.)
Andre Emmett from the hometown Bighorns was another scoring machine, totaling 57 points in his two appearances, but the name I heard most when scouts talked about the swing positions was undoubtedly Ubiles. A big summer with Puerto Rico's national team put him on the map after Ubiles lost last season to injury and he has recovered from the disappointment of losing out to Chris Wright for the Golden State Warriors' final roster spot in training camp to thrive at multiple positions with Dakota.
Forward: Brandon Costner (L.A. D-Fenders)
I had multiple scouts advise me not to put Costner on my All-Showcase squad when I informed them how I was leaning, turned off by Costner's weight and consistent reluctance to apply himself defensively. But you guys know I'm a sucker for lefties.
That's especially true when you can shoot it like Costner. He has deep range and has me convinced that he can be an NBA stretch power forward next to a full-sized center -- think Ryan Anderson in Orlando alongside Dwight Howard -- if he'd just slim down and show more dedication.
A telling snapshot of Costner's standing among NBA decision-makers: 66 players in the D-League were summoned to training camps when the lockout ended ... and the 6-foot-9 forward from North Carolina State wasn't one of them. He's averaging 24.1 points and 5.8 rebounds for the season and he scored 29 points in just under 32 minutes in the game I caught against the Springfield Armor, needing only 12 shots from the field thanks to four triples and the 13 trips Costner earned to the line.
Costner's spot was sealed, furthermore, when Houston Rockets first-round pick Marcus Morris suffered an ankle injury Thursday. Morris was the 14th overall selection in June and thus ranked as the most decorated player on assignment from the NBA at the Showcase, which is a tag he's validated by averaging nearly 30 points and 12 boards in his first three D-League outings.
Center: Greg Ostertag (Texas Legends)
You hear it all the time at this level: The D-League isn't for big men.
But that hasn't stopped Ostertag from making a comeback at 38 ... under 74-year-old Legends coach Del Harris. Tag made an impression in Reno, too, with 21 hardy minutes Wednesday against the Sioux Falls Skyforce -- against the sons of former foes Patrick Ewing and Anthony Mason, no less -- in which he registered a solid 10 points, eight rebounds and two blocks.
The view here: If he can get in anything close to NBA shape, Ostertag really will get one more shot just because of his know-how and physical presence. His conditioning obviously remains well shy of NBA standards just a few weeks into the experiment, but Rio Grande Valley Vipers coach Nick Nurse insists that Ostertag's attempt to make it back to the big stage after five seasons out of the game is legit.
"He knocks people down," Nurse said. "He's hard to deal with. Every time I've seen him, he matters in the game."
Among the young(er) center prospects I saw, Fort Wayne's Jarrid Famous caught the eye, not only because of his unforgettable name but also because he seemingly scored every time I looked up when I watched him go for 20 points and nine boards in the Mad Ants' 100-96 victory over Bakersfield on Day 1. (Famous is fortunate that I was otherwise engaged when he could only manage four points and six rebounds in 37 minutes in a loss Thursday night to Tulsa.)
4. Salary Study

James
Following up on our recent look at how rosters were assembled in terms of trades, draft picks and free-agent signings, next up is a look at how each team's payroll breaks down in terms of contract type after the most recent move in the league: Chicago's signing of veteran guard Mike James to fill in for the hobbling Derrick Rose.
The groupings for all 30 teams start at the minimum salary level and are separated by increments of $5 million ... with only four players in the league (Kevin Garnett, Kobe Bryant, Tim Duncan and, yes, Rashard Lewis) in the exclusive club of players making more than $20 million in 2011-12.
Team
Min
Min-$5M
$5M-$10M
$10M-15M
$15M-$20M
Over $20M
Tot.
ATL
8
2
2
2
1
0
15
BOS
5
5
2
1
1
1
15
CHA
2
9
3
1
0
0
15
CHI
3
7
1
3
0
0
14
CLE
5
7
2
0
1
0
15
DAL
6
3
3
2
1
0
15
DEN
2
9
3
1
0
0
15
DET
2
7
3
1
0
0
13
GSW
5
6
2
2
0
0
15
HOU
2
8
4
1
0
0
15
IND
1
10
1
1
0
0
13
LAC
3
6
3
1
1
0
14
LAL
6
4
2
1
1
1
15
MEM
1
9
2
1
2
0
15
MIA
5
6
1
0
3
0
15
MIL
2
9
3
1
0
0
15
MIN
0
13
2
0
0
0
15
NJN
4
8
1
1
1
0
15
NOR
3
8
2
2
0
0
15
NYK
9
3
0
1
2
0
15
OKC
0
12
2
0
1
0
15
ORL
4
5
4
1
1
0
15
PHI
3
5
3
1
1
0
13
PHX
2
6
4
1
0
0
13
POR
4
6
3
2
0
0
15
SAC
2
8
4
0
0
0
14
SAN
4
6
1
2
0
1
14
TOR
3
8
4
0
0
0
15
UTH
2
8
2
1
0
0
13
WAS
3
9
2
0
0
1
15
Totals
101
212
71
31
17
4
436
Pct.
23.17
48.62
16.28
7.11
3.90
0.92
100

One leftover question from the whole Dwight Howard discussion to the left: Is there any scenario where the Nets, fearing that they won't be able to trade for Howard and thus putting themselves at great risk for losing Deron Williams in free agency this summer, decide to trade D-Will before the March 15 deadline to avoid that nightmare scenario?
Sources briefed on New Jersey's thinking say that there's only one such scenario.
If Howard is traded to the Lakers before the deadline, sources say New Jersey would then be forced to explore its D-Will trade options, knowing that Williams would be a virtual lock to leave come July. If Orlando keeps Howard or deals him anywhere else but L.A. or Dallas before the deadline, thus keeping alive its dream of pairing the two in Brooklyn next fall, New Jersey will wait.
The Nets, in other words, would have to be all the way out of the Howard Sweepstakes before abandoning their plans, having sacrificed so much last February (Derrick Favors, Devin Harris and two first-round picks) just to get D-Will.
---
Some numbers of note in the East this week:
828: The Pistons scored only 828 points in their first 10 games this season, which is the lowest total in franchise history in the shot-clock era (which dates to 1954-55). The last NBA team to score 828 points or fewer in its first 10 games of a season was the 2004-05 New Jersey Nets … who were coached by new Pistons coach Lawrence Frank.
67.5: Through four home dates, Chicago is allowing just 67.5 points per game. The Elias Sports Bureau reports that the 270 points surrendered by the Bulls in their first four home games are the fewest allowed by any team in the shot-clock era, besting the 302 points allowed by Cleveland in its first four home games in 1996-97.
3: Atlanta recently became just the third team in league history to play an overtime game (winning in Charlotte) on the day after a triple-overtime game (losing at home to Miami). The others: Dallas in 1989 and the Minneapolis Lakers … who played triple-overtime games on consecutive nights in December 1951.
53: When Indiana outscored opponents by 53 points in its first four games at home, that matched the 2002-03 Pacers for the highest point differential in the first four home dates of any Indy season since the franchise joined the NBA in 1976-77.
5: The Sixers racked up five 20-point wins this season within their first nine games. That hasn't happened in the NBA since 1969-70, when New York registered six 20-point wins in its first nine games and went on to take the championship. The 1966-67 Boston Celtics are the only other team in NBA annals to achieve the feat.
---
There have been countless injuries already in this condensed season -- with Chicago's Derrick Rose joining the wounded this week thanks to a bout with turf toe -- but don't forget that several of the biggies have been acute (and thus freakish) in nature. The potentially season-ending torn pectoral muscle suffered by Atlanta's Al Horford, like the hand injury that felled San Antonio's Manu Ginobili and Memphis' Zach Randolph suffering knee damage when a teammate fell on him, had nothing to do with the schedule grind that victimizes knees, ankles, backs and various other muscles. ... The Hawks obviously need a fill-in big man but are presently $1.4 million over the luxury-tax threshold. They'd have to let at least one player go to make room for a center; Donald Sloan, Ivan Johnson, Jeremy Pargo and Jerry Stackhouse all have non-guaranteed contracts. ... The Wizards, according to NBA front-office sources, are shopping forward Andray Blatche -- again. But Washington is said to be realistic (translation: pessimistic) about its chances of moving Blatche, who began the season with four years and nearly $30 million remaining on his contract.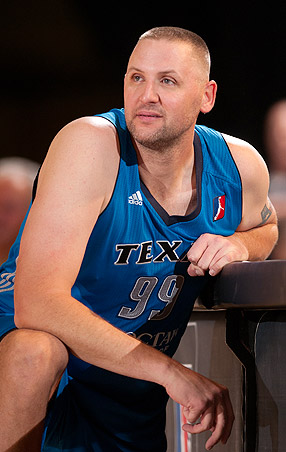 David Calvert/NBAE via Getty Images
In search of a new team to resurrect his NBA career at the age of 38, Greg Ostertag looked more NBA-ready than the skeptics expected at the D-League Showcase in Reno after a five-season layoff.

Green
"Oh, man. It would feel like I've been re-drafted. Hopefully that day will come. I'm praying for that day."
Former first-round draft pick and NBA dunk champion Gerald Green, when asked to imagine what it would be like to be summoned back to the big time out of the D-League after spending the past two seasons in Russia and getting cut in training camp by the Lakers.
Green moved a step forward to his dream rebirth earlier this week at the D-League Showcase in Reno, where the 6-foot-8 swingman shook off the loud scoldings in a near-empty gym from coach Eric Musselman in the first of the Los Angeles D-Fenders' two games there with a 34-point eruption Wednesday in L.A.'s 106-94 victory over the Maine Red Claws.
It frankly looked as though Green was overawed by the occasion in his brief preseason look with the Lakers, but he impressed scouts at the Showcase with his shot-making and poise against Maine, missing just four of his 17 attempts from the floor and going 4-for-5 from 3-point range.
The 26-year-old, drafted No. 18 overall by Boston in 2005, has frustrated NBA teams for years through his struggles to read the game or sustain the requisite intensity to make the most of his unquestioned athleticism. Consistency, decision-making and maturity all remain areas where Green has to keep proving himself, but he insists that his time overseas has made him smarter on the floor and slowed him down. Green also credits his apprenticeship under Kobe Bryant, short as it was, for showing him what it truly means to focus.
Said Green: "I thought it was a great opportunity, just from the standpoint of what I've been through [since falling out of the NBA after one season with Dallas in 2008-09]. It was a dream come true, honestly. Being around a great organization and the greatest player in the world -- Kobe is hands down the best in the world -- that did a lot for me even though I didn't play the way I wanted to play [in camp]. That did a lot for me and my confidence.
"I just have a whole different mentality than I did when I came out of high school. I approach things a lot different. The Lakers gave me an opportunity and hopefully that opportunity comes back again."
There have been only six 40-point games in NBA history by players in their 16th season or beyond.
Kobe Bryant had two of the six this week.
After scoring 48 points Tuesday night in a home rout of Phoenix, Bryant pumped in 40 in an OT game in Utah to lead the Lakers to their first road win of the season.
Four lists follow, with an assist from the Elias Sports Bureau, to put Kobe's back-to-back 40s into better perspective:
40-Point Games -- 16th NBA Season (or older)
| DATE | PLAYER | PTS |
| --- | --- | --- |
| Tuesday | Kobe Bryant | 48 |
| 1985-86 | Kareem Abdul-Jabbar | 46 |
| 2008-09 | Shaquille O'Neal | 45 |
| 1985-86 | Kareem Abdul-Jabbar | 43 |
| Wednesday | Kobe Bryant | 40 |
| 1985-86 | Kareem Abdul-Jabbar | 40 |
Most 40-Point Games, NBA History
| | |
| --- | --- |
| Wilt Chamberlain | 271 |
| Michael Jordan | 173 |
| Kobe Bryant | 109 |
Most 40-Point Games, Active Players
| | |
| --- | --- |
| Kobe Bryant | 109 |
| LeBron James | 46 |
| Tracy McGrady | 45 |
| Vince Carter | 32 |
| Dwyane Wade | 32 |
Highest Single-Game Point Total This Season
Kobe Bryant
48
Kobe Bryant
40
Kobe Bryant
39
Monta Ellis
38

Alpert
Five questions with D-League vice president of basketball operations Chris Alpert:
Q: What would be your state of the union roughly two months into the season?
A: I see the state of things as pretty good. I think we've had a great season so far. This is a very unusual season because this is the first time we've actually started before the NBA season because of the lockout. And going into NBA training camps, we had 66 of our players that got brought into camps and 12 of those players made NBA rosters. Since then we've seen a lot of guys come back who were top-tier players for us, plus we've seen a nice influx of veterans join us on the comeback trail, like a Greg Ostertag or a Ricky Davis or a Mike James. From a talent perspective, we think it's the most talent we've ever had in the league. And hopefully it will translate to more call-ups to the NBA.
Q: Some people have issues with 30-something players signing up to play in what's billed as a developmental league, even though they're obviously bringing more exposure than usual to the D-League at the same time. What's the league's stance there?
A: Seeing established players with such tremendous experience creates a lot of publicity for the league but also gives us a lot of credibility as well. And when you see some of those guys not playing as well as maybe they would have expected, it just goes to show how competitive our league is. You're going to play with a bull's-eye on your back a little bit because you've played where these [young] players are trying to get to. It's been really interesting to watch right now because this is the most veteran NBA players we've ever had in the league. And they're seeing firsthand it's going to be tough to get back. But I think some of them will, just like Mike James did.
Q: As a minor league junkie myself, I'd love to see the D-League reach the point where there are 30 franchises instead of just 16 and a different franchise affiliated with every NBA team, like we see in Triple-A baseball. Is that your dream scenario, too?
A: I think it is it. Certainly when Commissioner Stern started the league, he had a tremendous vision for the league. And Dan Reed, our president, has done a great job of running with that. I think to truly create a true minor league system, we're going to have to get to 30 teams at some point where each team has that single affiliation like the way that the Spurs have and Oklahoma City has. I think the future is to have 30 teams, but it's going to be a slow build. As we get more buy-in from NBA teams assigning more players -- and now that they can send players down on rehab assignments -- we'll see more and more NBA teams engaged and have that single affiliation.
Q: How far away is that?
A; It would be hard to put a time scale on it. I know we want to be strategic on it. We want to ensure we're putting teams in the right markets that'll be supportive and be successful. Five years from now -- that's very aggressive -- but it could be 10 years. It could be 15 years. We're still young. We're still only in our 11th season. But we're working on it.
Q: I'm sure if it was totally up to you and you could wave a magic wand that you'd increase player salaries. But how much does the league suffer because the compensation (salaries top out at $25,000) is so low?
A: It's very challenging, because certainly players can make higher salaries overseas. But what we bring to the table is the tremendous exposure they can get. And I truly believe that our coaching staffs are tremendous at developing players. They're committed to that. And we have events like this Showcase, like the D-League All-Star Game during All-Star Weekend, like putting a D-League [All-Star] team in the Las Vegas Summer League. So we do have a lot of exposure opportunities for our players that they wouldn't otherwise get. And as they see more NBA teams get engaged, it becomes an easier sell.
I'm going ask that we increase player salaries again just to keep up with inflation and keep up with the times, but our season is 5½ months long. And we do pick up player housing and give them [$40] per diem on the road. It's not the NBA per diem, but it's sufficient enough for them to eat healthy on the road. I'd love for us to continue to increase player salaries, and as we continue to grow the league and we get more NBA integration, I think that's something that we'll see here in the near future.